A call for diversity, especially in the beauty and fashion industries, is challenging outdated notions of what is to be beautiful, authentic and organic—all of that in a culture that feeds on heteronormativity and voyeurism. We all want to feel attractive to the public eye and yet, beautiful on our terms. We praise individuality but don't wanna push too far and get strayed off. How do we reclaim beauty in a way that we feel attractive ourselves?
Trends go and come but the feeling of wanting to look slick doesn't leave, it only transforms, from being a concern in our early years to becoming an ordinary state that we learn to appreciate or more dully, accept. Those concerns and ways of making peace with the way we look, however, are fixed on beauty standards defined by the male gaze. Looking clean and net, using minimal makeup for an effortlessly put-together look no matter how little it resembles our actual state of mind or living mirrors our sick desire to fit beauty standards, like we're following the holy 10-step skincare routine and have things under control.
The long history of enhancing attributes to make us look more flattering is being contrasted by the surge of anti-beauty trends, such as 'ugly beauty', which not only put at the front experimental and avant-garde looks but truly anything but conventional beauty. Unkempt and odd have been recurrent looks in fashion weeks and celebrity events, and club-kid makeup and its derivates circulate on social media. Filters on social media accentuate our dark under-eye circles; Instagram accounts celebrating brutalist makeup are inspiring creators; and smudged makeup and fashion-forward eyebrows, like bleached or no eyebrows, are all in.
But what does it mean to embrace unusual looks in a time when youth and perfection seem to be everyone's concern if not destiny? Unconventional makeup calls for democratising beauty and making it a personal statement rather than a standardised objective. But the truth is that highlighting our imperfections and being publicly encouraged for that is far from mainstream.
In the end, embracing ugly makeup is a choice that not everyone can afford—as it mainly is reserved for those who are conventionally attractive and have public influence. Think of FKA Twigs and Jazzelle Zaughtti, whose looks descend into the strange and yet we can only associate them with glamour rather than unappealing. After all, their unconventional approach to makeup places them as avant-garde beauty icons.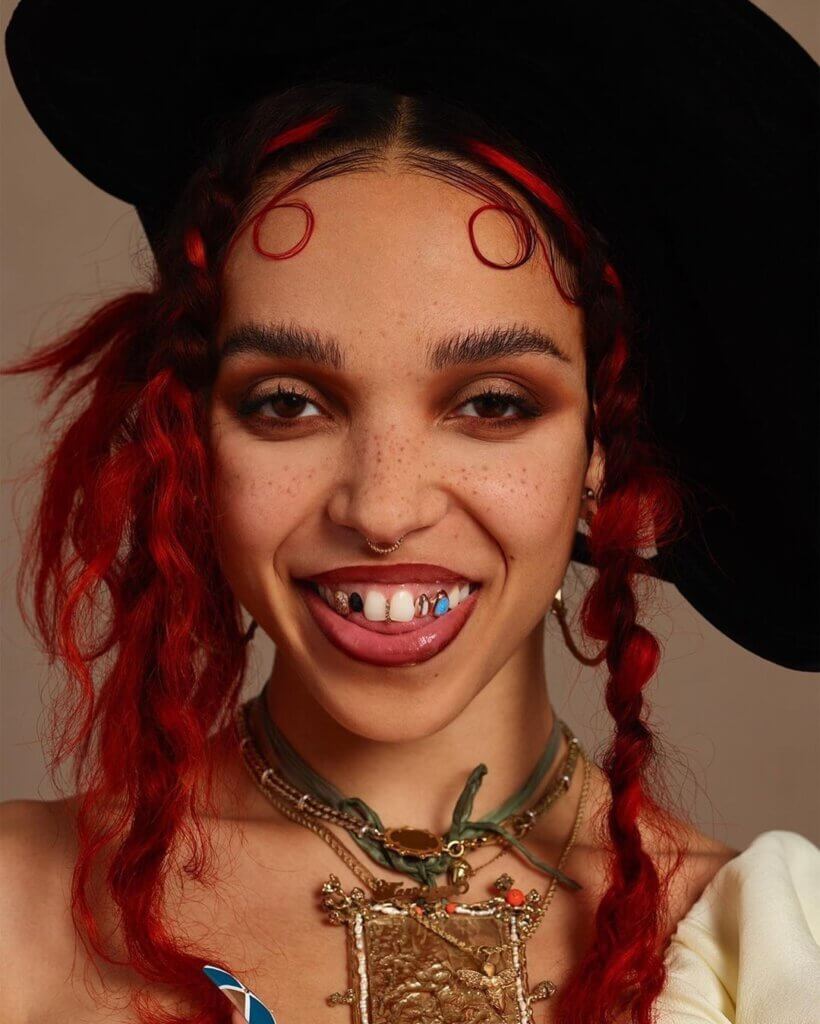 While anti-beauty is a way to reject the male gaze and male-informed definitions of beauty, both challenging beauty standards and making space for experimentation, it doesn't advocate for our less-graced natural states—talking specifically about not wearing makeup at all. In other words, ugly beauty is by all means a beauty trend that comes with using makeup and purposely enhancing certain facial aspects. It praises a new approach to beauty but not necessarily ugliness. It mimics ugliness and makes it chic and cool, but it doesn't truly reclaim beauty from the male gaze.
And while ugly beauty trend isn't necessarily a statement for diversity, it does offer room for commentary. For instance, Barragan's SS23 show presented prosthetic overfilled lips (header image) that seemed like anything but desirable as it mocked the culture of surgeries and beauty procedures aimed to achieve 'perfection'. No matter how ugly beauty rejects the male gaze or responds to an over-saturated world of beauty ideals, what is at stake is re-evaluating what beauty looks and feels like.