What would a Top 10 enumeration be without catching a Master from the Archieve?
In 2013, the Nike house announced that they were working with the fashion company Maison Martin Margiela, founded in 1988, to collaborate on a unique partnership.
"Converse is thrilled to partner with Maison Martin Margiela. The collection perfectly embodies each brand's spirit of individuality and self-expression unifying Converse and Margiela's conviction of unleashing creativity," said Matt Sleep, Converse Senior First String Designer.
A Model almost impossible to purchase, still worth a word.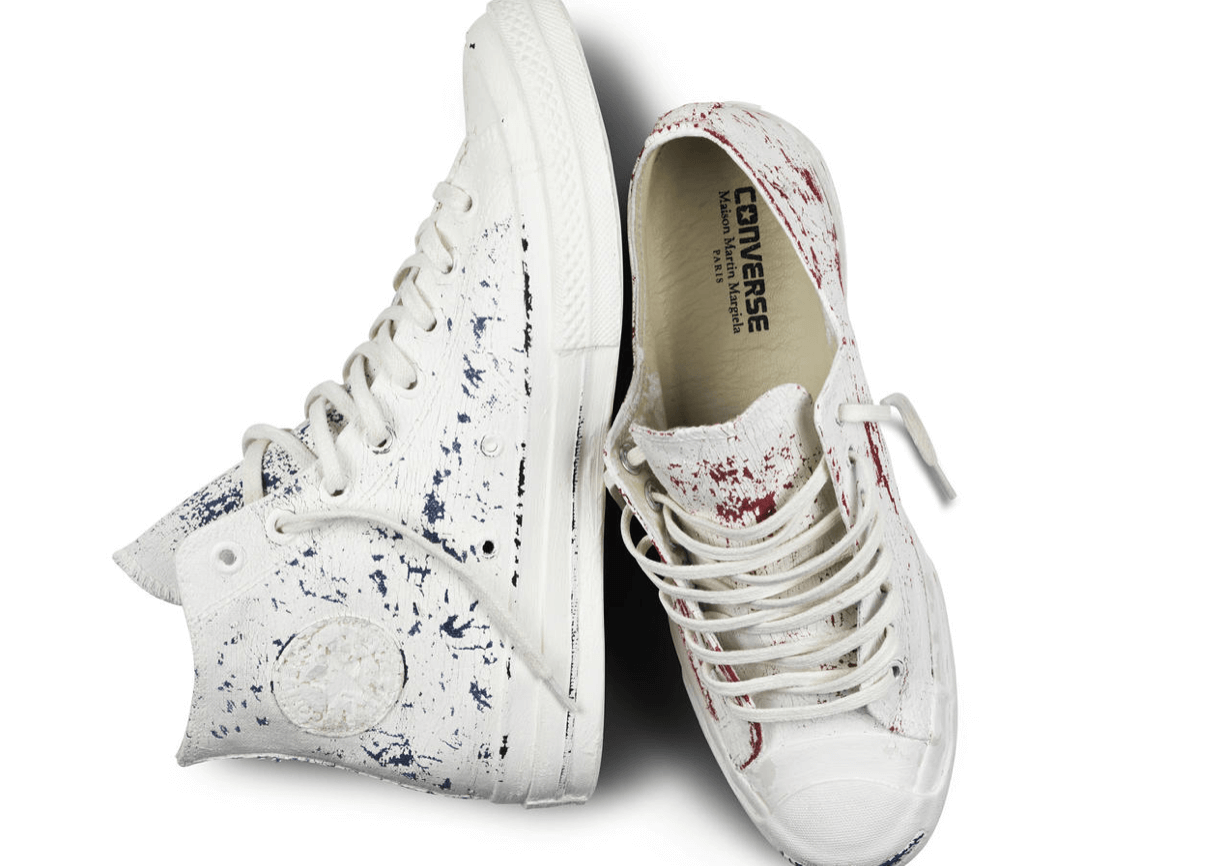 ‍
Going on with an almost as successful collaboration, appreciation and financial wise Comme des Garcons Play collaboration, first announced 2009 found it's relaunch over and over again. The pack consisting of black and white Converse Chuck Taylor All Star Hi and Lo marks the ongoing "Play" collection by Japanese brand Comme Des Garcons. A must have for every closet.
The probably most exciting collaboration and kind of least appreciated in 2018, was the collaboration between Converse and JW Anderson All-Star 70's 'TOY'. As playful as the name sais, the model comes in several colors in Hi and Lo, additionally two options of laces in frotée or regular. A happy and loud statement for every JWA fan and those who have to say something.
Next up a very appreciated collaboration was the Converse x Brain Dead Chuck Taylor. Combining different patterns and colors, this collaboration also included the One Star next to the Chuck Taylor Hi and Lo. We've seen plenty of you still rocking especially the Hi version and truly feel your excitement.
Moving on to a couple collaboration that didn't truly make it to the mainstream, but are definitely still worth to have an open ear for.  Converse realized a collaboration earlier this year with the japanese designer Takahiro Miyashita The Soloist, a brand that got established 2010.TheSoloist is known for its asymmetrical cuts and unique modifications to normal pieces. A brand you should definitely check out.
Another collaboration that didn't make it to the mainstream yet, ist the Chuck Taylor 70 in collaboration with the parisian brand Pigalle. A very excited reinterpretation they've showcased during Paris Fashion Week in June 2019. You should may keep an eye open.
That Tyler the Creator smashed it with the past Golf le Fleur Onestars is definitely no secret. Tylers fans been supporting the Converse project from day one and let's say he even gained more fans on showing his abilities on designing a shoe. Next up is a Chuck Taylor Hi which is literally on fire !
Going on with another 'lit' collaboration, Chinatown Market lit it up for this one. This collaboration didn't even need a live demonstration to be sold out on some Onlineshops, after announcement. Doesn't matter if Hi or Lo, there is equal love for both versions !
Slowly coming to an end, we didn't want to forget about the Chuck Taylors in collaboration with Joshua Vides. Definitely one of the most innovative collabs Converse launched this year. If you're simply not sure about what color to wear a day, just switch and mix it up ! Basically genius !
Last but not least : Heads up for the Collaboration that caught most peoples attention this season ! Ambush x Converse comes as a Chuck Taylor Hi in black and white. For the ones that need the extra hight, the white version got a little plateau and a couple more details as the black one and is therefore the model that got sold out fast ! Did you get your hands on this one ? Show us your Fitpics, we'll see you on @titlestyle !
‍
‍