We can't consume our way to a more sustainable world, but we can support those brands which understood that being green is much more than just buying 'eco'. Because in the end we don't want to feel the need to protect the environment, we want to create a world where the environment doesn't need protection. That's why we at TITLE want to introduce you to Eirinn Hayhow and share our interview with her to highlight her ambitions and her efforts to make fashion more sustainable as the best time save the environment has always been yesterday – and the second best time is now:

EIRINN HAYHOW is A High- Vibe Gender Fluid clothing brand, It is her intention to help solve our global waste crisis, by manufacturing the most effective natural products from waste materials and sustainable sources using 100% salvaged and sustainable materials including food and plant waste. She finds innovative ways to reimagine our waste materials.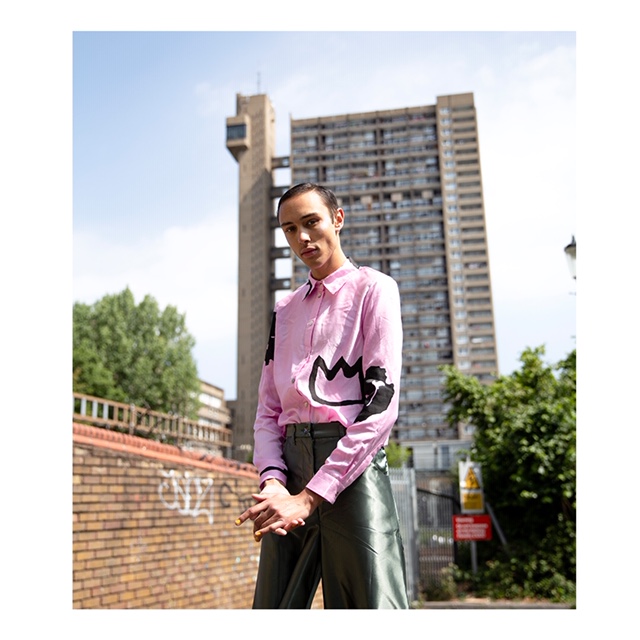 ‍

An exquisite juxtaposition of trash and couture, vintage and contemporary.  She deconstructs traditional shapes into punk glamour. Garments are stamped with her unique painterly artworks and motifs; influenced by "absurdities found in nature.' like smiling faces in chewing gum on our concrete streets. Garments thrive with serotine fueled colours, salvaged and natural fibres, mainly naturally dyed from vegetable waste.
EIRINN HAYHOW reveals a kaleidoscopic, high-vibe alternative to couture. Each garment is unique, one-off and 100% salvaged with love. She was due to launch her latest collection I AM TRASH (Flowers grow in dustbins) At the Boiler House in London this September. Instead, she got creative with some home shoots during lockdown, with garden inspired shoots, Sending the garments to some of the models involved in the show, and doing some self portrait shoots in her garden.
All the pieces are one-off unique garments.
I AM TRASH (flowers grow in dustbins) is a hallucinatory fairy tale, bringing punk to nature. She experiments with natural dyeing techniques with food waste and garden flowers, as well as using fabrics donated from the Pilgrims Hospice. A percentage of her sales will go to this end of life charity.
Pieces from this collection will be dropping online in August at Studio 183, WTVOX and directly from her website!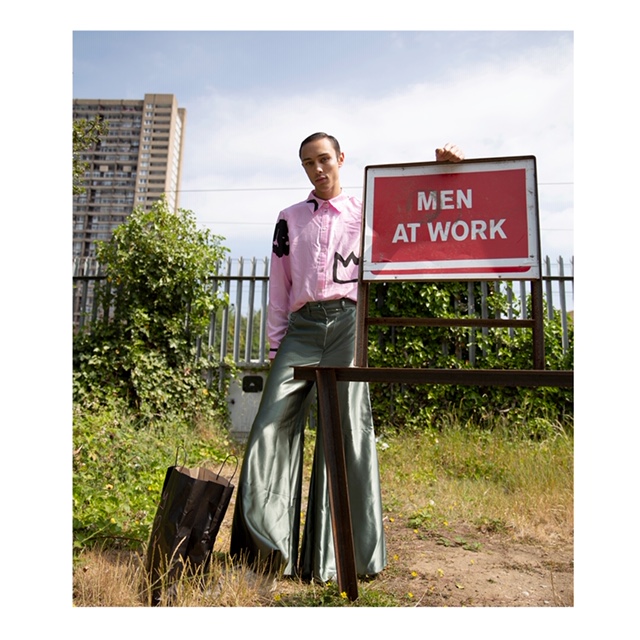 She has curated waste free catwalk performances at national galleries in the UK (including Turner Prize 2019 events) and Soho House Berlin, advocating to make changes to the fast fashion industry. In 2019 She graduated with a distinction in masters in Fashion Design. This year she has an exciting new journey! It is her intention  to push the boundaries of sustainability, and for her next collection, she will be undergoing an intense research project, exploring future technologies that will help reshape the fashion industry and help combat environmental issues. Check out her instagram page @erinlaurelhayhow for updates as this progresses!‍


ABOUT ME
Hey I am Erin. I am a designer from London and ​I reimagine waste materials into high-vibe garments. My journey started in 2012 when I moved to Berlin the first time, after finishing my BA in Fine Art. I used to collage together sculptural installations and video work using light, sound and movement, in an attempt to understand the universe and our everyday existence.I found absurdity in the ordinary, and saw beauty in unwanted things. I have always had a DIY recycled approach to everything I do. Fashion has always been hugely important to me as it gives you the opportunity to be whoever you want to be, it can act as an armour to face the world each day and it enables you to be truly you. Fashion is art. I have always said that you should make your life a work of art and your art a work of life. I spent the next few years of my life between UK and Berlin. I used to get fabrics from charity shops, or super cheap pieces from the 1 euro rail of humana in mitte. I would then screen print my art works, on a base board I had made in my apartment and sell them on flea markets and design markets. In 2017 I sold my first collection at studio 183. In 2018 I opened a pop-up store in my hometown of Margate, in the South East of England. selling the work of sustainable designers from UK and Berlin. I had this for the summer and then decided to develop my brand further and study my masters in fashion design in 2019.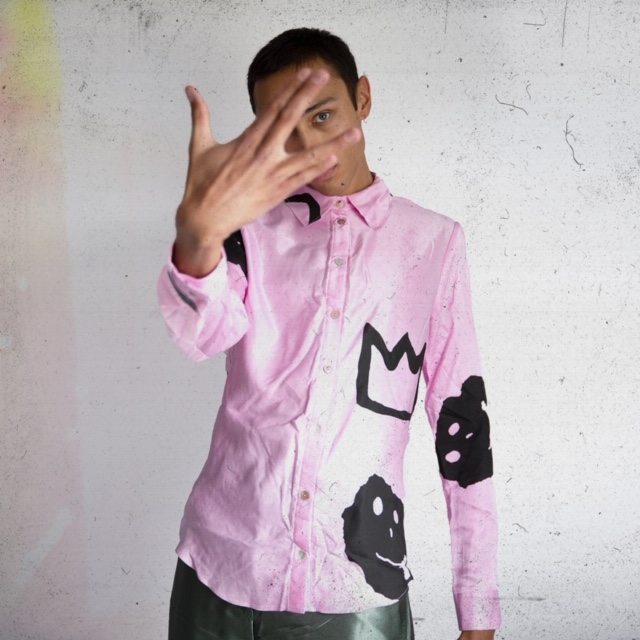 ‍

HOW DID YOU GET HERE AND WHAT INSPIRES YOU?
People. I literally have only got where I have got today from the love and the support from the people that I have met along the way. You guys know who you are. My mum is a huge influence on me, and she gave me the strength and the determination to not give up. I am totally influenced by experience, my experiences give me the narrative for my wor. I believe that we learn and grow through experience. So for me the tougher and more painful the experience, the greater the growth. You just always have to have the strength to reach for the light. ' Don't be afraid to bloom in the dark'.
WHERE DO YOU SEE YOURSELF AS A DESIGNER IN 5 YEARS? WHO IS YOUR DREAM COLLABORATOR
My dream collaborator would have to be Nam June Paik. He is my favourite artist of all time. He creates video installations, uses light and sound and is fascinated by ideas from both spirituality and science. I feel like we have a similar brain. I only discovered his work after I finished my Art BA when a tutor pointed out the similarities. I basically created a 20 television sculpture with different videos of everyday ordinaries, but portrayed them in a way that they looked other worldy. Which to me they were. I would really like to make some magical work with him.

WHATS THE BEST DECISION YOU MADE WHICH GOT YOU WHERE YOU ARE TODAY? WHAT IS YOUR FAVOURITE PLACE/ HABITAT TO MAKE AND CREATE? WHAT DID YOU HAVE TO LET GO OF TO PURSUE YOUR CAREER AND WHAT DID YOU GAIN?
So im gonna break that down…
The best decision I ever made …
That was to be creative, to never give up the dream. My boyfriend, and artist dream safari is someone that always taught me that. That along with the strength that my mum gave me. Also, I am someone that has thousands of thoughts and ideas coming all the time, and I always tried to juggle too many creative projects at once. I was painting, doing videos, making furniture, making clothes, and they were good. But none were groundbreaking. I think the key is to figure out which is your biggest passion and then put every molecule of energy into making it happen! When I decided to just focus on fashion. That's when the magic happened.
WHAT IS MY FAV. PLACE TO MAKE AND CREATE?
Well my favourite place will always be Berlin. It's the kind of city that you can live for 9 years and you would still stumble across new and exciting parts that you have never been to before. It is 100% creative space. I always say it's like ' Neverland '. But for me, the kind of space I need to create changes all the time, depending on what else I need in my life at that point. Is it stability, security, adventure, excitement. These are the things that influence the decision for my space. And once I find that space, I have to fully make it mine before I can get to work. Like put my stamp on it, I am totally influenced by my environment, so change is something I need quite often to feel fulfilled. It doesn't matter how big the space as long as it's the right one. Being around nature is also really important to me.
WHAT DID YOU HAVE TO LET GO OF TO PURSUE YOUR CAREER AND WHAT DID YOU GAIN?
Hmm thats a tough one. I guess some social aspects. Like drinking and partying. I mean everybody is different and different lifestyles work for different people. Some people probably thrive off the networking they get from parties. But personally I need to be 100% focused on my creativity. So I don't drink, I eat mostly a raw plant-based diet, and I even use my vegetable food waste to create natural dyes for my collections. Natural dye natural high eh. A huge part of my brand philosophy is a high-vibe, holistic lifestyle and the further I go with it, the more I gain. I don't feel like I'm losing anything at all. Just learning more. Going forward with new collections I'm going to be doing more research into these areas and I'm really excited about it.
IF YOU COULD INVITE 3 DECEASED PEOPLE TO A DINNER PARTY, WHO WOULD YOU INVITE?
Well most importantly I have to invite my mum, and then it would have to be David Bowie and Nam June Paik. I can only imagine the creative explosions of conversations we would be having.

---
Martine Hagman – photographer
@martinehaunaas
‍
Connor O'Brien – model
@connorogreen
‍
Graphic design by
Sam giles
@dream_safari