This Friday we have pop artist MADANII with us in our virtual studio. Growing up Iranian in a small town in Germany she's struggled with the feeling of otherness her whole life. This feeling is what initially led her to making music, because it let her escape her reality and dream of bigger things.

Nowadays she lives in Berlin and makes music with her partner in crime LLUCID. She describes her music as "POC Pop", blending traditional Iranian instruments like the net, San the and jaman he with organic synth hooks, creating booming and experimental sounds like you've never heard before. Her lyrics show strength through vulnerability and you can tell that she has grown into a strong woman from the adversities she's faced.
1.First of all, of course, we want to know from you what True Identity means to you ?
To me true identity means being yourself- no matter what other people might think. As easy as it may sound I find this really hard to do. We're all influenced by our surroundings all the time and end up internalizing certain beliefs about how we should be or what we should be aiming for. For me it's been a multiple year long and still ongoing journey to work through all the layers of bs to find the real me.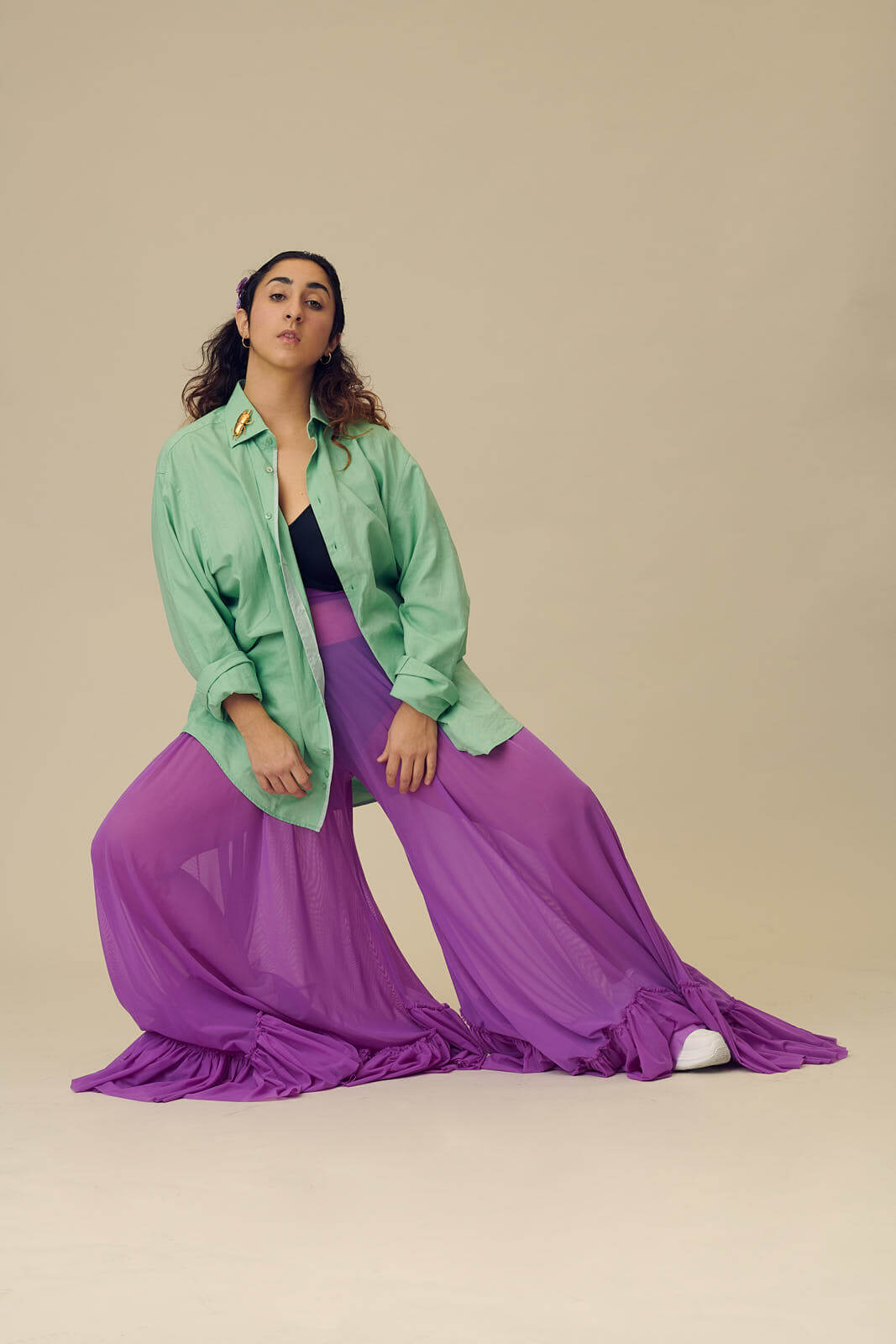 2.What is your first memory or experience of music ?

My Mum always used to sing to us when my sister and me were little. We would learn Iranian children's songs from her and recite them happily into the camera on any occasion we could find. There was generally a lot of music and singing going on in our house.
3.Why did you start making music ?
I started writing my first songs on our family piano when I was about 15. We were living in a really small village in the South of Germany and I would feel ostracized a lot. Making music was my way of escaping my reality while also striving for a way out of my small town life.
4.What inspires you most about Berlin ? And what did the city add to your individual sound ?
I still remember the feeling of great relief on my first ever visit to Berlin. I had never felt more free and accepted. I felt like I could walk down the street naked and no one would even care. I still haven't come across another city that exudes this level of freedom and is home to so many cutting-edge artists. The city is more like a giant general creative stimulus to me than a certain soundscape for my music.
5.How do you think your journey has shaped you so far ?
Since I have decided to make music full time a couple of years ago I have been more happy than I've ever been. Sure it's a bad struggle at times to make it as an independent artist but whenever I wasn't able to create in my life I honestly was getting heavily depressed. So although I was too scared to make the jump for years I had no other choice than to go for it in the end and I have grown more this past couple years than I have in any other time in my life.
6.When do you feel most creative and most inspired to make music ?
I get asked this a lot but I really don't have the answer. It just randomly hits me and I go into this crazy flow and come up with all kinds of ideas. It can be in a super stressful situation, after a week of relaxation or just me sitting on the train.
7.We have all been isolated since the middle of March. How has the quarantine treated you so far ?
I feel like the quarantine itself has had different phases. In the very beginning I was confused and a bit lost facing the big uncertainty like a lot of others in my profession. But then I was just amazed by how fast the Berlin music scene reacted. How many new and exciting digital formats came out and how everyone was sticking together. I was playing a lot of live streams but for the first time in a long time I didn't have any appointments outside. No one was going out so there was no FOMO which actually did wonders for me. I was taking time for myself again and finding a healthy rhythm while also being able to finish up the second EP with LLUCID.
8.And how does the current situation influence your creative process ? What are your musical or creative goals for the next few years ?
I don't feel like a lot has changed for me creatively. I was always working & writing from home. Of course we had to make some changes like for the visualizers we were planning to shoot for all the songs of the second MADANII & LLUCID EP "3rd 3ye". We still shot them but adapted to the hygienic rules and restrictions. So for the near future I'm focused on putting those out! We've already released two for our singles "Dandelion" and "Dominvs" and the third for our latest single "Don't Come By" is actually coming out today (14.08.).
9.If you could speak to yourself in the past, what would you say to her?

It's going to be ok. You'll be out of here and you'll be doing what you love all day. It's going to be hard but eventually you will work through all the toxic thoughts you have learned to believe about yourself. Please don't despair. You're beautiful and I love you.