Her latest release "Drip Drop" is a song about realizing that it is possible to get over someone who hurt you. Focusing on yourself and acknowledging your self-worth after a breakup is Kiara's way to shine. Unapologetic and at eye-level with her fans and listeners, she reminds us all to feel confident in our own skin and that there are other fish in the sea.
The Finish-American pop singer achieves to address a wide audience because she addresses a wide range of topics. On top of that, her musical style is characterized by melodic rhythms and energetic and soulful vocals. For her recent works, Kiara partnered up with her go-to collaborators, the DJ duo M-22, who clearly contribute to the song's catchiness.
Please briefly introduce yourself and tell us what you're currently working on.
Hi, I'm Kiara Nelson. I'm a 23-year-old singer/songwriter currently working on loads of new music for myself and also writing for others! I just came home from a M-22 camp where we hopefully got some good stuff for the boys.
You're Finnish-American and live in Berlin, right? Which of your backgrounds is most dominant in your music and personal identity?
Yes, I'm Finnish and American, signed to Sony Music in Berlin but I actually live in the UK. So, I'm basically here, there, and everywhere! In my music, the American side is definitely more dominant. I've grown up listening to only English music, pop, and r&b. As for the personal side, my main language is actually Swedish and I've realized I still think in Swedish even though I speak English the most in my day-to-day life.
Last year, you released your first solo singles "Adore You" and "Kisses For Breakfast". How did you experience working and being creative during the pandemic?
At the beginning of the pandemic, I didn't mind it. I felt like I had some progress I could make as an artist, person, and writer and decided to take that time to be productive and grow. After many months that changed like it probably did for everyone. I lost my inspiration and motivation (got it back though). Hard times for the world…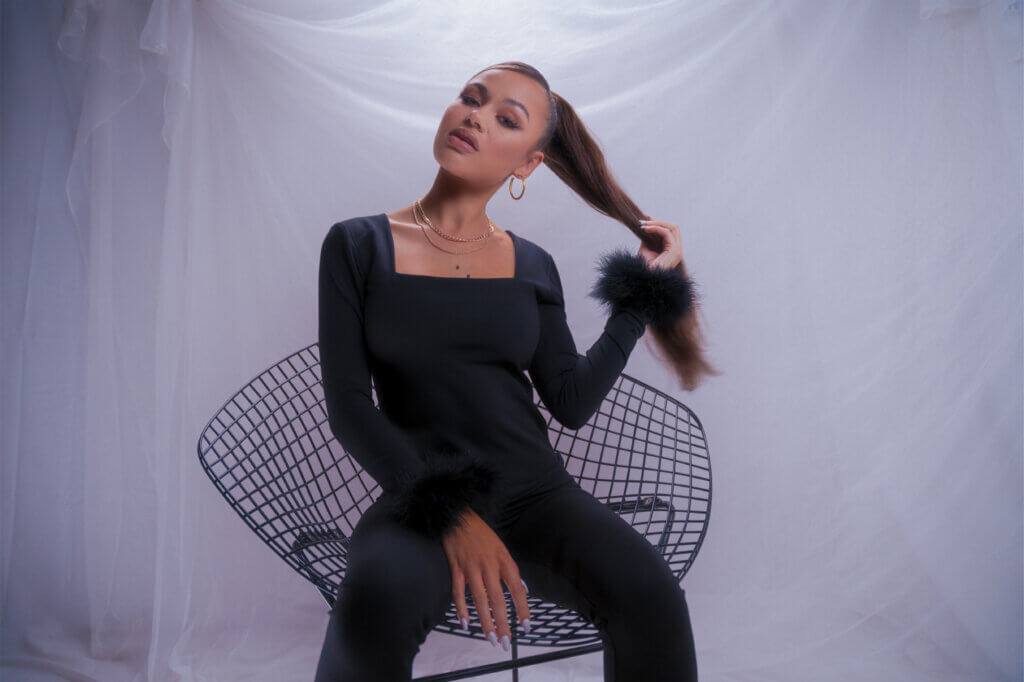 When and how did you first come into contact with music? Has this passion been with you for a long time?
I have been singing my whole life. My mom was very into music and dancing when she was younger so she introduced me to music very early in my life. Singing has been my only plan since I was 5.
Which other artists did you look up to when you were younger? Which one now?
When I was younger Britney Spears was my idol. Now I look up to Ariana Grande, Rihanna, The Weeknd. I am also a huge fan of Anne Marie and Camila Cabello.
Who would be your dream collab?
Dream Collab would be The Weeknd, all day every day!
On YouTube, next to your music videos, you also show behind the scenes footage on set. What is the most fun part about shooting a music video?
I absolutely love the whole process of filming a music video. I always have a great team so we have a lot of fun on set. My favorite part has to be the make-up, hair, and styling. I'm very into make-up and fashion, so I just love getting glammed up and not having to do it myself! And then obviously getting to perform to the camera nonstop is always fun.
How did you find your own personal style?
It was quite hard finding my own style in music as I was always doing different sessions with different people. When I met my current team I feel like my sound was instantly born. I do still like trying different sounds as I think you keep evolving as an artist and person.
What does True Identity mean to you? And would you say you've found it yet?
True Identity to me means to be your authentic, true self. I am still learning to become that and to let go of all negative thoughts. Self-confidence and self-belief is something I have struggled with my whole life, just as many others have as well. I am still learning but that's what life's about, isn't it?!