Veri is a 24-year-old artist based in Vienna who kick-started her music career with a keyboard she was gifted as a Christmas present. This instrument and her natural talent were the beginning of Veri's ever-growing passion for music. And although the journey towards making her own music sort of just happened, without any overly ambitious goals, music had to be her career choice eventually.
Music has always been a constant in Veri's life – as a child, when puberty hit with all its highs and lows, and when she decided to quit school. After she met one of her producers, Sebi, she would get more and more into the processes of writing and producing songs. And 2020 was the year her work became actually tangible. She started releasing her first underground singles, such as "Rote Gauloises", as well as her debut EP "Sonntag: 17 Uhr." Her most recent single is "Asphalt", a song less melancholic and with danceable summer vibes.
Authenticity, being true to herself, and a great attitude already seem to be characteristics of the young artist. She certainly doesn't like to be categorized or liked by everyone. Her closest genre description would probably be Cloud-Pop or Rap, however, Veri believes that each beat is part of a different genre. And although there are many artist that inspire her, she doesn't like to imitate. She just simply wants to be Verifiziert, which by the way derives from the Medieval Latin verificare "make true," from Latin verus "true" and combining form of facere "to make".
Tell us a little bit about yourself. What is typically you?
Iced coffee with foamed oat milk and spending too much time decorating my animal crossing island
What's behind your artist name? How important is verification or authenticity for you?
It's actually just an Instagram username I chose a few years ago because my nickname is "Veri". And I don't really care about verification, but I do about authenticity
How did you get into making music? Can you remember the first time you thought, that's what I want to do?
When I was 5 years old, my mom got me a tiny keyboard for Christmas. I then played a song I just heard on the radio, and at first, I didn't understand why my mom was so impressed. I guess that was the first time I realized, I wanted to make music.
How is your experience as a woman within the Vienna Cloud-Pop/Rap scene?
Hmm… I'm just hanging with friends, drinking coffee, making music! So I think it's good.
What is most important to you when producing music – the beat, your lyrics/story, or the music video?
I think for me it is the combination of all three. You can still make a good song out of trashy or uninteresting lyrics if the melody, beat, and video fit together. Same with a low-quality beat or video, you can make it work if the other aspects harmonize and are aesthetically pleasing.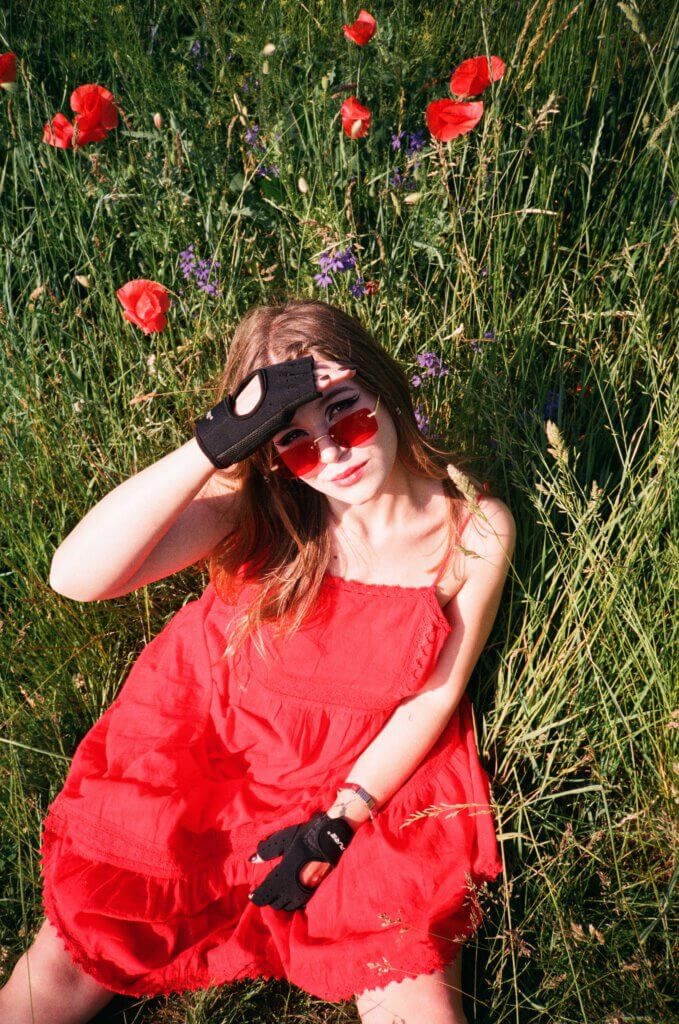 ©©©©Which artists have you looked up to since you were young? Which artists do you adore now?
I loved a lot of artists. I had my Avril Lavigne phase, my Tokio Hotel and Killerpilze phase. But I also admired the Prodigy and Nirvana. Now I adore artists that create new aesthetics like Charlie XCX, Frank Ocean, or THE BLOSSOM. But I guess Deb Never is the artist I'm fangirling the most at the moment.
You've released your very first song in 2019, and your first EP "Sonntag: 17 Uhr" last year. How do you feel when you release your music? Nervous, excited, proud, critical?
All of it! Nervous, excited, proud, critical, but mostly happy!
You said, you don't want to make pop music, because you don't want to be liked by everybody. Who would you like to like your music and maybe even collaborate with?
This question is always very hard for me to answer because there are so many artists I'd like to get to know. For example Gesaffelstein, Four Tet, Schmyt or Wandl. I'd also love to collaborate with DJ Schinkensuppe one day.
Which future projects and goals are you working towards?
I am working on something bigger right now, so let yourself be surprised! 🙂