Everybody is familiar with Snoopy, the cartoon beagle born on the pages of Charles M. Schulz' Peanuts comic strips, who since his debut many decades ago has become way more than a comic book character – He is an icon of pop culture.
At an early age Schulz decided to become a cartoonist, but only started releasing his comic strip Peanuts featuring as-iconic Charlie Brown in 1947. His stories soon gained attention and were picked up by several newspaper outlets nationwide. Nowadays there are few comic book characters as famous as the lovable gang Schulz created. Their Christmas cartoon special still is a staple when the Holidays hit and Peanuts comics are still sold worldwide.
…And besides that Snoopy actually modeled in one of the best fashion publications ever released – Snoopy in Fashion.
Over the last years this gem has become one of the most sought after books among fashion aficionados (Well… the cool ones) on the internet. People talk about it on platforms like Reddit and Twitter, but it's very rare to see it with your own eyes and get the opportunity to deep-dive into this compendium of 1980's runway and casual looks.
Writer, Philosopher, Athlete, Model – Snoopy
By the 1980s Snoopy had already become more than a side character in a comic book. Or as the book informs us, he "is a black and white beagle, but he does not see himself as a dog. He fancies himself a fine (though unpublished) writer, first-class philosopher,… connoisseur of fine food, gold medal athlete, as well as all around hero and topper of international best-dressed lists".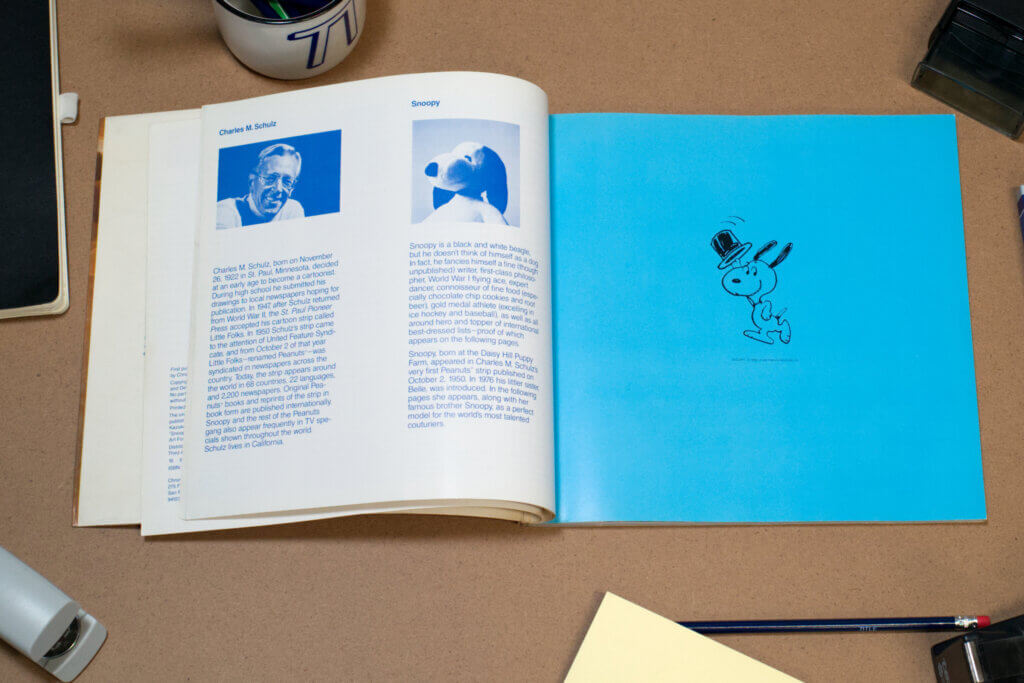 It was Connie Boucher, then-chairman of Determined Productions, Inc., the company producing Snoopy plush toys, who came up with the idea of the book. She contacted over 80 fashion designers with names like Oscar de la Renta, Gianni Versace, Pierre Balmain, Thea Porter, Girbaud, L.L. Bean, Fendi, Givenchy, Thierry Mugler, Missoni, Karl Lagerfeld, Trussardi, Fiorruci, Diane von Furstenberg and Esprit on her list. They gladly accepted and took on the task to dress Snoopy and his sister Belle in their finest runway and casual looks.
"I couldn't believe it when the world's most famous fashion designers agreed to turn their talents to creating clothes for the world's most famous beagle. It's wonderful!"

Charles M. Schulz
Peanuts and Snoopy creator Charles M. Schulz did not exaggerate, when he expressed his joy. Snoopy in Fashion was finally released in 1984 accompanying an exhibition at the Seibu Art Forum in Tokyo and since then has gained a cult following.
Just have a look at some of our favorite looks:
Gianni Versace / Paco Rabane / Givenchy / Balmain
Gianni Versace loved to play with fabrics, textures and accessories. His iconic designs earned him a place in "Fashion Mount Olympus". For this special occasion Versace dressed the canine couple in evening garments. Snoopy wearing suit and tie and Belle being the "belle of the ball" in her shining dress.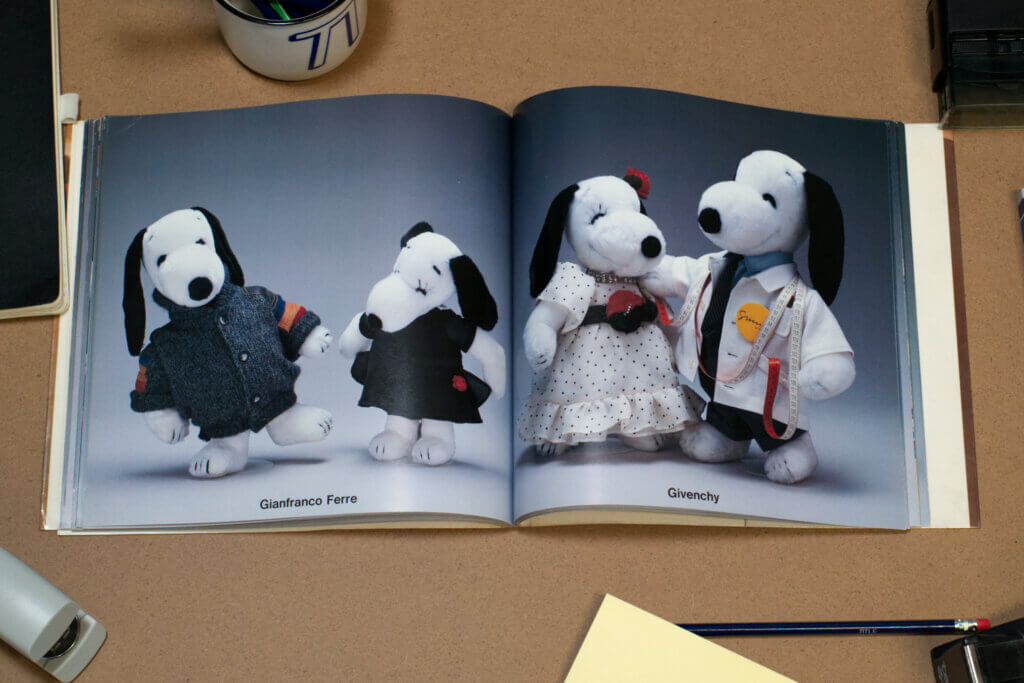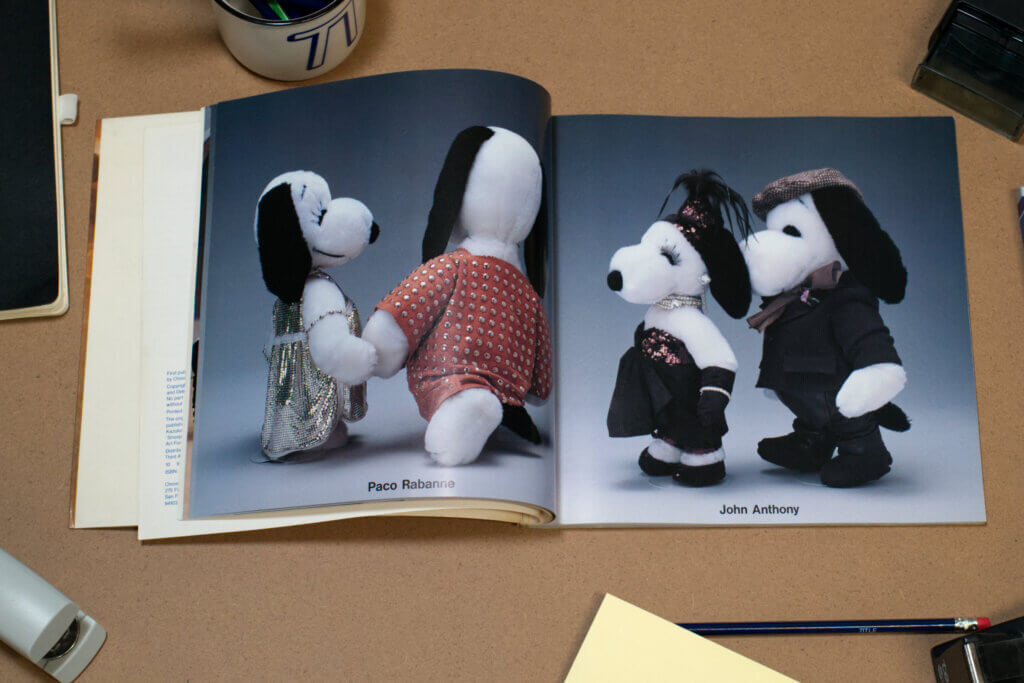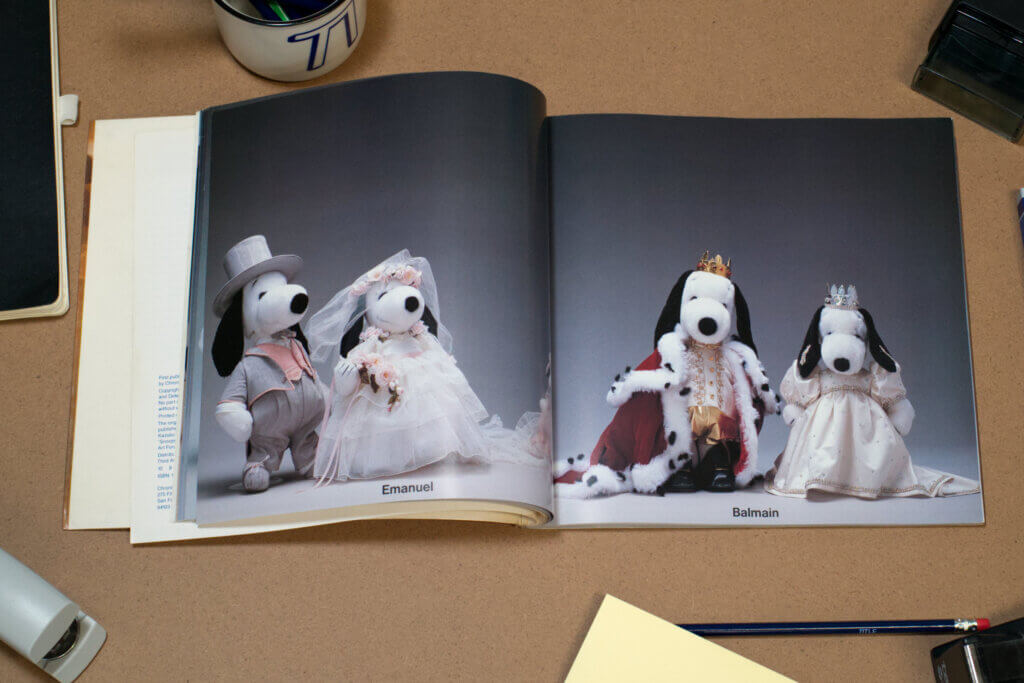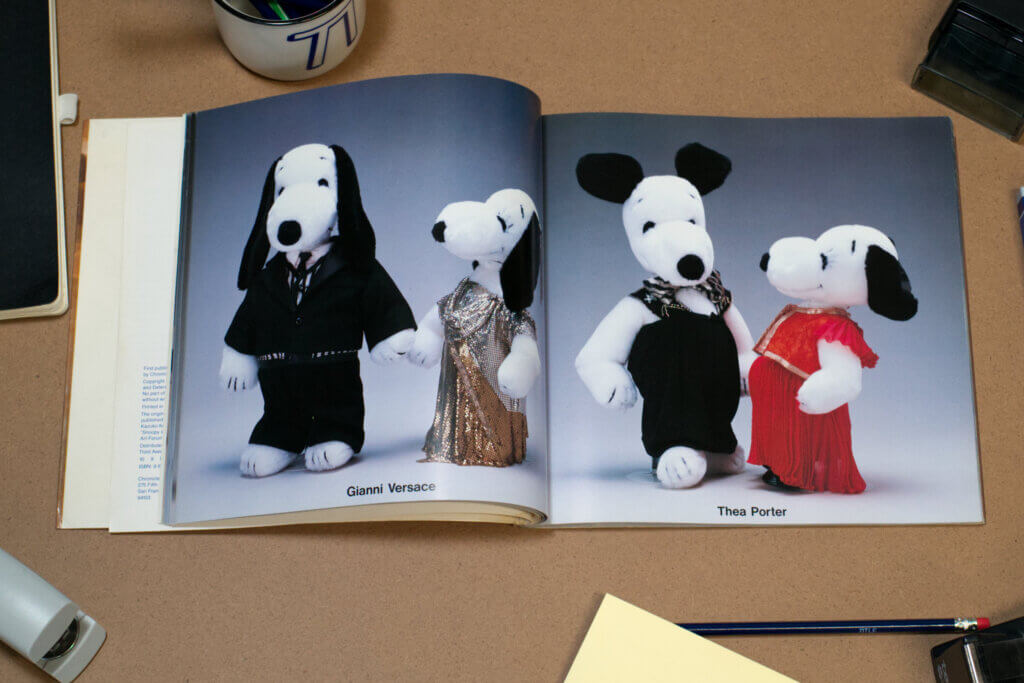 Givenchy gives us a glimpse of the tailoring process with Snoopy taking on the role of a tailor, his sister wearing a dotted summer dress. After studying architecture, Spanish fashion designer Paco Rabane started designing plastic accessories and soon moved on into the the field of fashion, using unconventional materials such as aluminum and plastic. You can see his signature style in this shooting, with Snoopy wearing a studded red get up and Belle showing off a golden evening dress. Balmain just goes full-on "royalty".
Jean Paul Gaultier / Thierry Mugler / Giorgio Armani / Issey Miyake
Fashion, fragrances and campaigns featuring sailors… there are many things Jean Paul Gaultier is known for. After being fascinated by fashion since his days as a child, Gaultier debuted his first independent designs in 1977. He soon took the world of fashion by storm and dressed Snoopy and Belle in a more playful get up, still in tasteful black with salmon-colored accents.
Thierry Mugler decided on a more futuristic style and designed a blue overall with silver pipe lining.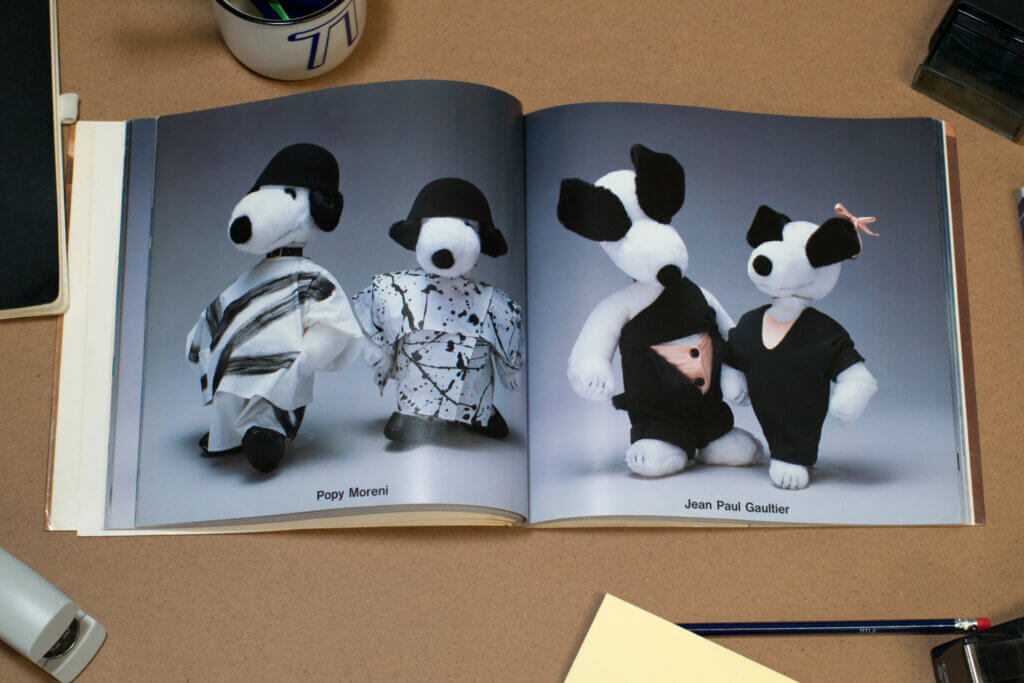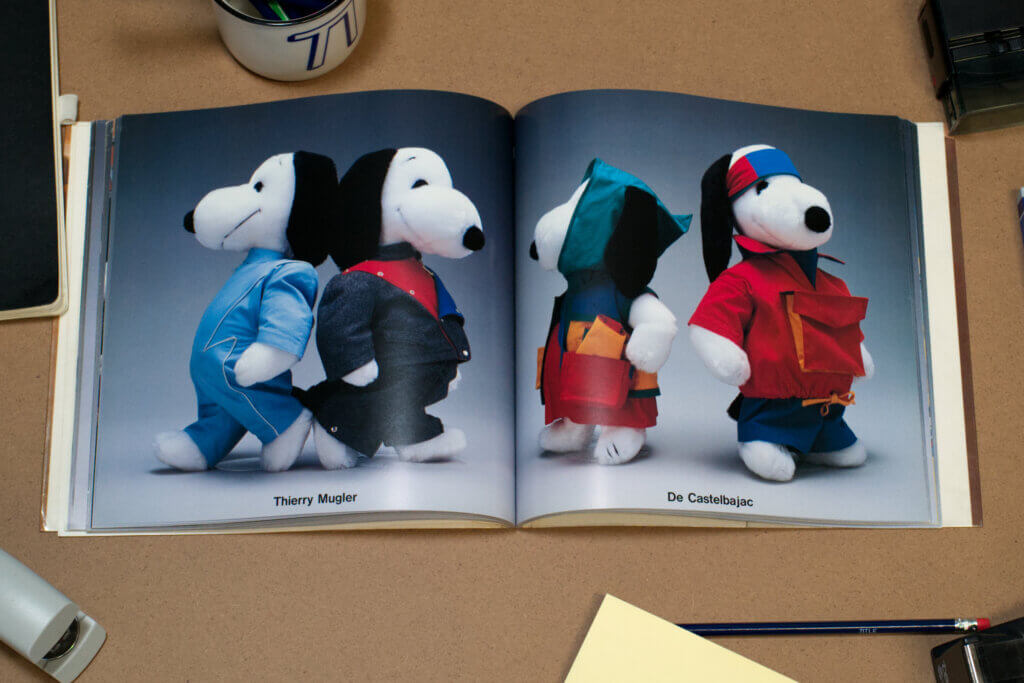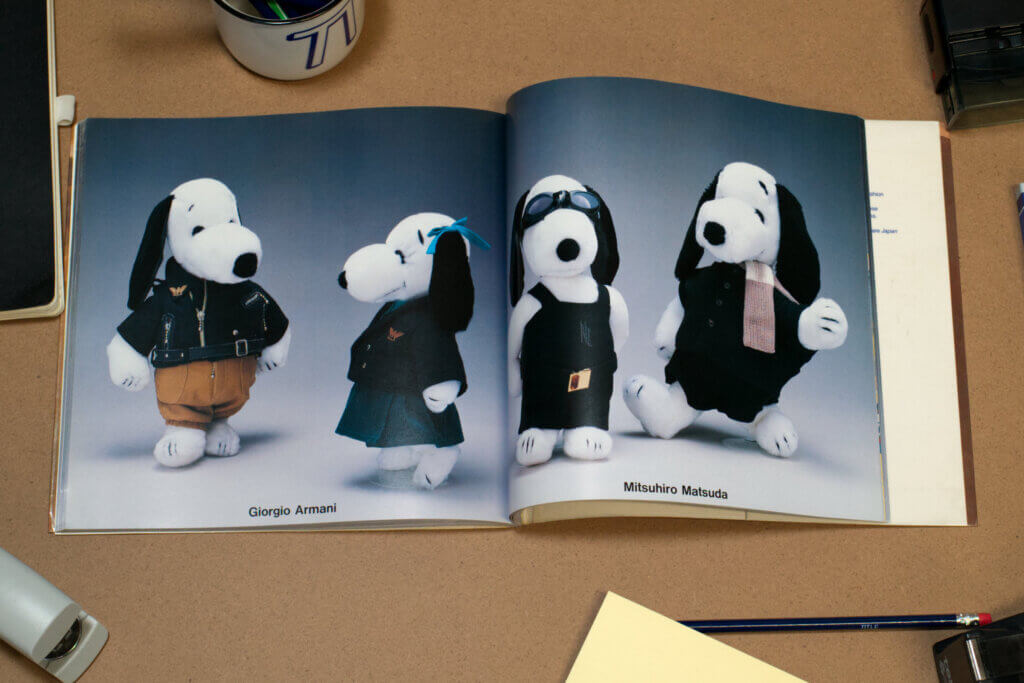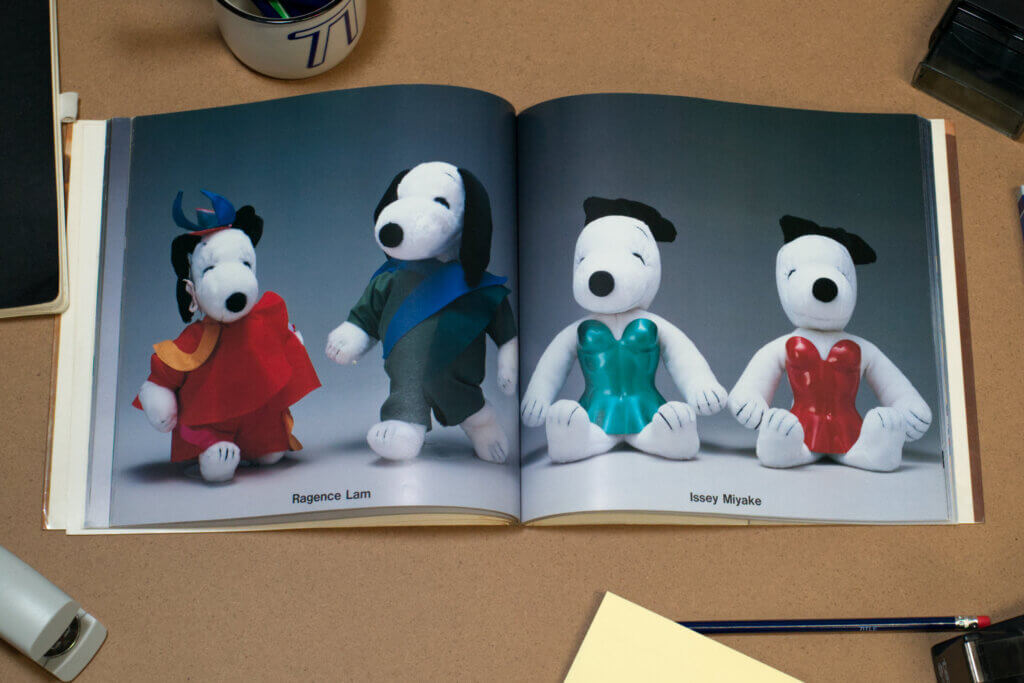 Giorgio Armani did not only rule the suit game, but also gave Snoopy this bad boy fit featuring a leather biker jacket and what seems to be workwear pants. And Miyake did… Just have a look.
Gucci / Levi Strauss / Missoni / David Hicks
If you imagined Snoopy wearing horse-bit loafers to represent the Italian power house, you were wrong, but you won't be disappointed. Snoopy and Belle wear full tennis sets sporting the interlaced double-G. But not only the incredibly designed small accessories such as Belle's green see-through visor, Snoopy's tennis bag or the matching sweat bands are hitting the ball out of the park… It's the shoes! The siblings are sporting crisp 1980's Gucci Sneakers.
Side fact: Gucci Sneakers were the inspiration behind Jay Z's 2003 sneaker collaboration with Reebok – The S.Carter.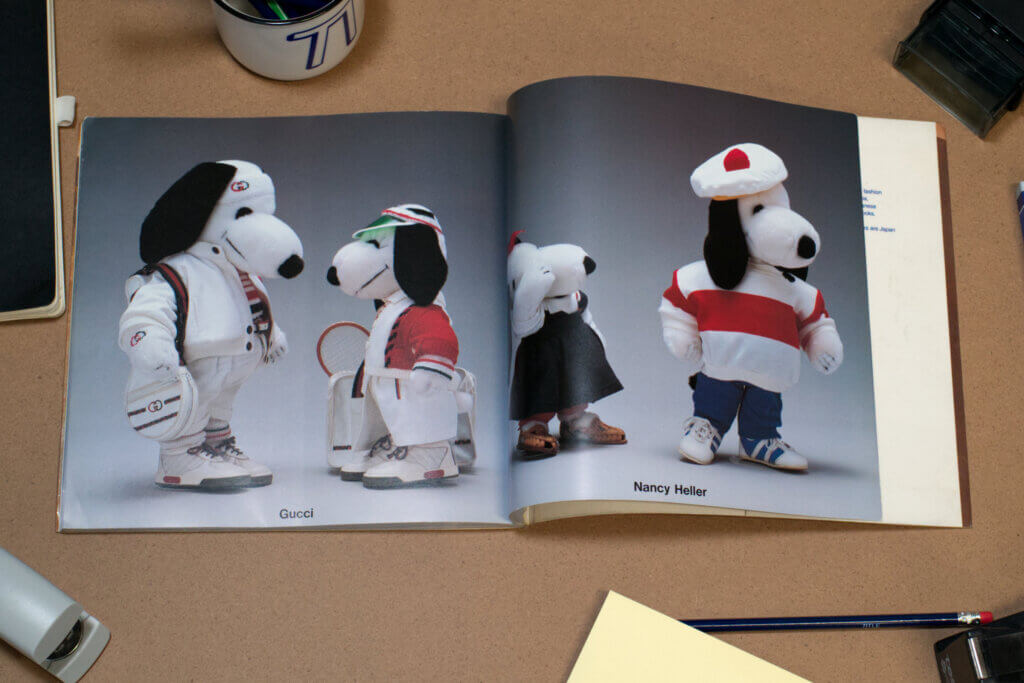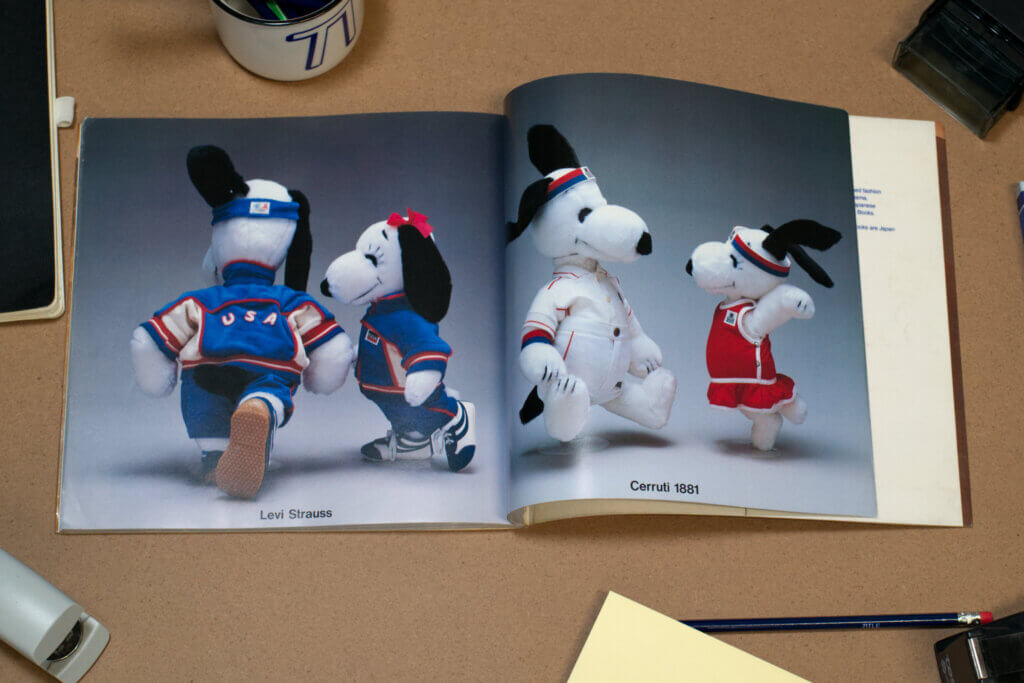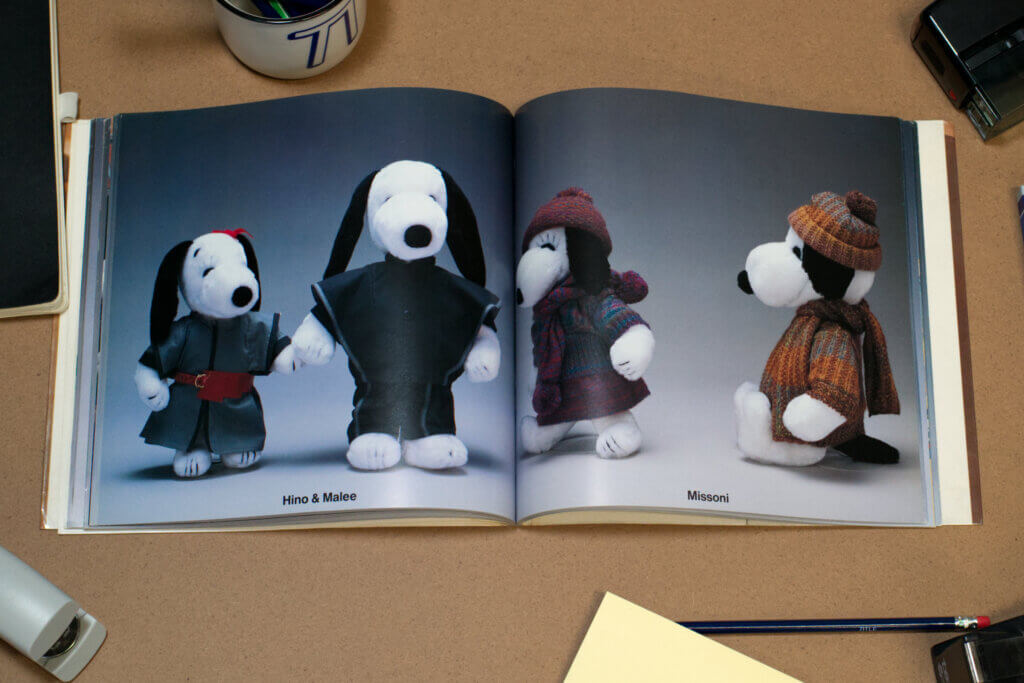 The looks stay sportive. Very interesting to see Levi Strauss not dressing the duo in all denim, but track suits in a patriotic red, white and blue. Why did they skip the jeans? In 1984, Levi Strauss dressed the US team participating in the Olympic Games in the exact same get-up. Fashion history at its best.
Italian brand Missoni is sometimes called the "Magicians of Color" and widely known for their knitwear, just as you can see it worn by Snoopy and Belle. We are not sure if Ottavio and Rosita Missoni had a shooting like this in mind when they started in 1953, but in soft and warm knit styles like the showcased ones, those dogs definitely won't bark.
English designer David Hicks started out in 1959. Not in the field of fashion, but specialized in interior fabrics and capeting. In 1972 he expanded his art into fashion, displaying a traditional style of blazers, fine wool and pleats. Both Belle and Snoopy look ready to have a stroll around their cottage, dressed in a wool blazer and a puffer vest.
The Group Shots
If you are amazed by the fit pics, lay your eyes on the carefully staged group shots. Wether it's the beach, the subway, a posh ball or a rowdy night at the club, art director Harutoshi Kada, installation designers Kimie Hats and Yasuko Tominaga and the book's stylists made sure to invite the beholder into scenarios more life-like than most photo shootings featuring models that are actually alive. It's an awesome jobs with small details – like a spilled drink next to a passed out Snoopy and the club's bar, a Speedo-sporting beagle enjoying a sun bath while listening to his boom box or just about every detail in the subway shot – really underlining the art behind the project.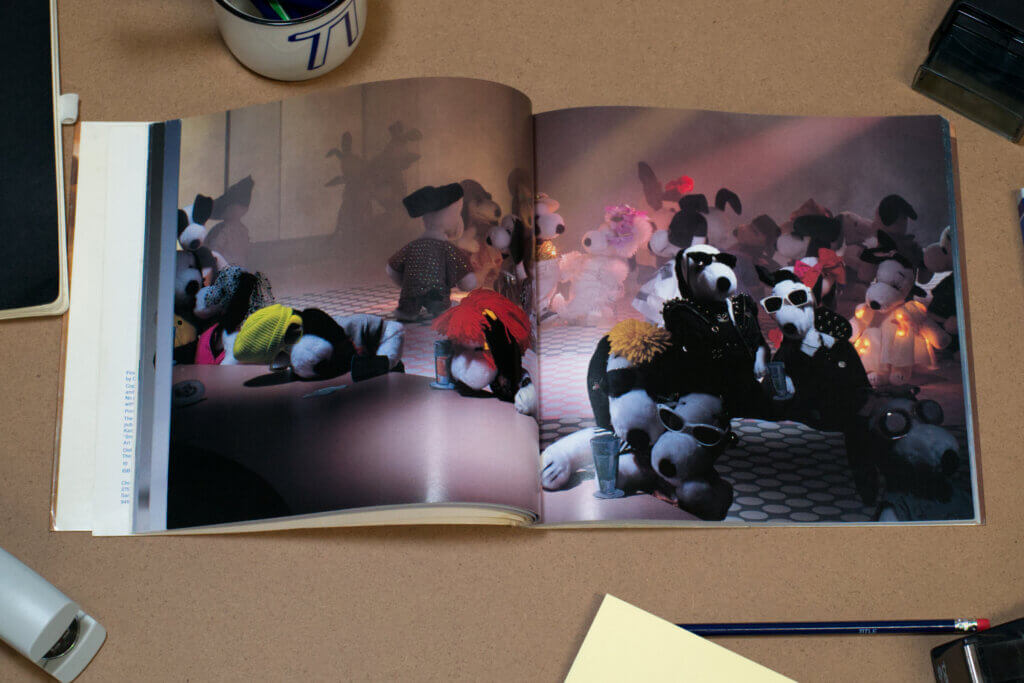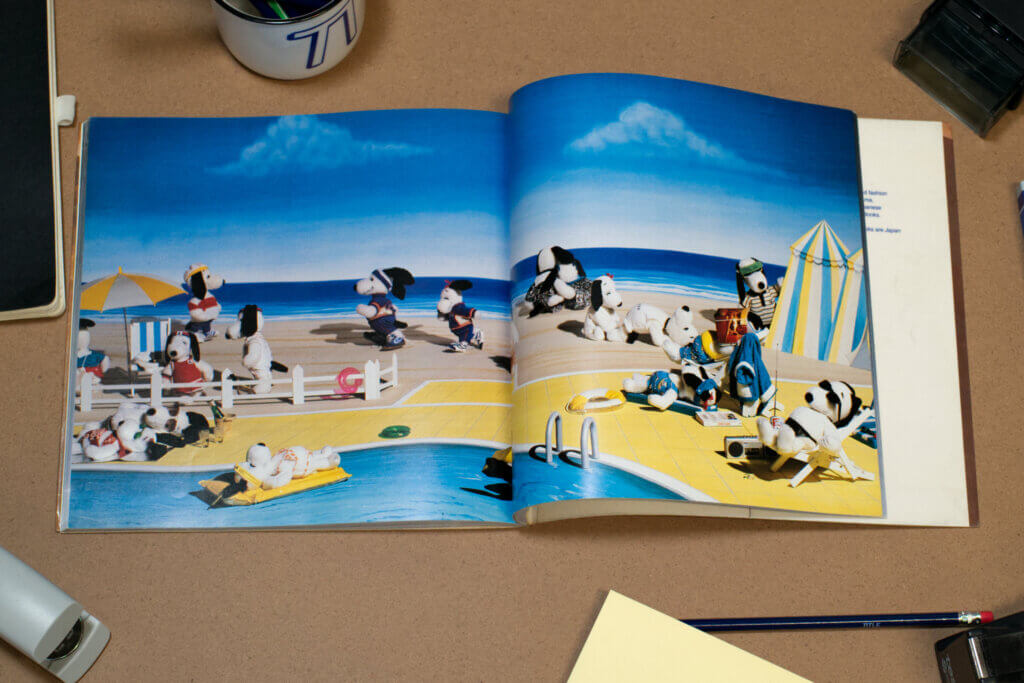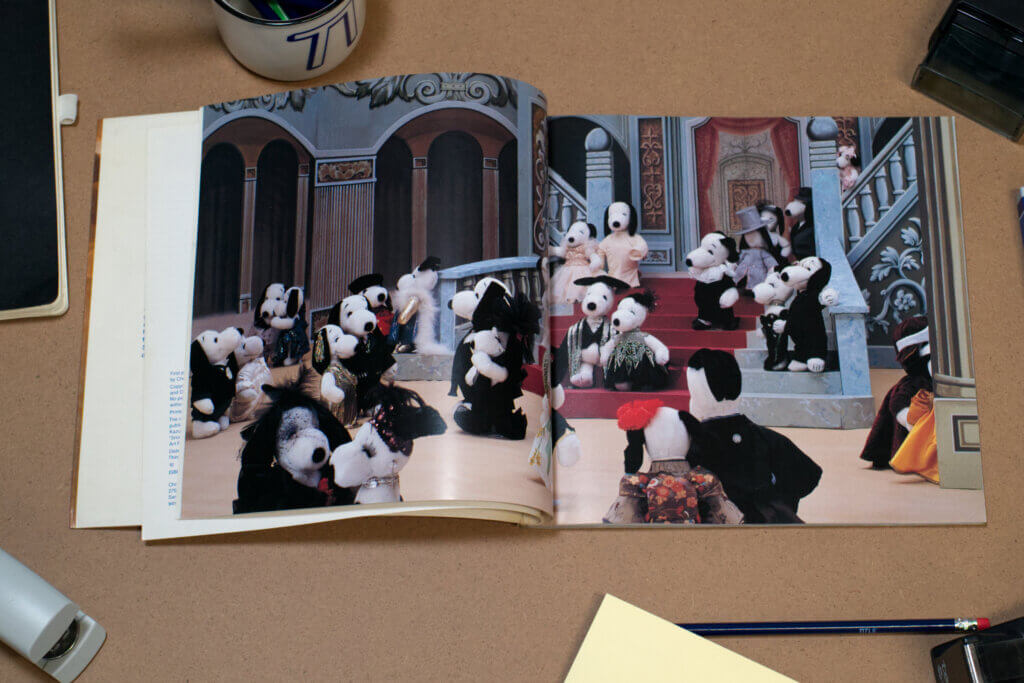 If you want to use the label of "grail", this book definitely fits every criteria. Each look is nailed. Each model striking poses full of expression (We know, we are talking about plush toys here, but look for yourself!), and it is also packed with interesting information about the who's who of the 1980's fashion scene with a written introduction to each designer – some still part of the fashion elite, some forgotten.
Whenever you have the chance to get your hands on "Snoopy in Fashion", don't hesitate. It's an example of the best possible outcome of two worlds – fashion and toys – collaborating to create something fun, informative and timeless – A unique book that has earned its place in fashion and pop culture history.