"Snoopy in Fashion" – An A-Z of 1980's Fashion Modeled by a Beagle
Snoopy, the beloved beagle from Charles M. Schulz's Peanuts comic strips, has transcended his origins to become an enduring symbol of popular culture. With his debut many decades ago, Snoopy has evolved into much more than just a comic book character – he has become an icon. Today, there are few fictional characters as famous or universally adored as the lovable gang created by Schulz. Their Christmas cartoon special remains a holiday tradition, and Peanuts comics continue to be cherished around the world.
In a surprising turn of events, Snoopy himself has even graced the pages of one of the most esteemed fashion publications ever released – "Snoopy in Fashion." This hidden gem has garnered significant attention in recent years, particularly among fashion aficionados who have deemed it a must-have item. While discussions about it thrive on platforms like Reddit and Twitter, the opportunity to witness this captivating compendium of 1980s runway and casual looks firsthand is a rarity.
…And besides that Snoopy actually modeled in one of the best fashion publications ever released – Snoopy in Fashion.
Over the last years this gem has become one of the most sought after books among fashion aficionados (Well… the cool ones) on the internet. People talk about it on platforms like Reddit and Twitter, but it's very rare to see it with your own eyes and get the opportunity to deep-dive into this compendium of 1980's runway and casual looks.
Writer, Philosopher, Athlete, Model – Snoopy
Snoopy: A Multifaceted Character
By the 1980s, Snoopy had transcended his role as a mere side character in a comic book. As the book reveals, Snoopy views himself as much more than just a dog. In his vivid imagination, he fancies himself a talented but undiscovered writer, a brilliant philosopher, a connoisseur of fine food, a gold medal athlete, and a perennial fixture on international best-dressed lists. Snoopy embodies a wide range of personas and pursuits, making him a multifaceted and intriguing figure.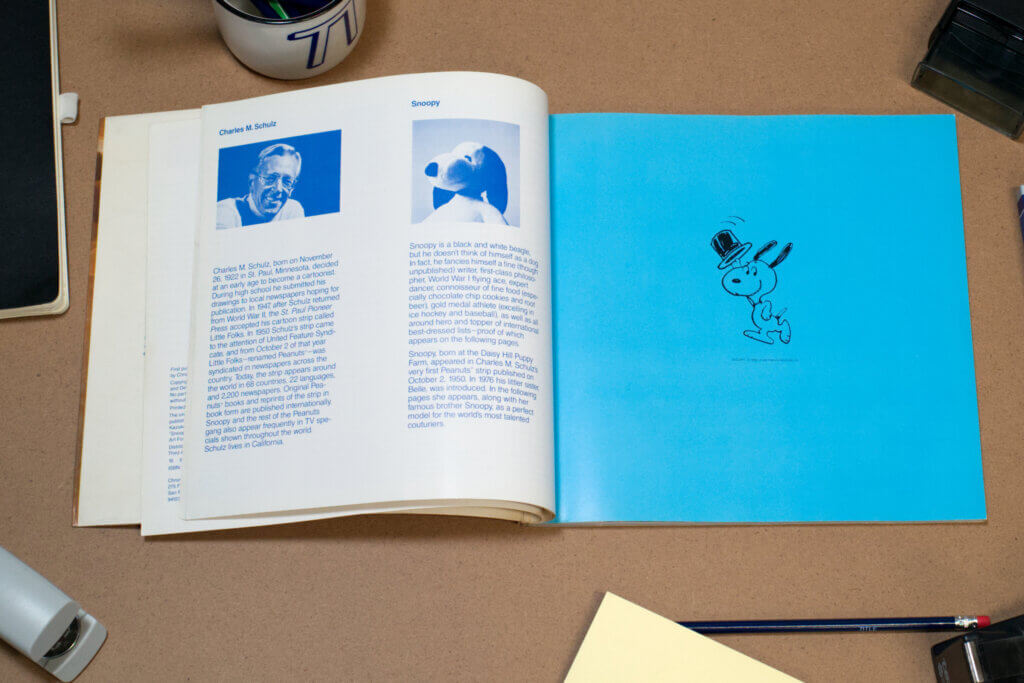 The Birth of "Snoopy in Fashion"
The brainchild of Connie Boucher, then-chairman of Determined Productions, Inc., the company responsible for Snoopy plush toys, "Snoopy in Fashion" was an idea that struck gold. Boucher reached out to over 80 renowned fashion designers, including names like Oscar de la Renta, Gianni Versace, Pierre Balmain, Thea Porter, Girbaud, L.L. Bean, Fendi, Givenchy, Thierry Mugler, Missoni, Karl Lagerfeld, Trussardi, Fiorucci, Diane von Furstenberg, and Esprit. These talented designers eagerly accepted the task of dressing Snoopy and his sister Belle in their most exquisite runway and casual ensembles.
"I couldn't believe it when the world's most famous fashion designers agreed to turn their talents to creating clothes for the world's most famous beagle. It's wonderful!"

Charles M. Schulz
"It's wonderful!" exclaimed Charles M. Schulz, the creator of Peanuts and Snoopy, upon learning that the world's most famous fashion designers had lent their skills to create clothing for the world's most famous beagle. In 1984, "Snoopy in Fashion" was finally unveiled alongside an exhibition at the Seibu Art Forum in Tokyo. Since then, it has amassed a devoted following and achieved cult status among enthusiasts.
A Glimpse of Iconic Looks
Let's explore some of our favorite looks from "Snoopy in Fashion":
Gianni Versace / Paco Rabane / Givenchy / Balmain
Gianni Versace, a master of fabric, textures, and accessories, earned his place in the fashion pantheon with his iconic designs. For this special occasion, Versace dressed Snoopy in a suave suit and tie, while Belle became the belle of the ball in a resplendent gown.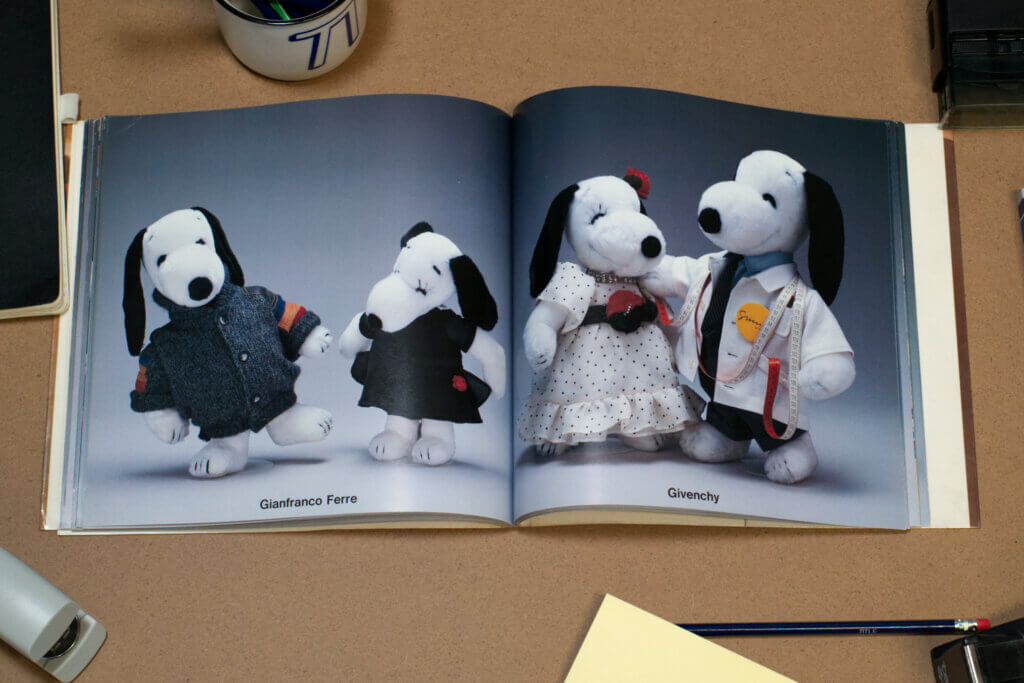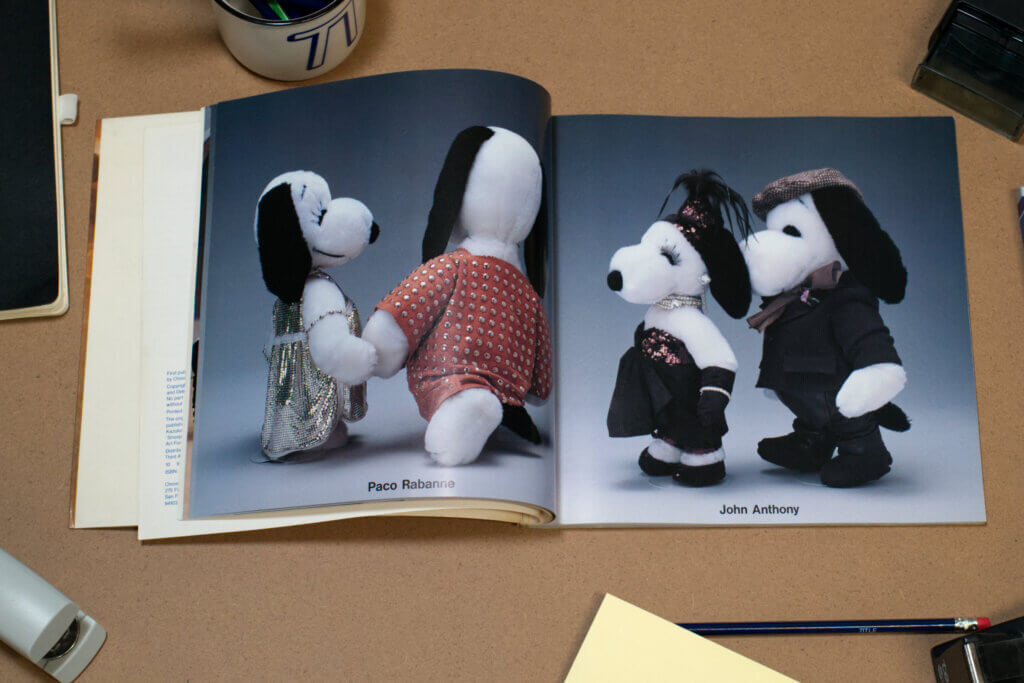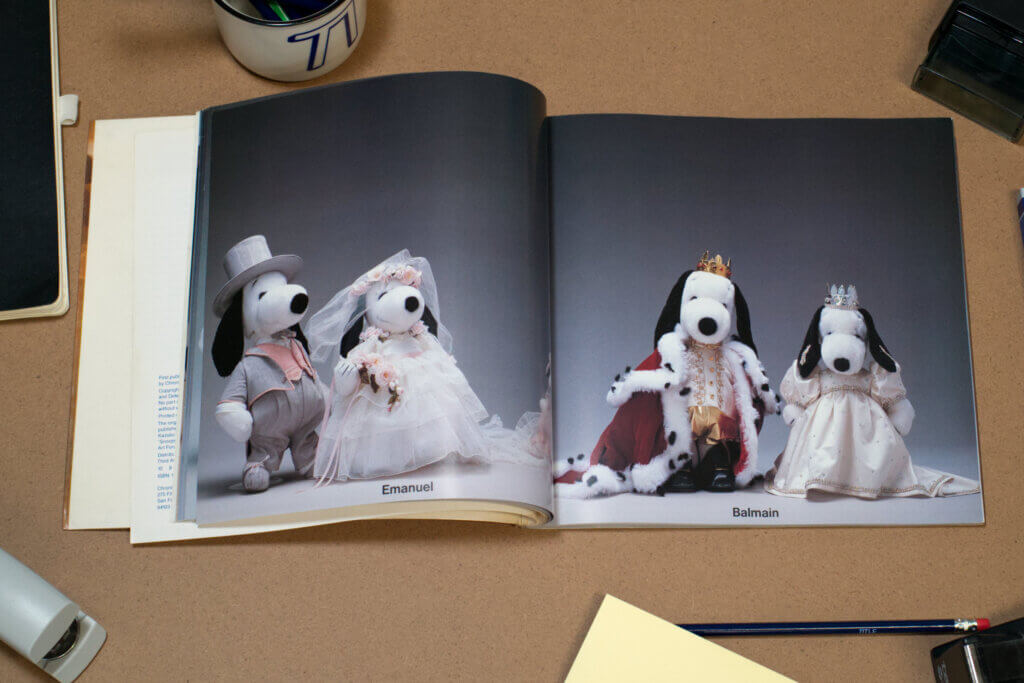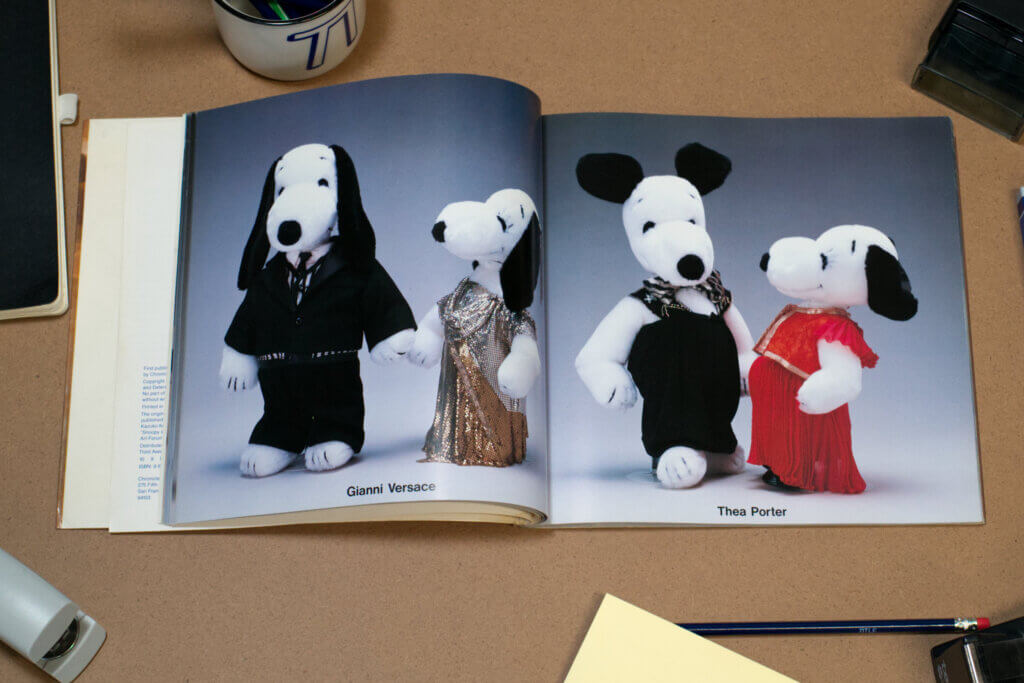 Givenchy showcases the tailoring process as Snoopy adopts the role of a tailor, with his sister adorning a charming polka-dot summer dress. Spanish fashion designer Paco Rabane, renowned for his unconventional use of materials like aluminum and plastic, brings his signature style to life with Snoopy wearing a striking studded red ensemble and Belle showcasing an elegant golden evening dress. Balmain, on the other hand, exudes regal opulence in their ensemble.
Jean Paul Gaultier / Thierry Mugler / Giorgio Armani / Issey Miyake
Jean Paul Gaultier, known for his sailor-inspired designs, fragrances, and captivating campaigns, emerged as a fashion force to be reckoned with. Having been captivated by fashion since childhood, Gaultier introduced his first independent designs in 1977, and in "Snoopy in Fashion," he dresses Snoopy and Belle in playful yet tasteful black ensembles with salmon-colored accents.
Thierry Mugler decided on a more futuristic style and designed a blue overall with silver pipe lining.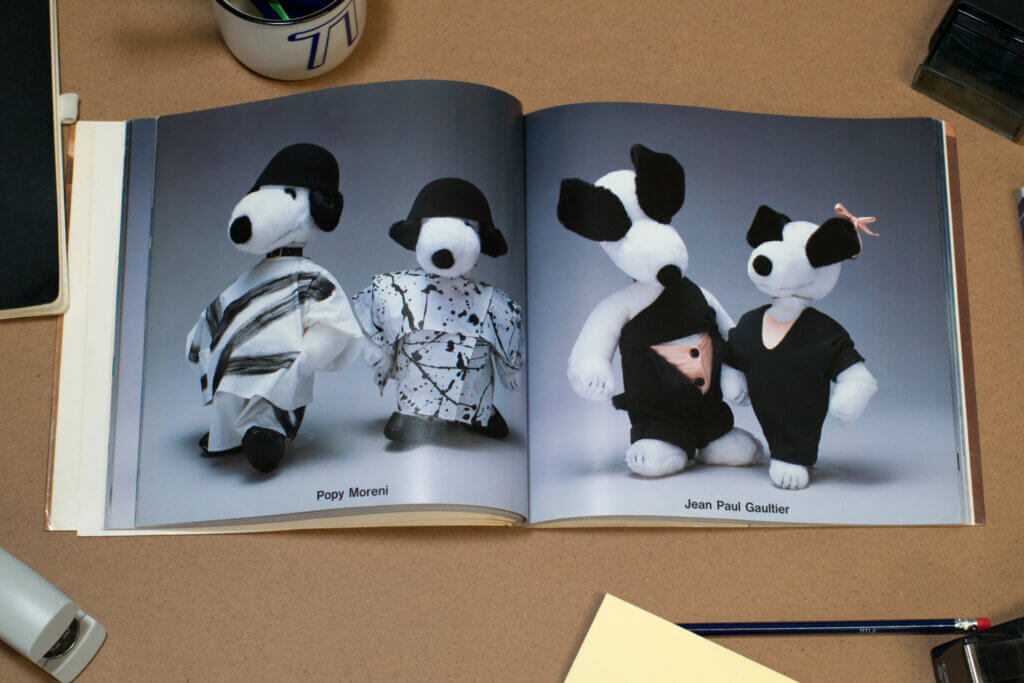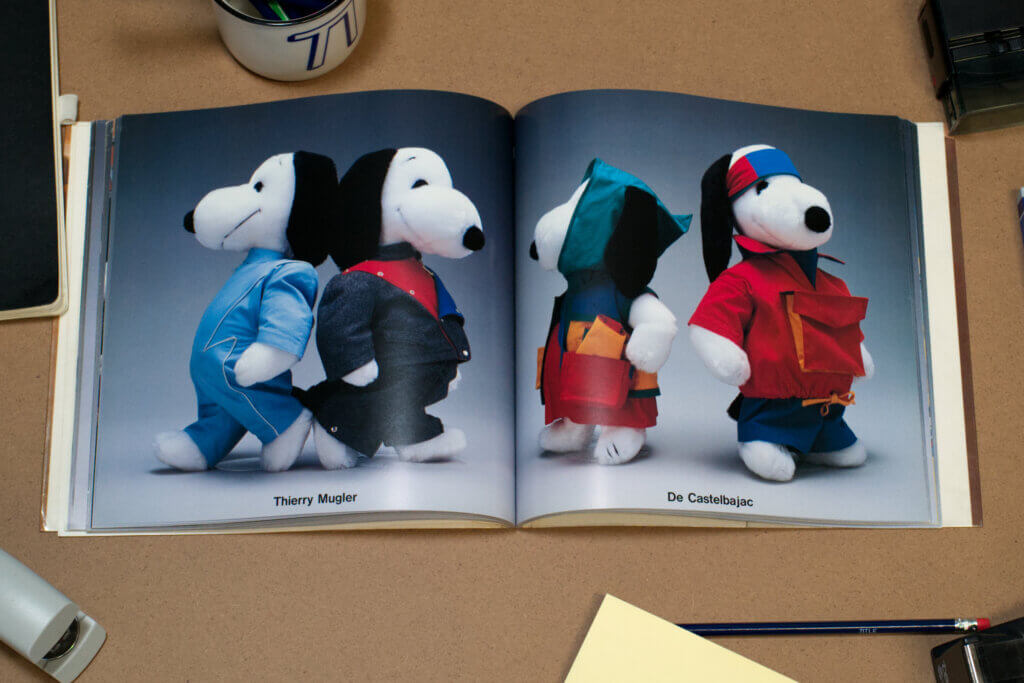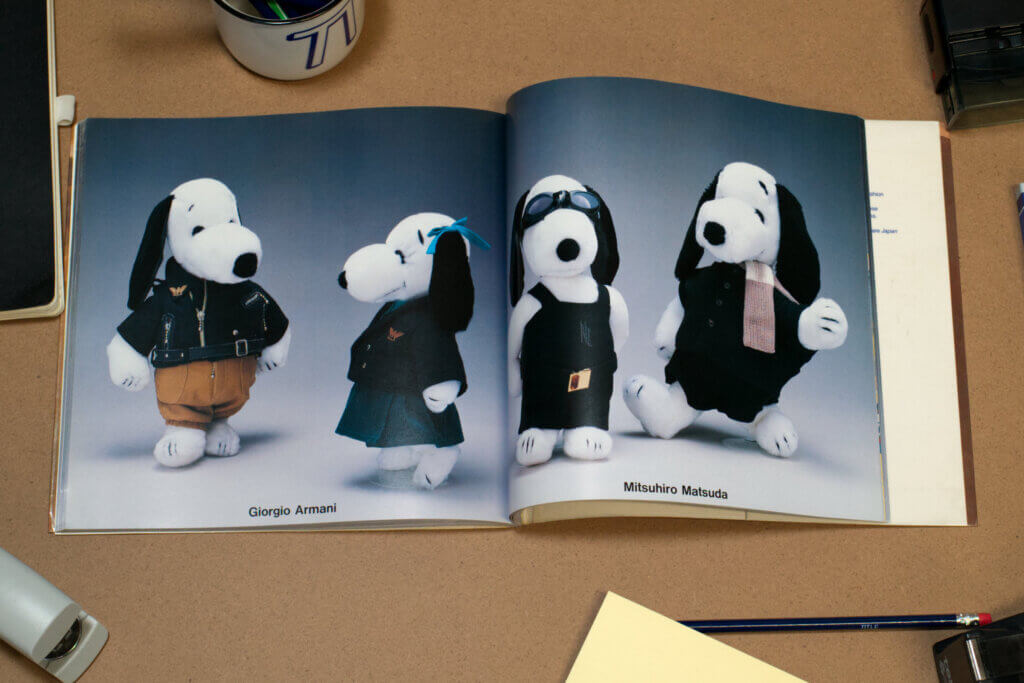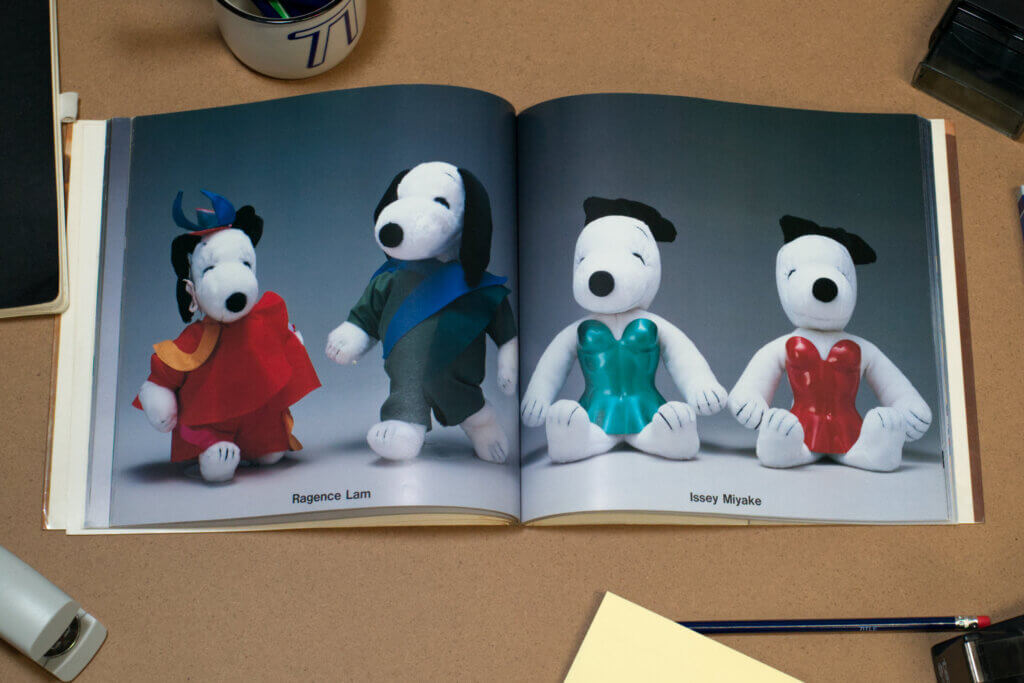 Thierry Mugler opts for a futuristic style, creating a blue jumpsuit with silver piping. Giorgio Armani, renowned for his mastery of suits, gives Snoopy a rebellious edge with a leather biker jacket and workwear-inspired pants.
Issey Miyake's contribution? Well, you'll have to see it for yourself.
Gucci / Levi Strauss / Missoni / David Hicks
Gucci surprises us by adorning Snoopy and Belle in full tennis sets featuring the interlaced double-G emblem. The attention to detail extends beyond the impeccably designed small accessories, such as Belle's green see-through visor, Snoopy's tennis bag, and their matching sweatbands—it's the shoes that truly impress. Sporting crisp 1980s Gucci sneakers, the duo truly hits it out of the park.
Side fact: Gucci Sneakers were the inspiration behind Jay Z's 2003 sneaker collaboration with Reebok – The S.Carter.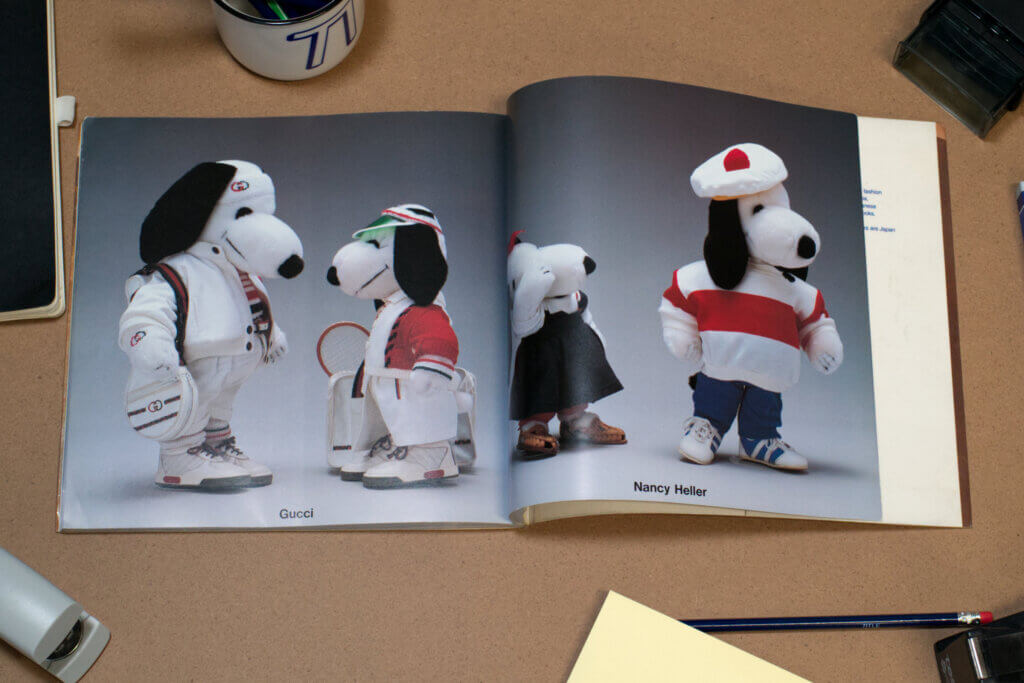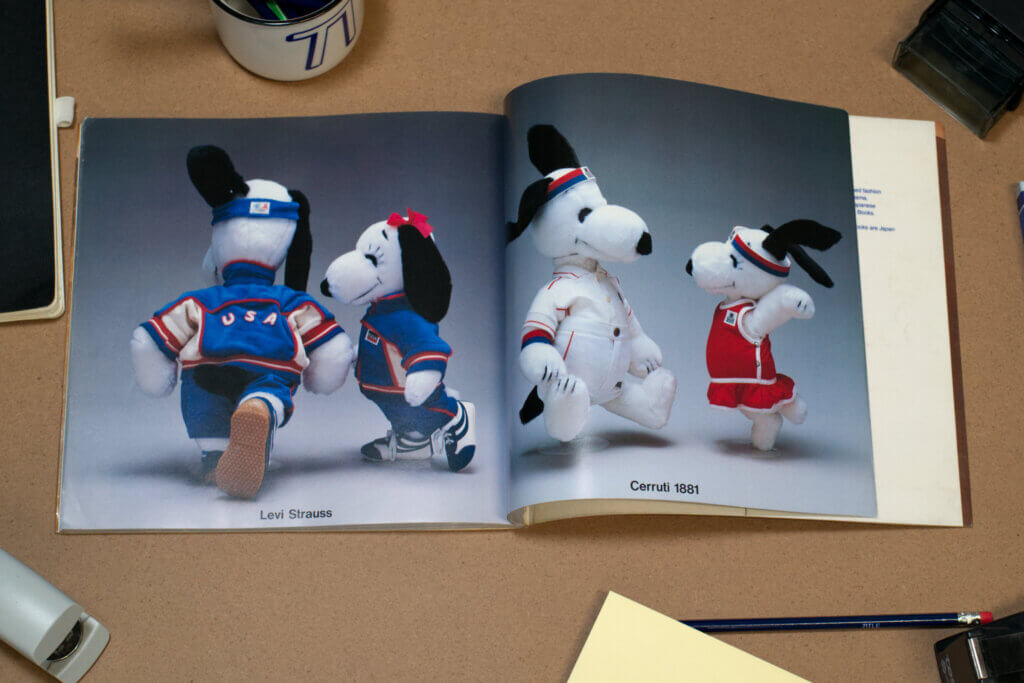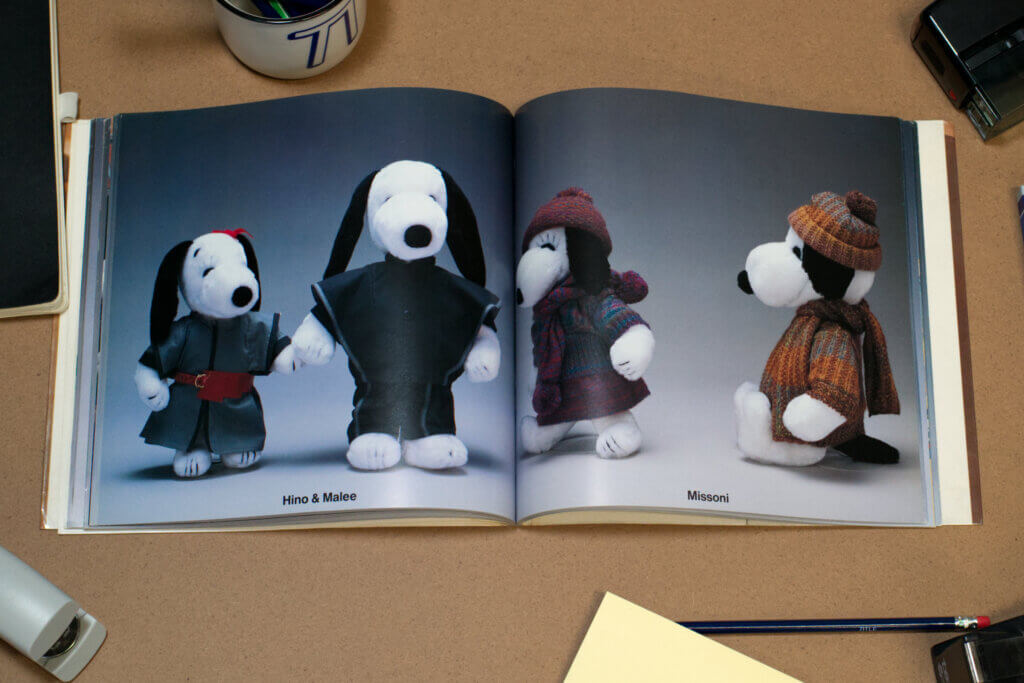 Levi Strauss, famous for their jeans, takes a patriotic approach, dressing the siblings in red, white, and blue track suits—an outfit that originally graced the US team participating in the 1984 Olympic Games. Missoni, often hailed as the "Magicians of Color," showcases their expertise in knitwear, perfectly exhibited by Snoopy and Belle's soft and warm outfits. English designer David Hicks, renowned for his interior fabrics and carpeting, ventured into fashion in 1972, featuring traditional blazers, fine wool, and pleats. In "Snoopy in Fashion," both Belle and Snoopy sport a wool blazer and a puffer vest, exuding an air of casual elegance.
Captivating Group Shots
The Group Shots
Beyond the striking individual ensembles, "Snoopy in Fashion" treats readers to meticulously staged group shots. Whether it's at the beach, on the subway, attending a glamorous ball, or reveling in a lively night at the club, art director Harutoshi Kada, installation designers Kimie Hats and Yasuko Tominaga, and the book's stylists have crafted scenarios that are astonishingly lifelike. The attention to detail is remarkable, evident in every spilled drink next to a passed-out Snoopy at the bar, Snoopy basking in the sun with a boombox while sporting a Speedo, or the meticulously crafted subway scene. These group shots underline the artistic brilliance that permeates the entire project.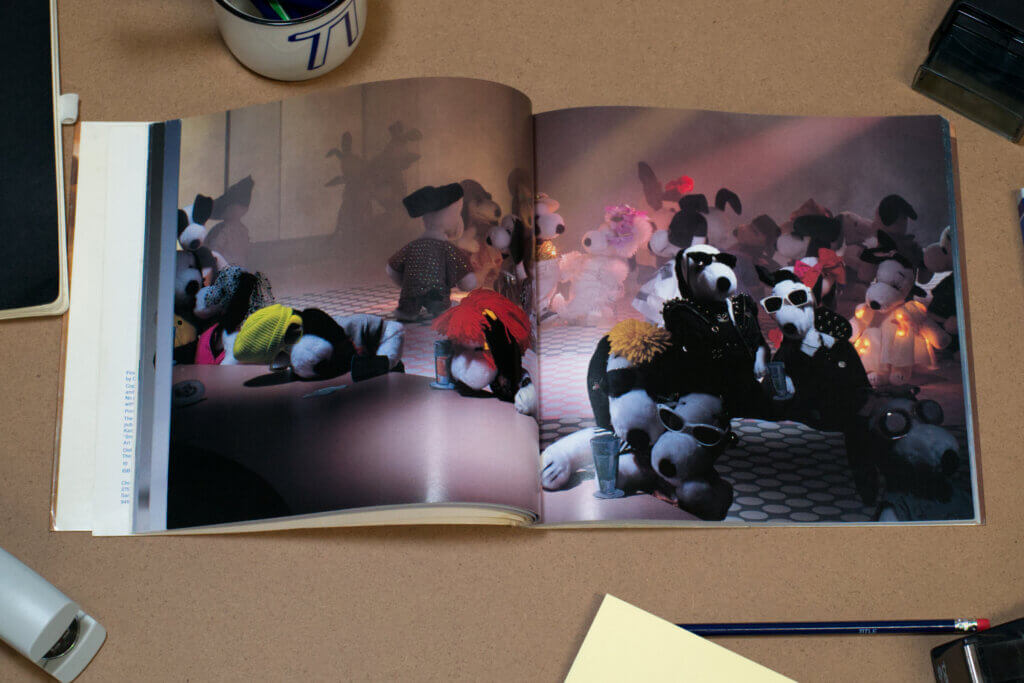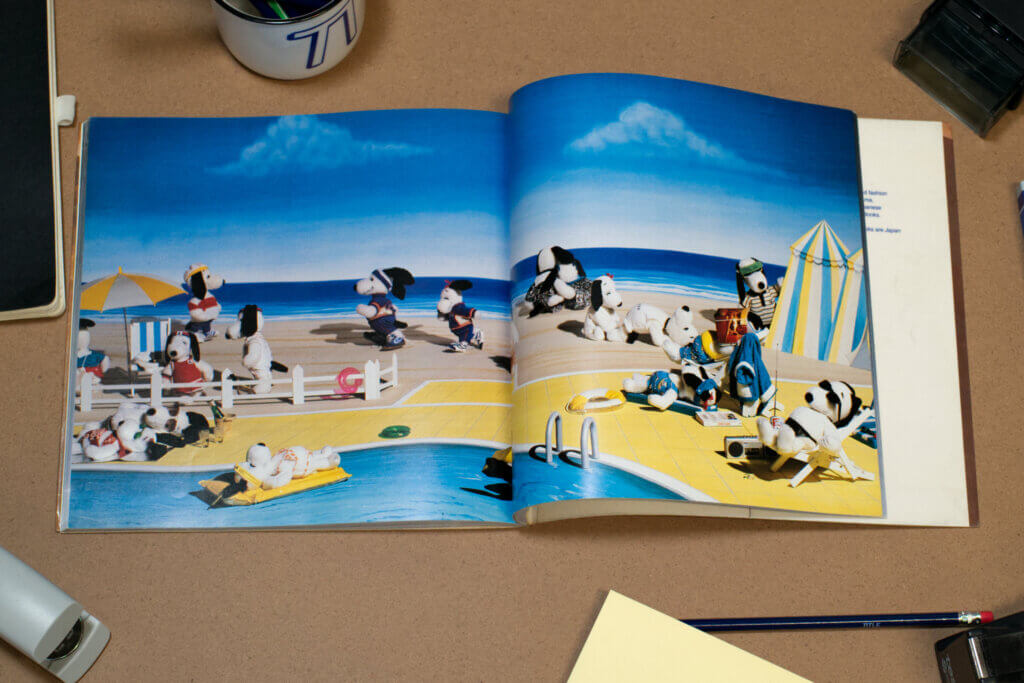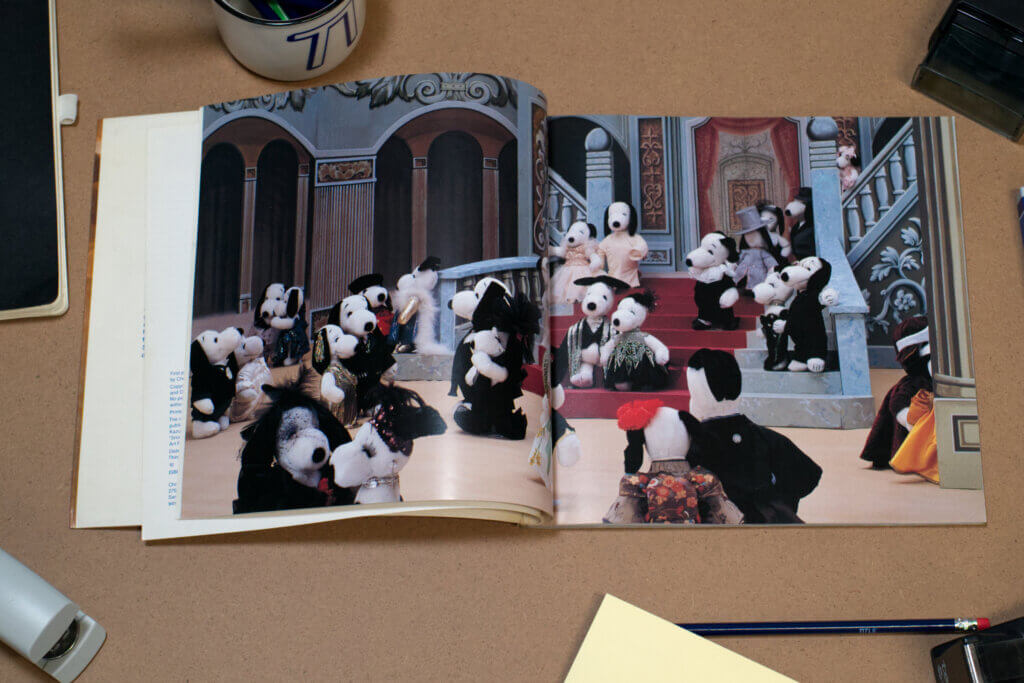 The Grail of Fashion Books
If the label "grail" resonates with you, then "Snoopy in Fashion" undoubtedly ticks all the boxes. Each look is flawlessly executed, and the plush toy models effortlessly convey a range of expressions. Moreover, the book offers a wealth of intriguing information about the fashion luminaries of the 1980s. From the enduring elite to the forgotten icons, each designer is accompanied by a written introduction. "Snoopy in Fashion" represents the perfect fusion of fashion and toys, resulting in a captivating, informative, and timeless book. It has rightfully earned its place in the annals of fashion and pop culture history.
When the opportunity arises to obtain a copy of "Snoopy in Fashion," seize it without hesitation. This unique book exemplifies the harmonious blend of fashion and toys, delivering a delightful, educational, and enduring experience.