Fashion has always played a vital role in the history of cinema. We recently had the pleasure of watching "American Gigolo" for the first time. We had heard about this movie multiple times, but honestly, the German title "Ein Mann für gewisse Stunden" was such a turn-off that we never really cared about it.
However, when we started seeing screenshots from this 1980s flick popping up on Instagram and Twitter mood boards, we decided to give it a try. So, what's that movie about?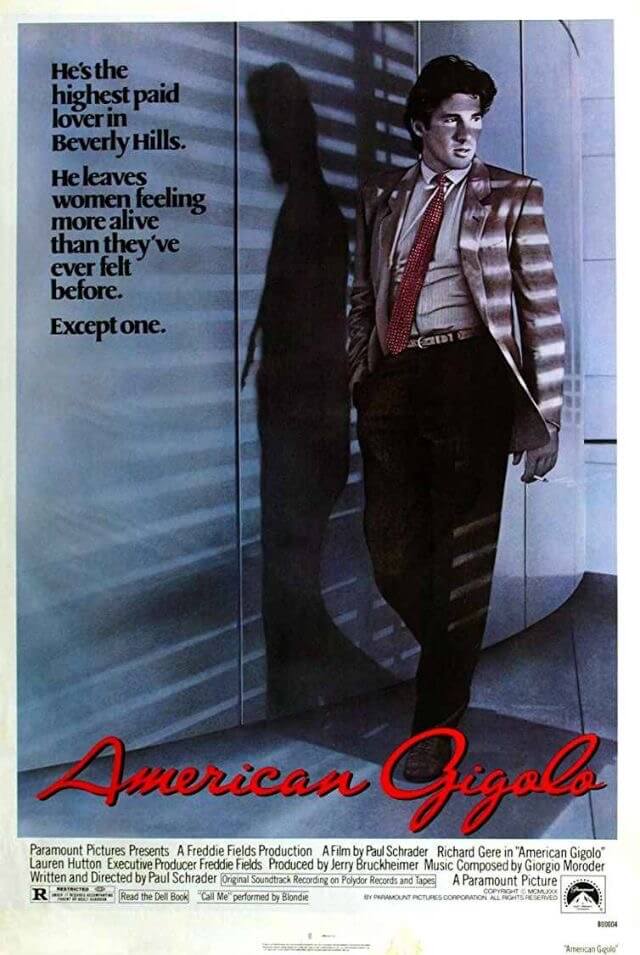 "American Gigolo" is a neo-noir crime drama written and directed by Paul Schrader, who also co-wrote the screenplays for "Taxi Driver" and "Raging Bull" with Martin Scorsese. Schrader had already directed two other movies before working on "American Gigolo" and had already made a name for himself in Hollywood. Richard Gere, a fresh talent at the time and far from being the Hollywood legend he is nowadays, was chosen to play the lead role of Julian Kaye, a male escort who becomes the prime suspect in a murder case. The movie had a fantastic soundtrack by Giorgio Moroder and Blondie, which is a guarantee for a great 80s flick.
But apart from the talented director, the handsome lead actor, and the amazing soundtrack, who was responsible for making this movie a gem? It was Giorgio Armani.
Just as "American Gigolo" marked a turning point in Richard Gere's career, it also marked the moment when Giorgio Armani conquered the US.
Giorgio Armani, born in 1934, established his company in 1975. He soon realized that he needed new and unconventional marketing methods to promote his products effectively. Armani relied on large street ads and TV spots, but he also recognized the potential of the relationship between cinema and fashion for his brand.
He took charge of the costume design for "American Gigolo" and dressed Richard Gere in a variety of suits from his workshop. From the very first scene where we meet the title character Julian, we are immersed in a world of luxury. Gere's character makes a good living as a call boy for affluent older women and certainly enjoys spending his earnings. Keen observers of fine furniture will surely spot the mid-century Le Corbusier Armchair in his apartment.
However, it was his wardrobe that truly stole the show. As a designer, Armani breathed new life into the classic men's suit, giving it a more relaxed silhouette and a lighter feel by using softer fabrics instead of tweed. Linen and silk also made an appearance, adding an elegant touch to the traditional men's closet. There is a scene where Julian gets dressed and lays out a selection of suits, matching shirts, and ties on his bed, clearly demonstrating how much fashion means to him.
Another interesting fact about the movie is that Richard Gere was not the director's first choice for the leading role; it was John Travolta. They were in advanced discussions when Travolta decided to pass on the role but not without taking every Armani suit specially tailored for him. These suits soon made appearances on every red carpet, and everyone started clamoring for the latest Italian-made garment.
We won't spoil the movie's plot, but we can all agree that Giorgio Armani has spoiled us (in a good way) with his fashion ever since. "American Gigolo" takes us on a journey through 1980s Los Angeles, filled with luxurious looks straight out of high-end boutiques, leaving every guy watching it reconsidering his current wardrobe.
It certainly prompted Travolta to rearrange his wardrobe, and we can personally say that we are eagerly looking forward to adding some vintage Armani suits to our wardrobe pretty soon. The timeless elegance and impeccable craftsmanship of Armani's designs have left a lasting impression on us.
"American Gigolo" not only captivated us with its gripping storyline and exceptional performances but also served as a platform for Giorgio Armani to showcase his sartorial genius. The movie underscored the powerful connection between fashion and cinema, and Armani's involvement solidified his status as a fashion icon.
As we reflect on this cinematic gem, we can't help but feel inspired to explore our own personal style and embrace the influence of fashion in our lives. Just like Richard Gere's character Julian, who used fashion to define his identity and make a statement, we are motivated to curate our wardrobes with a touch of sophistication and luxury.
So, if you're looking for a film that seamlessly combines thrilling drama, captivating style, and a glimpse into the fashion world of the 1980s, "American Gigolo" is a must-watch. Prepare to be enthralled by the magnetic performances, the alluring fashion choices, and the timeless charm that continues to make this movie an enduring masterpiece.
And who knows? Maybe, like us, you'll find yourself yearning to add a touch of Armani's exquisite craftsmanship to your own collection.