This is part two of our big runway recap. We collected the most exciting and most talked about runway shows from Spring 2023 Ready-To-Wear and Menswear. Scroll down to learn more about how Saint Laurent translates the Moroccan way of living into the recent Spring 2023 Menswear Collection and how Guram Gvasalia's first physical Show for Vetements turned out.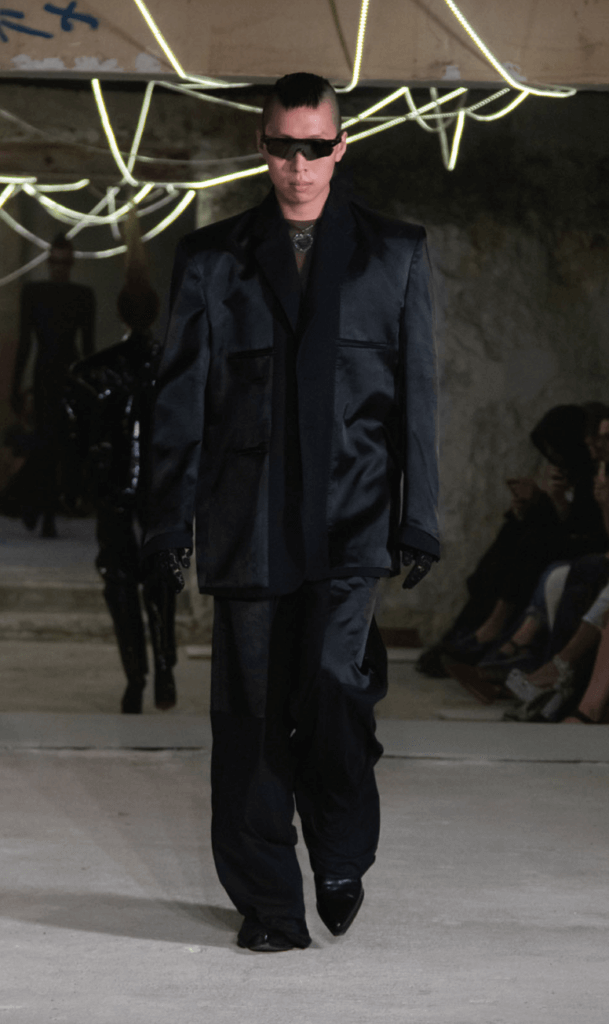 Guram Gvasalia Showcased first physical Vetements Show as Creative Director
Inspired by the designer's childhood memories, war trauma, imagination and more.
For Vetements Spring/Summer 2023 collection, the Georgia-born designer looks into his life's experience to generate a collection that is emotionally poignant as much as it is design-savvy. Therefore, Gvasalia's vision for the new season comes to life in its exhibition of multifaceted designs, while still savoring central house codes. The runway opened with pinstripe jackets styled with distressed baggy jeans, complete with sci-fi-inspired sunglasses. In true Vetements style, the catwalk continued to showcase boxy silhouettes, including a selection of tees with shoulder pads, along with extra-long leather belts. "I'm not doing sh-t today" text took center stage on sweaters.
Models further walked down in tonal ensembles, including pastel pink, neon yellow and tie-dye sets of coats, blazers and loose-fitted trousers. In addition to bulky knee-length boots with bold chain detailing, standouts from the collection included check-patterned trench coats and pants, referencing the check blankets Gvasalia remembers receiving at refugee camp to wear instead of outerwear.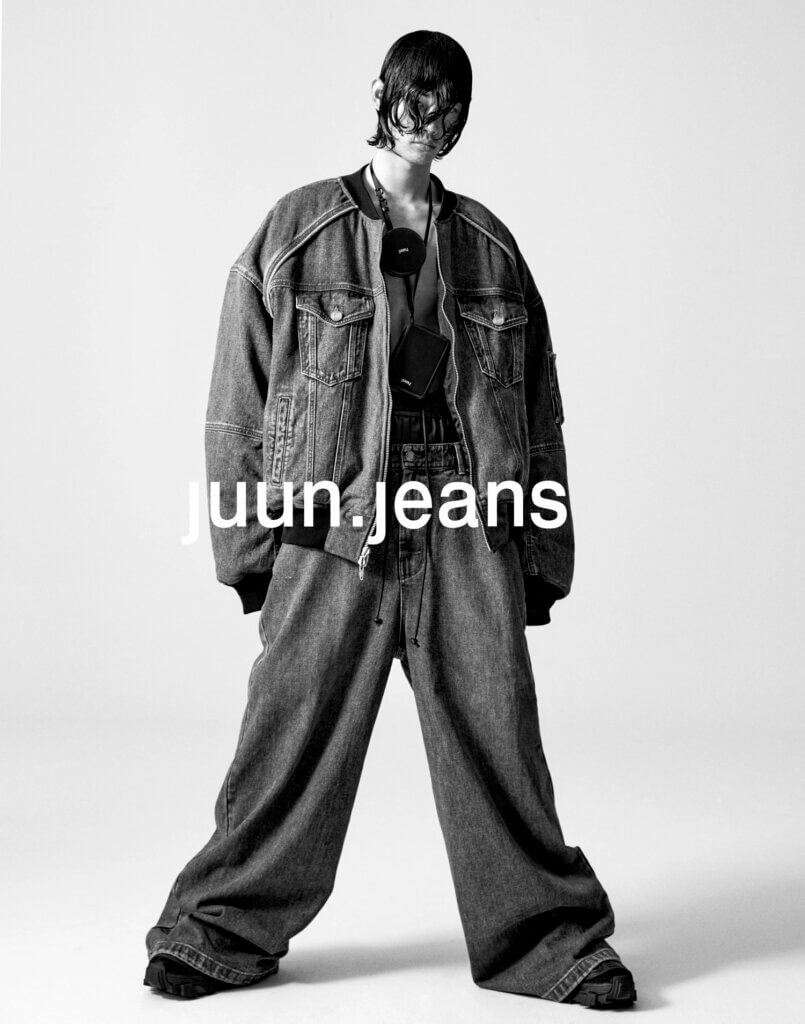 Juun J. Jeans Dreams
Juun J. unveiled its Spring/Summer 2023 collection during Paris Fashion Week. In true brand-manner the collection is going back to his label's roots with a concise assortment of oversized garments. Billowing suits, generous outerwear and shape-obscuring dresses are all on hand, as the creative reconsiders what it means to design clothing in this day and age. The look and feel of the collection is defined by denim, which would be inserted into the time-honored design language of the Korean label.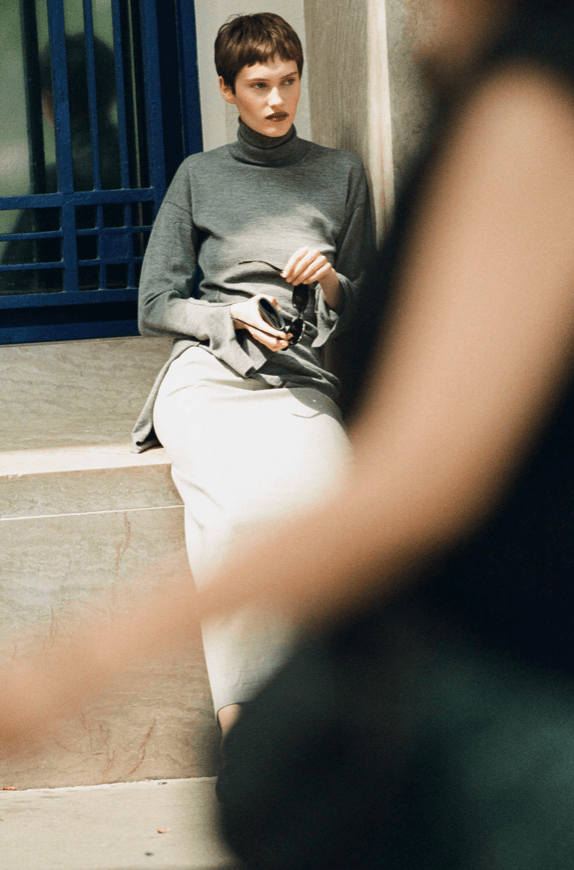 Penchant for Essentialism: The Row
Mary Kate and Ashley Olsen delivered sophisticated essentials for Spring 2023. The collection includes oversized blazers, formal pants, leather trench coats and more. Pictured on the streets of Paris and revealed in the Galerie Seguin, the collection calls on a series of lightweight fabrics and straightforward silhouettes, with functionality at the forefront of each creation. Emphasizing formal tailoring and structured workwear, the line, at large, serves up a refined cocktail of sleek minimalism for the modern man. One ensemble pairs an oversized grey blazer with similarly loose-fitting formal pants, while another matches a body-length leather trench coat with wide-legged black pants.
Saint Laurent translates ease of life typical of Marrakech
For Saint Laurent's new Men's Spring Summer 2023 collection, the brand traveled to Marrakech, Morocco. For the show, Anthony Vaccarello, Saint Laurent's creative director, was inspired by Paul Bowles' 1949 novel, The Sheltering Sky, with it taking place in the Agafay desert and models walking in a circle around a pool of water. The show was also an homage to Yves Saint Laurent's love for Marrakech, which he discovered in 1966 and became a refuge for him from his busy Paris life. "If there ever was a line between what constitutes a 'masculine' wardrobe and what makes clothes 'feminine,' it elegantly dissolves here," a statement from the brand said, regarding its Men's Spring Summer 2023 line. Featured in the show was a tuxedo that boasts a new collar and shoulder silhouette, single and double-breasted options, and a cream color in lightweight silk material. "The silhouettes are globally more relaxed, reflecting an ease of life typical of Marrakech," the statement adds.
An Interdisciplinary Display of the Natural and Digital World: Loewe
An innovative representation of modernity defined Jonathan Anderson's latest collection as Loewe men's Spring/Summer 2023 grounded itself at the intersection of nature and technology. Jonathan Anderson sent out models wearing looks that were embroidered with real-life plants and greenery for his Loewe collection. He collaborated with Spanish bio-designer Paula Ulargui Escalona to seed, water and grow (for over 20 days) everything from Chia plants to cat's wort on coats, footwear and denim. "[She's] this amazing girl I found who's experimenting with cultivating plants onto fabric and garments," Anderson told Vogue. Set against solid neutrals are pops of color, graphics, and 3D elements that joined together in a futuristic melding of past and present, pushing the boundaries of traditional design composition. Among the sleek and shapely staples, which included the bomber, the hoodie, the sweatshirt, the polo, the shirt, the trackpants, the shorts, the waxed jacket, and the parka, came a display of the natural world.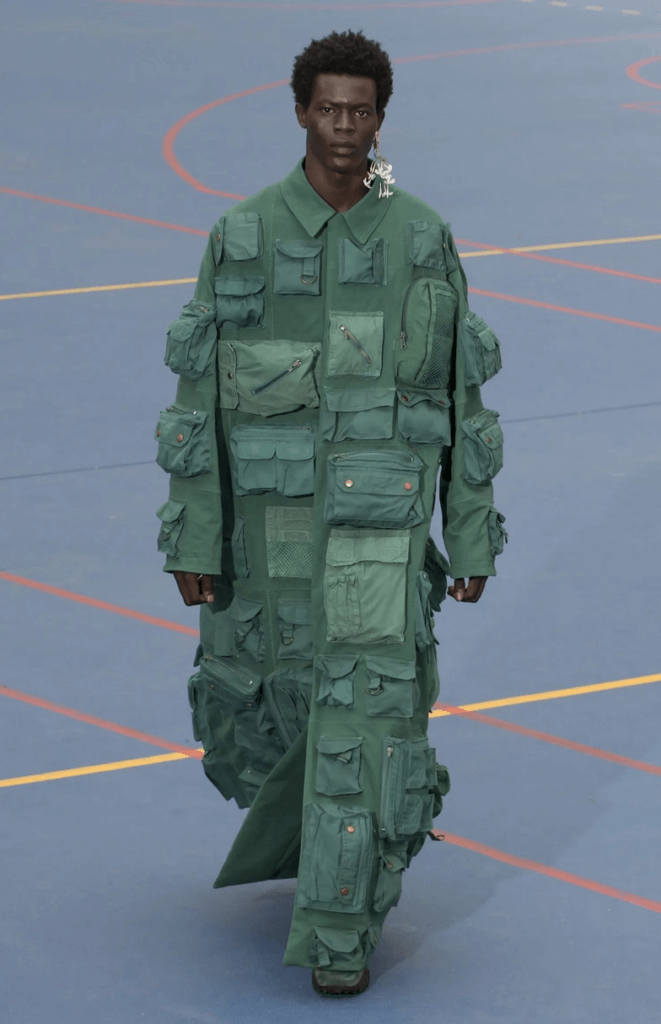 Marine Serre's Celebration of the House's Sixth Anniversary
Titled State of Soul, the collection serves as Serre's first during Paris Men's Fashion Week.
After winning the LVMH Prize in 2017, Marine Serre struck gold with her crescent moon logo—with everyone from Beyoncé to ASAP Rocky rocking the designer—and has become known for pushing the boundaries of fashion through her creative approach and material choices. With an emphasis on each individual's "State of Soul," that was the brand's own unique derivative of the translation of the French état d'esprit. The house takes into consideration all the anxiety, isolation, and losses resulting from the past couple of years and accentuates the importance that the state of one's soul requires the regenerative power that comes as a result of joining together in joyful celebration. With the collection debut coinciding with the label's sixth anniversary, they invited 1.5K of their dedicated followers to unite in celebration of Serre's lifelong dedication to circularity or distinctive reliance on regenerated materials to creatively transform traditional fashion conventions. Marking this special anniversary as the "mutation" of their State of Soul.