Early in the nineties, art and design historian Renny Ramakers and product designer Gijs Bakke made a selection of works that asserted the possibility of reusing everyday objects. The selection, which mainly featured young designers, was presented with the name "Droog" at the Salone del Mobile, the renowned annual furniture fair in Milan. Droog, meaning 'dry', pointed to the simplicity and dry humour of the objects it exhibited. The success led to the sprawling of a design movement that promotes innovative design with a focus on simplicity, ecological responsibility and unconventional design.
Ever since their presentation in 1993, and all the way through 2015, Droog made an annual appearance at the Salone del Mobile, contrasting lavishness with humour. In the meantime, and until recently, notable examples of Droog design have questioned the notions of design with thought-provoking pieces such as the "Rag Chair" by Tejo Remy — eventually, reproduced and placed in various Balenciaga stores — which utilised a collection of old clothes bound together with a resin, and the "You Can't Lay Down Your Memories" cabinet by Jurgen Bey, featuring an exaggerated pile of drawers that questioned modern ways of storing.
The influence of Droog on Dutch design — and perhaps, design in general — has been abysmal. The nineties were marked by an approach to design focused on style, form and luxury, and Droog pushed for ideas that were out of the question, such as sustainability and imperfection, whilst pondering aspects of functionality and practicality. Droog's trajectory, since the very beginning, has begged the question: Design or non-design? which is the title of the exhibition that celebrates Droog's thirty years since the foundation, and which captures the essence of the movement: is design — as an art form that's accessible to everyone — design?
"Droog was all about challenging traditional design norms and exploring unconventional concepts," says Droog co-founder and current director Renny Ramakers. In conversation with TITLE, Ramakers dives into the foundations of the movement, which, as she ascertains, is intrinsically connected with her personal and artistic endeavours, from curating to gardening.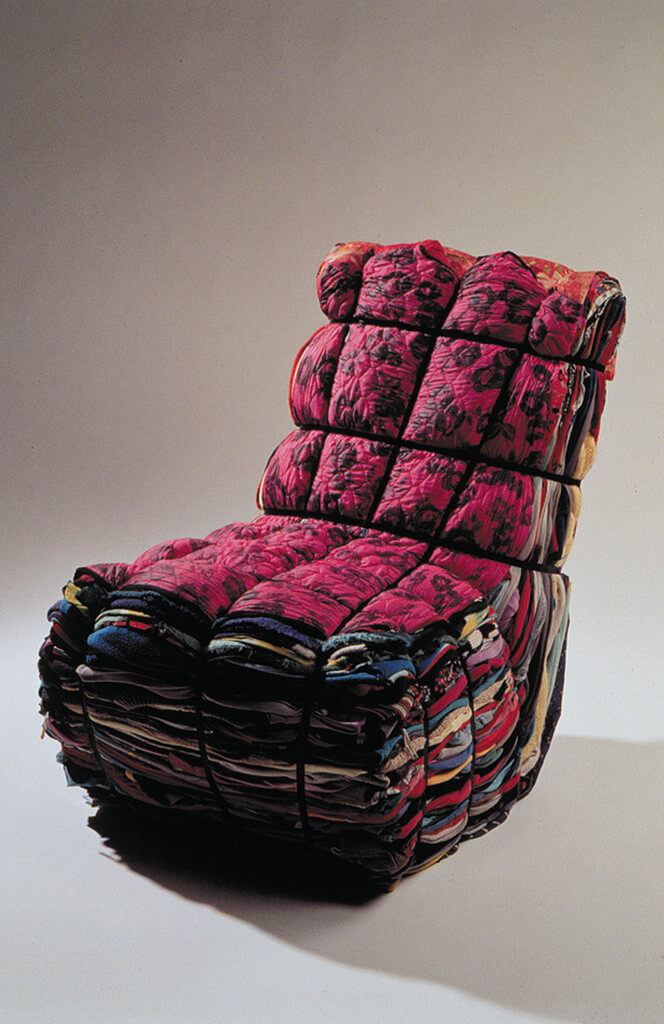 Hi Renny! 30 years ago, Droog ignited conversations around reclaiming design, in terms of concepts and against consumerism. How do these conversations stay up-to-date?
The act of looking is an important medium for us to stay up-to-date. I am looking for beauty —whatever that means — and believe that whatever art and design are or do, it cannot work without that power.
That beauty is at the heart of any meaningful social change because anything else will just be a change in power. That beauty must be something that is hunted for, evaluated, curated, assembled and proposed, always in a provisional manner, as the starting point of a further assembly of ideas, stories and uses, and the communities that grow up around them.
And so, art and design in this manner can be catalytic, always changing, always making a difference, even if its direction is not always clear.
Let's talk about Droog's 30th anniversary. A Twitter-like feed exhibition was held at the Triennale during the Salone del Mobile this year, which is now on view at the Nieuwe Instituut. How does this concept celebrate Droog's three decades anniversary?
This exhibition was curated by Richard Hutten — one of the first designers involved in Droog — and curator Maria Cristina Didero, it was their initiative.
The exhibition was created by an algorithm on Droog's social media over the past 30 years. Judging by the comments, crowdsourced by the curators of this exhibition, Droog is still inspiring. But no movement cannot and should not last forever. Times change, and new movements emerge.
So, with this exhibition, the curators raise an interesting question. Could Droog be the last design movement? The exhibition was a celebration of 30 years of Droog but for me, it also marked the end of Droog as we have known it for 30 years. I wrote an epilogue to the exhibition, you can read it on my website.
Judging from this anniversary, what do you think Droog's legacy will be?
I think the legacy of Droog is that we created an international movement that looked at design in a different way and judging from the twitter-feed at the Droog 30 exhibition, this is still inspirational for designers. But movements come and go. I strongly feel that it is time for something else, for a new movement initiated by new generations.
Your bio reads, "Over the years, @droog became less about things and more about ideas," followed by the opening of Droog's own hotel, restaurant and gallery. How does Droog's tangible expansion power the collective's ideas?
The restaurant, gallery and other spaces have not been recent expansions of Droog. They have been our home base since 2009. In this setting, we also provide space for new ideas coming from other parties. For instance, we invited the Dutch art magazine See All This to join our space us at @droog and hold biannual presentations in our gallery.
Currently, we have an exhibition curated by the renowned garden designer Piet Oudolf, titled 'Paradise Found.' We also showcase films and experimental theatre performances in collaboration with third parties. Additionally, I curate exhibitions on art, design and architecture myself.
Over the years, Droog has shifted its focus from being primarily about tangible objects to focusing more on ideas. Our recent project, Design+Desires, explores how to create a city based on a million identities. In 2015, we presented our last Milan show titled 'Construct Me' in a hardware store. The exhibition featured new ideas for hardware, such as screws and hinges — the smallest, often overlooked components of furniture.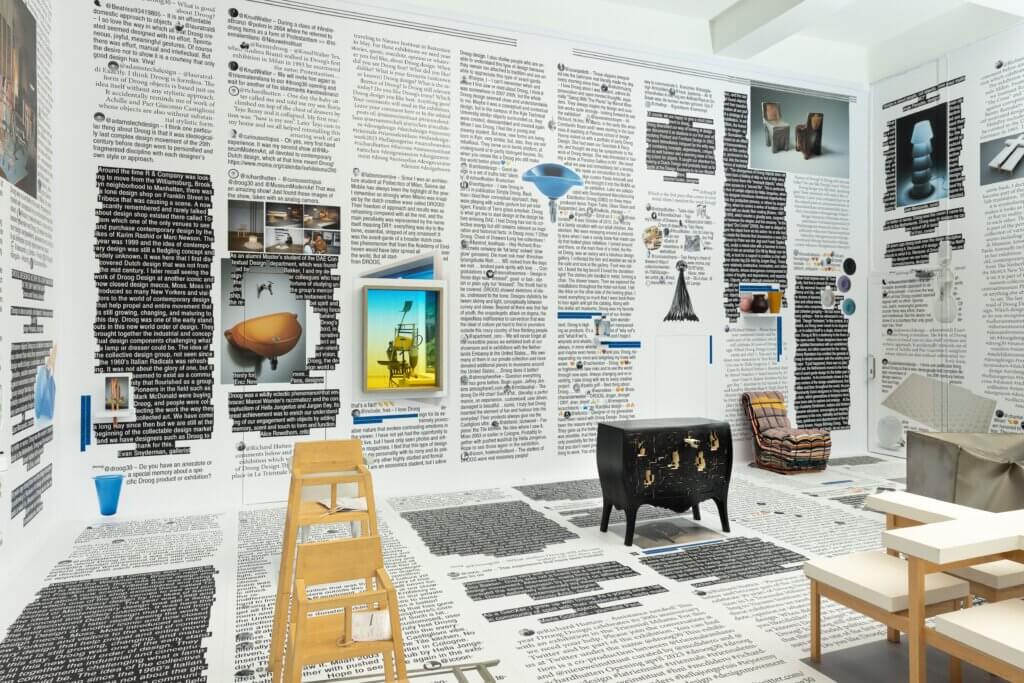 However, some years ago, you closed down the design studio and brick-and-mortar store, which stood for Droog's tangibility. Why so?
Indeed, we have closed the design studio and the brick-and-mortar store. We also stopped producing products. Our collection is now sold by an Amsterdam-based company. We are not producing any new products anymore. Why? It has turned out that 'stuff' has the biggest impact on the ecological footprint. I have been contemplating this for a long time, since the beginning of Droog, when we showcased the chest of drawers designed by Tejo Remy, which was a commentary on overproduction and overconsumption in our society.
In 2012, I radically rethought our yearly presentation in Milan. I was tired of the obligation to display new products year after year. When I came across an article in a Dutch newspaper discussing resource scarcity, it triggered a thought. Philosophers, political scientists, and economists were envisioning an alternative economic model, suggesting the replacement of income tax with a tax on material resources. Consequently, products made of new materials would become more expensive.
This made me wonder if it could be an opportunity for the design industry to reinvent itself.
With this in mind, I decided to go to Milan with the project 'Material Matters.' We showcased various strategies, including practices to revive dead stock and grow biomaterials, a game that addressed shopping addictions and an institution that provided rationed 10kg poly blocks for endless printing and reprinting. We presented this project in 2013 at the Bi-City Biennale of Urbanism/Architecture in Shenzhen, China.
So, we no longer have a physical shop, and we don't produce new products. However, Droog is still tangible. The place in Amsterdam called @droog, which includes a restaurant, gallery and various surrounding spaces, embodies the legacy of Droog. The entire building exudes the spirit of Droog, from the famous rag chair to the fish-tank restaurant and the fairy tale garden with artificial grass. The library even features books turned inside out. You can still be a part of that same mentality, in a physical space.
What do you think is the current state of innovative design, and how do we foster its venues of innovation?
Well, I think there is little innovation in design at the moment. A lot of what we see has been done before.
I think we need to look for innovative design through a combination of technology and intuition.
If there could be a definition for Droog, what would that be?
A suitable definition for Droog could be that Droog has been a movement advocating a different mentality in design, a conceptual approach uniting playfulness and social purpose.
What are some of the current projects you've been working on, besides the 30th anniversary exhibition?
I am now working as an independent curator.
But the attitude is the same. Throughout my career, I have strived to cross boundaries and have always tried to find a different perspective by not considering one angle or the other but exploring the in-between.
As an independent curator, I am now working on a wide range of artistic and cultural initiatives, from the N'GOLA biennale in Sao Tomé, which celebrated the beauty and power of African art, to The world as we don't know it, an exhibition about climate change and our position in the planet.
Recently I have embarked on a new project, CAN REON, together with my husband Leon. We bought a traditional rural farmhouse in a wild natural landscape in the Barcelona area. My focus has shifted to arts and wine, and a big difference with most of my previous projects is that CAN REON is not just a showcase of how we could do things differently but a self-sustainable, long-term project in which we really will do things differently.