Honestly, the opinions around Drakes new album differ. With his seventh album the (former) Rapper rebuild his Hip-Hop Image and the pop disrupter who rethought rap's relationship with melody opts for a new direction: nightclub abandon. "Honestly, Nevermind" which the US rapper surprisingly released last end of June, has triggered mixed feelings among fans and critics. On social media, the work, on which Drake presents his new preference for dance music, has already become the target of various memes and mocking comments.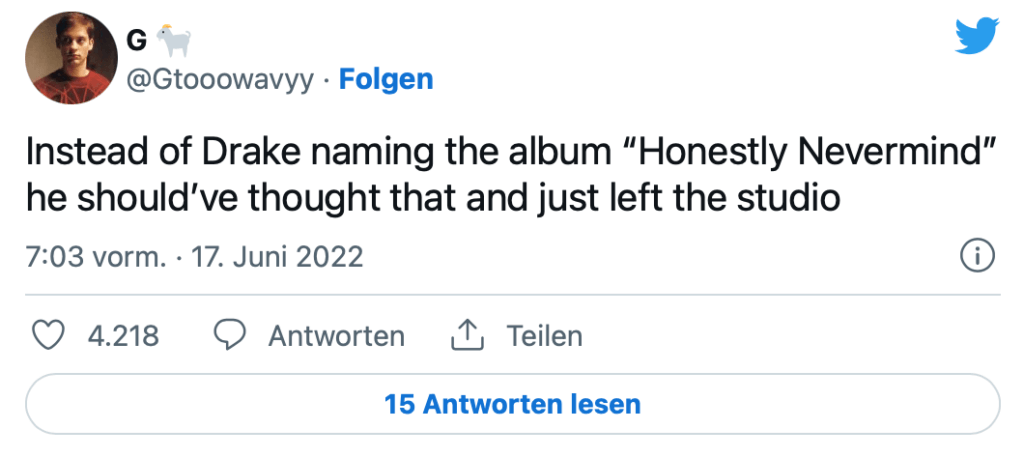 One who seems to speak from the soul of many critics is "The Breakfast Club" co-host Charlamagne Tha God. The latter couldn't hold back his opinion during a review of the album, calling the work elevator and hotel lobby music, among other things. In some Twitter comments, this perception is shared. "I don't mind the vibes, the vibes to me are the vibes you hear when you're in a luxury hotel in Beverly Hills (…) This is lobby and elevator music. That's the vibes when you're sitting in the lobby of the SLS hotel enjoying a few drinks on a leather couch with the lights dimmed (…) I'll never listen to the album again, but if it's playing when I'm sitting in the lobby of a luxury hotel, I'm not mad about it."
Honestly, Nevermind is dedicated to the late fashion designer Virgil Abloh, a close friend of Drake's and an avid lover of house music. Alongside dedicating the album to Abloh in his letter on Apple Music, the late artistic director of Louis Vuitton's menswear collection is memorialized through a sample in the song "Sticky." With this album, the global superstar also dropped a new music video for the track, "Falling Back," on Friday. The video sees Drake marrying 23 different women at a joint wedding. The tone of the album follows the usual toxic, passive aggressive, sad-boy-hours-esque theme that Drake has built his image around.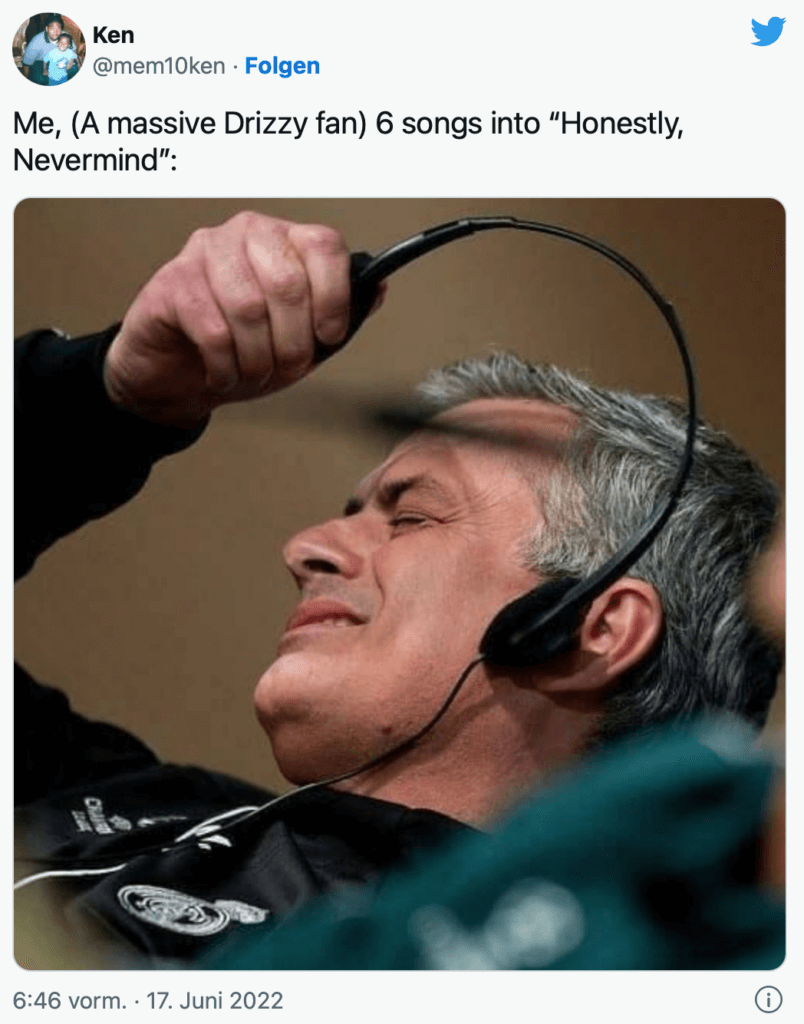 To be fair, Drake was never portraying himself as the Gangster Rapper par excellence. For almost the entire 2010s, hip-hop — and most of the rest of popular music — molded itself around his innovations. Blending singing and rapping together, making music that was unselfconsciously pop without kowtowing to the old way of making pop, the "Certified Lover Boy" has long understood that he could build a new kind of global consensus both because he understood the limitations of older approaches, and because the globe is changing. For most of his career Drake has been a musical chameleon, nabbing bits and pieces from different genres and cultures and turning them into digestible, and sometimes critically acclaimed, pieces of art that dominate our cultural zeitgeist. Historically, Drake's music has been good. Much of it has been great, culturally defining even. His method has worked… until now.
But why does Drake suddenly want us to dance to his music? Is he ahead of his time or is he just adapting to upcoming trends in a panic? Is Drake's new album a prime example of artistic freedom or the death of originality in the music industry? Why else would a successful musician change his image so suddenly? Why not stick to tried-and-true?
Of all the art forms, music has probably had the longest shelf life in terms of legitimate innovation (that is, if you boot video games out of the equation). This is largely due to technology's inextricable role in sonic evolution — with the invention of each new instrument, a new genre (or two, or five) has followed. The electric guitar? Hello rock'n'roll. The synthesizer? Late '70s New Wave and electro-pop. The drum machine, the music sequencer and any other techno-apparatuses of the digital age? The birth of electronic music. Music was and is ever evolving and thus originality changes over time.
Bearing an entirely new sound that we have never seen Drake tackle at length before, it comes as no surprise to anyone, perhaps even the rapper himself, that this album would be divisive. That is to be expected when an artist tries something new. But the problem is that the album simply does not feel like Drake himself. Considering the resurgence of Dance and Disco-Pop music over the last few years, it feels like Drake is once again trying to tap into an emerging trend, but this time, it didn't land. Fans are complaining that this doesn't feel like innovation. Instead, it feels like Drake is attempting to tap into a cultural sphere, a genre that already exists and where people are doing great in it. Many recent artists have made the jump into disco or dance pop, The Weeknd, Dua Lipa, Harry Styles and Lizzo to name a few. For them it was gradual, and it fits. Unfortunately for Drake, this feels a little too far from his core brand, too abrupt and truthfully, like he's a little too late to the game.
It can even be argued that artist (not only Drake) are recently trying to fit their music to new outlets such as TikTok. Songs can rise up organically on the app even if they've been outside the mainstream for decades. Marketers can also hire influencers to help a song take off, sparking a wave of user-generated posts from their fans. And some artists even set up private listening sessions with TikTok influencers in the hope that it will help new songs gain steam on the app. And its no secret that Songs by for example Doja Cat, Meghan Thee Stallion and Dua Lipa have been gaining massive streaming numbers thanks to the app. Artist are now fitting their music and thus their image to this new outlet. "TikTok has really become a critical part of artist storytelling," Kristen Bender, SVP of digital strategy and business development at Universal Music Group, told Business Insider during a webinar on TikTok's impact on the music industry. "Since we signed our deal with TikTok earlier this year, our labels have been extremely leaned into the platform."The industry's attention on TikTok isn't unfounded. Songs that trend on TikTok often end up charting on the Billboard 100 or Spotify Viral 50. And 67% of the app's users are more likely to seek out songs on music-streaming services after hearing them on TikTok.
In the end, we may never know Drake's motivations behind why he would choose to take his album in this direction, but maybe he knows something we don't and he just thinks "Nevermind".