There's no doubt that the most memorable moments of fashion weeks are those transcending the normal, the already-seen, crushing predictions with the never-expected. I myself was too little to follow fashion stunts when Shalom Harlow had paint militantly spread over her white dress at Alexander McQueen Spring/Summer 1999. But the image of this moment, even though back then phones with cameras barely existed, is consigned in my memory as one of the greatest shows.
This preamble doesn't name it but I bet it's already in your mind: Coperni SS23 runway, with Bella Hadid walking on stage, joined by two men who sprayed her near-naked body from neckline to mid-calf, creating a layer of fabric that fell down her legs like a dress. With a cross-collaboration between designers and scientists, Coperni and Fabrican, the developer of the substance, conjured alchemy and delivered an unforgettable moment, which has been compared to the performance of Harlow because of the similarities in the setup — a femme succumbed to a man's invention, revealed to the public — although not without some firing back — because how can the minds behind these two shows be compared, or so it reads on Dazed.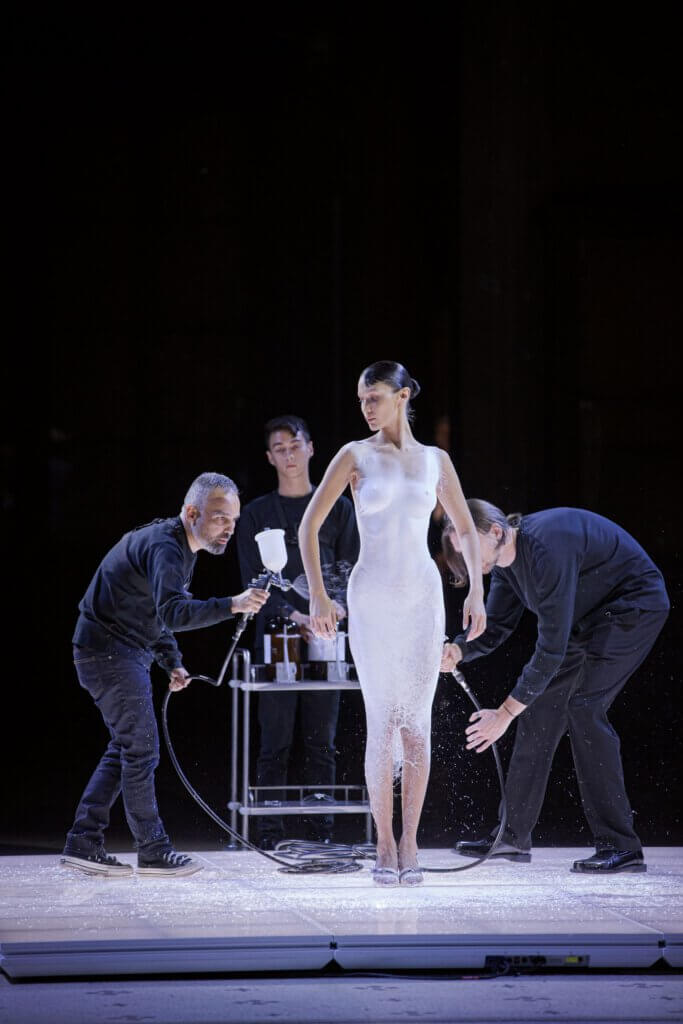 But a show is a show and we're all here for it. Especially when they cast spells that go beyond the theatrical and take the shape of live experiments, stealing gasps here and there, refocusing the gaze of those lost in boredom. Even though these garments aren't made to be monetised, they're the epitome of entertainment, "a beautiful moment, an experience that creates emotion," as Coperni's co-founder Sébastien Meyer said about the performance.
For instance, at the Central Saint Martins graduate fashion show in 2019, Fredrik Tjærandsen wrapped his models in giant balloons that deflated until they became skirts and dresses. The show was not only a rubber party but a dialogue between garments and wearers — and certainly, attendants watching for models to not asphyxiate — as they could control the deflating process through a valve that released the air pressure, juxtaposing different rhythms across the room.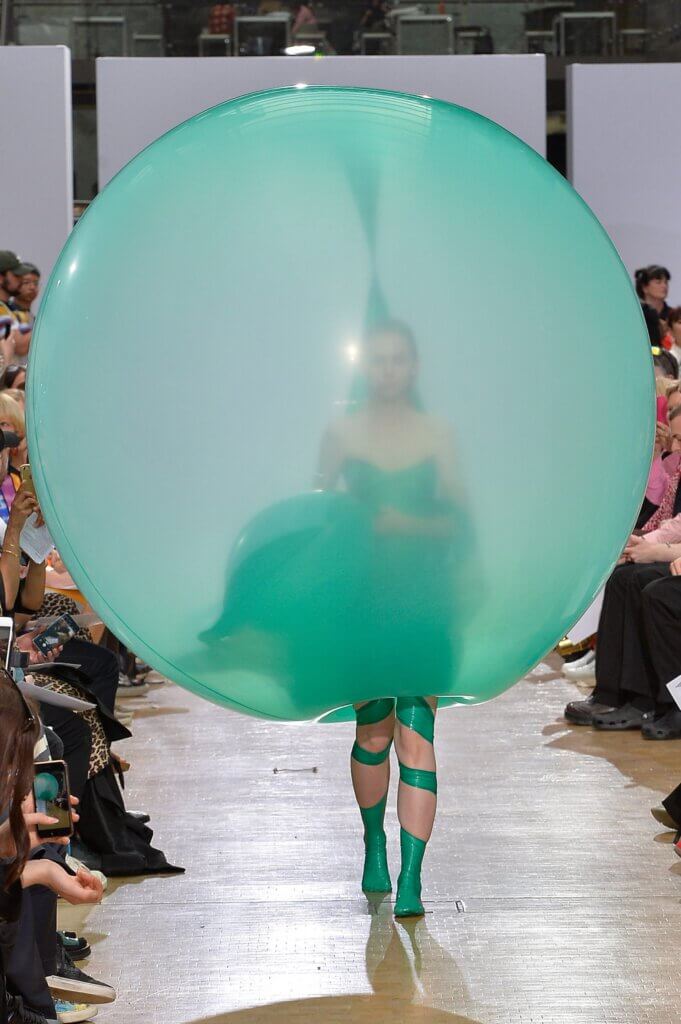 Tjærandsen put up the adrenaline level with eight looks that can be worn once, by one model, a moment arranged to be ephemeral. But if ephemeral and dissolving come together, Maison Margiela elegantly captured the essence of "work in progress," "unfinished" and "unpredicted" with jewellery made of ice and pigments that melted onto the garments, mapping them with unexpected strokes of magenta, blue and green.
And if, going back to Coperni, entertainment can drive innovation in fashion, then Hussein Chalayan truly tiptoed the delicacy of making high fashion and the tearing forces of experimentation with the grand finale of his Spring/Summer 2016 collection that featured a catwalk shower that dissolved the soluble outfits of two models, leaving them in a fine dress with black stitching. Ephemeral and dissolving garments are an absolute spectacle in fashion shows, and while they are seemingly here just for the wows, they may too be a herald of the next innovation, considering that Fabrican has been invested in simplifying the process of weaving and stitching garments for over a decade, by using solvents and recycled fibres that can be re-dissolved and sprayed anew.