Luis Dobbelgarten has become a very good friend of mine. I got to know him when NO/FAITH STUDIOS was still in its beginnings. After years of hard work, NFS has now established itself as a brand. The designs have improved from drop to drop, but there is definitely a lot more potential in them.
But first of all we can be happy about the current collection of NO/FAITH STUDIOS. The RAVE TO YOUR GRAVE collection combines minimalism and maximumism.
Loud prints and unconventional cuts set the tone.
Since day one, NFS have been known for their graphic prints – now they have taken them to the next level and printed their print art on knitwear. On top of that they ventured into new cuts.
What I personally noticed, for example, are the denim products. The denim jacket, for example, was made from individual jeans, which were taken apart into their individual parts and put back together again as a whole. The bootcut jeans were also two jeans that were reassembled.

Germany's fashion scene is still relatively in its infancy. Unique talents like Luis Dobbelgarten, who thinks unconventionally and follows his own line, will become more and more successful over time if they stay on the ball with love and passion. This is confirmed every time the Pieces are sold out within a very short time.
Although NFS is a German label, it could easily move on international waters, putting the German fashion scene in the right light, which is not only dazzled by hype.

NO/FAITH STUDIOS: RAVE TO YOUR GRAVE COLLECTION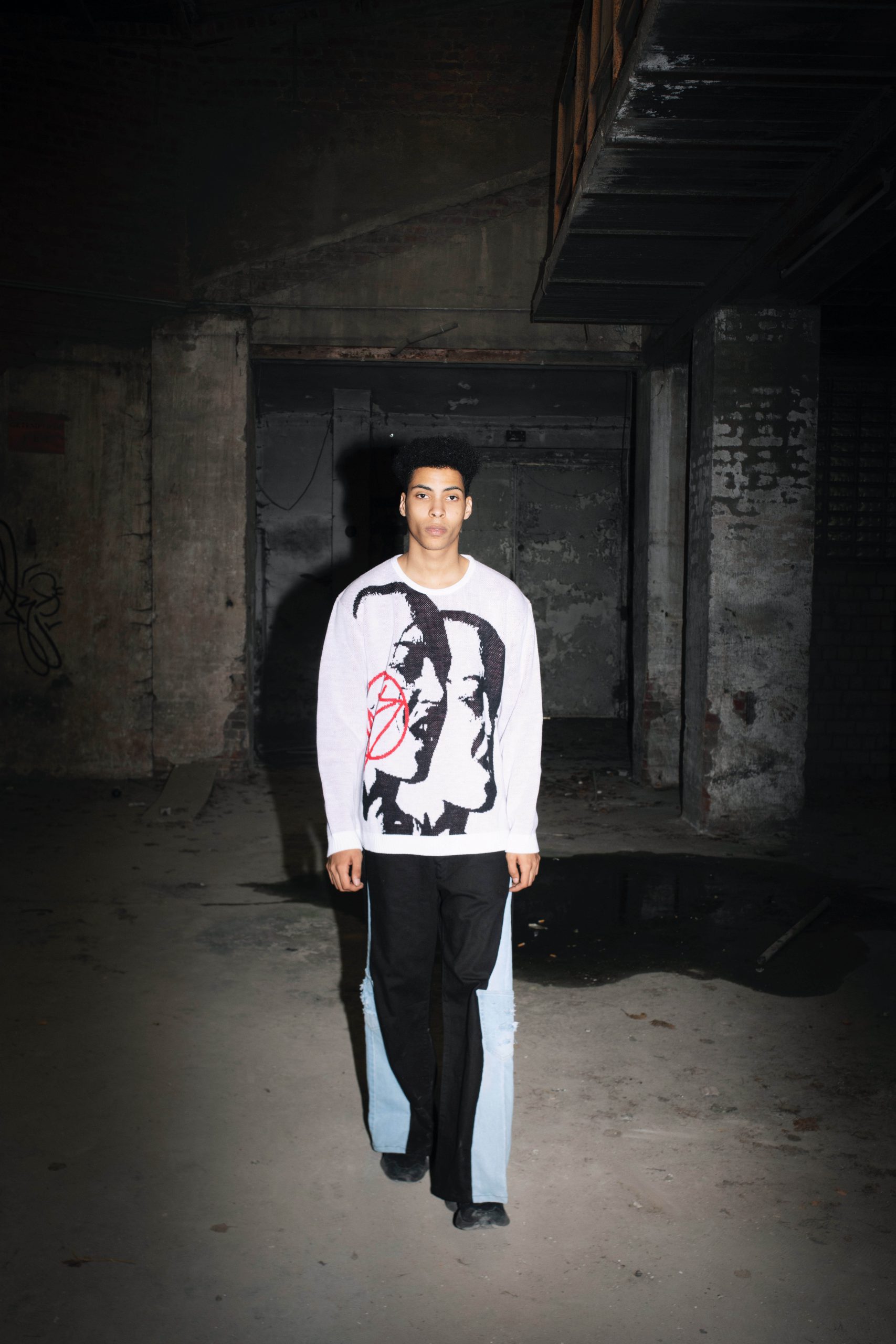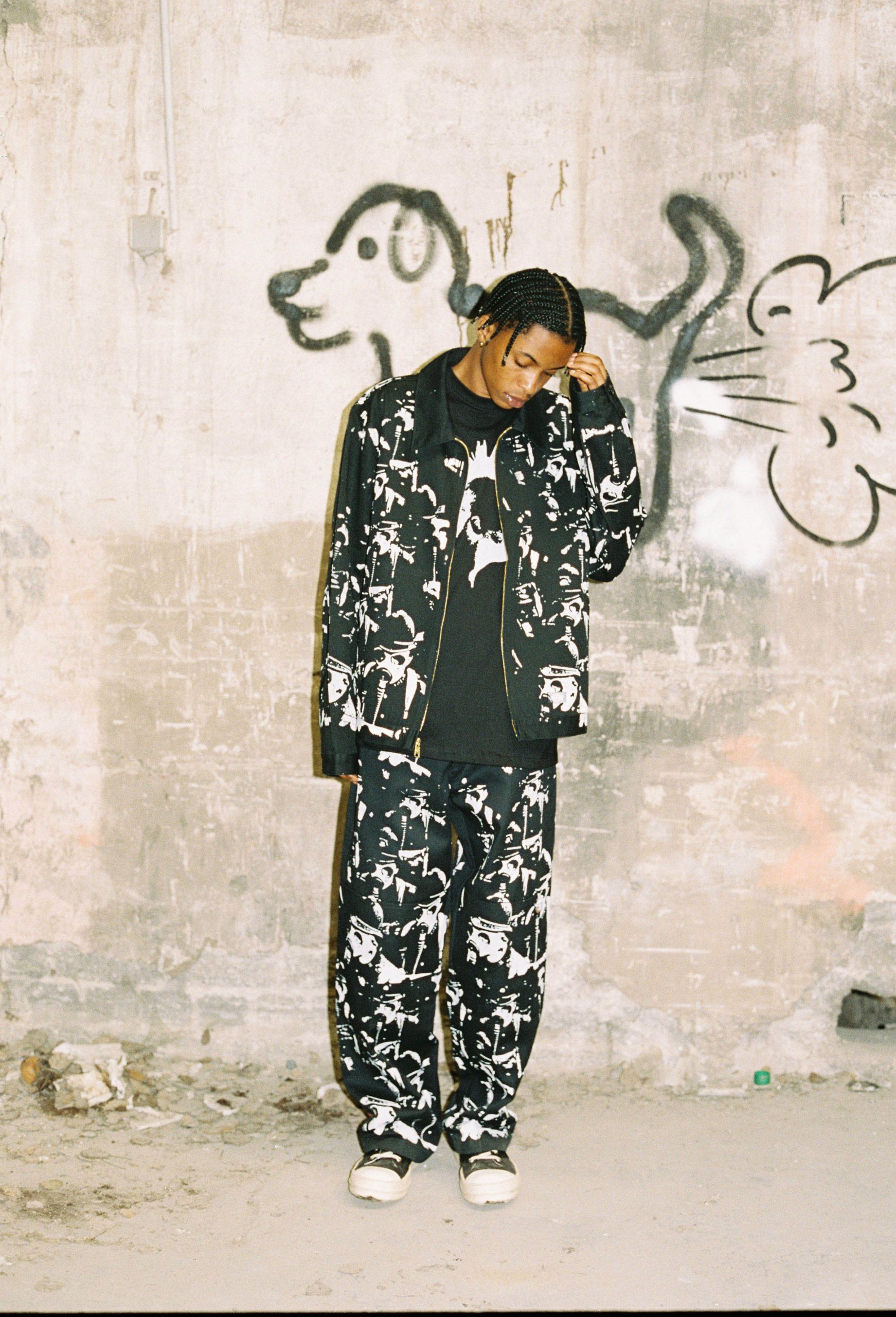 ‍

Luis. It's been a while since we last saw each other. What's changed since Paris?

Hey Moubi, a lot has definitely changed since Paris!
My focus was mainly on the new collection, because I wanted to dare to try something new for the first time. I had seen enough of boring shirts with simple prints. My goal was to be 100% behind my stuff and try to get everything out of my given possibilities. Unfortunately, I rarely managed to reach this level of satisfaction before, because I didn't have a real team behind me, and produce most of my pieces myself. With several hundred orders this often becomes very stressful, but a few homies of mine always like to help me. Another goal of mine was to travel to the USA to gain experience, to educate myself and to meet new people. Unfortunately Corona, like so many others, put me off.

Maybe some people have already asked you this, but I have to say that I also think it was extremely cool that you brought out knits in summer. How did you come up with that idea?

To be honest, I didn't really care. I myself rock some winter clothes in summer as well. I was just dying to get a knit top out. What's stopping me? Besides, the knits are also suitable for summer because of their lightness and cut.
I imagine the process of having graphics dyed on knitwear to be incredibly complex. What does the process look like?

It was extremely difficult to find a production that could realize my idea. It was the first time that I had Knits produced and didn't produce them myself – like the Hoodies – using Cut & Sew methods. In addition, the Knits are not dyed but knitted in, so no printing process was used. For me, this manufacturing process is simply more valuable.
Many people only ever see what they want to see and certainly do not know how incredibly stressful it is to design and implement a complete collection. How long did you work on the latest collection?

As already mentioned above, I produce most of my stuff myself, which means that besides the design, a lot of time is spent on production, e.g. sewing trousers together. Since the first sample of Knit, half a year passed until today. Some ideas I had some years ago have even made it into the new collection. The reconstruck Denim Jacket, which I had already finished at the end of 2017, has now made it into the current collection.
With the current drop you can see what you have been inspired by. The source of inspiration is also contained in the name of the collection. Have you ever had anything to do with techno culture?

My best homie is strongly represented in the scene. Through him I slowly got to know the music style and the fashion style and the rave culture. The pants are a homage to early rave pants, which were worn at the 90s raves and by the punk scene. The prints are based on faces that were represented in the subculture.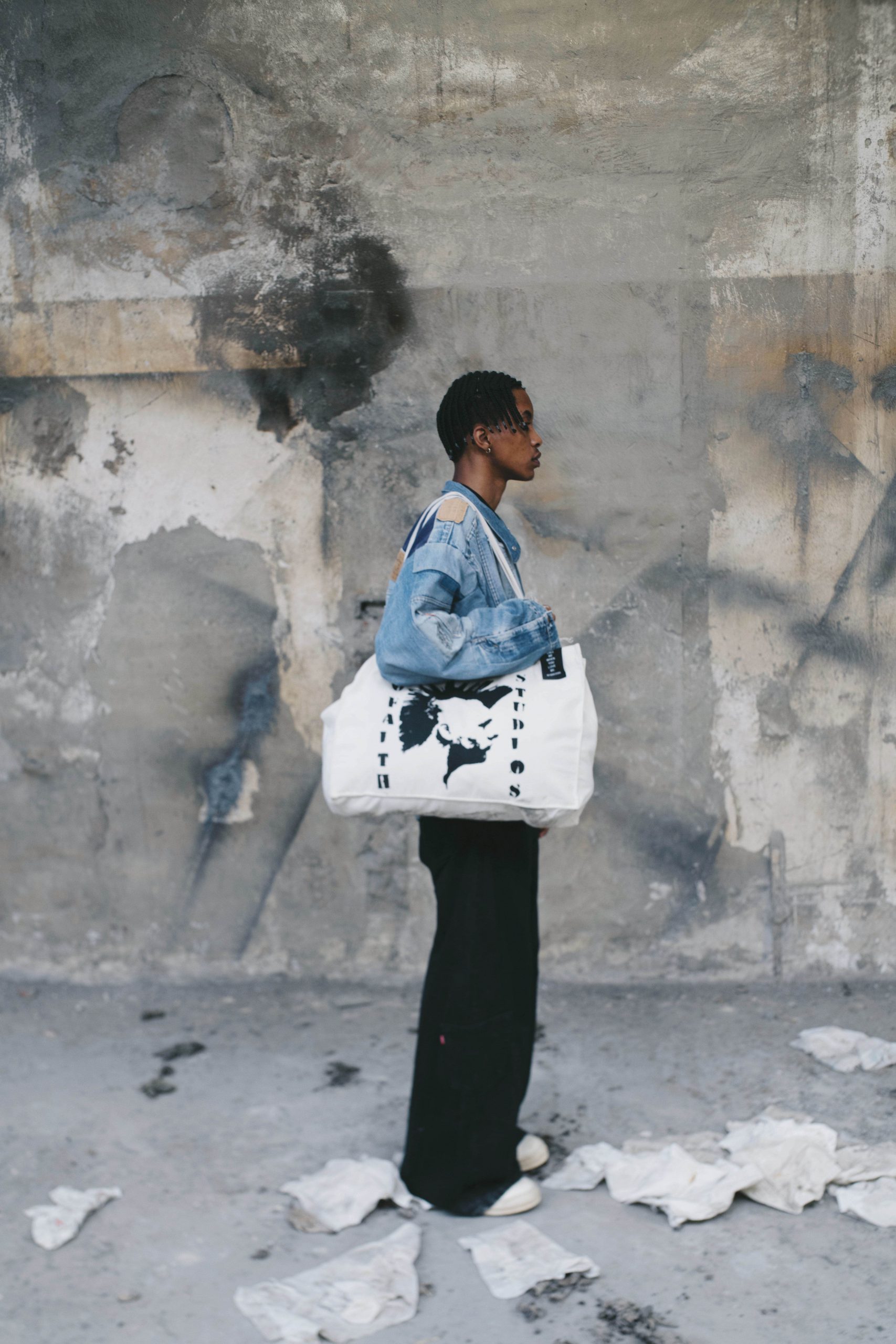 How did you get the general idea to use the raving culture as a theme for the current collection?

I found an abandoned factory nearby, which was often used for raves. I spent a lot of time there and picked up the idea for the collection. The shooting and the runway are also inspired by this factory.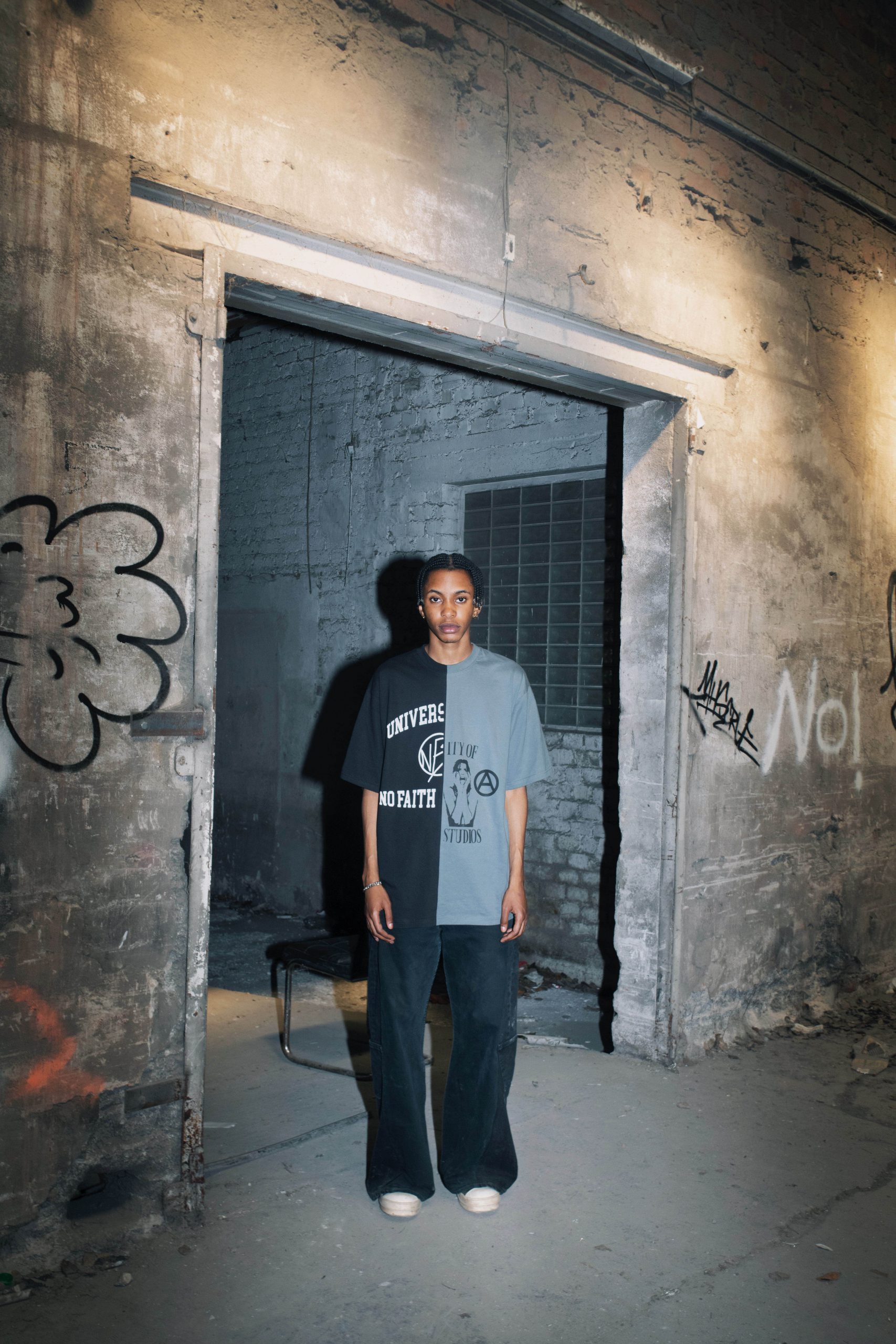 How does the RAVE TO YOUR GRAVE collection differ from the others?

First and foremost by the amount of pieces. With 30 pieces it is my biggest collection so far. In addition, I have produced knit-sweaters and denim pants for the first time. In general the big difference is the amount of work that went into this collection. Just the fact that my photographer Enton sat in the train for 4 hours with his mask on to be part of the project says more than a thousand words. A Big Shoutout to the Boy! "
You also worked with denim for the first time – how was this experience for you?

Expensive.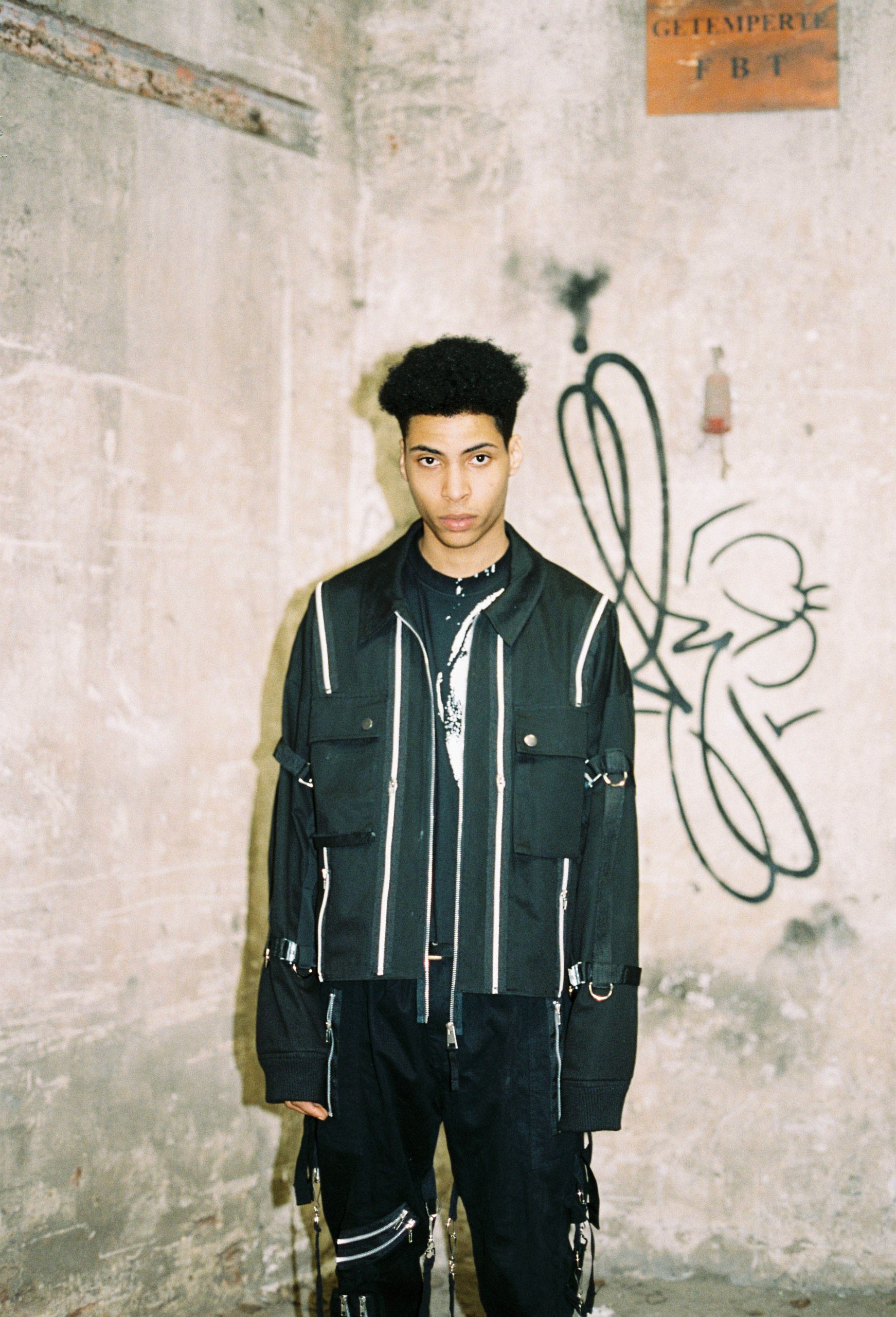 ‍

The runway video you uploaded for the promotion was just amazing. When will we see NFS on a public catwalk?

Thank you very much. The resonances were really extremely crass! I never thought it would go down so well. It is currently at 16k views, which has exceeded my expectations. I'd love to have a public catwalk, but I still have to work on myself for a few more years and put together a real team.
When can we expect the next NFS release?

An exact date has not yet been fixed, but a reconstructed project with Carhartt Pieces is planned for the cold season!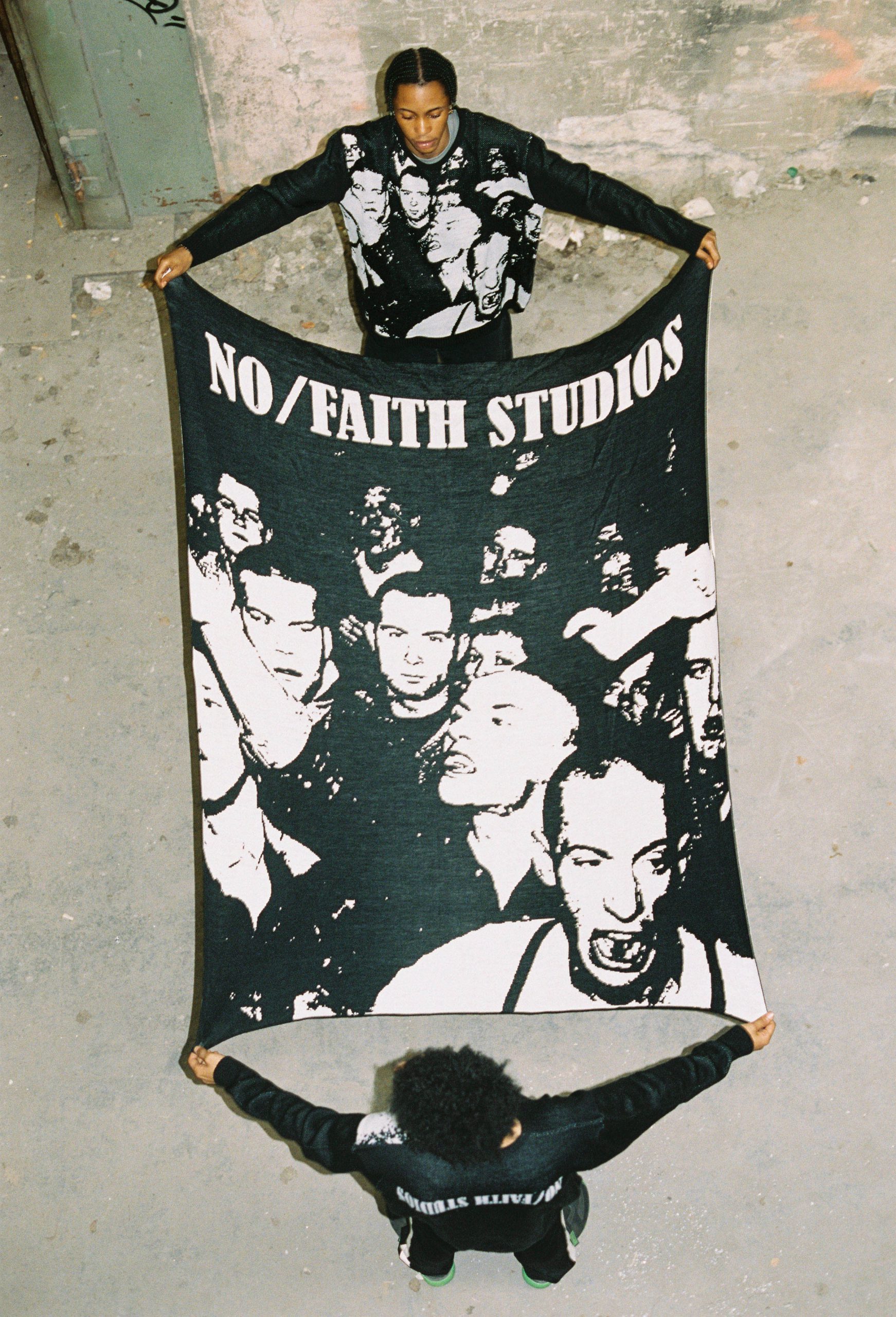 ‍


As is well known, the last question is the best question. Do you think you will be able to outdo yourself again with the latest collection? Because you keep raising the bar like there's no end.

I don't know if I can really top myself. The only thing I can do is move forward. The way I will develop, my future projects will develop. Whether I will surpass myself then depends on whether I will celebrate my development or not.