"His heroic decision changed my fate and gave me my creative vision." Les Benjamins Founder Bunyamin Aydin about merging vision and heritage
Not many brands manage to combine contemporary designs with a clear presence so effortlessly. Les Benjamins, however, is different as it skillfully combines the brand design and message. We sat down with designer Bunyamin Aydin to talk about the past, present and future of Les Benjamins.
How did the idea of developing Les Benjamins come about?
Both my father and mother used to be in the fashion industry. My mother used to own a store, and we came to Milan together to bring Italian brands to Turkey. My father was an expert in fabrics, and both of them have inspired me to enter the fashion industry. It was always a dream to be a designer and create Turkey's first global contemporary streetwear brand. Yohji Yamamoto, Rei Kawakubo, and Raf Simons have inspired me from a young age. Being born in Germany with Turkish roots, I always wanted to pay homage to my culture with a new perspective.
Can you describe the Les Benjamins DNA? What does the brand stand for and how does it see itself?
Les Benjamins tells stories of Eastern cultures with a contemporary perspective. Our community consists of eastern youth creatives that live all around the world. Collaborating with eastern creatives inspires us to create and move forward. My grandfather was a guestworker, and his sacrifice gave me Western education and background. His heroic decision changed my fate and gave me my creative vision.
Who is the Les Benjamins person or who can identify with the brand?
Someone with a creative passion. They don't necessarily have to work in the creative industries.
Is cultural diversity – especially blurring cultural boundaries – of personal significance to you?
Les Benjamins represents who I am in a way. I was born in the West, but my parents are from the East. The blending DNA reflects my identity – an identity that I'm proud of. I'm Turkish German.
What has been the biggest challenge since you started?
In the early days of Les Benjamins I was having difficulty with Turkish youth owning their own culture. It was very western-centric. The designs and stories I would highlight weren't getting much interest. It took me 11 years for the youth to understand what I was doing. They all respect, own, and are part of this cultural movement. Great movements take time and patience.
Looking back at your first collections, what has changed in terms of design but also in terms of the brand's DNA and focus?
When I made my first collection, I was 21 years old. I was designing more like merch, tees, hoodies, and sweats back then. Les Benjamins and I grew together, and each year it evolved into what it became now. It's still evolving. I guess I love change. The challenge is to be able to change without losing your core DNA. Eastern cultures have always been part of my passion, and carpets, of course. Les Benjamins has a Carpet monogram that never changes. I use it every season in all of my designs and collections. Also, Les Benjamins is doing men's and women's ready-to-wear shows at Paris fashion week.
A recurring theme in your collections is to merge Eastern and Western influences. Do you think it's more important than ever before to bring the two together? If so, why?
It's who I am. I think it's important to be true to yourself. As a designer, you must always stick to your DNA and combine it with your creative vision. Keeping this balance is the difficult part.
If only one of your designs could represent who you are as designer, what piece (from any past or present collection) would it be?
The oversized Les Benjamins Carpet monogram OG colorway jacquard hoodie. I feel strong and happy in it.
What does the future hold for brand Les Benjamins? Where do you see the brand going next?
Les Benjamins grew bigger than I could ever imagine as a designer. Now we have four flagship stores, 120 team members, and a strong global community passionate about Eastern cultures. I see us expanding into new categories like footwear, and cosmetics, designing a Les Benjamins hotel or F&B concept and offering more sustainable collections. My dream is to also open a Les Benjamin academy one day in Istanbul. I've started on a smaller scale through my community co-designing project titled reSEARCH on discord.
---
Creative Direction: @nessie
Co-Director: @enlilisik
Photographer/Video Director: @fzetin
DOP: @Sebastian.Vellrath
H&M: @haneenajub
Assisting Director: @44.seba
Sounddesign: @apushh_swlt 
Models: @pelsho. @baharbambi, @elifbatmanmusic, @engin.muezik, @near.niz, @eren.m.guevercin
---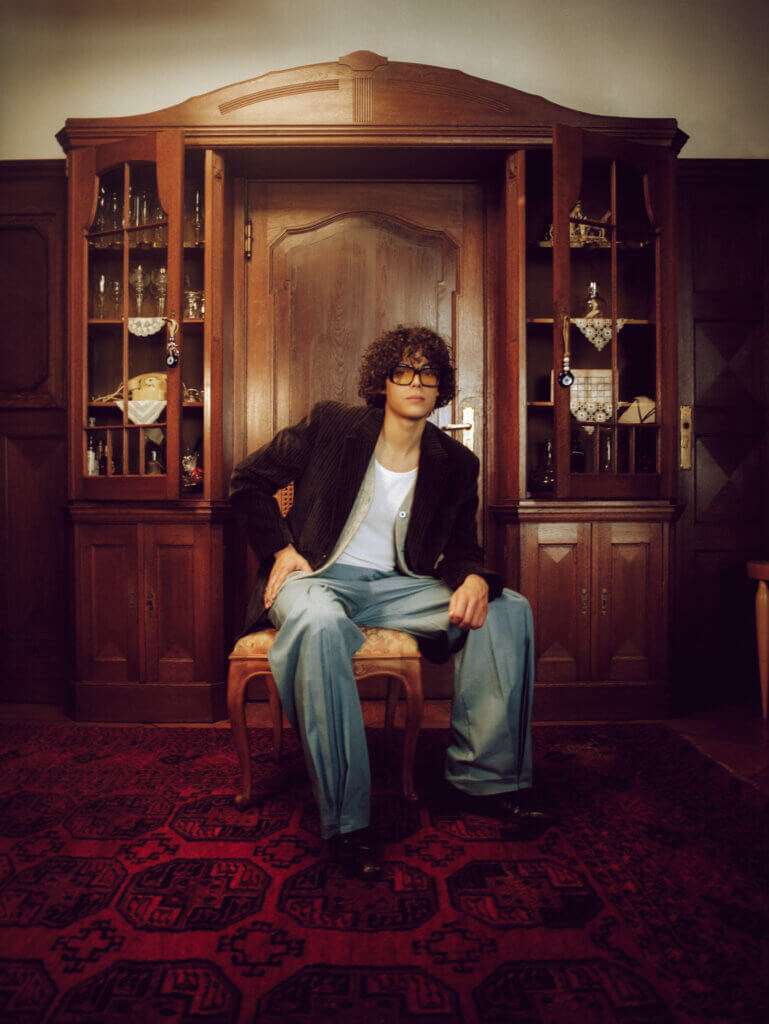 Deniz Wilfried Sircan
Age: 24
Ethnicity: German/Turkish
Profession: Musician (Pop Rap)
Known from: I'm not that popular. Got music videos on YouTube.
When do you feel the connection to your background the most?
When I'm visiting turkey I feel most connected to my background. Hanging around with my turkish family members and friends. Eating good food, drinking tea. Enjoying the sea and sunshine. Especially my grandma was a big influence for that.
Watching her while she's cooking typical turkish food, praying or just spending time with her always gave me that feeling. She passed away last year, what entails, that I lost a little part of that feeling.
---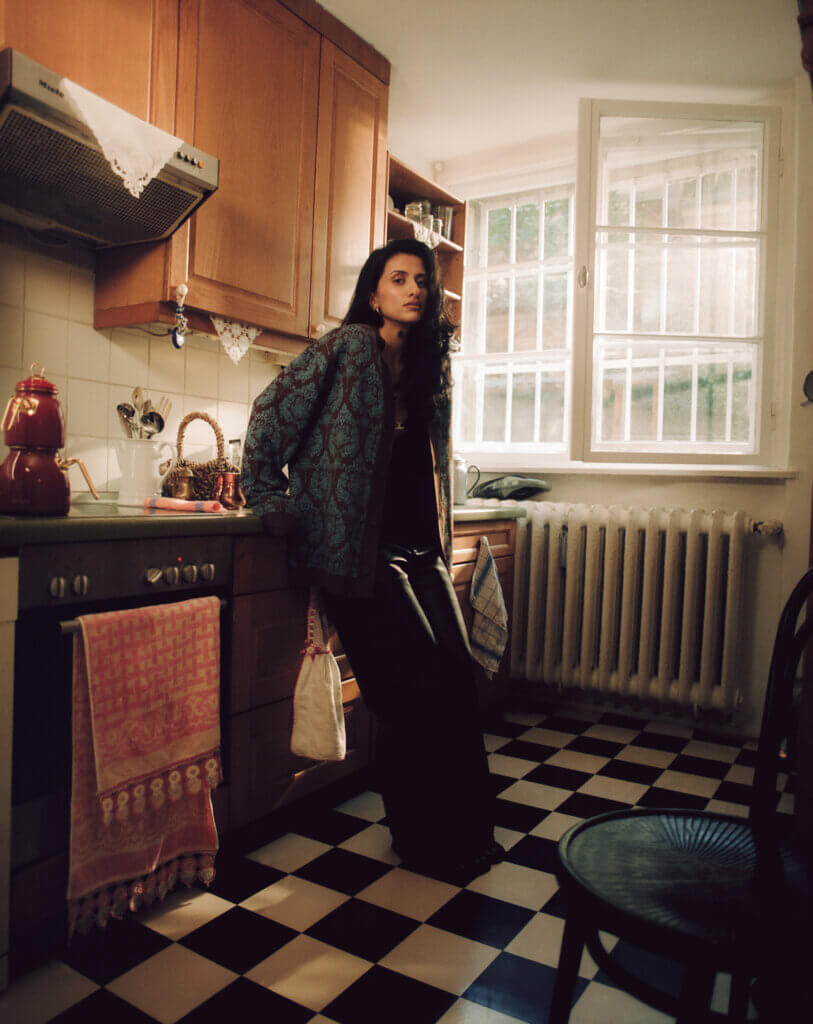 Alif Zey
Age: 26
Ethnicity: Turkish
Profession: Songwriter/Singer
Known from: I keep reinventing myself as an artist.
Do cultural influences tile into your work? If so, to what extent?
I use English and Turkish to write my lyrics. It's very important for me to include my mother tounge into my songs because it takes a huge part in how I became the person that I am. I think differently in Turkish. Theres this mood all Turks inherit called "Efkar". I would translate it as a feeling of blues. Even if we currently didn't get our hearts broken we can still immediately switch into that state of wistfulness and melancholy. It's hard to explain because we kinda were born into this ability to suffer at the push of a button. Sometimes it gets so deep that I distance myself from a feeling by writing in English. Otherwise I'd feel too naked. Partially I'm brave enough to undress and let the unfiltered emotions come through though.
---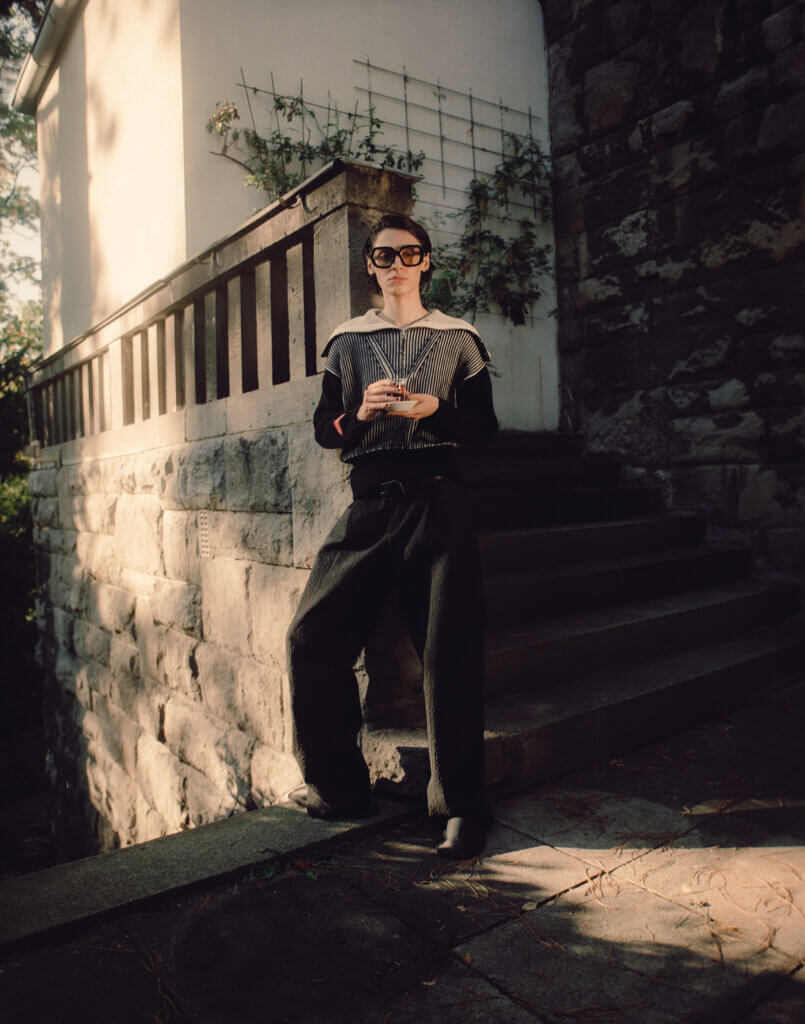 Eren M. Güvercin
Age: 20
Profession: Actor, Artist
Known from: Main Character of the famous tv series "DRUCK" and work in tv and theater.
What kept you most busy after the shoot?
Rehearsals and eating a double cheeseburger
---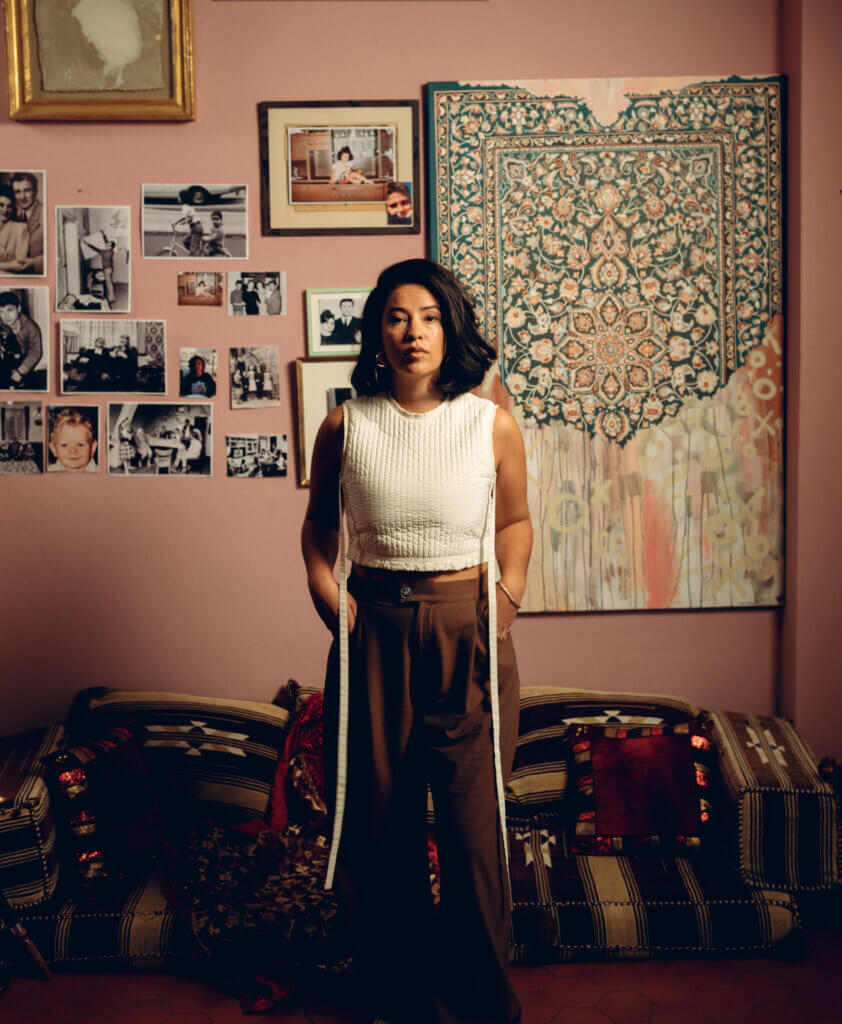 Bahar Bambi
Age: 30
Ethnicity: Turkish, born and raised in Berlin
Profession: Artist
Known as: Middle Eastern inspired paintings, Designer of the Satou Sabally Court in Berlin.
How important is the mix of western and eastern influences for you?
It is extremely important, as I grew up with both cultures, therefore they have a big influence on me as a person and also with regards to my paintings.
Growing up within two different cultures, in my case, the Berlin and Turkish culture, can be enriching but also raise crucial questions regarding your identity and belonging. As I got older, I came to the understanding that we do not necessarily have to choose one, as our generation is a combination of both and we have created a culture of our own.
This is what my work also reflects, its merging both sides, the traditional patterns with the abstract Berlin street culture. Although these two cultures are so different from each other, bringing those on the same canvas, creates a new story, reflecting OUR story and shows beauty through its contrasts.
---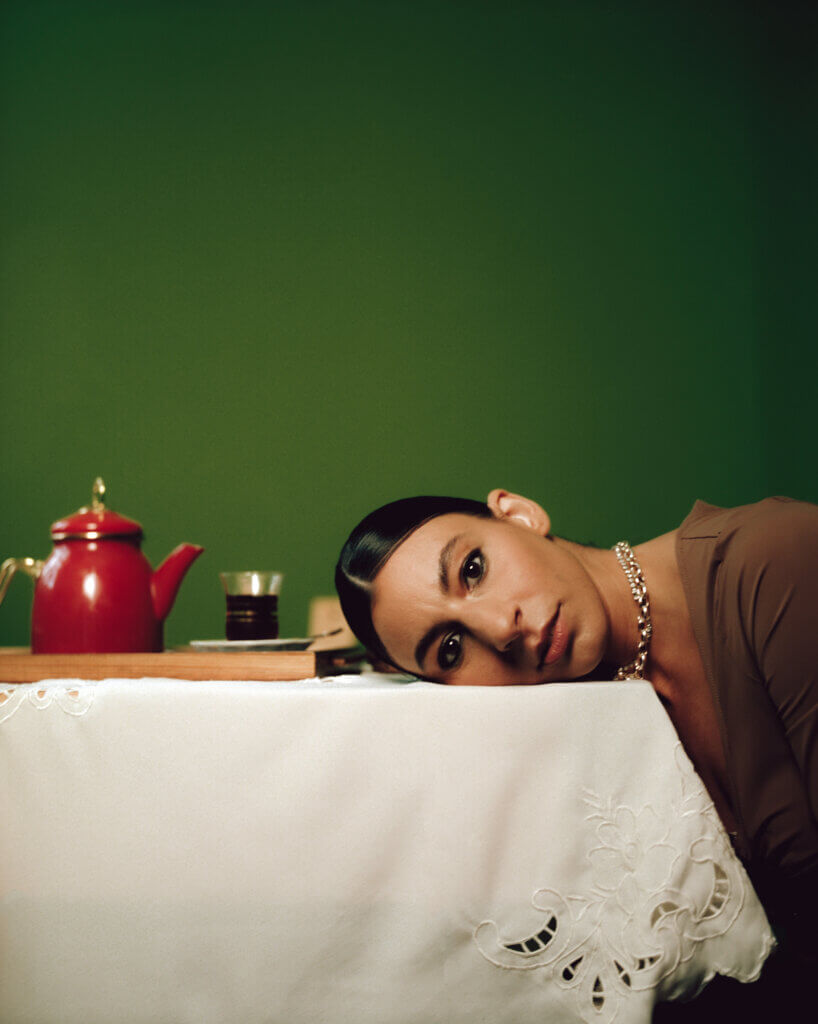 Pelin Terzi
Age: 30
Ethnicity: Turkish
Profession: Artist / Movement Director / Coach
Known as: Dancer
How do you translate your background into your art?
The art is to be authentic, to recognize your background, to accept it and to transform the wonderful influences into your own strength. All the emotional experiences with people inspire me. Above all, the link between tradition and modern life makes me become creative, the outcome is overwhelming. We surpass ourselves.
---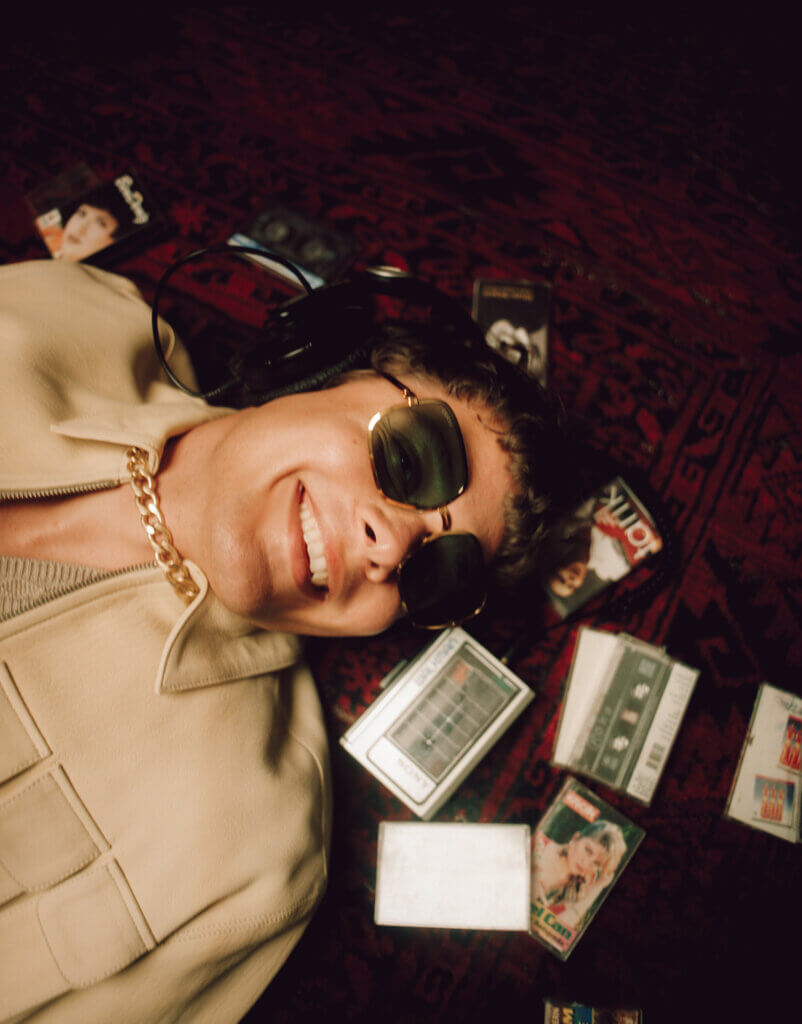 Engin
Age: 29
Ethnicity: German-Turkish
Profession: Musician
Known from: Singer, Songwriter and Guitar Player for the band ENGIN, combining German Indie-Rock with Turkish influences.
What role does your background play in your work?
The topic of identity is a crucial part of my work. For example Turkish psychedelic folk rock music from the 60s and 70s have been a big inspiration for me recently. By mixing rather traditional Turkish musical elements with modern German Indie-Rock sounds, I get to feel like starting to really appreciate the heritage of my bi-cultural upbringing – and there is so much more left to discover.
---
Photography: @fzetin