Inclusivity and empowerment of underrepresented communities are called to meet at Jordan's (Nike, Inc.) new basketball court, which has opened on the 16th of July on Tempelhofer Feld in Berlin.
The field is designed by Berlin-based artist Bahar Bambi, whose patterns in her paintings tell the story about her roots: a marriage between Middle Eastern traditions and Berlin street art. Her affiliation to inventing a language that speaks to her roots and the places she doesn't necessarily belong to has made her the perfect fit to mediate a conversation between arts and sports, two seemingly opposite worlds.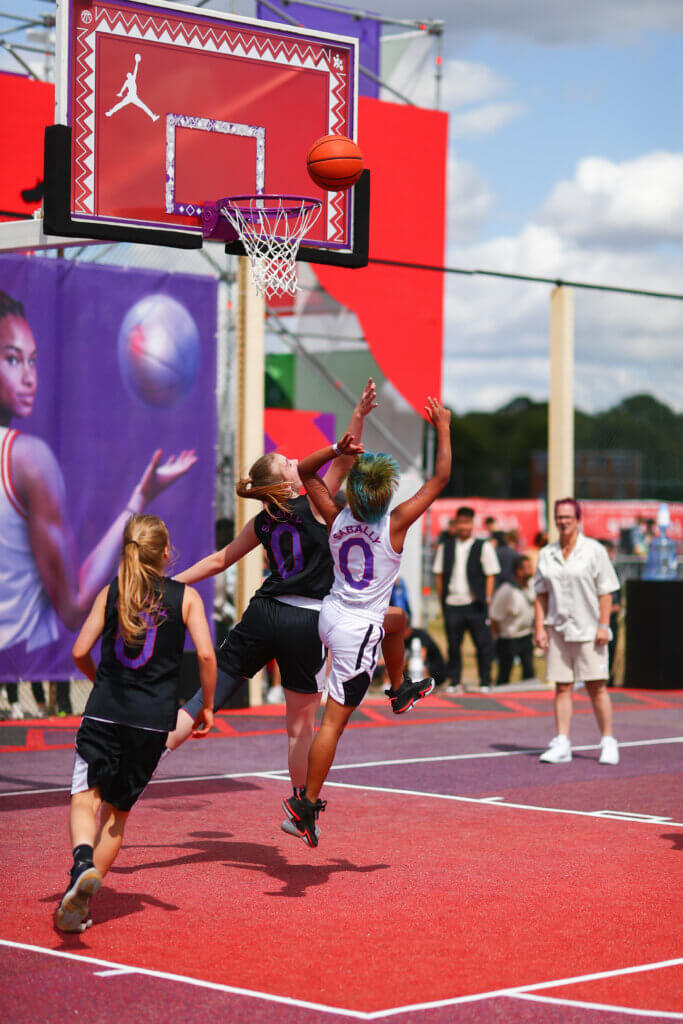 To grasp this conversation, Bahar has mapped the story of renowned German-Gambian basketball player Satou Sabally, who's been vocal about women's and PoC's rights during her prominent career. With the Satou Sabally Basketball Court, Bahar, Satou and Jordan (Nike, Inc.) aim to emphasise that sports and arts are universal languages with the power to bring people together. Read here our talk with Bahar Bambi.
Hey Bahar! First, let's talk about you. What are you focused on creating at the moment? What informs and influences your style?
The beautiful thing about art is that anything can be your canvas. I really enjoy expanding my work through different mediums. The traditional way of painting on canvas will always be part of my daily (art). Lately, I've been enjoying creating sculptures and digital work and merging my work with fashion.
I fuse aspects of my Turkish and German roots. My grandmother used to weave rugs herself, and I grew up surrounded by Middle Eastern culture. Likewise, Berlin has influenced my work, too, through street art and graffiti. That's how I started to create pieces that exist between cultures and time periods — patterned paintings that combine elements of traditional weaving techniques and contemporary street art, a bridge that connects the basketball and sneaker culture.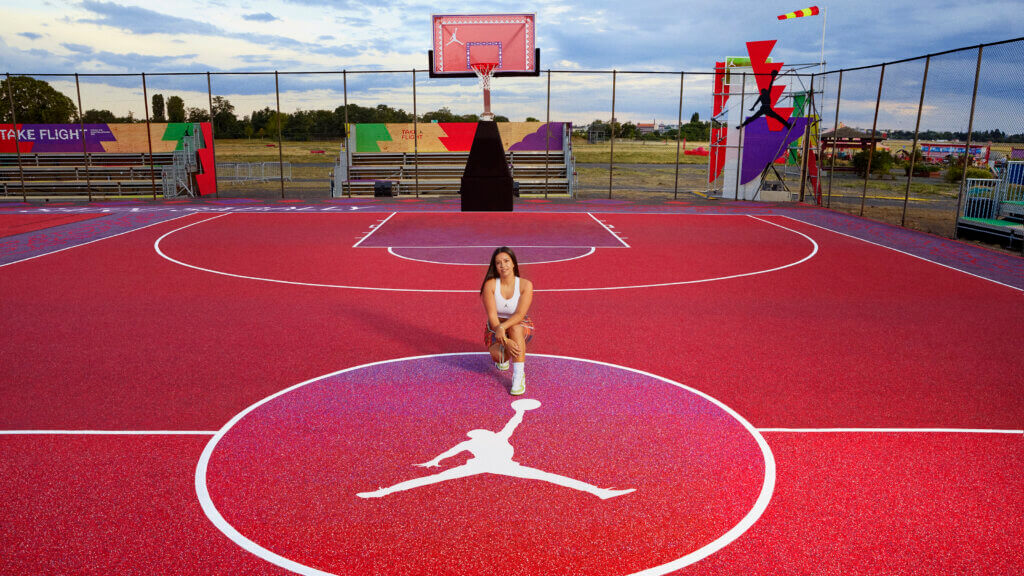 Your bio reads, "The Magic Carpet Journey illustrates and describes the life within two cultures." How does the not-so-simple marriage of heterogeneous cultures find peace in your artwork?
"The Magic Carpet Journey" not only describes my dreams but my journey.
Growing up in different cultures is very enriching, however, you're never fully accepted and that can raise questions regarding your identity and belonging. As I got older, I understood that my generation is the result of various cultures that we've invented a culture of our own. Since I was 16, I've been traveling and moving to different countries, and every country has
introduced to me a new culture, which has helped me to expand mine. Although these cultures differ a lot from each other, putting them together in one canvas creates a magical, new story — beautiful because of its contrasts.
The Satou Sabally basketball court is meant to open a space for inclusivity. Do you think it could also serve to expand the dialogue about inclusivity in art?
Definitely! I think the Satou Sabally Court pictures diversity & inclusivity in so many ways. Not only on the conversation about female* empowerment, but it's also about embracing everyone and creating a safe space.
Bringing people together and helping to connect is what my work is all about: Inclusion. Art and basketball might seem very different at first sight, but if you dig deeper, there are many similarities. They're universal languages and allow us to connect across cultures and borders.
I see the court as a canvas. Players have their signature moves. Think of legend Michael Jordan. The way he expressed himself in the court has become a symbol of art. The design of the iconic Jumpman logo and his sneakers have been inspired by his moves and the way he played.
Let's talk about the design. Could you tell us about the creative process behind binding your Turkish roots with Sabally's Gambian roots? Did you focus on a specific thought or feeling? Any special technique?
Art has always been a very emotional topic to me, therefore I approached the whole creative process that way, too. We wanted to create a safe space where people can feel connected and that, at the same time, reflects our stories — full of similarities. But the most beautiful part of this process was the conversations I had with Satou. Not only did I get to know her mind better but also her Gambian roots. Through those conversations, I devised the pattern and symbols that reflected her.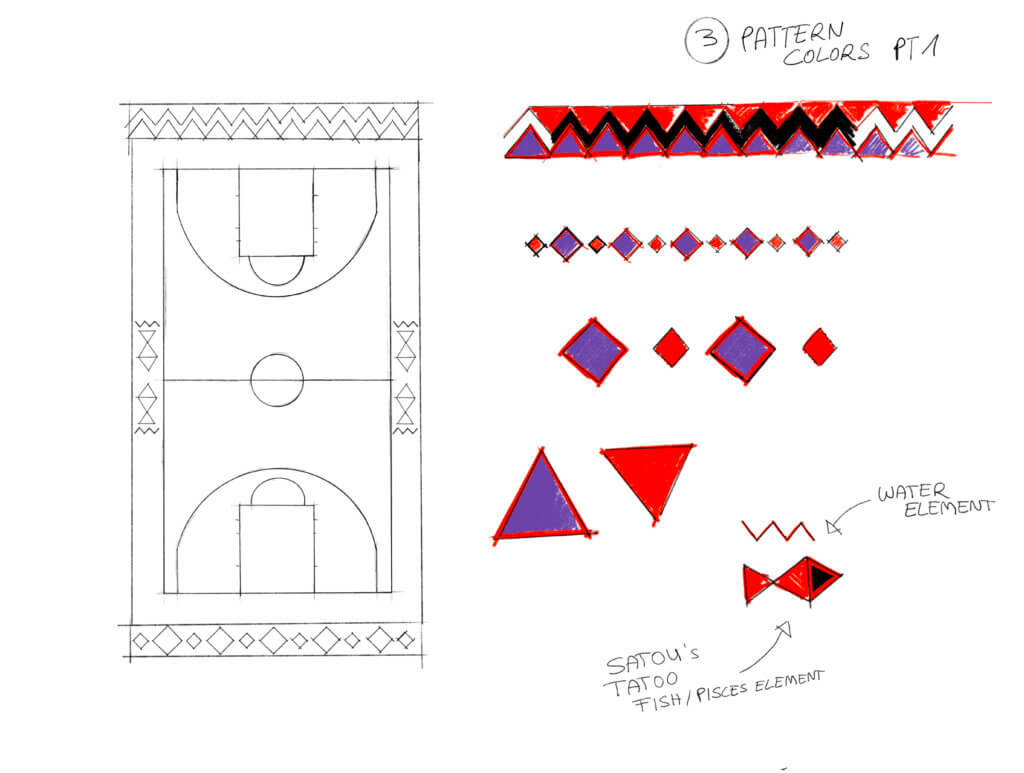 Berlin is a city that distills creativity and incites dwellers to occupy the streets. What does it mean to you to be part of a project that aims to install safe spaces for BIPoC and underrepresented communities?
Being able to work on a project like this, creating a meaningful, safe, artistic space for the community of your hometown goes beyond art and basketball. It's here where art, sports, cultures and communities merge. It's a dream come true that still feels very unreal. When I look back at the times when I was younger, I can't think of any role model, of someone with a similar background, successful in the entertainment, sports and art scene. It's amazing to see how this is changing.
I hope that this court will empower and inspire the current generation to follow their dreams, speak up and not be afraid to express themselves, especially the females*.
What does it mean to you to collaborate with Jordan (Nike, Inc.)?
This project didn't happen overnight. It's been a dream to work with the Jordan brand until one day I finally got the chance to introduce the project to them. Jordan has been so much more than just a sports brand to me. It shaped my childhood in different ways. When I think of the brand, I think of Michael Jordan, as someone who represents greatness. It's the hard work and dedication that comes to my mind.
With this project, we get to leave a footprint in our hometown, Berlin. I love how the brand is supporting women* and creating a platform for us and our voices where we get to inspire, influence and push our cultures forward.
Is there any other exciting project coming up that you'd like to share with us?
You will definitely continue to see me in the field of basketball. I have some exciting stuff coming up. But I will keep it a little secret for now. I'm sure you will love it, so stay tuned!