This week, we chose to introduce you to the amazing journey of the beloved Alexander Mcqueen, who has been a big inspiration for several creatives of the industry.
The fashion industry is known  for the judgmental und criticizing community since forever. It is still hard for individuals, who do not fit the typical fashion it girls and boys' Image to build their own empire and prove their relevance. Even today we still experience bullies within the industry, which is honestly not necessary since creativity is limitless for all types of realization. Mcqueen is a perfect example of and one of the biggest inspirations to alway keep on believing in once abilities to prove most importantly to one self that everybody could come as far as they believe in them selfs.
As a 16-year-old he learned the craft of the men's tailor in London's Savile Row at the traditional tailors Anderson & Sheppard and Gieves & Hawkes. He then worked for the London theater costume designer Angels The Costumiers. The Japanese designer Koji Tatsuno, who worked with antique fabrics, hired him afterwards. During that time his family and friends could already see his dedication for his passion. As a result, McQueen worked as an assistant to Romeo Gigli in Milan, where he simply went without any approvance and prove his talent by personally  applying for the posiation. He then studied at the Central Saint Martins College of Art and Design in London, where he received a Master of Arts in 1992. His graduation collection was bought by British Vogue stylist Isabella Blow, who was to become muse, pioneer and mentor to him. She leaded him for a long time, but for those, who have been following this journey, later on could follow how an amazing friendship could break, when the fashionindustry overtakes your mind.
In March 1993 McQueen founded his own label "alexandermcqueen" for women's fashion and from then on appeared as 'Alexander McQueen' in public. His opulent, eccentric creations and wild, sometimes scandalous fashion shows quickly earned him the title of 'Enfant terrible' of the British fashion scene. Among other things, he presented bloodied models on the catwalk and showed in 1995 the journalists at the end of a fashion show his bare butt. Trademark McQueens were, for example, ultra-deep-fitting hipsters and a stylized skull. McQueen shows were always artistically choreographed and staged technically elaborate. His fashion testified on the one hand from the highest art of tailoring, which was more associated with haute couture than the ready-to-wear, and on the other hand often with both futuristic-evolutionary and dark-morbid elements. In particular, his fascination for the animal kingdom and autobiographical influences – especially his roots in London's East End and the Scottish origin of his family – shaped McQueen's work. In 1996, he won for the first time the British Designer Awards of the Year of the British Fashion Awards, which he received again in 1997 (together with John Galliano), 2001 and 2003. Overall, McQueen designed 36 collections for his London label.
In 1997, McQueen was unexpectedly appointed designer for the haute couture of the fashion house Givenchy within the LVMH group. He was thus the successor of John Galliano, who moved to Dior. The house Givenchy planned to rejuvenate his collections with McQueen. While McQueen's spectacular creations caught on with great media interest, he was unable to develop a clear, consistent line for Givenchy and presented completely new, disconnected designs each season. McQueen later complained of the dichotomy between creative design and commercial claims at Givenchy. His relationship with LVMH boss Bernard Arnault deteriorated increasingly. After selling 51% of his own business to LVMH's largest competitor, the Gucci group of French luxury goods group PPR, at the end of 2000, McQueen lost his Givenchy post. Under PPR he remained creative director of his own label.
Since 2006, Alexander McQueen designed the most costumes and outfits for the pop singer Lady Gaga. His outfits were used in the Lady Gaga music video for Bad Romance (album The Fame Monster, November 2009). For example, at the awarding of the MTV Video Music Awards in late 2010, Lady Gaga wore McQueen's Armadillo Boots. In addition, the singer, who was a friend of McQueen's, posthumously dedicated his Special Edition song "Fashion of his love" in mid-2011.
In the summer of 2000, McQueen married the documentary filmmaker George Forsyth (b. 1976) in Ibiza, Kate Moss was his maid of honor. McQueen and Forsyth split in 2001, did not talk to each other for a year and a half and finally reconciled. McQueen's muse Isabella Blow, who is also said to have pave the way for the deal with the Gucci group, took his own life in 2007.
As the wondered of the industry during that time, he went through a lot of critics and ups and downs with his crew, who were also his closest friends. Mcqueen was always a very emotional person, what he reinterpreted in his art. After all the changes he've been through ( Physically, mentally and also in his family) he wasn't mentally stable enough to process all of the los in his life. 
McQueen was found dead in his apartment in Mayfair on February 11, 2010, one day before the funeral of his mother Joyce, who was one of his closest confidants. In a farewell note he had asked: "Take care of my dogs Sorry, I love you."After the autopsy, the police announced that he had taken a drug cocktail and later hanged himself. His psychiatrist also spoke to the commission of inquiry. McQueen suffered for a long time from depression and various anxiety. He was considered shy, sensitive and had only a few friends. He was under pressure to work and this was a double-edged sword: on the one hand, he felt that this was the only area in his life where he had achieved anything, on the other hand, he usually felt very depressed and isolated after the shows. The fashion show scheduled for the following day during New York Fashion Week on the second line McQ was canceled.
McQueen was one of the most important British fashion designers of his time alongside Vivienne Westwood and John Galliano. Madonna said after his death in a statement: "Lee McQueen was a truly unique visionary in the fashion world, a creator of beauty, what a tragedy."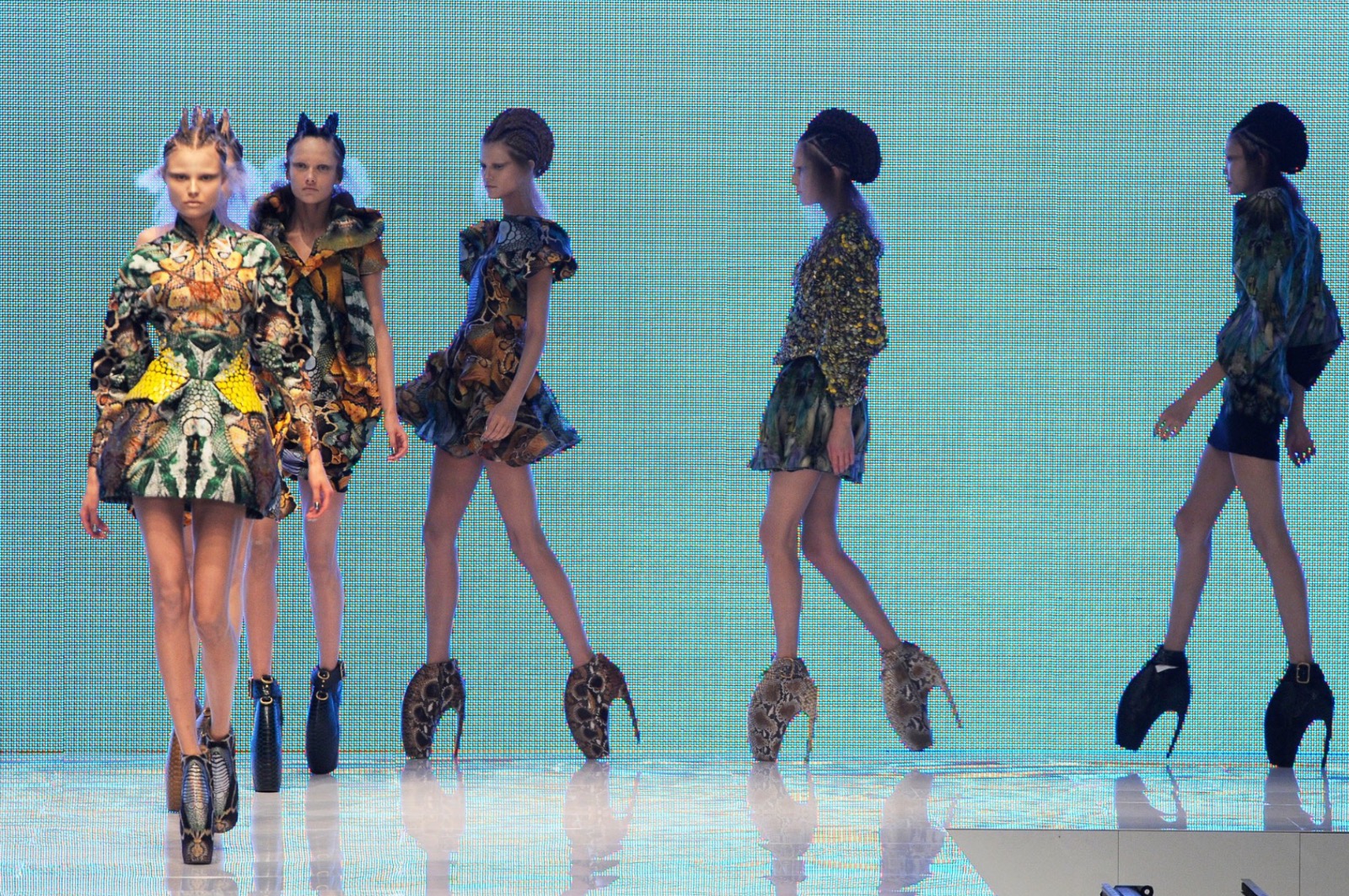 ‍

A week after McQueen's suicide, PPR announced that the company and the brand Alexander McQueen will be continued. In early February 2010, a circle of invited guests showed the latest creations from the pen McQueens at the women's fashion shows of the Paris Fashion Week. In May 2010, PPR announced that Sarah Burton, McQueen's right-hand man since 1996 and most recently designer of the women's collection, would take his place as a designer.
The brand Alexander McQueen is indeed commercially successful, but compared to the other labels in the portfolio of Gucci Group – especially Gucci or Bottega Veneta – relative to the total sales only a minor role. The fact that Sarah Burton was the designer of Kate Middleton's bridal gown and her sister Philippa's bridesmaid dress on the occasion of the world-wide televised wedding of William Mountbatten-Windsor and Catherine Middleton on April 29, 2011, helped make the Alexander McQueen brand one greater international prominence.
‍
‍