Stüssy x Dries Van Noten – A Tasteful Collab In Tasteless Times
Ah, Stüssy… The streetwear giant that sits atop everyone else. Always tasteful, not many disappointments. Even the name makes the brand stand out among its peers. Not only because of its history, but it really is the name. Stüssy… It's something different to name your brand after your real name instead of going for some words that are chosen to give the buyer a potential glimpse into the brands DNA. Gucci, Armani, Ralph Lauren… Stüssy's name in itself has a power that could compete with pret a porter fashion houses. A name like Stüssy stands for good taste. Shawn Stüssy knew that it was his DNA – his not only Californian, but international lifestyle – that made Stüssy into an international tribe instead of another t-shirt brand.
Since the main man himself left the company in 1996 and wrote over the rights to his name and designs, Stüssy went into several directions to find its place in the fashion industry. You might remember finding the brand at your local skate store in each small city, something completely different from nowadays, when their collections are constantly shrinking and stores carrying the brand becoming fewer and fewer each season. The brand knows the risks of overexposing and seams to follow the rule of other powerhouses like Supreme. Namely by doing drop releases with exclusive product on their own website and only positioning themselves in the most elite stores or better said "streetwear boutiques" and of course by being aware of the history of the brand. "In this great future you can't forget your past" is one of Stüssy's mantras and not even O.G. founder Shawn Stüssy's distaste for the brand still using his personal history – without him being on board anymore – could stop the brand's success especially over the last years.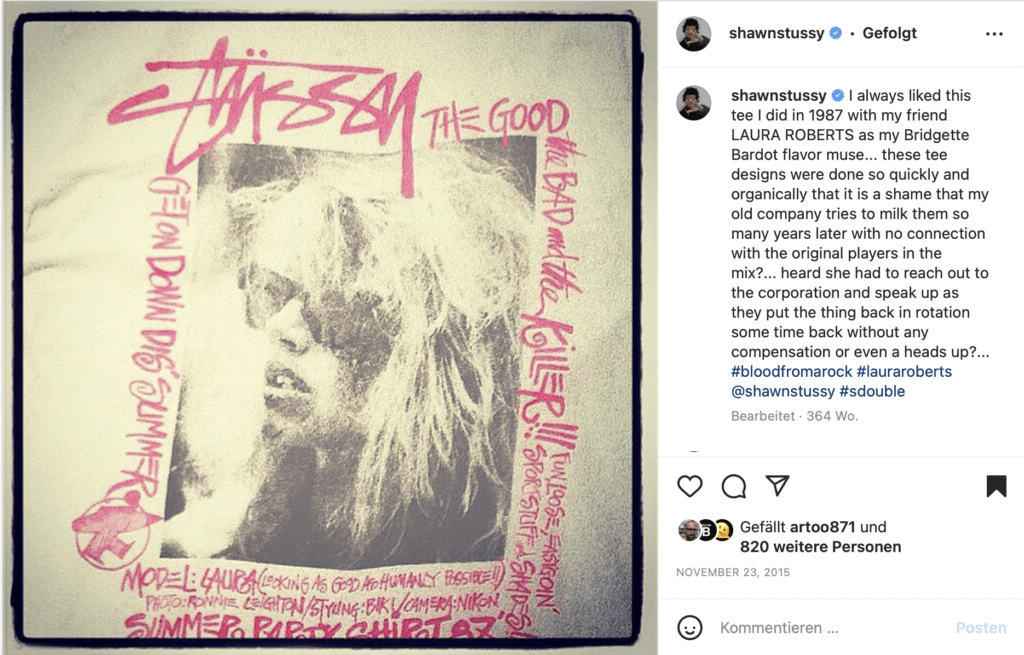 But Shawn Stüssy once again manifested his influence on fashion in 2020 when he and Kim Jones combined powers for the Dior x Shawn Stüssy collection which was a huge step in the constant evolution of streetwear. His old brand is now going a similar route.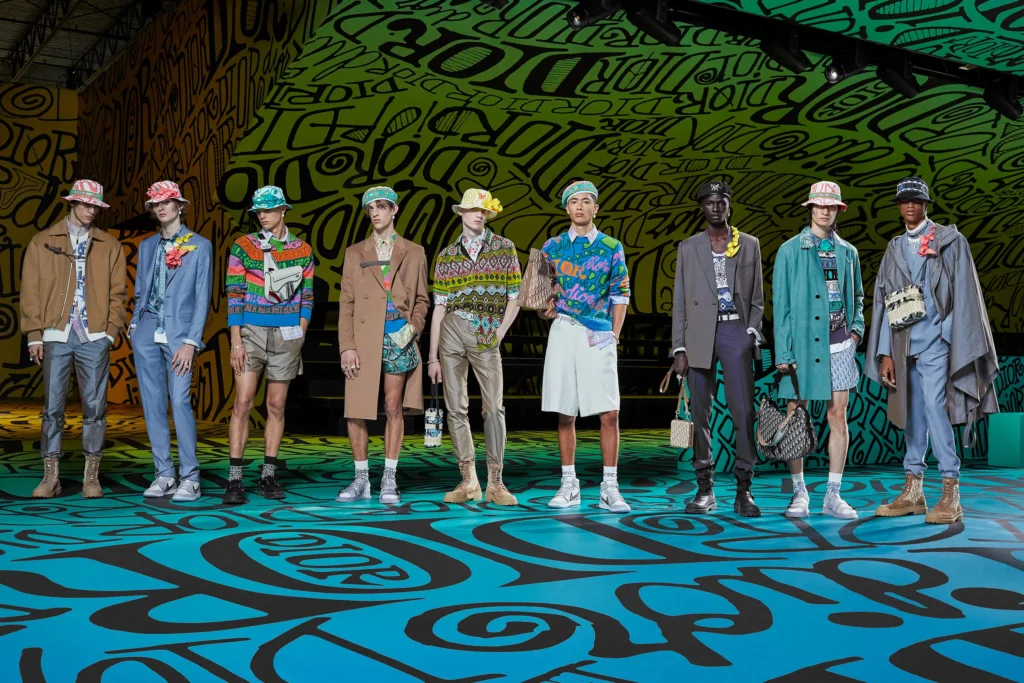 While a few weeks ago blogs were speculating about a possible Stüssy Rolls Royce collab because of a campaign photo featuring a grill crowned by the iconic Stüssy logo (please leave corny car collabs to KITH), we are now witnessing the brand dropping a collection together with Antwerp Six alumni Dries Van Noten.
Van Noten released his first menswear line in 1986 and nowadays creates for seasons each year. Even though hailed as a designer, he does not create haute couture, but prefers his designs to be ready to wear and of course available in retail. He is also a favorite among a young generation that was introduced to the world of fashion through sneakers and streetwear, which makes this collaboration even more interesting.
THE CAMPAIGN AND CLOTHING
The first sign of an upcoming Stüssy x Dries Van Noten release arrived on the 3rd of November, when A$AP Nast shared an IG story showing some of the pieces, which was instantly shared by blogs like Streetwear Night Life and of course the internet started getting wild.

Only a few days later first look book shots by photographer Tyrone Lebone started making their rounds. Modeling the collection was none other than Red Hot Chili Pepper's Flea, which in itself is a big and tasteful move in times when every streetwear brand is eager to feature as many actors or musicians as possible in their look books. Even though most of the time instead of being something special it just becomes corny.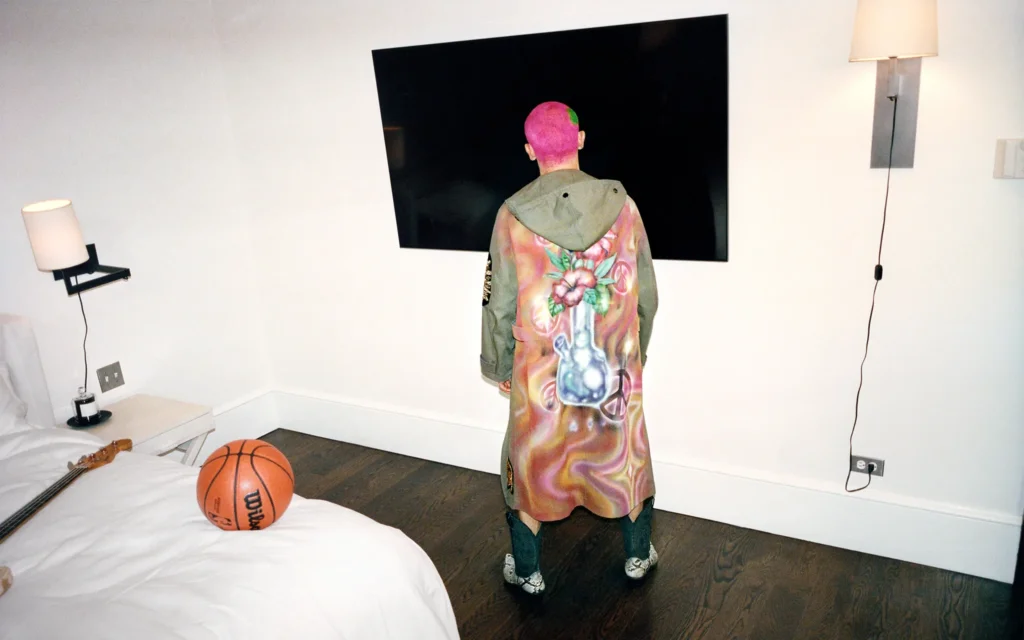 This shooting gave us a first look at stand out pieces like the Military Parka – which comes with a price tag of almost 2.500 Euros, but on the other side features a hand-made airbrush graphic of a bong with flowers – a classic Stüssy Varsity Jacket with a Dries spin on it, a pair of shorts with a flaming roses design and a tie dye pair of pants.
The following beach campaign finally gave us a full look of the collection.
The clothing is graphic heavy which perfectly fits Van Noten, whose style has often been described as eccentric. The garments feature a lot of tie dye and hand-sprayed on stencil graphics like 8 balls (Of course… It's Stüssy), flames, spirals and mushrooms.
The crystal-embroidered wool blazer with satin accents, branded jacquard lining and a matching pair of pants manages to stand out in this more than thirty piece-heavy collection. You have to spend around 2,5K for the whole set up. But damn does it look good.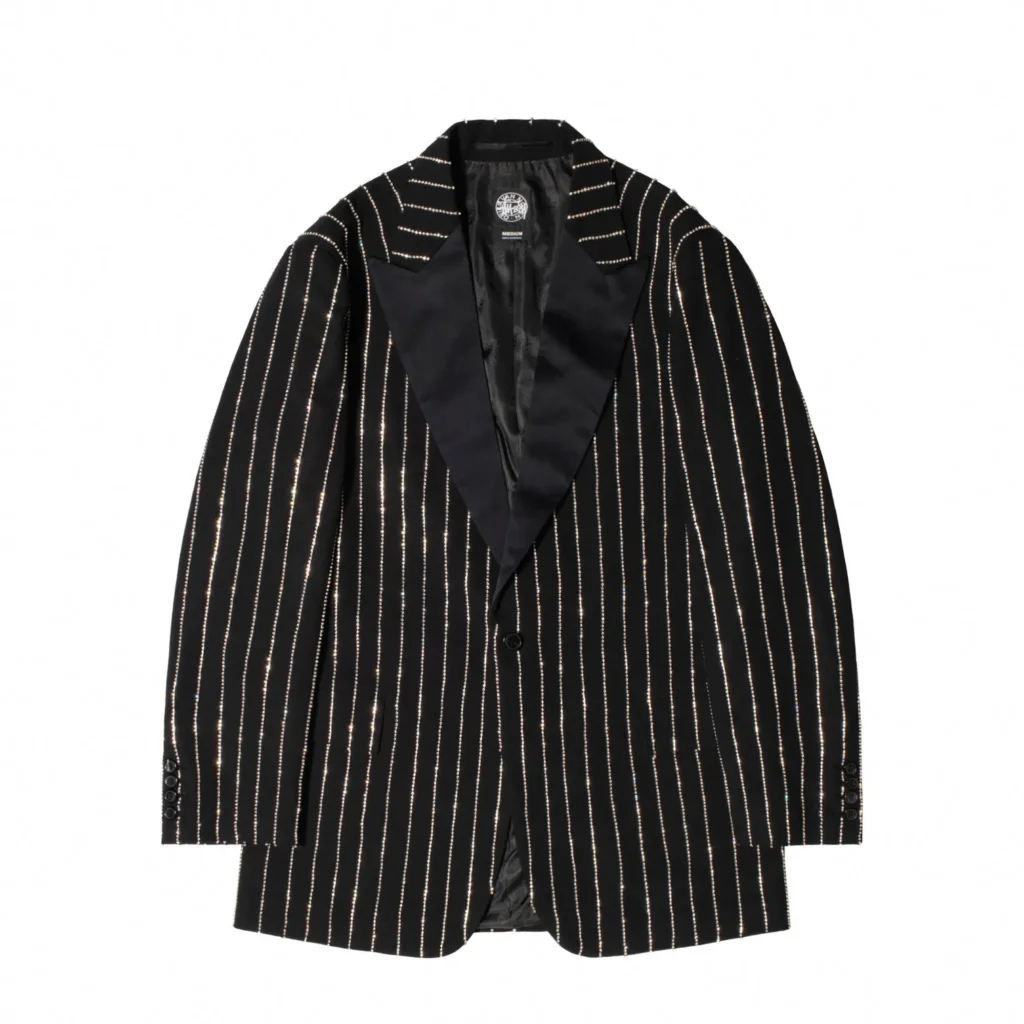 If you are looking for an item on the lower price range go for one of the t-shirts that come at a price range from 85 to 150 Euros. You decide if you are more of a mushroom, bong or bandana hand-sewn on the front of your shirt kind-of-guy.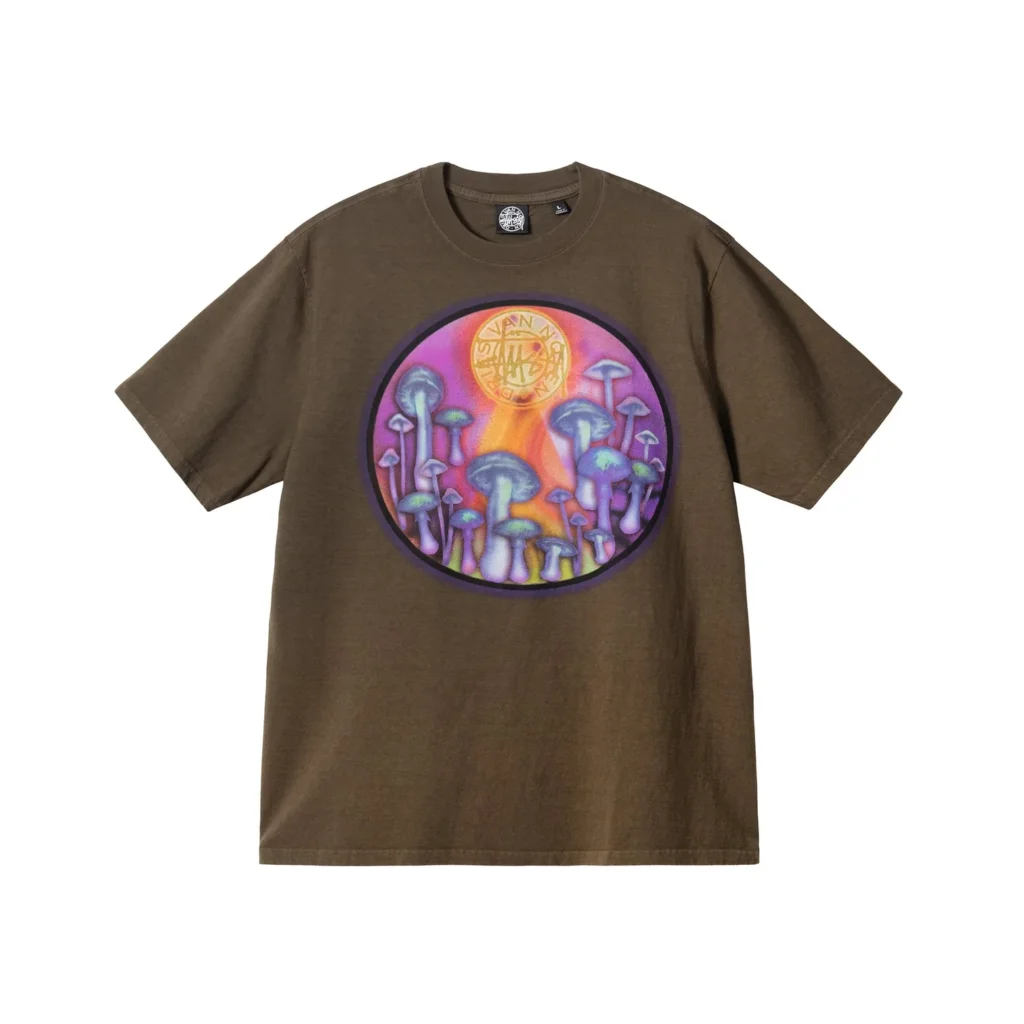 Coming to headwear we have not only several basecaps, but also a printed silk bandana with a graphic too psychedelic to put into words. Just have a look for yourself.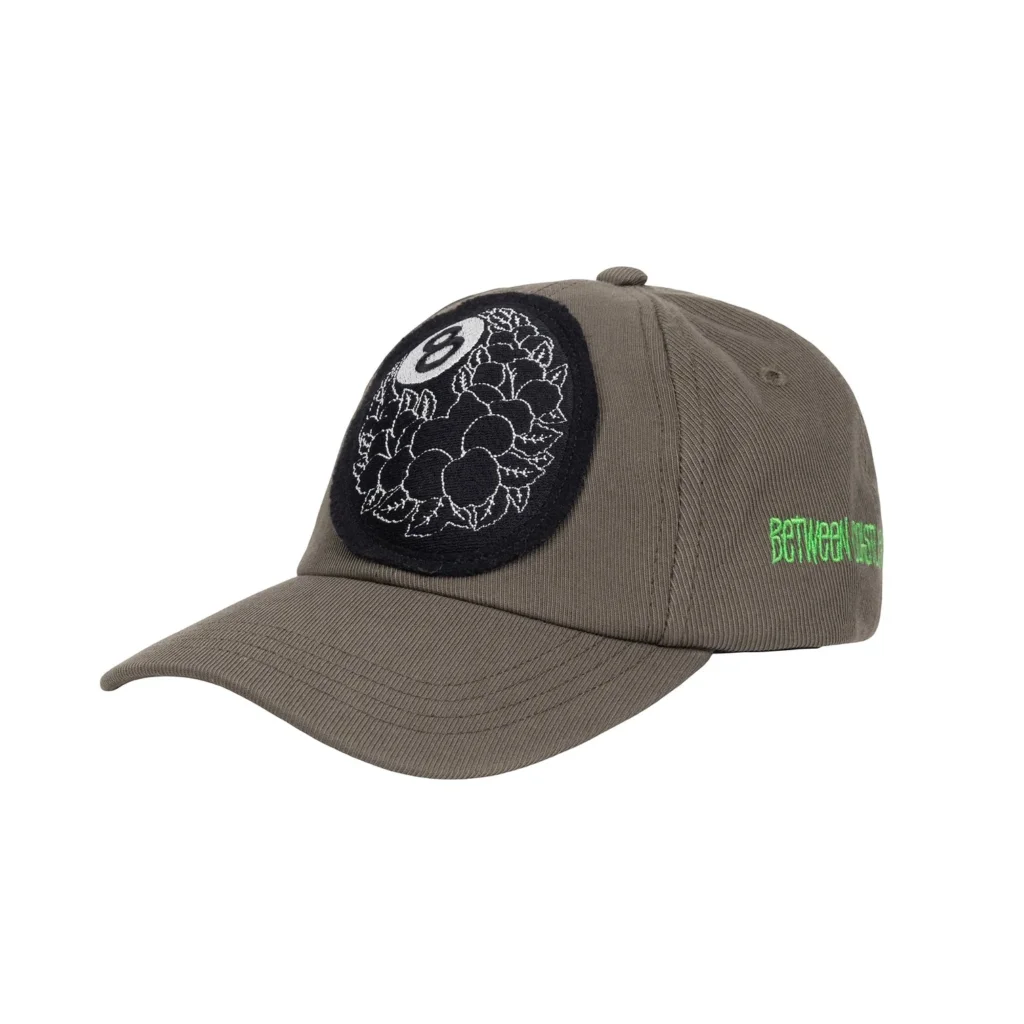 So what can we say about this collection? In a time when brands seem to live by the motto of "go big or go home", Stüssy and Dries Van Noten present an eccentric, but very tasteful collection that underlines the understanding and knowledge of the peeps behind the brand, that is more than just 8 ball tees and 8 ball fleeces worn to be sported on IG fit pics (But still, Stüssy… please use fewer 8 balls…) and scribbly graphics.
It is an interesting step in the field of "streetwear meets fashion" and definitely a tasteful collab in tasteless times, where brands often collaborate just for the sake of it.