This week NY-bred streetwear giant Supreme ennobled Germany by opening up their newest store in the once-divided city of Berlin.
To recite the amazing backstory of the brand would be a waste of time because 500 words would not bring justice to founder James Jebbia's legacy and especially the impact his brand has not only in subcultural street fashion but fashion in general.
Their newest addition to their flagship stores is now located at Torstrasse in the district of Mitte.
Torstrasse is a street name that already sounds familiar to anybody interested in Supreme because it's near legendary Firmament store, that in a time before we had any European Supreme stores (Supreme London opened it's doors in 2013, Supreme Paris followed in 2016 and Supreme Milan opened in 2021) used to sell selected Supreme items instore.
You have heard it through the grapevine for many years that Berlin was selected for a future Supreme store, but those rumors often died down with fans of the brands eagerly waiting and not giving up hope.
A couple of months ago the rumors came back up and soon additional information about Torstrasse being the planned location made the rounds. When a big black box-like fence started blocking the view on construction going on at Torstrasse 74, everybody knew what was going to happen.
The first week of November posters announcing Supreme's arrival with simply stating "Supreme – Torstrasse 74, Berlin" started appearing on walls all over the city.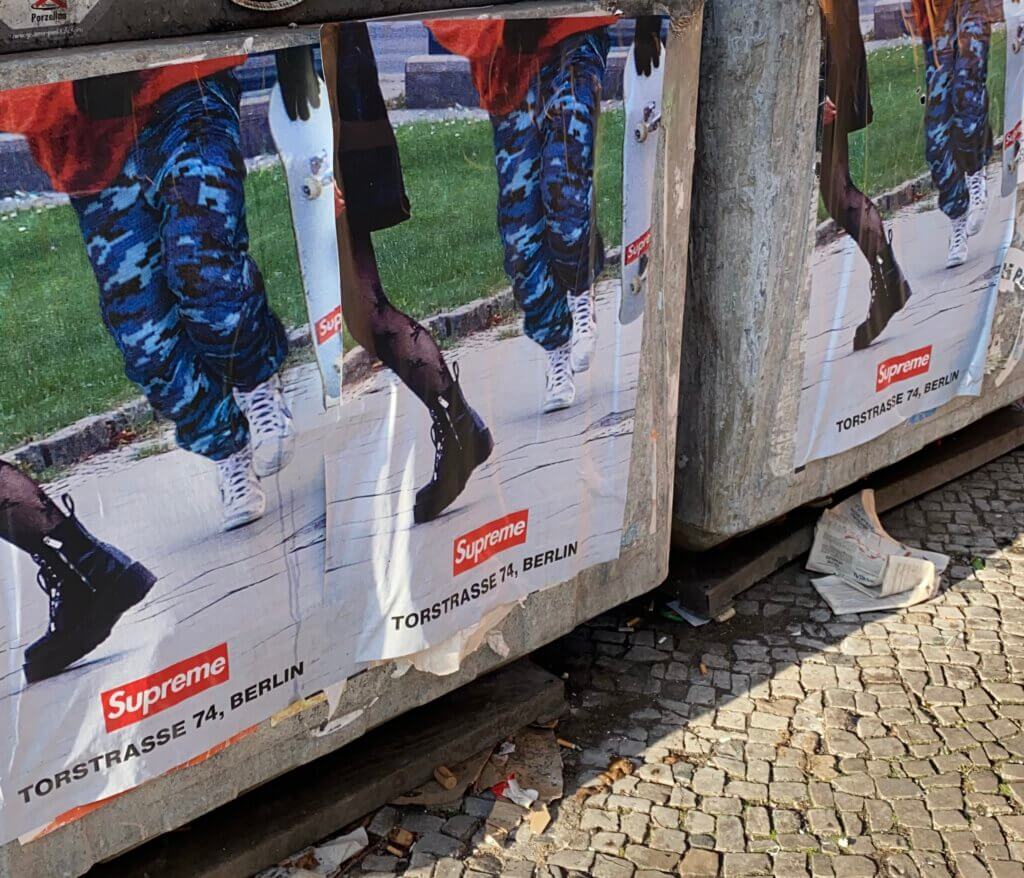 Instagram accounts specialized in leaking upcoming Supreme drops started posting photos of a rumored special Box Logo shirt for the store opening. Fortunately the now released one does not look like the mock-up already shared via IG over the last weeks – Meaning we do not get a German flag-colored bogo. For sure a relief.
The special shirt features a green version of streetwear's most iconic logo with an additional backprint featuring the shop's address and the phrase "Alles Gute". Kind of similar to the blue box logo that contained the phrase "Bonjour Madame" and the date of the Paris opening that was released to celebrate the french capital being added to the likes of NY, LA, San Francisco, Tokyo, Nagoya, Fukuoka and Osaka in 2016.
On Wednesday, the 9th, digital flyers announcing a screening of the brand's go-to skateboarding filmmaker William Strobeck's newest Supreme skate video "Mind Goblin" started making the rounds on private chats with the location being a hookah bar at Kottbusser Tor, right in the heart of Kreuzberg. No guest list – you just had to have heard of it. A nice change to the capital's usual "You have to be on three guestlists to enter the place and need a special wristband to get a drink for free"-type of events. Maybe the spot was selected to keep your ordinary hypebeast influencer from attending. With mainstream media always labeling this part of town and especially Kottbusser Tor one of Berlin's most dangerous places, hype-driven trend followers were maybe to worried about getting their Supreme x TNF coats jacked to stop by. Young skate kids around the age of 14 were not stopped by that. Seems that the kids are still alright.
The location slowly filled with people and hookah smoke and the audience consisting of international Supreme family like aforementioned William Strobeck, Supreme London's own Jagger, the Supreme skate team, their Berlin employees, a handful of German streetwear pioneers and very young skate kids could only be described in three words – friends and family.
When Strobeck gave a quick "speech" introducing the audience to "Mind Goblin" the crowd went wild. Whenever somebody landed a trick the crowd went wild. Whenever somebody did not land his trick and crashed on the street the crowd went wild. A sense of community and togetherness that is often missing in the German fashion circuit was in the air of Kreuzberg that night.
On a personal note I can say that I have never been in a room of so many Supreme pieces worn so tastefully. While the pure presence of so many hard-to-get garments would make every trend-hopping fashion guy's head explode, you could notice the lack of carefully instagrammable thought-through outfits of color-matching hype sneakers to a matching Supreme top to a matching cap. It was a relief you usually don't experience on German streetwear events. But even though everything took place in Berlin it had the NY-flair of what Supreme really means.
The store itself opened its doors the following day for a special friends and family event.
The design of a Supreme store always follows a pattern – white walls, racks displaying precisely-folded shirts, caps, their newest drops, skate decks and usually the display of artwork by an affiliated artist like Mark Gonzales.
The Berlin shop is no exception and features the same atmosphere and a similar build-up.
With entering the store right at the beginning of the opening being quite easy, quickly a long queue of people waiting to enter formed outside.
Like the other stores of the company Supreme Berlin gives off a clean vibe with a displayed artwork of a plane by Mark Gonzales. Maybe a nod to the airlift that secured Berlin citizens with supplies during the Berlin Blockade from 1948 until 1949, if that was not his intention we can just call it another display of what a great artist legendary skater Mark Gonzales is.
Another more subtle art piece inside of the store is a beautiful tag by graffiti writer EARSNOT of legendary IRAK NY crew.
With the location for the screening on Wednesday already being very un-posh fashion-wise, the location of the opening party at Silverwings at Columbiadamm did play into the same direction.
Silverwings is a club located at Airport Tempelhof and has been open since the days of the Berlin airlift. Johnny Cash used to perform there. A location full of history – Just like the brand itself.
Many people say that Supreme should have opened up a store in Berlin many years ago.
With the history of the city, it's cultural background as a haven for international creatives and the energy this special place always had it was sure that it would fit perfectly to the energy of the brand James Jebbia gave to us in 1994. But better late than never.
I surely remember walking down the streets of Harajuku in 2010 to visit my first Supreme store, same for NY in 2011 and London in 2013. A feeling I thought about while seeing the posters announcing their Berlin store pop up on every corner. From what I have witnessed over the last days I am sure that a lot of young kids will feel the same while walking down Torstrasse in the future.
Supreme has arrived in Berlin and with it brought a glimpse of the spirit of the old days that will hopefully scatter in the air of Berlin and give the city an alternative to today's fashion scene.
Welcome to Berlin, Supreme.