"Wear Something Different, So You Don't Look Like A Clone" – The Life And Work Of Vivienne Westwood
We first heard about Vivienne Westwood in the mid-2000s when we discovered the music of British punk icons The Sex Pistols. We were instantly drawn in by their music and lyrics, but especially by the way they dressed. It just made so much sense – shouting those profanities simply required the matching "Fuck off" look. We found out about their manager Malcolm McLaren and, of course, about Vivienne Westwood, the designer who clothed the band in a way that underlined their snotty attitude.
We also remember seeing one of our favorite rappers – Chicago-based Lupe Fiasco – wearing an unbelievable "collage of a shirt" reading the phrase "Only Anarchists Are Pretty" next to a portrait of Karl Marx.
It was an original shirt done by Westwood and McLaren in their early days, and until this day, this will be the first item we ever buy if we hit the lottery one day.
Until then, we can visit the British Metropolitan Museum in London and have a look at the exhibited shirt there.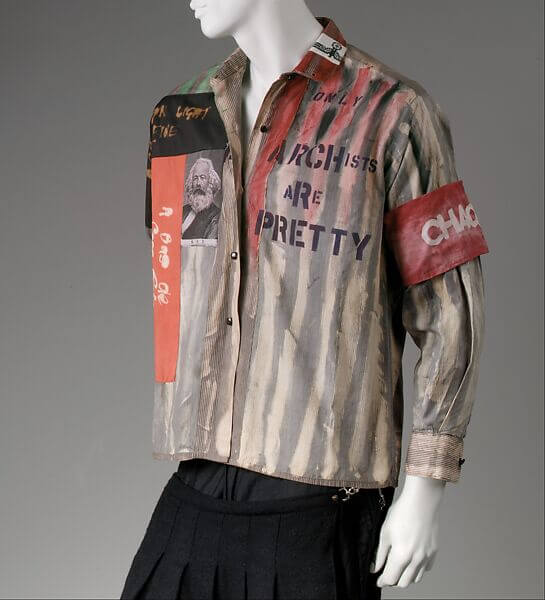 Lupe Fiasco was the first rapper we've ever heard talking about fashion and streetwear, something that changed our view on clothing forever. He was hanging with the likes of Pharrell Williams, who for a long time sported one of Vivienne Westwood's iconic hat designs on a regular basis, and designers like Hiroshi Fujiwara, who in 2005 even released a book containing only photos of his and Undercover's Jun Takahashi's personal collection of vintage Westwood pieces titled Seditionaries.
Vivienne Westwood died on the 29th of December and has left a portfolio very few designers can match. To celebrate her life and work, let's have a look at this incredible person we just lost.
Early Beginnings
Vivienne Westwood was born Vivienne Swire on the 8th of April in 1941 in the small village of Tintwistle, but moved to London in her teens to start jewelry and silversmith courses at the University of Westminster.
She decided on becoming primary-school teachers but still continued selling her own jewelry at a market on Portobello Road.
Westwood married her first husbands Derek Westwood in 1962, for which she also made her own wedding dresses. Their first marriage ended when she met Malcolm McLaren, with whom she started working on new clothing.
Due to the success of McLaren's musical signees The New York Dolls and The Sex Pistols (of course always dressed by Westwood), her designs soon started gathering attention.
Let It Rock & SEX
One can say that she designed the blueprint for Punk fashion. Provocative t-shirt graphics, big mohair knit sweaters, tartan pants, and a lot of pins and needles… A look that was soon adopted by outsiders and misfits worldwide.
In 1971 she opened up her first boutique store co-managed by Malcolm McLaren called Let it Rock – a nod to a song by Chuck Berry – which specialized in fashion for "Teddy Boys". In 1973 the name was changed to Too Fast To Live, Too Young To Die with a focus on Rock clothing until changing the name to SEX in 1974.
At SEX, they started selling leather and S&M gear and became a hang around spot for the emerging London Punk scene. The store changed its name again. First into Seditionairies – Clothes for Heroes and then into World's End. Nowadays the brand Vivienne Westwood owns boutiques all over the world, with even a Vivienne Westwood Cafe opening up in Hongkong and Shanghai.
Pirates, Buffalo Girls And Her First Collections
Her first real collection debuted in 1981 under the name of Pirates. As the name suggests, it was clearly inspired by the clothing of sea marauders. Her following collection Buffalo Girls (1982) was inspired by Western themes, while you can guess what the inspiration behind 1983's Witches collection was…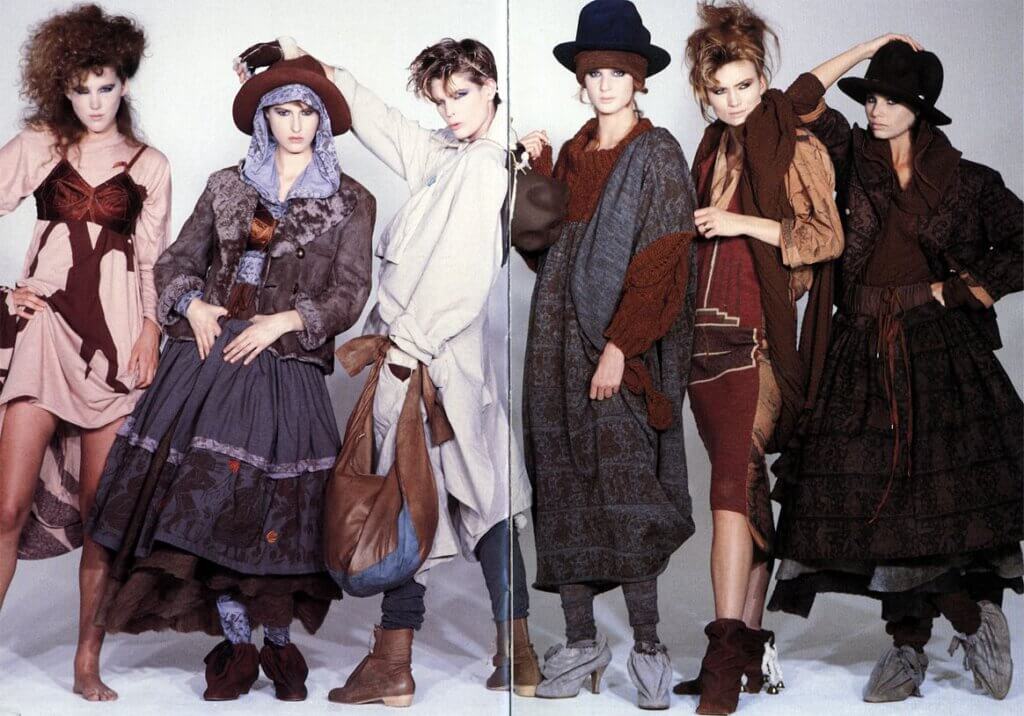 Her Buffalo Girls collection was also featured in Malcolm McLaren's music video for his song Buffalo Gals, which went down in history as one of the first hiphop music videos of all time – with a cast fully clad in Vivienne Westwood.
She described her artistic work from the time of 1981 to 1985 as "New Romantic" and her projects from 1988 to 1991 as the "The Pagan Years". Westwoods inspiration clearly shifted from Punk aesthetic to fashion inspired by royalty, upper class, and even ballet.
After the divorce from McLaren, she continued producing clothing and in 1987 introduced the world to one of fashion's most iconic logos – the Orb. The Vivienne Westwood Orb resembles the Sovereigns Orb, which is one of the British crown jewels, created for the coronation of King Charles II. A very punk way to hijack this famous jewel and adapt it as her own, but at the end of the day, more than fitting.
She released her first men's collection in 1990 under the banner of Vivienne Westwood Man, a label that became a staple in her work. While already using very female styles like corsets in her works, she started using more androgynous silhouettes for our men's products, working with fitted jackets and wide pants. Other labels she introduced included Vivienne Westwood Couture for more high-priced apparel, Vivienne Westwood Bridal, Vivienne Westwood Anglomania, and Andreas Kronthaler for Vivienne Westwood – a sub-label designed by her third husband Andreas Kronthaler.
While changing our style and inspirations over the decades, Vivienne Westwood has always been an inspiration for creatives and a vehicle to introduce the world to subcultures such as Punk and Hiphop. Even though in later years we often mentioned "not being a punk anymore".
This Woman Was Once (Is Still) A Punk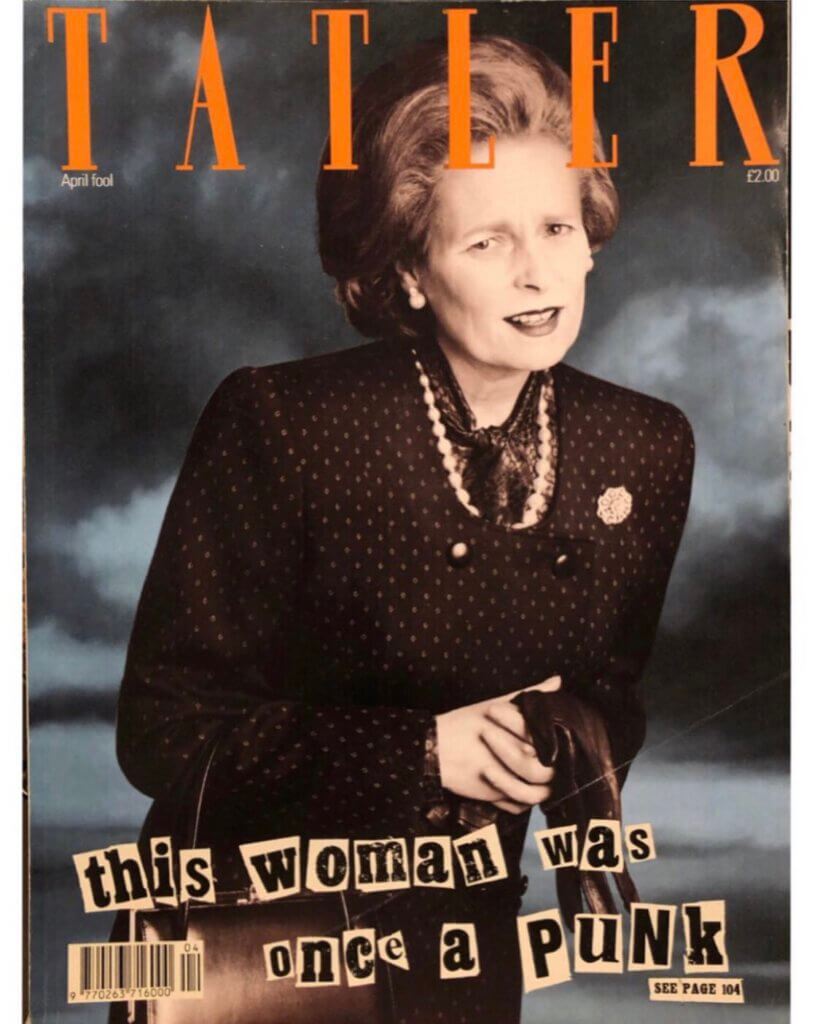 In 1989 she was photographed for Tatler Magazine styled to look like former Prime Minister of the UK Margaret Thatcher with the headline announcing "This Women Was Once A Punk". But while the title suggests otherwise, she kept her rebellious attitude until last by using her voice to help several charitable cases like the support of Native American activist Leonard Peltier or lobbying for the closing of Guantanamo Bay.
After consulting PETA, Westwood also decided to stop working with fur. She was also a supporter of Green Peace and Cool Earth – an organization dedicated to saving the rainforest – and produced charitable pieces of clothing dedicated to incarcerated whistle-blower Julian Assange.
The official press notice announcing her passing quotes some words she said shortly before she passed away last Thursday, the 29th of December:

"Capitalism is a crime. It is the root cause of war, climate change and
corruption."

Vivienne Westwood
This opinion goes hand in hand with one of her most famous quotes, namely "BUY LESS, CHOOSE WELL, MAKE IT LAST". And even already 25 years ago, Westwood brought the problematic of fast fashion and the accompanying death of creativity in design to the table. "Becoming a clone" due to cheap, fast manufactured, and boring clothing was always one of her main fears.
Not only her fashionable creativity but her rebellious attitude still inspires creatives worldwide and will continue to do so.
Westwood was one of a kind and a true icon that changed fashion and popular culture forever.
And as her official website reads "We are proud of the changes we have made so far. We understand there is so much more to do", it seems that her job is not done yet…
Editors note:
After finishing this piece, I went out for a smoke (as usual) where a roughly ten year old girl passed the street wearing a Vivienne Westwood "Too Fast To Live, Too Young To Die" beret. The future really seems to be in good hands.