Meet Layan Al-Dabbous Fashion Brand Claudette
With slogans like "the kids are tired", "text me", "I miss my friends", or "a phone call away", this streetwear brand communicates that it is about more than just clothing. When you wear Claudette, you're representing community, a want for positive change, a voice.
Founded by Layan Al-Dabbous, Claudette the brand is a meaningful, yet fun interpretation of streetwear. In her collections, including her latest, which is called "Better Days to Come", you will find cozy fits, vibrant colors, mental helath related slogans, and of course the Claudette doodle.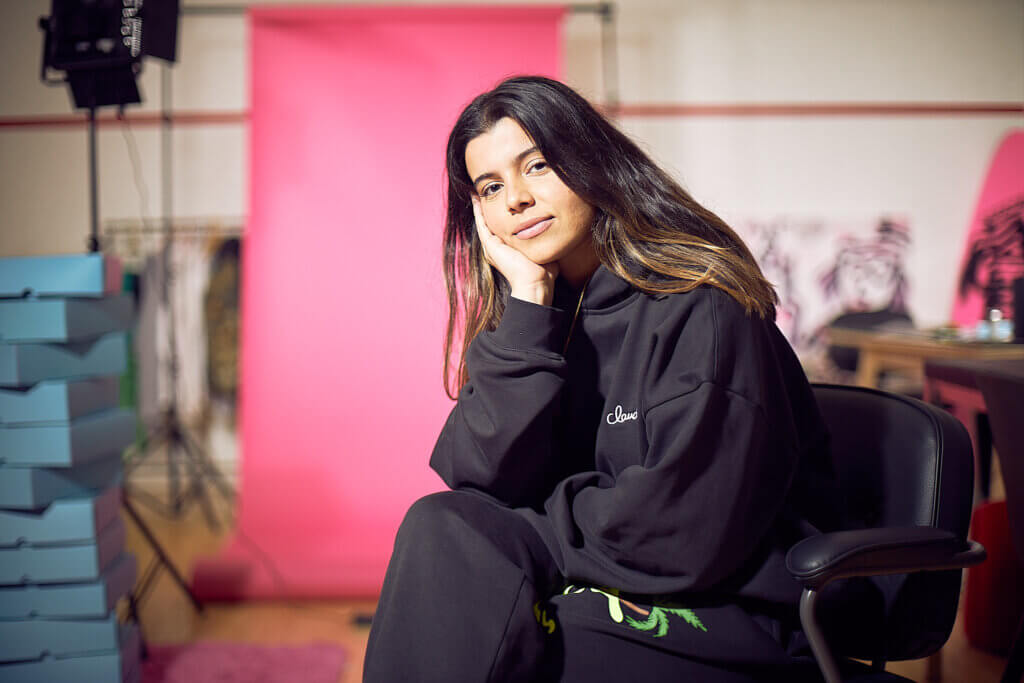 What the brand is all about, how Layan's idea about Claudette became reality, and why mental health is so important to her, she told us in an interview:
Can you briefly introduce yourself and tell us, what is typically Layan?
My name is Layan. I was born and raised in Kuwait. I've always enjoyed challenging myself and I think creating the brand was definitely a challenge. I always knew I wanted to do something different, so merging my love for art and fashion seemed like the perfect idea. I also wanted to focus on things I was truly passionate about otherwise there was no point.
How did you get the idea for Claudette The Brand? What's behind the name?
The idea came to me while I was a student at The New School in New York for my masters. I was playing around with some of the Adobe software and randomly drew out the character which now acts as the logo for the brand. When I drew the character the name "Claudette " kinda just came to me and so I went with it…a gut feeling you could say.
How did you create the Claudette doodle and why did it become part of your brand?
I drew the character out whilst just messing around, but after it was drawn out I knew I had something. I wanted Claudette to be the logo for the brand because it's really up for interpretation and I loved that. Some people think Claudette looks like a woman, and others think Claudette looks like a man, and others are like (well) we're not entirely sure, but that's the beauty in it.
Claudette is whoever or whatever you want it to be depending on your mood or interpretation. The character is meant to act as a blank canvas for you to create your own story.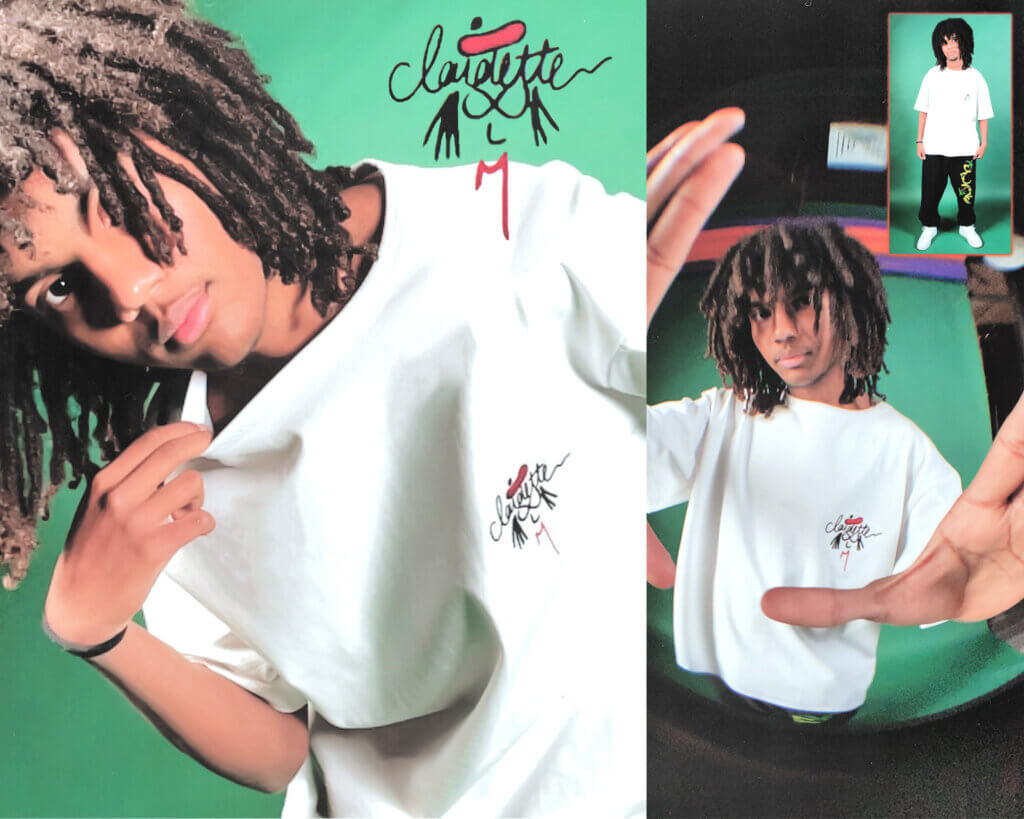 With your brand, you would like to do more than just fashion. You want to represent everyone and bridge gaps between apparent opposites. How did you know what you would like to achieve with your brand?
I feel like every strong brand should have a strong message. With Claudette we want to create great quality clothing, but the graphics and messaging are also just as crucial. I draw everything myself so it's as authentic as possible.
For me, the brand acts almost as a diary and each collection depicts the emotions and scenarios I'm experiencing presently. I think it helps me connect with my audience more, especially those experiencing similar struggles.
At the end of the day, we all have more in common than we think we do. I never had a specific road map of what I wanted to achieve. I kinda just let everything fall into place as it should.
Which difficulties did you encounter as a young female designer?
In the beginning it was hard trying to get people to take what I was doing seriously. I have such a powerful vision for the brand and I want people to see that, too. Also, navigating this world of fashion, finding the right methods for creating the perfect garment, as well as hiring people who share the same vision.
What does your creative process look like?
Every collection starts with a doodle. I draw out different ideas on paper, canvases, and my ipad. I'll brainstorm for days and sit alone to feel the emotions I'm going through (at that time). I like my graphics to express how I'm feeling, and then create almost a story line. Every piece I create has a deep meaning behind it.
Claudette also amplifies the importance of mental wellness. Why did you decide to address such a delicate matter in the way you do?
I have always struggled with my mental well-being and since the brand acts as my diary it only felt right to talk about it. I want to be as vulnerable as possible with my messaging in hopes people could relate and feel less alone.
Where do you see the power of motivational comments and positive affirmations?
I truly believe words hold so much power. What you say can really become a reality. I think the positivity I see on the brands social media is amazing and gives me the encouragement that people are enjoying what I'm putting out.
Your clothes have been well integrated into streetwear culture and have been worn by celebs like Diddy, or MGK. What does that mean to you?
It means a lot because all those people are innovators who have accomplished so much. It's crazy seeing the doodle I created now being worn by some of the biggest names in the industry, it just shows you that anything is possible.
What else do you envision for yourself and your brand in the future? What can we expect from future collections?
I hope to host more pop up events and just events in general, if it's safe to do so. I would also like to introduce new silhouettes, designs and materials into my future collections.