The menswear shows in Paris have wrapped for another season, giving way to a run of haute couture presentations. A total of 81 brands presented their collections for fall/winter 2023/24 from January 17 to 22 – and numerous brands, houses and collections made the city of lights shine in new splendor this season.
British designer Grace Wales Bonner, who returned to Paris after appearing as guest of honor at Pitti Uomo in Florence in June, opened the Paris season on Tuesday, January 17. Saint Laurent's highly anticipated fashion show took place that same evening. Artistic director Anthony Vaccarello had made a habit of showing his menswear collections abroad long before the pandemic.
Other returnees included Japanese labels White Mountaineering and Sacai, which showed their shows on Saturday the 21st and Sunday the 22nd, respectively, as well as Bode, which hit the runway for the first (and only) time in Paris in June 2019. Known for its patchwork patterns, the menswear brand was launched in 2016 by New York designer Emily Adams Bode, who recently won the CFDA 2022 American Menswear Designer of the Year Award.
Another highlight was Maison Margiela's show, which closed Fashion Week on the evening of Sunday, January 22. The label, which has been headed by John Galliano for nearly eight years, usually presents its prêt-à-porter collections for men in a mixed show with the women's collections during Women's Fashion Week. This season, however, the house decided to make an appearance during Men's Fashion Week.
But those were certainly not the only fashion moments worth mentioning. we've collected our highlights that couldn't escape our radar: Time for an inventory (or as we call it: Runway Roundup).
Dior
A monolithic gray box on the Place de la Concorde – surrounded by hordes of screaming fans for the phalanx of celebrity attendees, including K-pop star Jimin – provided the setting for Kim Jones' latest menswear collection for Dior. Inside, vast screens ran across its outer walls, flickering to life to show a dramatic reading of TS Eliot's The Waste Land by British actors Robert Pattinson and Gwendoline Christie (both were also in attendance), which provided the show's backdrop. Fpr the collection Jones was inspired by Yves Saint Laurent, who took over from Christian Dior, and the 'dynamism' of his work. Translated into design we saw historical couture silhouettes reinterpreted in a time of change (Saint Laurent was head of the house only briefly, from 1958-1960).
Jones' own aim at the house so far has been to transpose the intricacies of Dior couture onto a contemporary menswear offering, which translated in a collection of extraordinary detail – delicate three-dimensional blossom-like motifs across tailoring and sweaters, a 'CD' monogram in lace on a neat pearl-buttoned cardigan, or juxtaposed technical elements, like the toggle fastenings on the sleeves of tailored jackets and shirts. Silhouettes were voluminous and poetic – billowing, wide-cut trousers, pleated kilts, sweaters pulled up on one side to reveal a shirt sleeve beneath – while others drew directly from the Dior archive, like an elongated smock which found inspiration in a marine ensemble created during Saint Laurent's tenure at the house, here 'transposed and transformed'.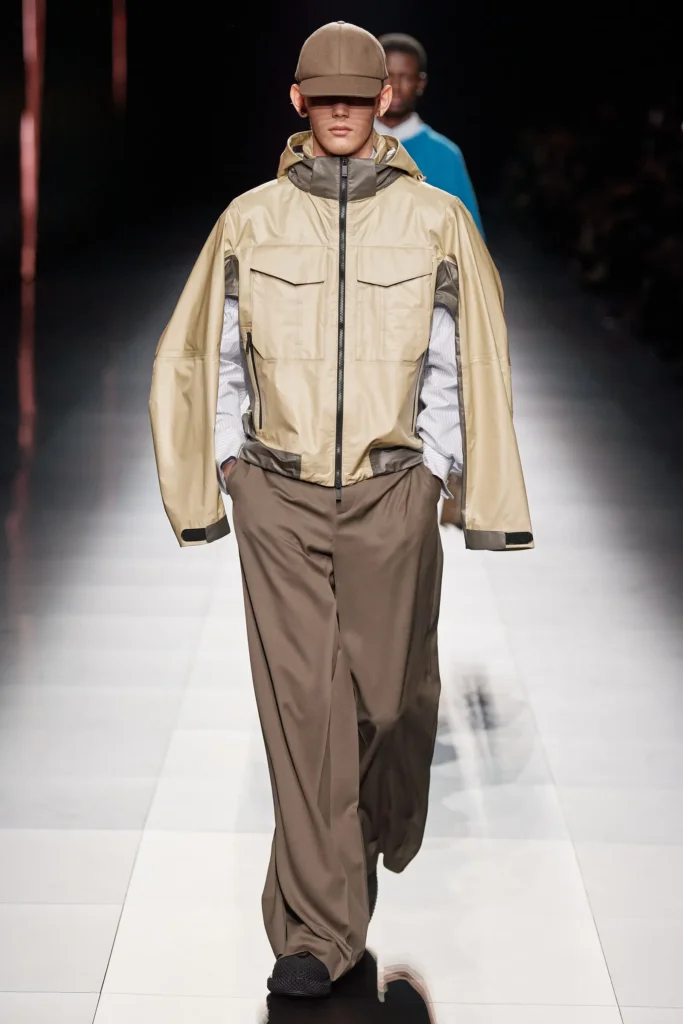 Givenchy
Givenchy designer Matthew Williams is undeniably a talented designer. He designed some exquisite suits and jackets – with sharp shoulder line, tapered waist and single buttons, and moreover several perfect tuxedo jackets with pointed lapels for finale. Further, he sent grandiose coats down the runway, from wraparound men's coats with herringbone patterns to studded cashmere double-breasted coats to faux fur coats for found-foot oil seekers. The designs were in shades of gray, beige, anthracite and intense purple and looked thoroughly fabulous. But the combination with zippered leather shorts and boots or leather rubber boots was unusual. Add to that faded hoodies, grunge check shirts and chunky knitwear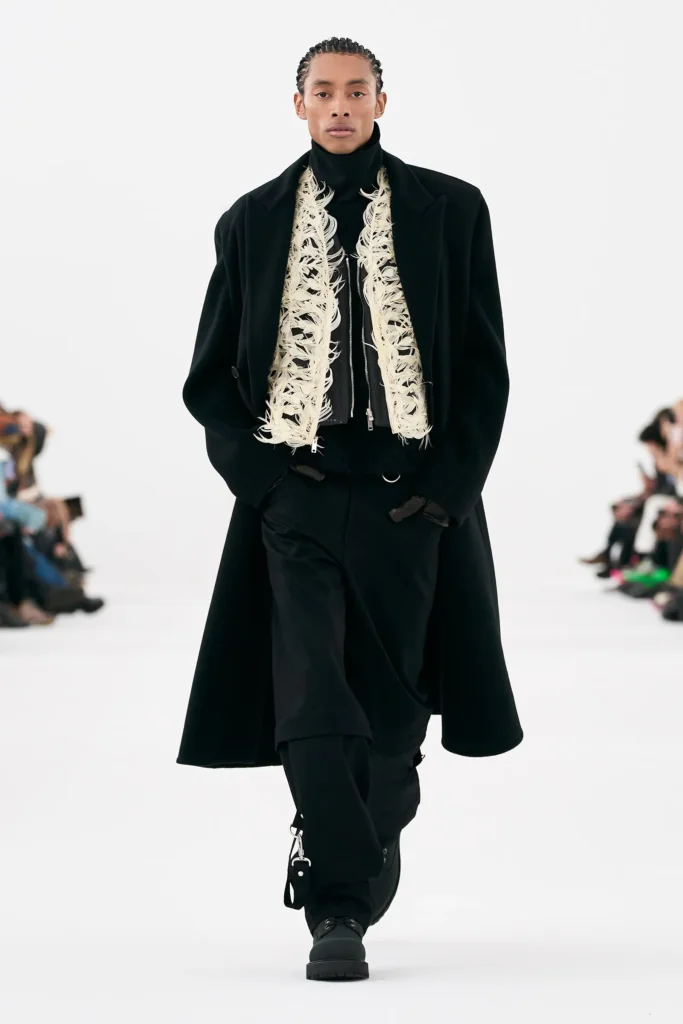 Saint Laurent
French luxury house Saint Laurent kicked off 2023 Paris Fashion Week's menswear shows on January 17 with a sleek line-up of sharply tailored evening looks for men, drawn up by designer Anthony Vaccarello. The collection showed models in dark trench coats with prominent shoulders and white blouses, dressed up with oversized bows, or cut low, showing skin. Models strode on pointy, heeled boots, their polo necks pulled up high, while tightly cinched overcoats were worn with the collars turned up.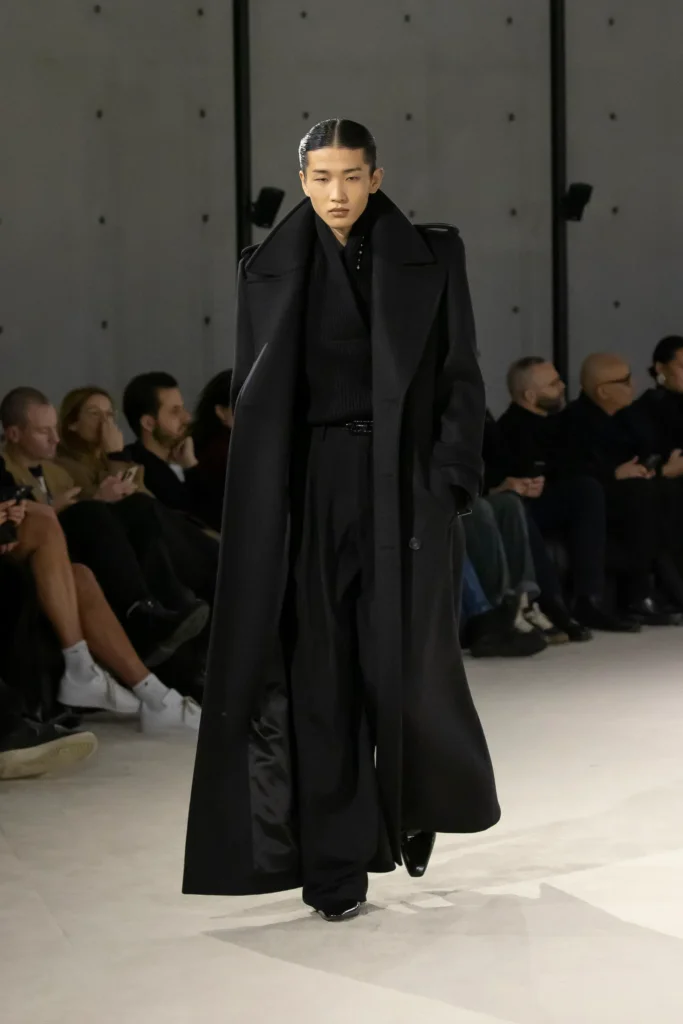 Louis Vuitton
Spanish pop star Rosalía rocked the roof off the Louvre with her electrifying performance for the Louis Vuitton fashion show, which unveiled a new collection with its first guest creative director, Colm Dillane of KidSuper. The artist opened the show wearing an all-white oversized ensemble and walked the runway with a torch flashing the French brand's iconic monogram before climbing up onto a yellow car and launching into a rendition of her hit "Candy."
In the collection notes, the house said this latest outing was about a feeling of collectivity; as such, the set had been created by cult filmmakers Michel and Olivier Gondry, while longtime Abloh collaborator Ibrahim Kamara styled the collection. It lent the spectacle an eclectic, in-it-together quality, which continued to find influence from Abloh – the various looks seemed to capture the late designer's desire for imaginative flights in his collections, seeing garments emblazoned with faces, or playful, idiosyncratic elements, like a suit and hat stitched with pages of paper – while new ideas emerged, like the hand-drawn motifs by Dillane which decorated the latter looks. Much of the collection hinged on tailoring: broad across the shoulder with wide pointed lapels, often featuring elements of embellishment – whether a ruffled trim, or zip fastenings that sliced diagonally across the body of a tailored jacket evoking the shape of a doublet.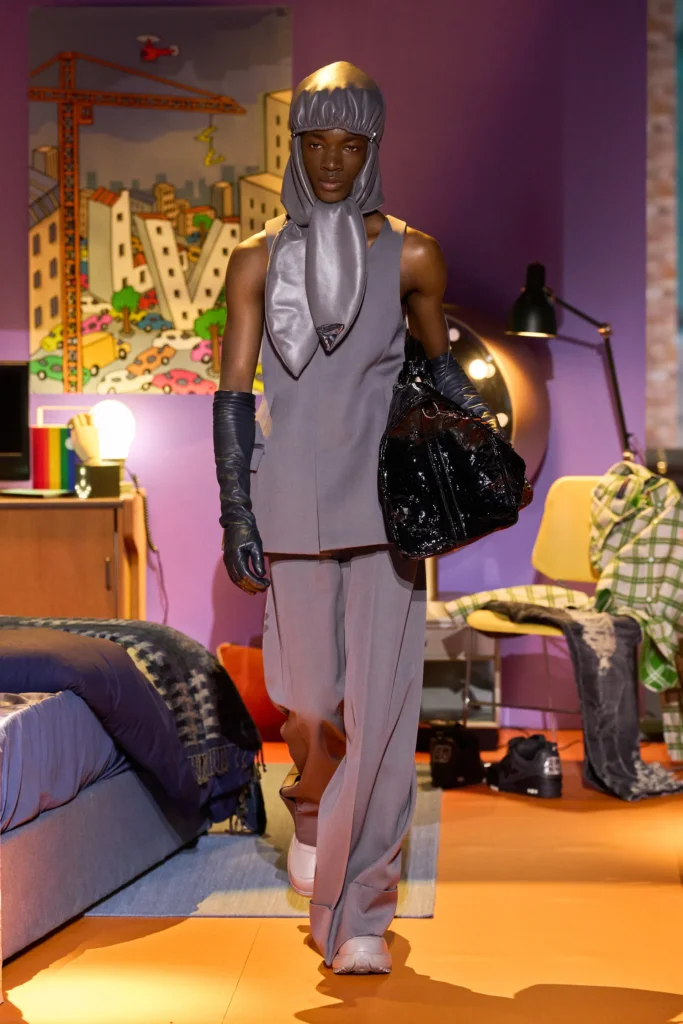 Loewe
Jonathan Anderson called his latest menswear collection for Loewe 'a reductionist act' continuing his line of thinking from his recent JW Anderson show during Milan Fashion Week S/S 2023. Set in a vast white cube the A/W 2023 collection drew back the surrealism of recent collections towards structured garments and sharply defined silhouettes. Said cuts were accompanying oversized jackets hammered from pewter and copper, spiked metal angel wings, shirts that appeared to have been molded from paper and parchment. "Capturing a moment and a movement in real time, using traditional means in non-traditional ways – shapes are molded, bended, frozen, tailored", said Anderson via the collection notes. A series of elongated overcoats – some of which pulled over the head – or a rigorous single-breasted suit, grounded the collection in the reality of the everyday.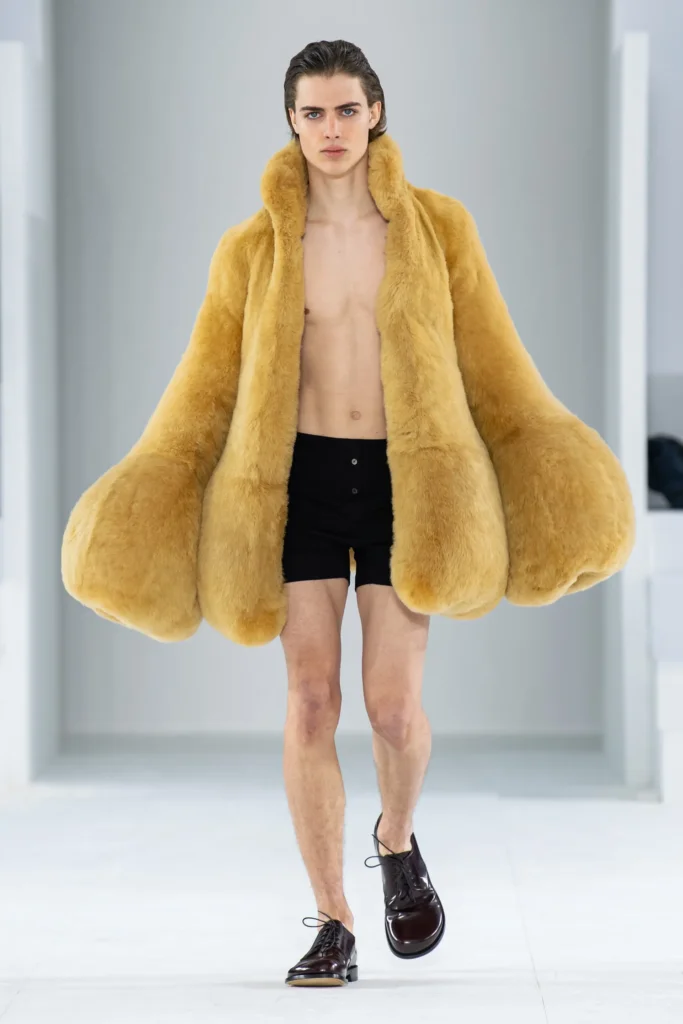 Hermès
Véronique Nichanian was in a nostalgic mood, reworking wardrobe classics with comfort, warmth and practicality top of mind. For fall, those modern Hermès men also cast off their patterned ties, swapping them for luxe turtlenecks and twinsets; blouson shirts with high collars, or printed scarves that added flourish and protection from the icy winter winds.
The knitwear was practical and it also told a story. Nichanian added bits of contrast leather stitching to pieces, including a pistachio twinset and a chocolate turtleneck. The pattern, she said, was meant to mimic a patch, or repair done at home, to preserve a beloved piece of clothing.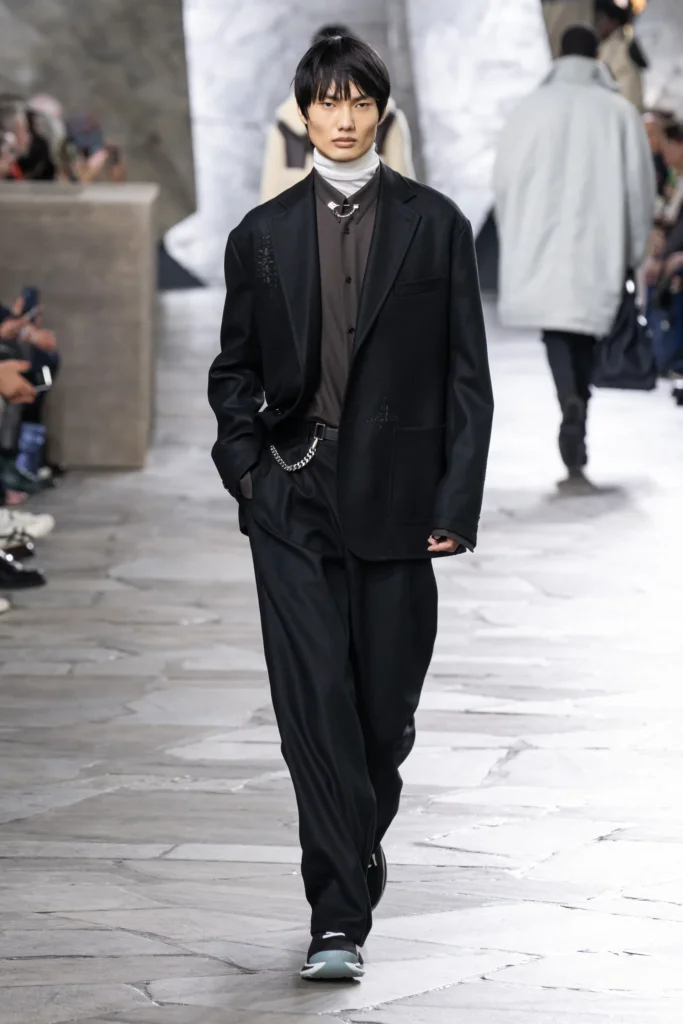 Junya Watanabe 
Junya Watanabe, well known for his extensive list of fashion collaborations, chose to celebrate the many brands he has worked with over the years — including New Balance, Oakley, North Face and Timberland — in a predominantly monochromatic collection. Also spotted on the runway was the unmistakable Tri-Ferg logo from Palace, the London-based skatewear brand, on a black part puffer part parka jacket.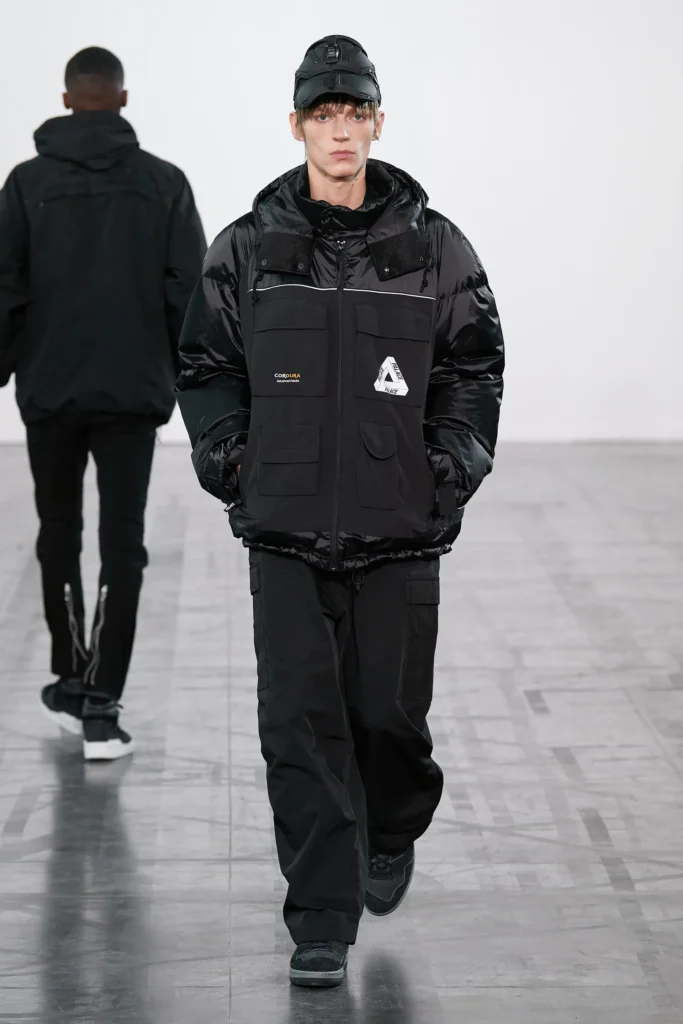 Sacai x Carhartt
Chitose Abe drew inspiration for her A/W 2023 collection from Christopher Nolan's 2014 science-fiction film Interstellar, which charts a group of explorers as they seek to travel through a time-compressing wormhole in space. As such, she noted a play on the 'relationship between past, present and future' in the designer's typically hybrid forms, like a prim tweed twin-set with flared puffer jacket back. Other pieces were able to shape-shift, with zip fastenings which changed the silhouette of a dress, or a coat which merged into a backpack. The collection also featured collaborations with outerwear brand Moncler (with whom Sacai had first worked over a decade earlier) alongside Abe's take on Carhartt's signature workwear and a new sneaker created alongside Nike in a continuing partnership. The accompanying notes elucidated the cinematic inspiration, quoting one of Interstellar's memorable lines to capture the collection's sense of curiosity and experimentation: 'We used to look up in the sky and wonder at our place in the stars.'