Runway Season just wrapped up and it sure was a fun one: Olivier Rousteing took the steering wheel at Jean Paul Gaultier's couture this season, and Demna showed his second couture collection. We collected everything you need to know about Haute Couture Week Fall 2022. Scroll down to discover the latest couture collections and more.
---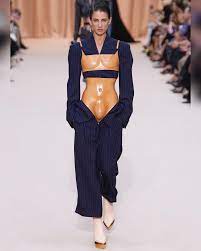 Olivier Rousteing shows Gaultier's Greatest Hits
Continuing its tradition of designer collaborations, Jean-Paul Gaultier handed over the reins to Oliver Rousteing for its Fall 2022 Couture collection. Revisiting iconic moment's from the house's history, Rousteing introduced us to his own take on Jean-Paul Gaultier, showing us surrealist designs that were both fluid yet architectural in nature. The Balmain creative director put his own spin on each and every Gaultier code and signature. There was a sculptural ensemble made to resemble Gaultier's torso-shaped Le Male perfume bottle, a design that will go down in fragrance history. The heels of staggeringly high platform boots also took shape as the iconic glass torso. Rousteing also tackled corsetry via ornately woven bustiers, molded breastplates, and lots of cone bras, applied to suiting and gowns alike. While the collection was unmistakably Gaulter-ian, Rousteing's influence was apparent. A pantsuit made of what appeared to be brown rubber recalled a latex ensemble from Balmain's Fall 2020 collection, famously worn by Kim Kardashian. Suiting and dresses were built with exaggerated shoulders, a silhouette Rousteing often works with at his home base.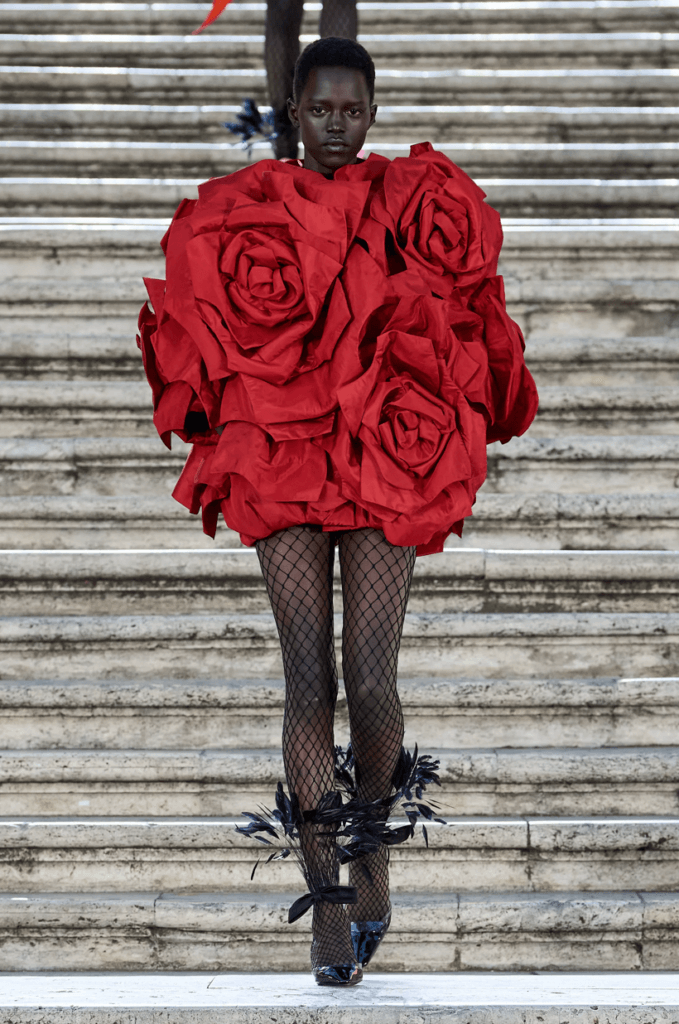 Valentino Brings the Drama to Couture
Valentino has become a crowd favorite on the couture lineup, and with good reason: the brand knows how to create a dramatic moment that will live far beyond our phone screens. And the much-anticipated fall 2022 couture show on Rome's Spanish Steps was just that. A diverse cast of 102 models descended the infamous Spanish Steps in Rome dressed in Pierpaolo Piccioli's exquisite Valentino Fall 2022 Couture creations. As the sun set behind the Roman landmark, in what was quite a visual spectacle, Piccioli sent Valentino-clad models down the historic Piazza di Spagna, dressed in dreamy, colorful ensembles as singer Labrinth performed live. Titled 'The Beginning,' Piccioli revealed that the Valentino Fall 2022 Couture collection was very personal and inspired by an imaginary conversation between himself and Valentino Garavani, who turned 90 this year. The lineup focused on lightness and volume, giving an impression of weightlessness as the models appeared to be floating down the steps all the way to the Valentino headquarters.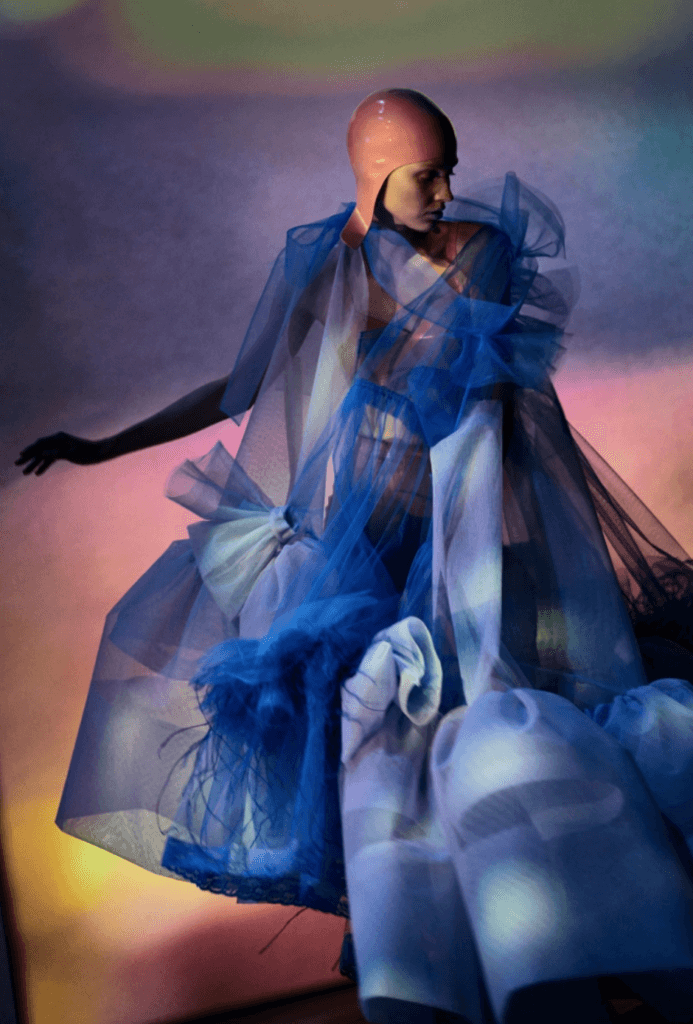 Margiela Shows Twisted Takes on 950s Haute Couture and Prom-Scene Americana
John Galliano staged an ambitious performance that blended theater and special effects in a livestreamed road movie. During Covid Maison Margiela kept an irregular schedule for its high-end Artisanal line, presenting two collections — one in July 2020, one a year ago. For its return to the runway, the house showed another film, except this one was performed and recorded in front of a live audience. In an ambitious performance that mixed theater and rudimentary special effects, models lip-synched to a pre-recorded soundtrack as the livestreamed movie unfolded in real time. His road movie, titled "Cinema Inferno" and adapted by U.K. theater company Imitating the Dog, blended disparate elements that brought to mind film classics including "Badlands," "Bonnie and Clyde," "Kill Bill" and "The Wizard of Oz," as well as a host of B-movies, ranging from Westerns to horror flicks. It provided a somewhat chaotic showcase for the intricate designs, which mixed innovative textures, some created by blasting garments with sand, with diaphanous gowns and sculptural coats inspired by the golden age of Hollywood. Cowboy duster coats and sequined teddy boy jackets mingled with trapeze dresses spliced together from sorbet-colored tulle petticoats, and recycled pieces made from 19th-century bedlinen.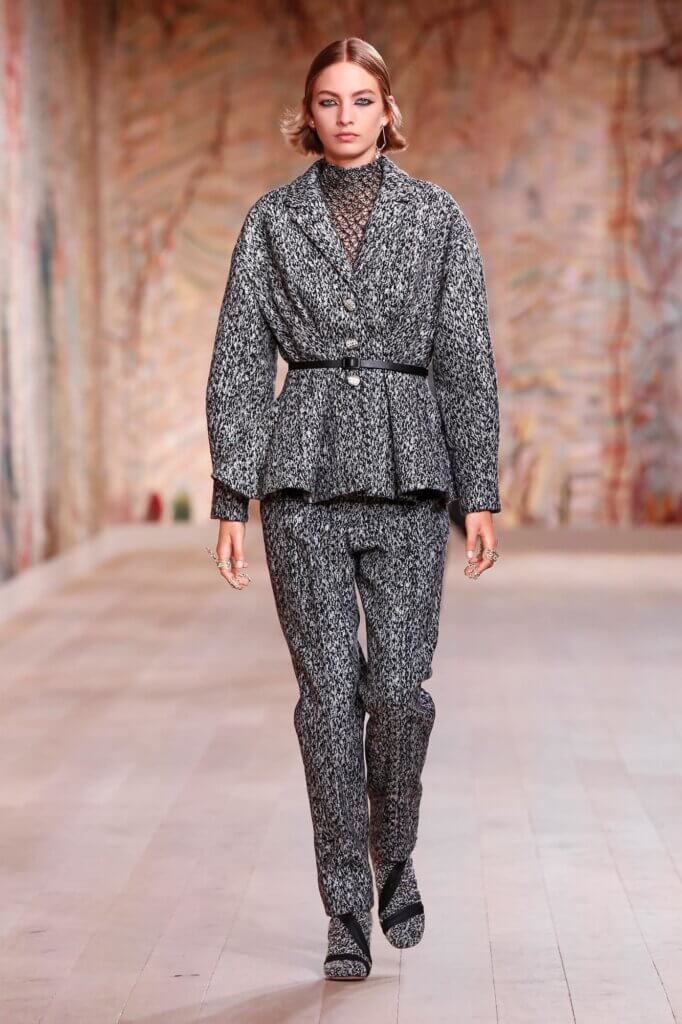 Dior Collabrates with Ukrainian Artist Olesia Trofymenko
A model with a shaved head opened Dior's fall 2022 couture show wearing a white lace patchwork gown with puffed sleeves and a slightly ruffled collar. For the Dior Fall 2022 Couture show, Chiuri invited Ukrainian Artist Olesia Trofymenko to work with the Dior team and adopted the theme 'Tree of Life'. Together, the artist and the Dior design team painted the picture of a better future as they brought to life the show's set as imagined by Trofymenko. A soft color palette of whites and beige was accented with occasional deep hues of burgundy, navy, and black. Feminine dresses, gowns, and jackets with intricate detailing were sent down the Dior Fall 2022 Couture runway. "The Tree of Life is a call, a warning, to make traditions and gestures shine through, allowing us to recover a balance, if only momentarily," read the show notes. Fall 2022 contained plenty of pieces that felt traditional while still offering up enough newness via silhouettes and handiwork to make things feel symbolic.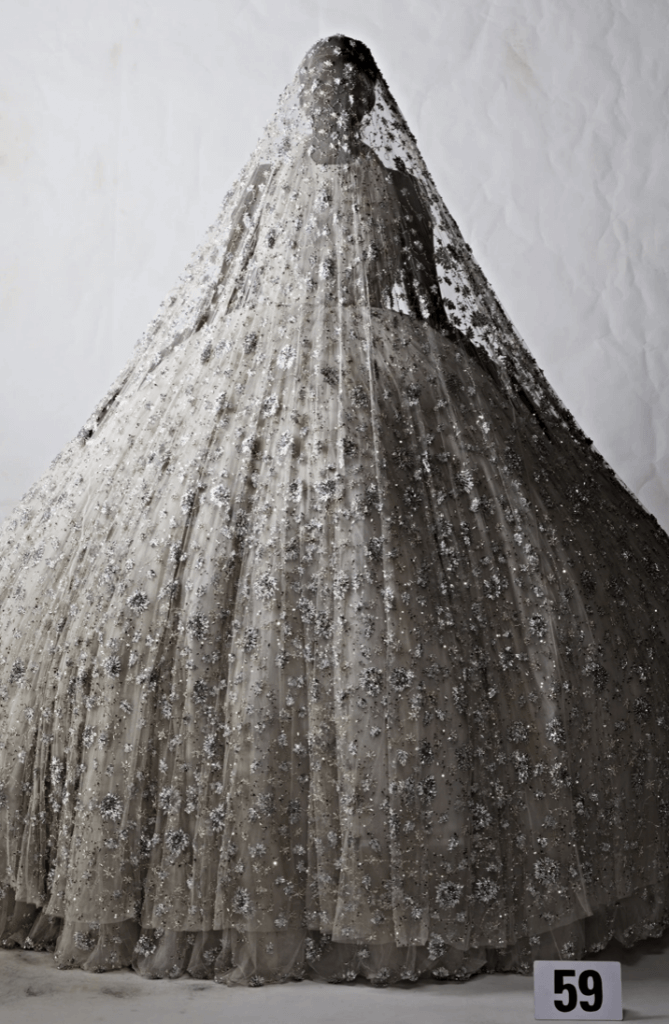 Famous Faces for Balenciaga
An army of celebrities, including Dua Lipa, Bella Hadid, Nicole Kidman, Naomi Campbell, and Kim Kardashian, walked the Balenciaga Fall 2022 Couture runway. For the French brand's 51st Couture show — Demna's second one for the house — the designer journeyed us to a dystopian fashion universe where his signature body-hugging all-black looks opened the show. The first section of the collection featured a return to the all-black color scheme where everything was smooth Japanese limestone-based Neoprene, including head-to-toe crystal-covered black dresses, tinsel gowns that sparkled, mini dresses, all accessorized with "bags" which were, in fact, speakers designed in collaboration with Bang & Olufsen. Playing on Demna's prevalent aesthetic as popularized by his muse, Kim Kardashian, the faces of models were covered with jet-black face shields. The second half of the show saw "models" a.k.a famous friends of the house, walked the show dressed in vibrant hues. The internet-breaking show ended with a majestic bridal gown created using 250 meters of tulle. 25 different varieties of paillettes and beads, including 70,000 crystals, 80,000 silver leaves, and 200,000 sequins, were used during the 7,500-hour embroidery process.
Ovid's Metamorphoses at Iris van Herpen
If anyone is ready for the metaverse and the expressive, out-of-this-world outfits that virtual fashion will afford us, it's Iris van Herpen. Iris van Herpen paints an idealized vision of fashion, where ethereal dresses seem to grow around limbs like ivy climbs a trellis. Her designs — suspended between organic and futuristic, and often defying gravity — have been metaverse-ready since forever. Always pushing the boundaries with technology, fabric innovation and haute couture savoir-faire, van Herpen somehow married her 3D-printed bodices to biodegradable banana-leaf fabric or stiffened and pleated tulle that swirled off from shoulders and hips, like steam coiling from a lake. While many of the dresses felt familiar, the surprise of her show was her regal Narcissus coat, the collar and shoulder line opening up like a flower. Faces looked out from the cream-colored stunner, etched in upcycled ribbons that were embroidered to stand vertically on the fabric, like a Richard Serra sculpture. "All of the 3D prints that we're doing are digitally designed first, so all those looks are basically already ready for the metaverse," van Herpen explained at a preview for Vogue Runway. "Couture is where my heart is. For me, technology is a tool that makes it possible to bring the craftsmanship forward." At the end of the show, the models filed out in small groups according to the three myths around which the collection was built: Daphne and Apollo, plus Arachne, in addition to Narcissus.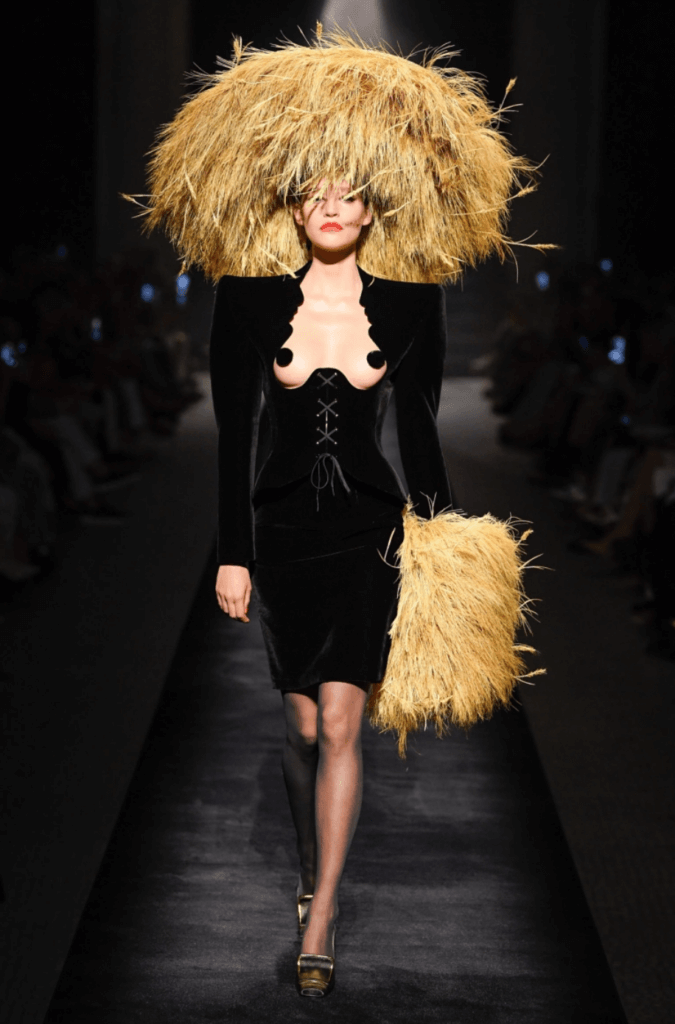 Schiaparelli is back!
Or was ist ever gone? Founded by Elsa Schiaparelli in 1927, the house received recognition for its quirky and unconventional designs from cone-shaped bust details to playful patterns. So, it comes as no surprise that Haute Couture is where Schiaparelli truly shines. With the Fall/Winter 2022 Collection, Creative Director Daniel Roseberry introduces a range of bold, avant-garde looks with eye-catching colors and accessories and surreal detailing. Roseberry's playful spirit translates into the Haute Couture collection as she leans into the best of Schiaparelli with asymmetrical silhouettes, rhinestone embellishments, and wide brimmed hats. For the show's opening, Roseberry turns to the Schiaparelli archives to create a short velvet jacket with black grape embroidery. She then takes Schiaparelli signatures into her own hands, playing with three-dimensional structures, out-of-the-box accessories, and artfully draped satin dresses.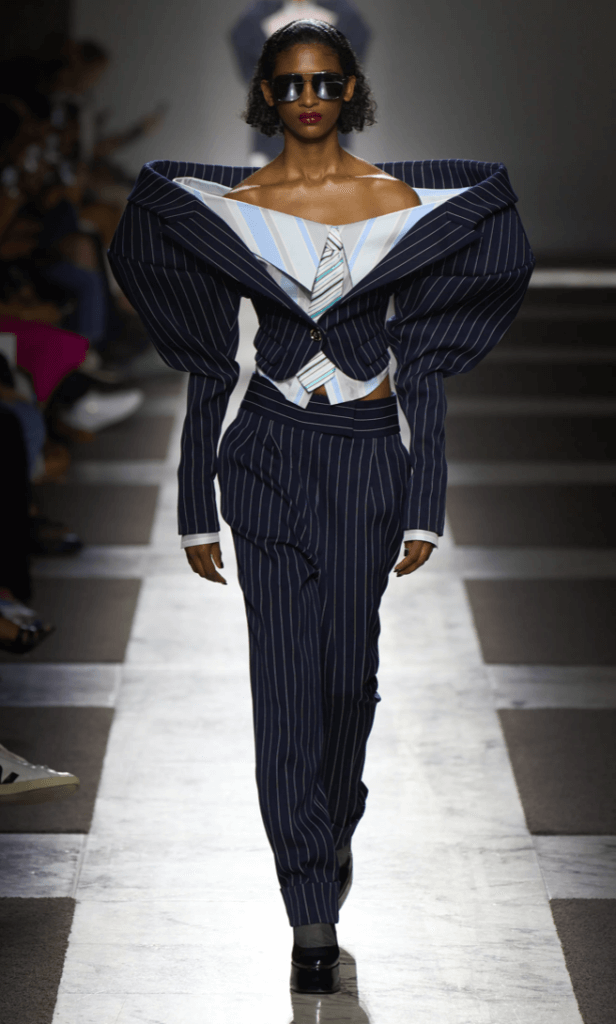 Viktor & Rolf is Taking Power Dressing to the Next Level
At Viktor & Rolf, looks walked down the runway twice. Once, structured holding up a super-wide exaggerated shoulder that absolutely leaves the '80s power shoulder in the dust, and then once again. For the second time the designers had taken the structure out of the exaggerated shoulder pieces and the looks had deflated into something deconstructed yet amazing. Viktor & Rolf focused on suits for the label's haute couture runway show in Paris, showing a collection of them in outrageous proportions before reshaping them into feminine silhouettes. "We wanted something rigorous, something rigid, so we looked to men's tailoring," Snoeren said in an interview. "We didn't just want to show an extreme silhouette, of course. We wanted a new silhouette." The show opened with age-old classic pinstriped, navy blue and white suits. The first jacket was slightly cropped and paired with pleated trousers, the next one double-breasted. Then proportions changed, with jacket shoulders splaying out to the sides like shellsfloating around the models' bodies. Some shoulders were bare, while other looks had collars up to the chin. Models stomped down the runway in chunky platform heels to pulsating techno music in shimmery tuxedo jackets and trench coats and crisp, striped men's shirts.