We've already mentioned Rei Kawakubos impact on the society with innovative and creative projects coming up and in the past. As you might have noticed, an impact of an artist always evolves with a collaboration that is well thought through for example there was the slightly more left-field collaborations you wouldn't see coming, such as James Jean creating concepts and illustrations for Prada products.
One of the most exciting collaborations especially for comic and Anime fans was the collaboration between Akira artist Otomo Katushiro and Comme des Garçons, which probably falls somewhere in between on that scale of influence and weirdness.
Sam Arthur Co-Founder of Noborw announced :
"Comme des Garcons approached us to ask if they could do a kind of mash-up of some of the work from our early editions of Nobrow magazine with the work of Otomo. We cleared it with the artists CDG requested to use the images of and gave it our blessing. It seemed like a good opportunity to feature in a creative project with a very interesting iconic fashion brand, so we went for it!
All of our artists that have been involved have been really pleased with the results (they were given sign off approval on all of the work)."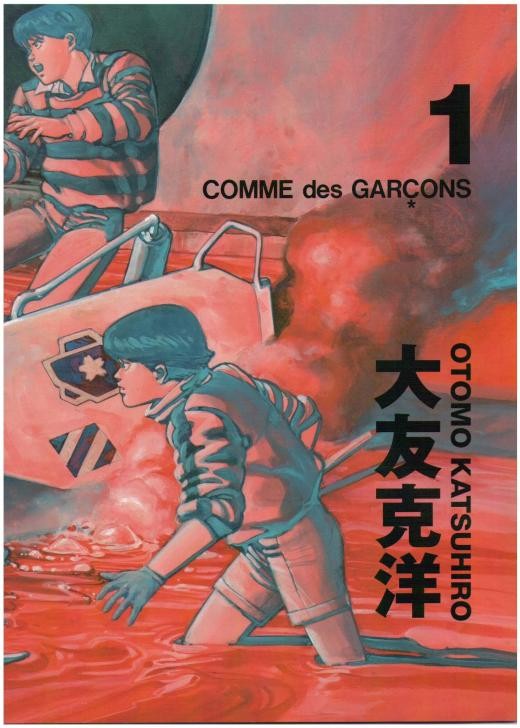 But where is the collection with these crazy prints of these collages ?
Well, at the beginning of each season, Comme des Garcons published a mini catalogue for their mail order clients which features the work of a particular artist, with around 40 separate pamphlets produced over the duration of the year. The idea is when these are put together they create and read as a book on their own.The SS13 catalogue depicts Otomo's charcters Shōtarō Kaneda and Kei on the cover in a image familiar to comic fans. Designed by CDG founder Rei Kawakubo herself, the publication showcases Otomo's Akira artwork in a series of collages put together and coloured by Rei. Lateron they've been some special pieces produced such as the rare Totebags you've probably spotted on grailed.