By Amelie Apel
---
Fruché is a Nigerian womenswear brand founded by Frank Aghuno in 2014. The contemporary brand with indigenous sensibilities is recognized for its fun takes on fashion whilst selling globally through stockists like Folklore, Farfetch, Industrie Africa, and Wolf&Badger. The self-taught designer is an advocate for building an African fashion platform for young designers to find better funding and escape the debt cycle sparked by seasonal production costs.
Today, he can employ a team of three tailors that produce his garments locally and made to order. Sustainability is one of Fruché's core values. Aghuno believes that it is the manufacturers' job to achieve sustainable practices and to educate customers about the differences to initiate real change.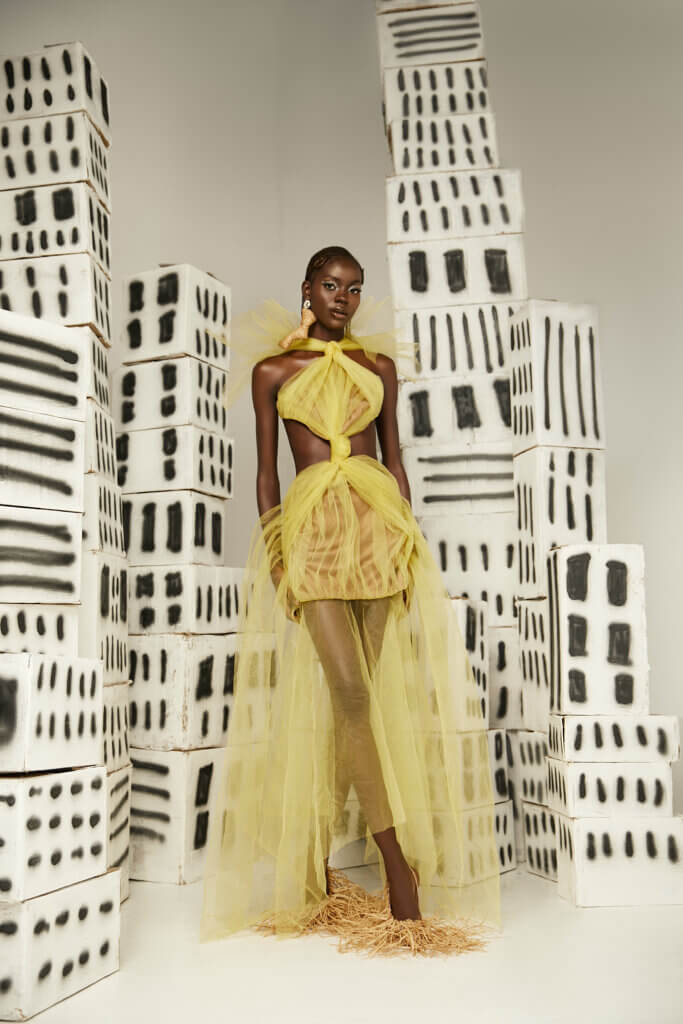 What techniques, especially local techniques, do you use in your designs?
I use hand-dyed, indigo-dyed adire fabrics. They are traditional amongst the Yoruba people of Nigeria. Also, we use aso-oke fabric. It is handwoven and indigenous to the Yoruba as well. It's a woven thick wool cloth or it's done in silk. The silk versions are a lot lighter. We also use akwa ocha. It is indigenous to Delta State – where I come from. It is a handwoven thick wool fabric, and it is only made in white. That is why it is called akwa ocha, meaning white cloth.
Who's the typical Fruché customer?
My target market is definitely global. We are not just thinking of Nigeria when we are producing our designs. Our stories are inspired by our culture, but we are looking at a global platform. We are all about highlighting our culture on a global stage and scale.
Have you faced any challenges in selling your products globally?
Definitely! One of the biggest challenges is returns. Nobody talks about that for some reason. Any time the garments are returned, it is a loss of money because we already spent money shipping them and then we also have to spend money to ship them back to us. We produce on order. So, it is sort of a whole loss for us. Obviously, we will sell the item again when the issue was a fit issue or something like that, but returns are definitely a challenge.
Do you consider sustainability at Fruché apart from producing to order?
I would say we are an ethical brand. We don't throw away our scrap. We save it for pockets and linings. So, we definitely have some sustainable practices and techniques like our handwoven and hand-dyed fabrics made from hibiscus leaves. Sustainability is a huge deal for us. Our latest collection is really big on sustainability and waste reduction.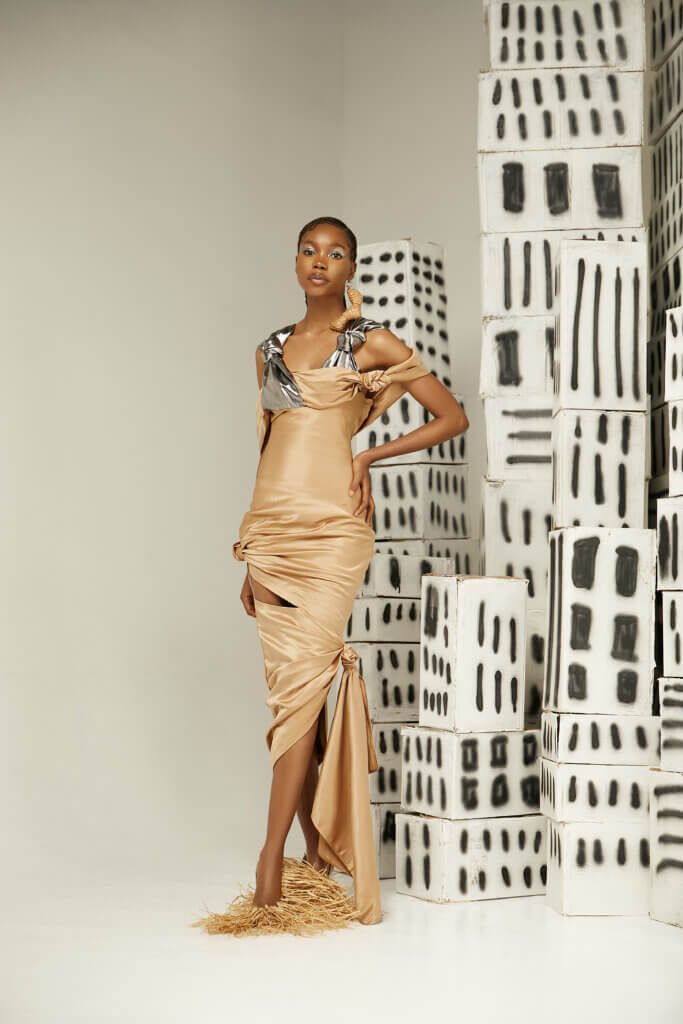 What are the largest challenges in building a fashion brand in Lagos?
Finding the right workforce in terms of production. There are no fashion schools that teach fashion. You have to find people that are willing to learn and train them in the best possible way you can. Production is a huge factor. Also, it is challenging to work with stores that are willing to stock us, Nigerian designers. I wish they would rather buy pieces than do a dropship. I don't think that is sustainable or fully profitable for young emerging brands. Stockists should be able to invest more in Africans, believe in us and buy our pieces properly.
Do you get any support from actors outside your business for example the government or other investors?
No, we get zero support. Everything we do is from our pockets. We are only able to make collections from season to season. You have to be sure that every season you are making enough money to be able to put it into another collection and just keep pushing yourself forward. Most businesses are supported by loans or money from the family. You either have to be from a rich background or have to struggle your way through. I am not from a family like that, so it has been tough. You have to work hard.
What is the feedback from Nigerian customers on your designs?
I feel like people are still not keen on radical fashion or fashion that is too out there. This is probably because of our culture and us being so conservative. But I definitely see more attention from an international audience because they are more open-minded. There are still a lot of Nigerians that would wear my pieces. There are a lot of people that travel and are open-minded as well but most of the support and customers we have been getting are international clients.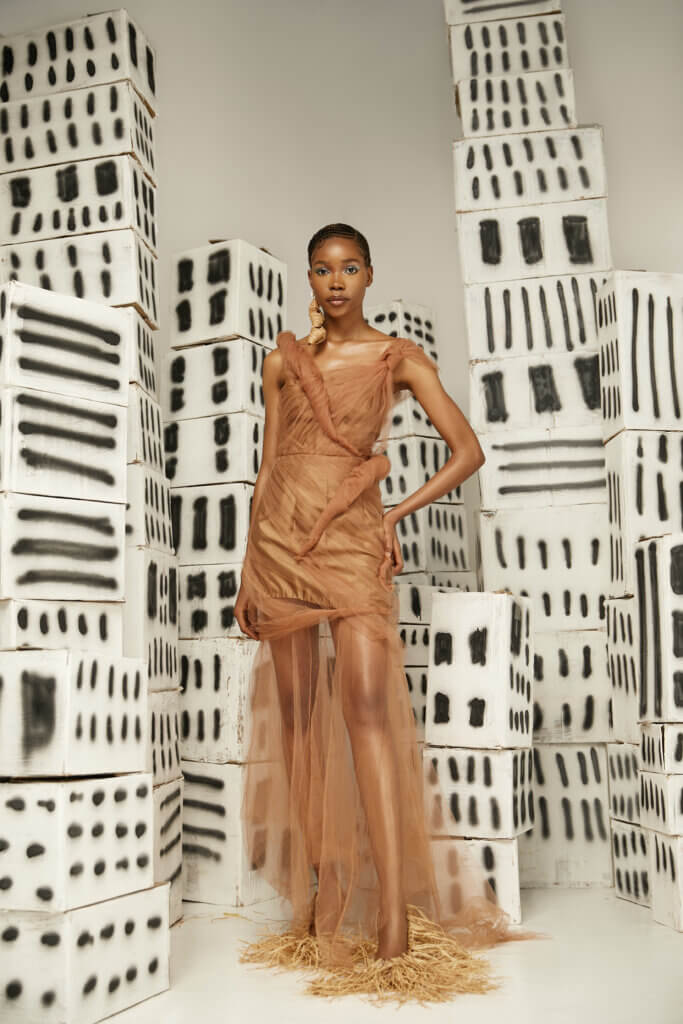 So, would you say the European attitude towards fashion from Africa has changed?
Definitely! You see a lot of Western countries and people buying more African brands each day. There is now a global eye on Africa, and they don't look down on the processes, the garments and the finishing. They truly appreciate our clothes as art, not just things you would wear and keep aside after a while. That is great!
Do you feel like Africa is a pioneer in sustainable fashion?
Africa has always had these ancient techniques of making things. We have never digitalized prints or flown things abroad. We are trying to channel our old practices into new designs. And that is helping sustainability and pushing the envelope at the same time. There are a lot of amazing designers coming out of Lagos today. Some of the best designers in the world, if you ask me. They are really keen on culture and pushing for new stories, progression and ethical practices.
What do you wish for the African fashion scene?
I wish for more support for young brands. I wish that there would be bigger global fashion schools like a Parsons School of Design in Africa or Nigeria. That would be great. I wish I had the opportunity to attend a good fashion school or have support from the government. I wish that the gatekeepers or the main fashion bodies in Africa would appreciate younger talent more and not just the more established people that have the funding to do collections every season. So, in general, more support and funding for up-and-coming designers.