I found myself lost between Makava, honey and huge paintings in Daniel Leiter's studio in Vienna on a foggy Saturday. Even thoughI wore my six-inch Dr. Martin's combat boots I felt tiny in comparison to his huge textile and canvas works. The artist was born in 1999 in East Tyrol, Austria and is currently studying painting at the Academy of Fine Arts in Vienna.
According to his website: "His works have a profound focus on trivialities and coincidences, approaching them in an often monochromatic and gestural mode of practice, provoking immediacy and, thus, bringing it to the surface. Alternating between the passive replication and the active production of coincidences, the works fuse abstract and representational painting. Aiming for momentum, he frees himself from standards, preformed interpretations and titles, making the work a dialog between the material and the artist."
Still after studying his website and lowkey stalking his Instagram feed I was curious: Who is he? How does he handle Covid-19 in his creative process and what's the story behind a dress made out of dough I saw on Instagram? Therefore, I visited him in his atelier and asked him some questions about life, food and his dreams.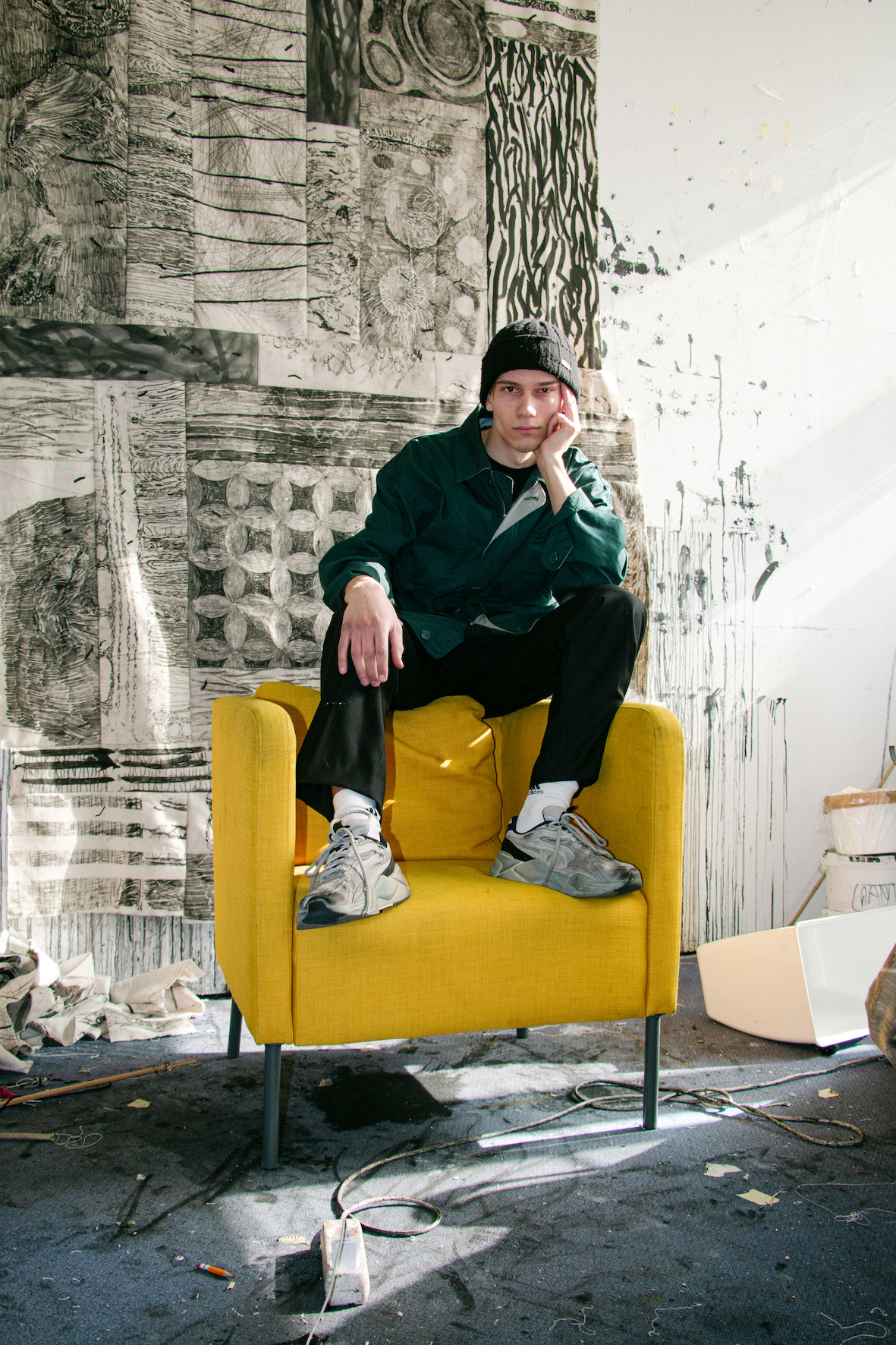 "Beach or pool?"
Aesthetic-wise: I would pick beach, but concerning swimming pool. I prefer to see what's under my feet.
"Jam or Nutella?"
Actually, I would say honey. But If I had to choose – Nutella. Without butter!"
"Coffee or tea?"
Coffee. Absolutely necessary in our atelier. En masse.
"shower or bathtub?"
I have actually never had a bathtub. But I could image that a bathtub – whirlpool hybrid-thing would be really nice.
"Hipster-drink: Makava, Club-Mate or Matcha in any form?"
Definitely Makava.
"When did you start drawing and how did you realize that it was your passion?"
Sounds quite cliché: I have always been drawing, but around the age of 8 I really intensified it. I was the guy in kindergarten, who was always drawing in his corner. I'm a cliché, I can't help it.
"Who/ what inspired you to pick up drawing and how did your rural heritage inspire your works?"
We got our first Wi-Fi pretty late at home. So, as a child I had nothing else to do actually, living in a rural village on top of a mountain with 700 inhabitants. (*laughs*). In East Tyrol we still got a really "craftman-shippy definition of art", therefore my early works were inspired by that. But, admittedly, after 20 years of living there I really enjoy the urban space here in Vienna culture wise. There is so much going on (usually).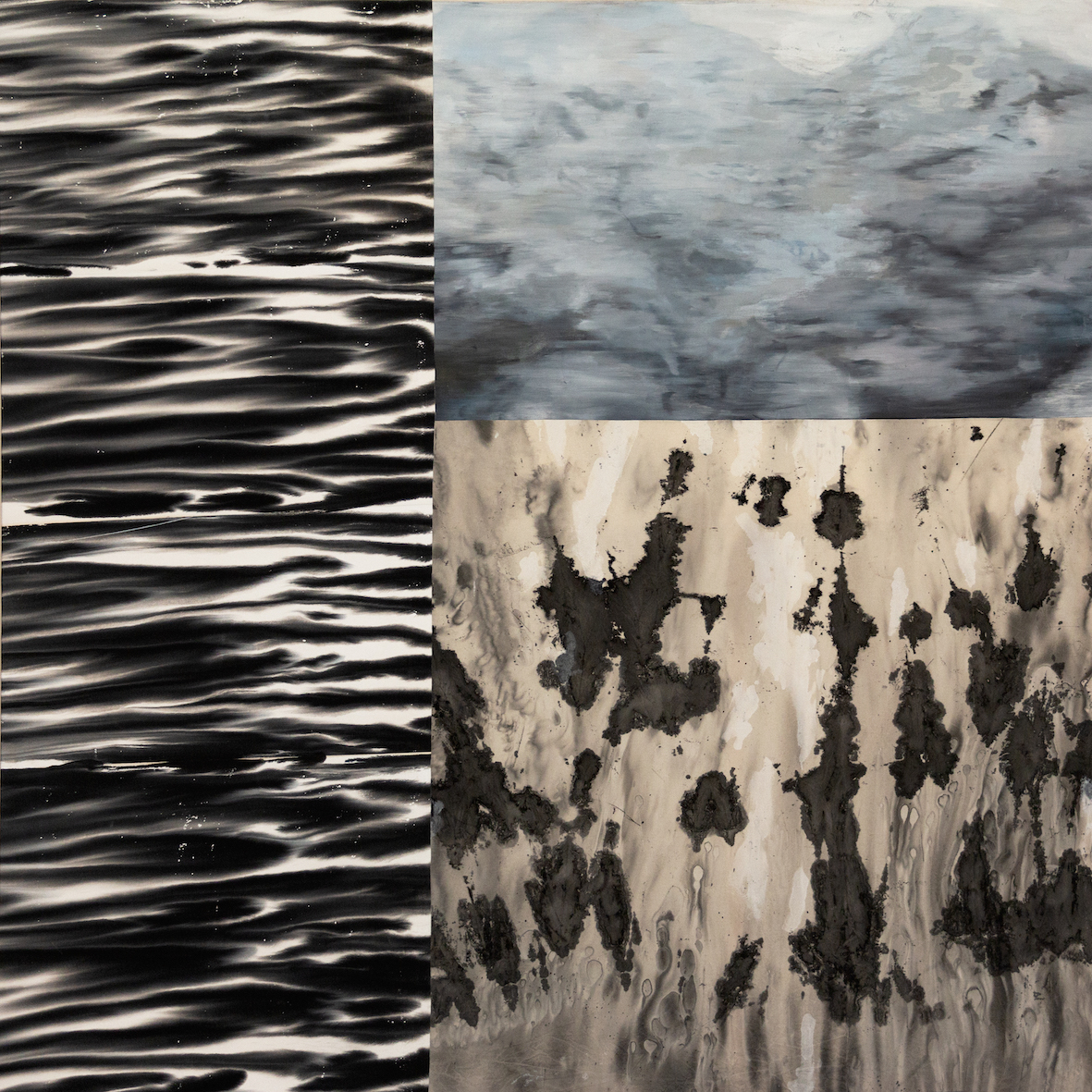 ‍ 
"You won multiple prizes, such as the Talent Scout Prize 2015, but what do you define as your biggest success in terms of your career?"
The Talent Scout Prize was a small local award for young talents. But still financial support, which is always needed if you are an artist. I think success comes in stages: I was 15 when I got this prize, therefore it was kind of big at that time. It's a sign that says: "Right – what you're doing isn't complete nonsense", even though one still tends to think that sometimes.(*laughs*). And right now, it would be the nomination for the Bank Austria art award (shortlist – selection of the winner in June, group exhibition of all shortlisted artists at Künstlerhaus Klagenfurt). Let's see what the future holds.
"How do you start a project or a painting?"
Depends. If it's a textile-collage I just start – quite naïve and intuitive, but that's what I love about it. Nr. 1 rule is to not think about whether the outcome will be good while working on something, because otherwise it won't be. It's creating, destroying, rearranging. But I have a rough concept for some of the bigger projects, which I develop in my little black notebook. I write everything in it – ideas for projects, thoughts, random stuff. And if I ever need an idea for a special occasion I will just go through my notebook andI often find one, because my past-self already thought about it. So, I think about projects, before I have to do them.
"Where do you see yourself in five years?"
I would have hoped for 15 years or further. In 15 years: having my own atelier would be great without any limitations in terms of work and storage space and having shows regularly – local ones and some more international. My professor already hates me for my huge works, because they don't fit through the door anymore. And of course, not having to worry about money when buying art supplies – they are expensive as fuck. But where do I see myself in 5years? – Of course, achieving these goals already in five years, would be great. Is it realistic? Does it have to be realistic? Doesn't, huh?
How much time do you spend in your atelier?
Way too much. Around 10-12 hours a day. If there isn't any specific project upcoming, we also just hang around here with friends.
You made a dress completely out of pasta dough. What's your favorite kind of noodles and sauce?
We have one hotplate here and barely time to cook a proper meal.Therefore, I eat a lot of pasta with some ready-made pesto, which is actually kind of disgusting but still somehow okay. Then at some point we had the glorious idea of making pasta ourselves. By doing so, I realized that the rolled out noodle dough was beautifully transparent. I then made a dress out of it, let it dry and it became a kind of fading sculpture with a limited life-span. Then you could destroy it and make something uneatable (dress)eatable again (noodle) or something unwearable (pasta) wearable (dress). This whole cycle was fascinating to me. The process was captured in analog photographs.
I like every kind of pesto without meat (and of course our homemade noodles are the best).
How does or did Instagram and other social media platforms help you to create your own platform?
Social media is so ambivalent concerning art and art representation.Everything works over social media nowadays: a lot of galleries look up their artists on social media. Therefore, one sometimes feels the urge to be active on these platforms, especially on Instagram. But at the same time, I have phases, when social media just fucks me up. It's so absurd, actually. People hype everything up and then the galleries get themselves artists based on the amount of their followers. But of course, it also has its positive sides: it's kind of a portfolio, but again it's only 2D on your screen and works are (by photographing) converted into an entirely new medium. Some works need space and the viewer actively being there to really grasp the work. Plus, there is this mysterious filter bubble. Summing up, social media should be looked at critically, in my opinion.
You are still a student. How does your education influence you and do you think artistical education is necessary in order to become a successful artist?
The academy is quite important to me, because I discovered new ways of seeing and creating art. It's a safe space where you can freely talk with like-minded people about art and flourish. I like studying (sometimes more sometimes less). Of course, it's not always necessary, but I think pursuing a successful career is harder without it.
You did a lot of collaborations with other artists but also charity work. What do you think about Austrian politics right now?
Right now, everything's about Covid-19 and I'm not a politics-major or scientist. So, there was my disclaimer: but I can think of ways on how we could have handled some issues more sustainably, better, let it be Covid-19 or the deportation of these young girls. Of course, criticizing is always easy, but I think there are definitely flaws in our system.
‍
You mentioned in another interview that your daily routine changed thanks to Covid-19 and that you were left quite inspiration-less in the first few days, but you adapted and created new routines. What are these new routines?
I always need two weeks to adapt to my new work environment. I don't know why. But as soon as they are over, I can start creating again. And in this pandemic, it is kind of like going back to the roots: I spend all my time in the atelier, because I can't do much else. Let it be in Vienna or in my basement-atelier at home in East Tyrol. I also developed new routines and experimented with new materials, because I was, like the rest of the world, left in a  material shortage. So, I even started to create my own canvases using old duckboards as a stretcher frame.Due to these crazy circumstances, I did exactly what artists primarily do:creatively reacting to new "realities" and adapting to the new conditions that were forced upon them.
How do you feel, after you finished a project?
For me personally a project is only ever finished, as soon as I see it hanging in an exhibition and when I can really reflect it in its given space there. And for two days one can really appreciate oneself and the created work and then it starts all over again. It's a process like sinus curves. Working without any fix points like exhibitions is really frustrating, because you don't get a conclusion. You lack a proper ending – which was the case during the lockdowns with all the cancelled events.
Are you ever 100% satisfied with your own work?
I think as soon as you are 100% satisfied with your own work you stop evolving and growing. Artists are their own biggest critics. Self-criticism is the main fuel that keeps one going, in my opinion. If you start to think you are good, you stop being good. Quite masochistic, actually.
What's the first thing you will do, as soon as things go back to normal, when covid-19 is over?
Partying.Going out with friends. Visiting subversive exhibitions apart from institutional shows and drinking cheap wine there. Just start living the pre-covid life again.
‍