Intro by Mimi Langenstein
Gentle kneading, folding into gnocchi. Colorful flowers in ice cubes. Sofia Citron is a holistic nutritionist serving organic & plant-based recipes. From a Rhubarb Quiz to herbal household tips. She created a festive Title Menu for you to cook at home. Serving baked pumpkin loaf with caramelized onions. An encore of poached pears taking a hot bath in spices.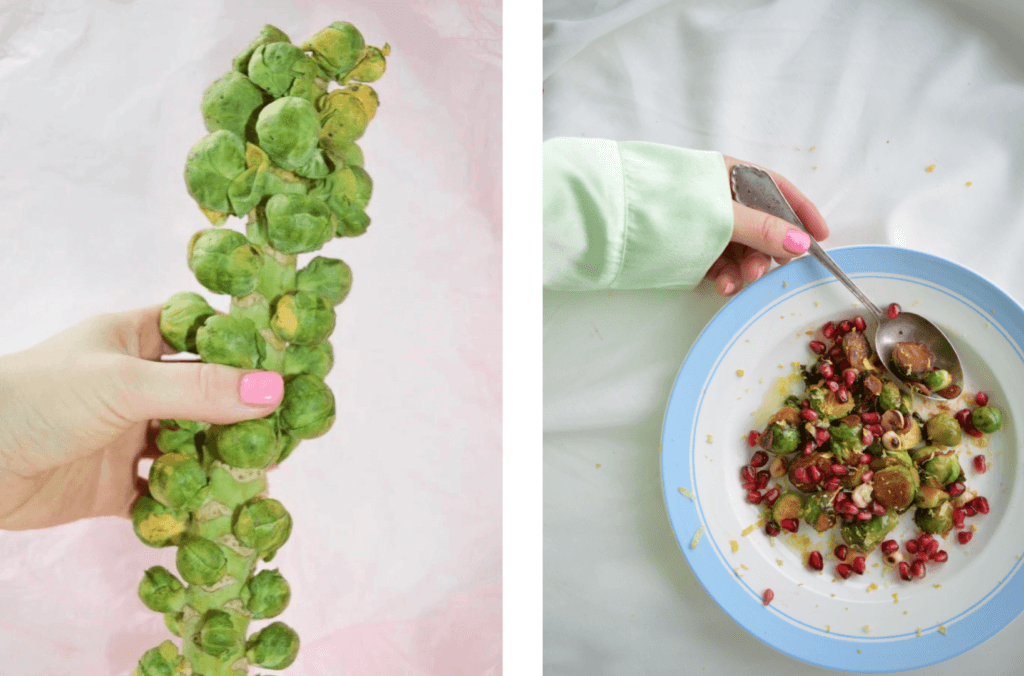 STARTER
Oven roasted brussels sprouts with hazelnut and pomegranate. Refined with garlic and lemon zest. Topped with sweet pomegranate and roasted hazelnuts.
1) Cut off the ends of the brussels sprouts. Halve them and take off any yellow leaves on the outside. Fill a medium saucepan with salted water. Steam the brussels sprouts for about 10 minutes.
2) Meanwhile, heat a small frying pan and roast the chopped hazelnuts on medium temperature for 1 minute until they got light brown marks.
3) Strain the water from the brussels sprouts. Add coconut oil to a medium frying pan. Roast the Brussel sprouts halves for about 3 minutes on medium temperature. Blend in the garlic slices and roast them for 1 minute. Next the maple syrup, the tamarind sauce and lemon juice and fry everything for around 3 minutes on medium temperature. Add pepper and salt if desired.
4) For serving, place the brussels sprouts on a plate. Top it with roasted hazelnuts, pomegranate seeds and some lemon zest. Refine it with fresh herbs and olive oil.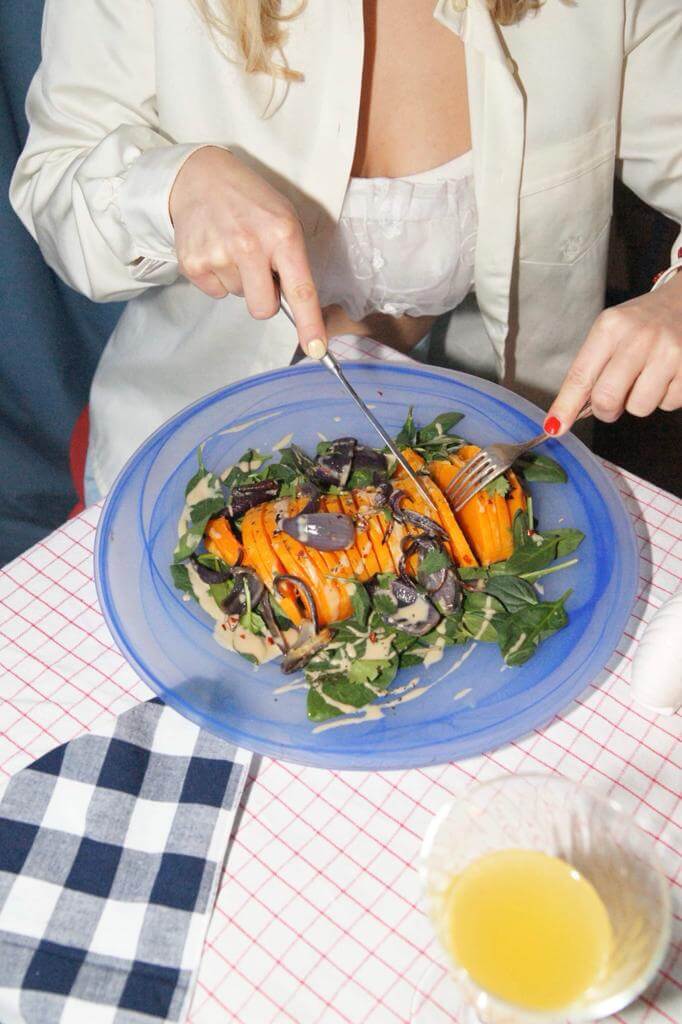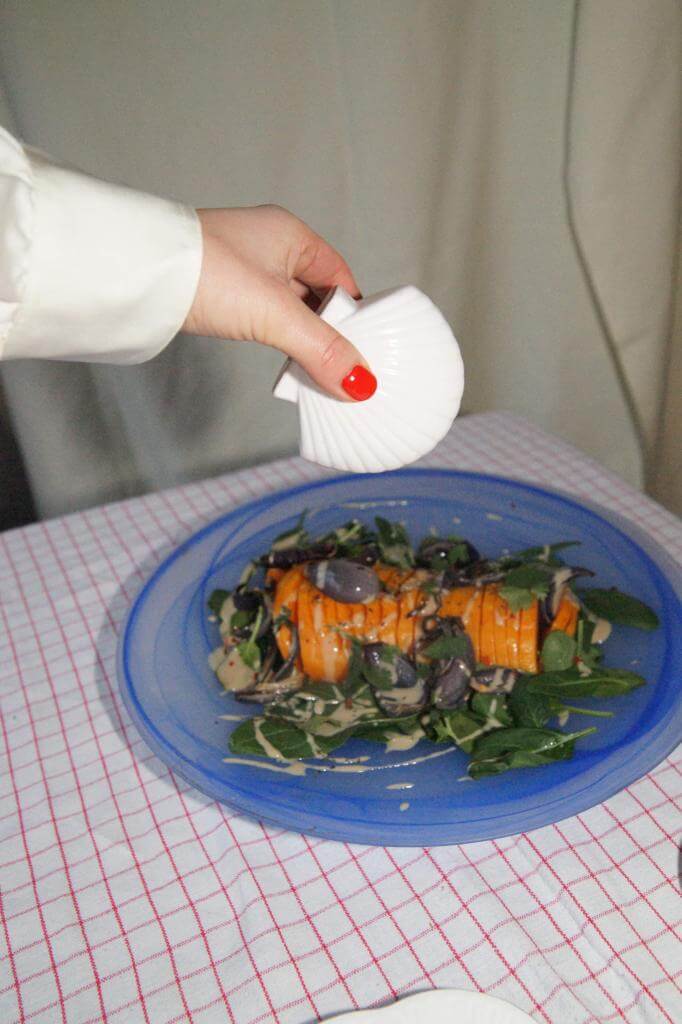 MAIN COURSE
Baked pumpkin loaf with caramelized onions. Christmas oven roasted butternut pumpkin with a delicious miso glaze. Refined with caramelized onions and topped with pine nuts and chili flakes. A simple and delicious dish to celebrate cold Christmas days.
4 SERVES
GLAZE
1) Preheat the oven to 180 °C for 15 minutes. Brush a high and large baking pan, in which the two pumpkin halves fit, with 2 tbsp olive oil. I just used a small baking sheet.
2) Peel the pumpkin, then halve it lengthwise. And remove the seeds with a tablespoon. Add salt and pepper, then place the two halves on a cutting board, with the cut surface facing down. Now cut the pumpkin with a very sharp knife about every 5 mm. Cut about 0,5 cm into the flesh. Do not go too deep, otherwise the butternut will fall apart. Brush 4 tablespoons of olive oil onto the pumpkin halves. Time to bake everything for 20 minutes.
3) Meanwhile, mix all ingredients for the miso glaze together: Miso paste, olive oil, jam, mustard, ginger, peeled and grated garlic and ginger, salt and pepper. Remove the peel of the onions, cut into slices and mix together with ½ tsp pepper, 1 tbsp olive oil and maple syrup.
4) After 20 minutes, arrange the onion slices around the pumpkin and spread the glaze onto the pumpkin. Put it back into the oven for about 25 minutes.
5) Use the time time window to roast the pines. Put them in a sauce pan for about 5 minutes on medium temperature. Mix these ingredients in a bowl: Spinach salad with 3 tbsp olive oil, 2 tbsp lemon juice, vinegar, 2 tbsp maple syrup, salt and pepper.
6) For serving, spread spinach leaves on a big plate and add the roasted pumpkin. Arrange the roasted onions and pines around it. Refine with chili flakes and drizzle tahini on top. This dish goes well with any dip. I can recommend mushroom sauce.
DESERT
Poached pears are taking a hot bath in spicy red wine. Sweet orange slices and cinnamon sticks are dancing around the naked pears for some Christmas smell. A wonderful sweet dessert to warm up our souls during winter season. Pears poached in a spicy red wine punch refined with cinnamon and oranges. Topped with a delicious vanilla cream made out of cashews and lemon juice. Decorated with a spicy red wine syrup.
4 SERVES
1) Place the cashews into a bowl and add boiling water to it. Let them soak for at least 30 minutes.
2) Boil these ingredients in a pan: Red wine with cinnamon stick, cloves, orange juice from one orange, orange zest, sugar and pepper corns.
3) Peel the pears and carefully halve them, so that the stems do not break off. Remove the cores. Gently add the pear halves to the red wine punch.
4) Let everything simmer for about 20-25 minutes.
5) In the meantime, mix the soaked cashews in a food processor or a hand mixer and add coconut yoghurt, vanilla, lemon juice and sweetener. Mix it until it is smooth.
6) Remove pears from the wine punch and set aside. Heat the remaining liquid in the pan. Let simmer until the liquid thickens slightly into a syrup. If the syrup is too thick, add some water to it.
7) For serving, place the pear halves on plates. Fill the cores of the pears with the vanilla cashew cream. To finish spread some red wine syrup over it.
HAVE FUN AND ENJOY.
This error message is only visible to WordPress admins
Error: No feed found.
Please go to the Instagram Feed settings page to create a feed.
This error message is only visible to WordPress admins
Error: No feed found.
Please go to the Instagram Feed settings page to create a feed.