When asked about his state of mind while directing Nope his third feature film Jordan Peele answered: "I was a little bit worried about the future of cinema. So the first thing I knew is I wanted to create a spectacle. I wanted to create something that the audience would have to come see."
Since his 2017 debut Get Out Peele got the audience to "come and see".
For Get Out he combined the horrific topic of racism and incorporated it into a scary movie that was not seen before. While curating the "The Art of the Social Thriller" – a film series presented by the Brooklyn Academy of Music in 2017 – Peele named movies like Rosemary's Baby, Night of the Living Dead, Funny Games, Candyman and The 'Burbs as major influences. And just like this classics his debut Get Out soon became a classic itself. The perfect casting of actors such as Daniel Kaluuya, Allison Williams, Lakeith Stanfield and Lil Rel Howery also paid off and gave Peele an excellent start in the film business.
His next movie Us starring Lupita Nyong'o and Winston Duke was released in 2019.
The doppelgänger-centered horror movie was a box-office success, but let critics wonder if the director overdid himself this time by taking on the topics of race, class and privilege without bringing together a satisfying plot. 
While browsing through the forums of movie websites like IMDB and Rotten Tomatoes you did not have to dig for dissapointed comments comparing Peele to M. Night Shyamalan, the US director who debuted his magnum opus The 6th Sense in 1999 and has since then been cursed with not releasing anything comparable since.
In hope of debunking this apprehension, the release of his newest and most mysterious work of art was longed for by fans and critics for a long time. Then the trailer for Nope was released right in time for the Super Bowl – the biggest sports spectacle in the US – and debuted during it's ad commercial making sure to reach the biggest audience possible.
This time, Peele – who also acted as host for the re-boot of classic sci-fi anthology series The Twilight Zone – gives us UFOs and a threat not coming from within society (Get Out) or from beyond (Us), but from above. 
He once again cast Daniel Kalluya, who after starring in Get Out became a Marvel actor appearing in 2018's Black Panther, actress and singer Keke Palmer and Steven Yeun (The Walking Dead) in the leading roles.
The story opens in 1998 at the set of TV sitcom Gordy's Home just after the titular star Gordy (a chimp) just finished attacking one of his co-stars. Child actor Ricky hides underneath a table and is saved by security guards entering the studio.
Fast forward to present-day Agua Dulce, California, where Otis "OJ" Haywood, Jr. and his sister Emerald do the best to keep their family's business – a Hollywood ranch – running. OJ recently inherited the farm after his father was killed after being hit by a coin falling out of the sky.
Business is hard and OJ ends up selling some of his family's horses to grown-up Ricky, now called "Jupe". The Haywoods notice a strange never-moving cloud above their farm ground and try their best to get proof of what or who ever is hiding behind it on video camera. The desired money one could make with proof of extraterrestrial life seems to be solution for all of their money issues…
Jupe, still living the memory of the horrific incident at Gordy's Home, on the other hand is already planing to transform the unknown entity into one of the greatest spectacles imaginable.
Peele was influenced by movies like Unknown Encounter of the Third Kind, the motion picture by Steven Spielberg that started an UFO-craze in the 1980's. Space and the endless possibilities of horror that might inhibited the emptiness are a welcome change to re-booted serial killers dominating the horror movie genre, but just as Jupe is eager to turn the otherworldly visit into a cash-grab event, one might wonder if Peele unintentionally went the same route.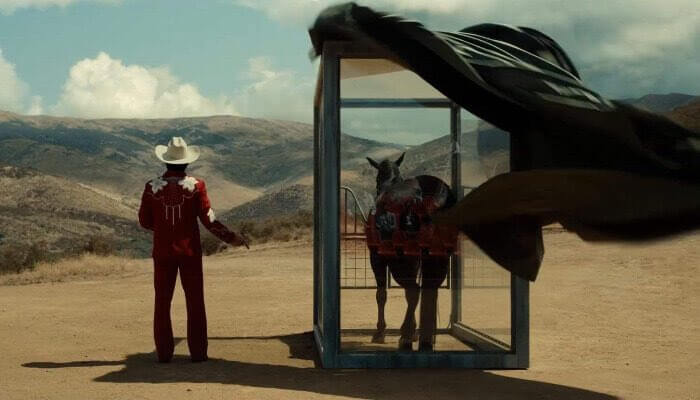 Nope is 130 minutes of entertainment with a great cast, no doubt. But while Get Out was an innovative new and real spin on the horror genre, Nope is nothing more than (and weirdly nothing less than) a spectacle. It gives you the excitement of being a part of the UFO-hunting team, but leaves you with nothing more than an extra-suspicious attitude towards clouds.
Peele was inspired by movies such as King Kong, Jurassic Park, The Wizard of Oz and Signs – All of them movies which deal with the excitement and the dangers of putting up a spectacle… "a show of a lifetime". Hopefully Peele will focus on more than that next time.
Nope is now playing in cinemas.