Some years ago, Murakami went quieter than usual. He wasn't taking interviews or releasing novels at his usual pace, which over the course of four decades bore witness to 34 novels and a long list of short stories. During these last years, Murakami has been widely celebrated, recognised as one of the most important writers of our time, even though conversations around female representation, gender roles and character development point that his work belongs to a generation of the past.
As a side note, I will briefly expand on that latter point. In many of his books, women and sex are portals for men to venture into unknown worlds, namely, the shadow of their existence that makes their daily life an unfamiliar place. The silent passage of time that numbs them and brings them to dig into their unconscious to regenerate. How do you feel about Murakami's female characters and their role as gatekeepers? Probably this question of many ambivalent answers kept the writer in silence, away from a generation that questions the meaning of heteronormative narratives.
But the production of new work and new adaptations of his work are bringing Murakami back to the centre of contemporary focus, delving into the usual topics of loss and imperceptible existential angst, regardless of whether he's got a pattern for depicting women in the role of sexual accomplice. Even more, it proves that the creative magic of his prose continues to have a sedative effect on the reader, a kind of comforting refuge from the world his protagonists feel alienated, which leads them to close in on themselves. Or the other way around. That is the case of Drive my Car, a screen adaptation directed by Ryusuke Hamaguchi that was released in 2021.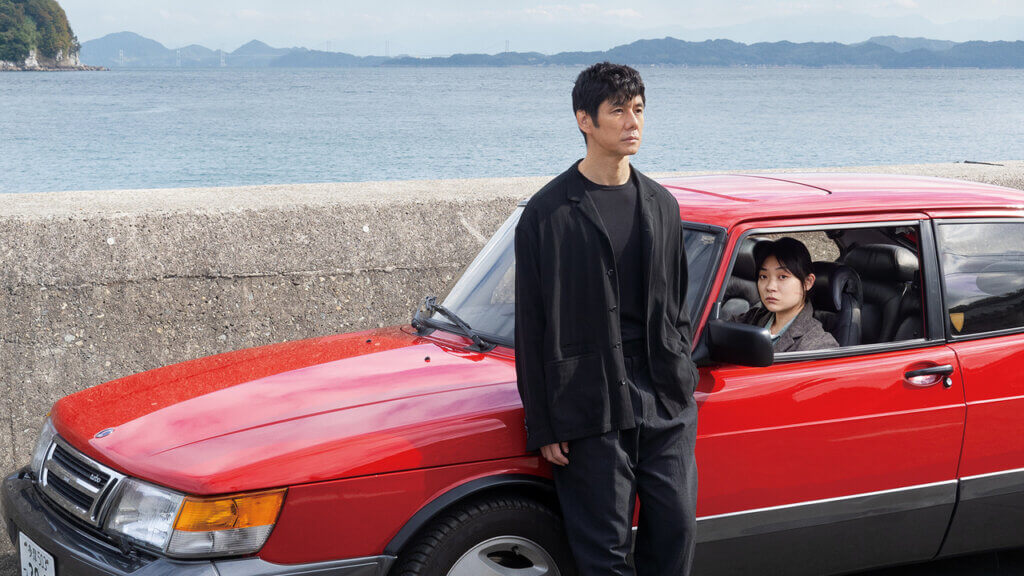 Drive my Car is probably the most successful adaptation of Murakami's work, an arthouse sensation nominated for Best Director, Best Adapted Screenplay and Best International Feature Film. Hamaguchi's film does an excellent job of capturing the essence of Murakami's characters: self-contained and distanced from their emotions, they're dragged by an existential melancholy, a kind of "we all need to keep living." In that sense, Hamaguchi depicts faithfully, and I would even dare to say, better than Murakami's own short story, the violent stream that blows beneath the apparently calm everyday life.
Hamaguchi is a contemporary poet of Japanese cinema. His delicate visual prose captures the agonising passage of time and the seemingly passive existence of people, taking his time to dig into the mundane, the "invisible." Hamaguchi's adaptation is quite impressive as he turns a short story into a long feat—three hours—that draws viewers in from beginning to end, including Murakami, who is known for repelling film adaptations—at least of his work.
Not only Hamaguchi's Drive my Car is an exquisite translation of Murakami's cinematic and dreamlike writing into a faithful visual essay, but most recently, Pierre Földes's Blind Willow, Sleeping Woman, an animated adaptation of different short stories across Murakami's various collections, is catching fire even though it's been premiered in theatres only a few weeks ago. Földes's film is whimsical, interweaving mundane and psychedelic experiences, with a protagonist that traverses emotional and physical distances, in search of deeper human connection. A haunting cinematographic experience that dives into grief, loss, memory and urban alienation in the wake of the devastating Tokyo earthquake of 2011.
Blind Willow, Sleeping Woman is the first animated feature to adapt Murakami's work, and it uses advanced 3D modelling techniques to capture the smaller nuances of his characters' movements and gestures, which will hopefully serve to grasp the surrealist style of Murakami's literary oeuvre and the overwhelming emotions that grapple in his characters' unconscious. Blind Willow, Sleeping Woman synchronises with the release of Murakami's most recent novel The City and Its Uncertain Walls, the first novel in six years since Killing Commendatore.
Although it's too soon to collect the audience's feedback, Murakami's and Földes's work promise to deliver a soul-stirring and sprawling experience, and likewise it remains to be seen if this newly produced work is changing the course of Murakami's approach to female representation.