Is Rihanna Canceled?
Rihanna, the multimillion-dollar CEO of her own make-up, clothing, and lingerie line, is a globally recognized powerhouse. Her success in various ventures is well-known, but being a powerful figure comes with responsibilities. Many celebrities often forget that they possess a unique influence due to their public image. Whether it's football player Collin Kaepernick taking a knee, Kim Kardashian undergoing cosmetic enhancements, or Donald Trump disregarding mask-wearing, their actions have an impact on the public.
On October 2nd, Rihanna unveiled her Savage X Fenty lingerie fashion show, following the highly acclaimed 2018 show. The event featured renowned artists, models, and collaborations with exceptional stylists and choreographers. Rihanna's shows embrace inclusivity, celebrating individuals of all sizes, races, and identities. However, one aspect of the show drew significant attention.
Now, let's delve into the heart of the matter, as we know that's what you're all here for. During one of her lingerie catwalks, Rihanna featured a song called "Doom" by London-based DJ Coucou Chloe. Unbeknownst to her, the song included a segment from a narration of the Hadith, which represents the traditions and sayings of the Prophet Muhammad. The translated segment in the remixed version stated: "the world is full of unbelievers."I personally became aware of this translation through my Arabic-speaking family members.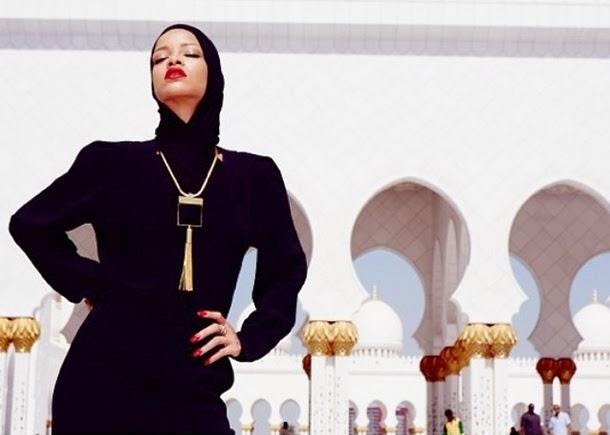 Rihanna publicly apologized for her uninformed actions, but we find ourselves conflicted about the entire situation. While we understand her lack of awareness regarding the sacred meaning, this excuse has worn thin. In 2013, Rihanna previously posed in front of a Mosque in a private area not accessible to the public. She shared a picture of herself wearing a hijab, alongside women dressed similarly, with the caption: "Bitch stole my look." Following the recent scandal, this past post resurfaced, indicating a recurrence of ignorant behavior.
Both instances are highly disrespectful towards the Islamic community and should not have occurred. When undertaking such significant endeavors, attention to detail is crucial. Since everything Rihanna does is subject to public scrutiny, I would personally exercise extreme caution and ensure those entrusted with my well-being are competent to prevent such reckless mistakes, although we acknowledge this is easier said than done. This is precisely why many would prefer not to be famous.
‍
Although the song was sung in a language Rihanna does not understand, she profited greatly from the show, which prominently featured her name. One would assume she could have at least researched the translation, right? So, does Rihanna deserve to be canceled for this incident?
Every human being makes mistakes, but repeating them diminishes trust in one's true intentions. To genuinely honor a culture, it is essential to conduct thorough research, thereby avoiding ignorance. We still believe Rihanna is an extraordinary artist with remarkable talent, but she has tarnished her reputation within a community encompassing approximately 1.8 billion people.
Apologizing for her ignorance is the most Rihanna can do in this situation. If we were to cancel every artist who made questionable decisions in their career, we would not enjoy music, appreciate art, or even follow famous individuals on Instagram. It is up to each individual to decide whom they wish to support and whose actions they prefer to observe from a distance.