Enquiring on the physical form, graduate designers rally to reinvent and transform the body shape, in line with ideas that reject previous notions of gender, race and aesthetics. And so the body becomes a carrier of personal manifestos, the field of explorations, the muse of their fantasies and the stage of metamorphosis.
So what are the proportions and the powers of the body today? The graduate collections of fashion students in the past 3 years have shown that the silhouettes of the body are at stake as it's intertwined with new technologies. The result is asymmetrical volumes that provide shelter to the body and create a new dialogue with its surroundings.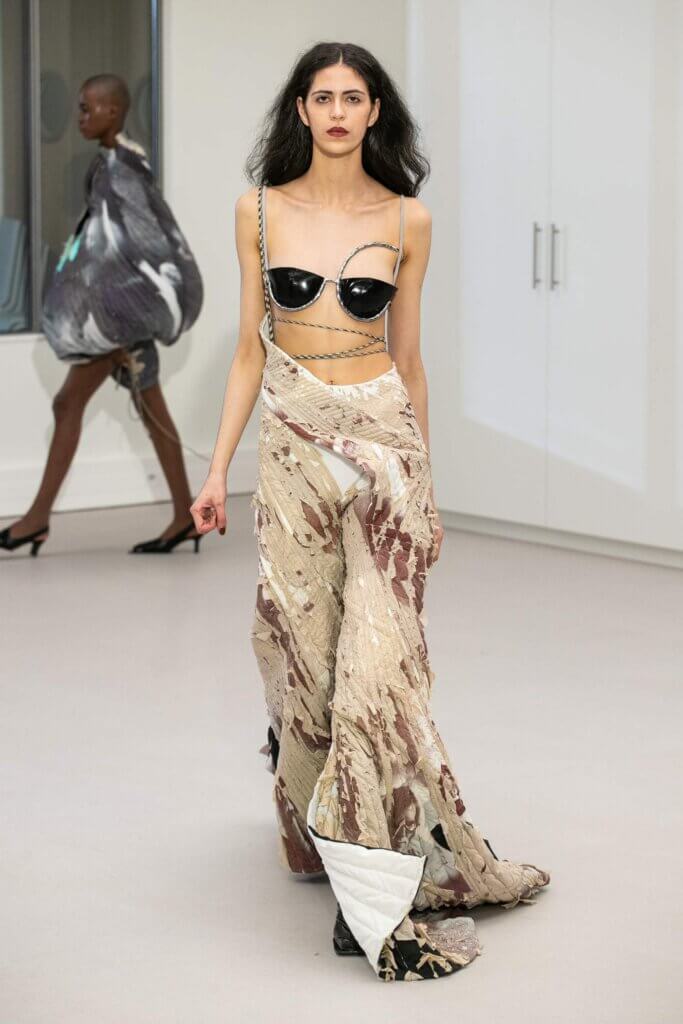 Frida Jõe plays with the symmetry of the body with garments that create asymmetrical attributes, a landscape of unusual proportions that captures movements on the static body—or else, that epitomises the movements of a changing body. On an interpretational level. On a practical level, Frida compresses movements via photography, which are then applied to her garments. By capturing these movements, Frida aims to hold onto moments and not memories of moments, an emotional essay she achieves via 2D documentation.
Graduation: MA Institut Français de la Mode, 2021
After graduation: is working as a design assistant at Saint Laurent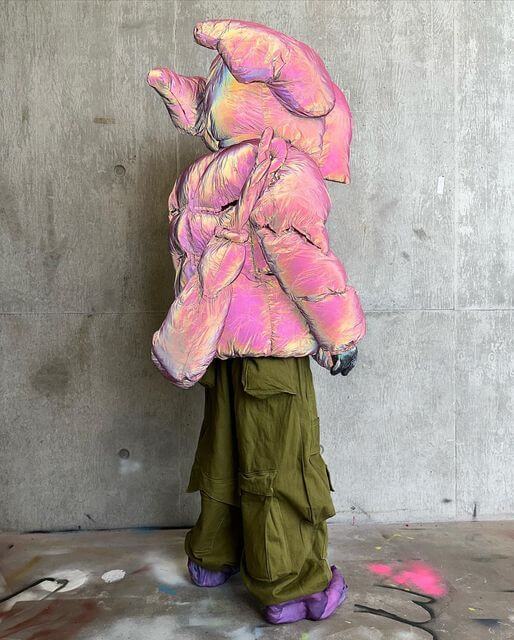 Afro-Futurism informs Yaku Stapleton's aesthetics, in which garments become the venue to connect with his roots in blackness while inviting others to reflect on their identities. For his graduate collection, Afro-Futurism met fantasy and online game playing, creating characters that seemed like descending from the online to the offline: bright puffers and tracksuits, cargos and contrasting accessories such as a giant hammer reigned the catwalk.
During the Central Saint Martins MA Fashion show, Yaku received the L'Oréal Professionnel Creative Award and became the top honour of the graduation fashion show, with a collection that undoubtedly dives into perception, scale and human form. "I turn to 3D scanning, Clo3D and digital development before returning to the physical through garment construction," the designer shared on LinkedIn, unveiling his interest in inscribing digital assets and virtual reality into his garments. (Link)
Graduation: MA Central Saint Martins, 2023
After graduation: His pieces sell at APOC store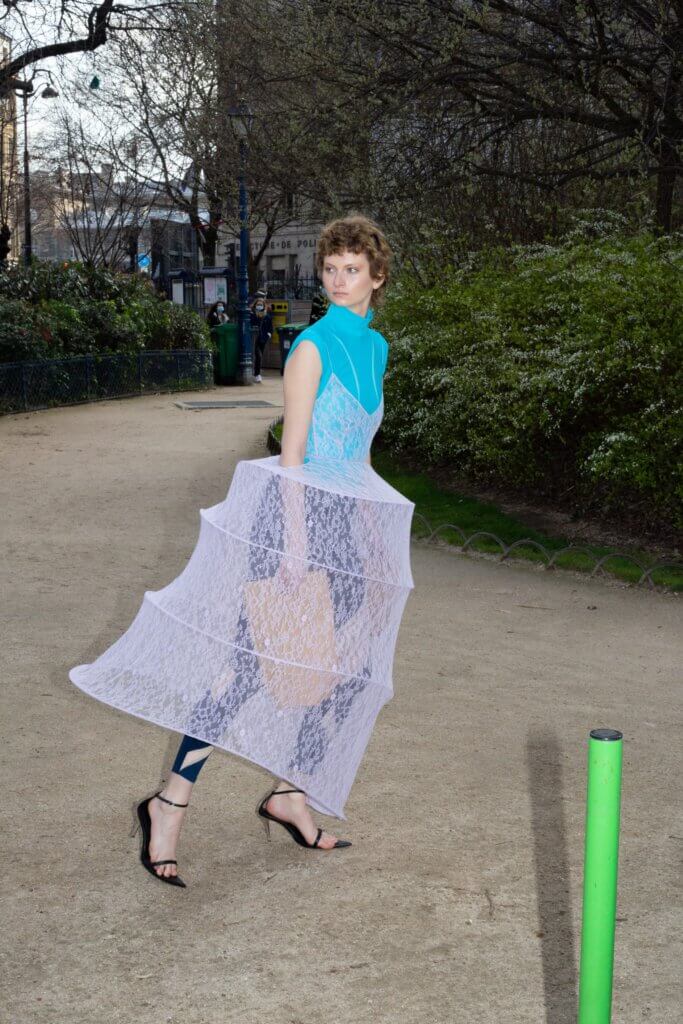 Born in Seoul, Jisoo Baik moved to the UK and studied at Central Saint Martins and then at the Institut Français de la Mode in Paris. Using wire structures, Baik explores notions of protection and safety, which inextricably connects to the boundaries of the body—where it ends. Her collection 'Safe Space' mirrors her concerns about moving abroad and being perceptive towards the extension of her body—her body as a sanctuary and a carrier of belongings.
Graduation: MA Institut Français de la Mode, 2021
After graduation: crafted a fashion sanctuary for Björk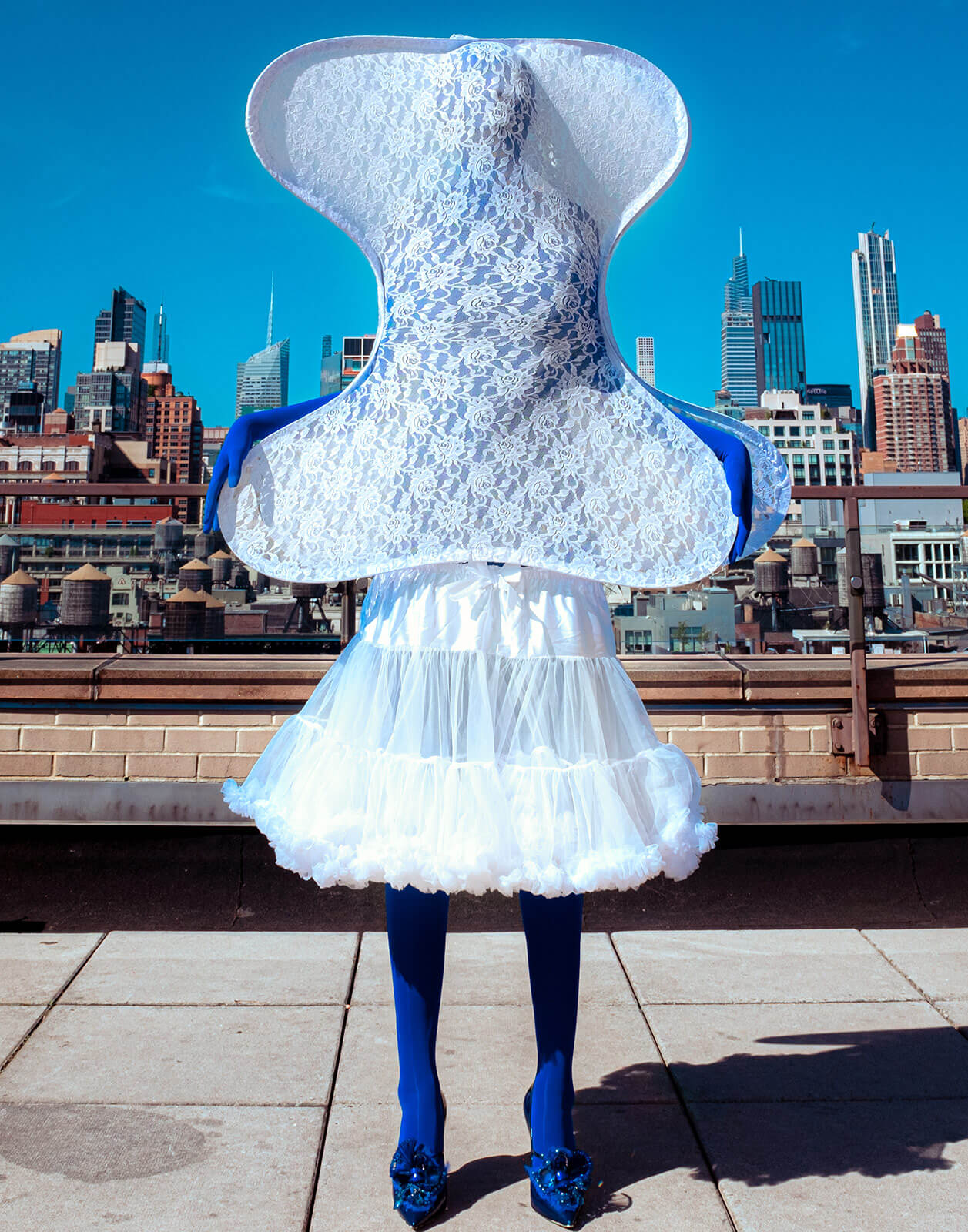 It's been a little over two years since Terrence Zhou founded his label Bad Binch TONGTONG after his graduation in 2020, becoming a darling of Vogue editorials and the likes of Rina Sawayama, Olivia Rodrigo and Christina Aguilera. Why? Simply put, because of the meticulous way in which he manages to create metamorphosis not only of the body, through his designs, but also of the runway. Neon butterflies, spiders and mermaids are among the creatures he produces with garments that evoke instant emotions.
The garments alone aren't the source of emotions, but so are the performers, who instead of walking down the catwalk with straight faces, dance and perform as if they and the garments belong to each other. That's perhaps the balance that Terrence learnt during his studies in maths and engineering, before attending Parsons School of Design for Fashion and channeling previous learning to understand the architecture of body sculpture and the dialogue between movement and space.
Graduation: Parsons the School of Design for Fashion, 2020
After graduation: founding his label Bad Binch TONGTONG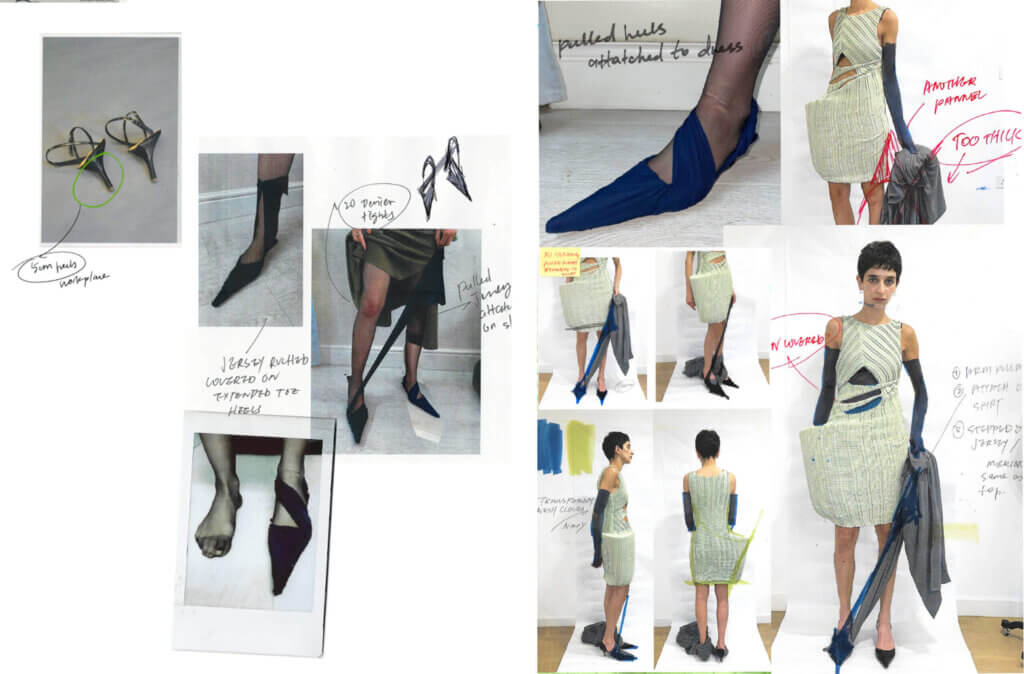 Last year, a manifesto about 'imperfectly perfect' materialised in Chelsea Kaya's graduate collection at Central Saint Martins. Silhouettes that used to define the female body in the past are discarded and shifted to the present tense, where mainstream ideals of femininity are reassessed. What comes after are silhouettes that distort the body as we know it and create new connections across the body and its boundaries, which altogether alter its movement and the way it interacts with its surroundings. This arising conversation between body, movement and space creates a new shelter for the female body, against fears and insecurity—and against outdated interpretations of their silhouette and womanhood.
Graduation: BA Central Saint Martins, 2021
After graduation: has worked as a design assistant to Simone Rocha and Richard Malone and is currently enrolled at the MA CSM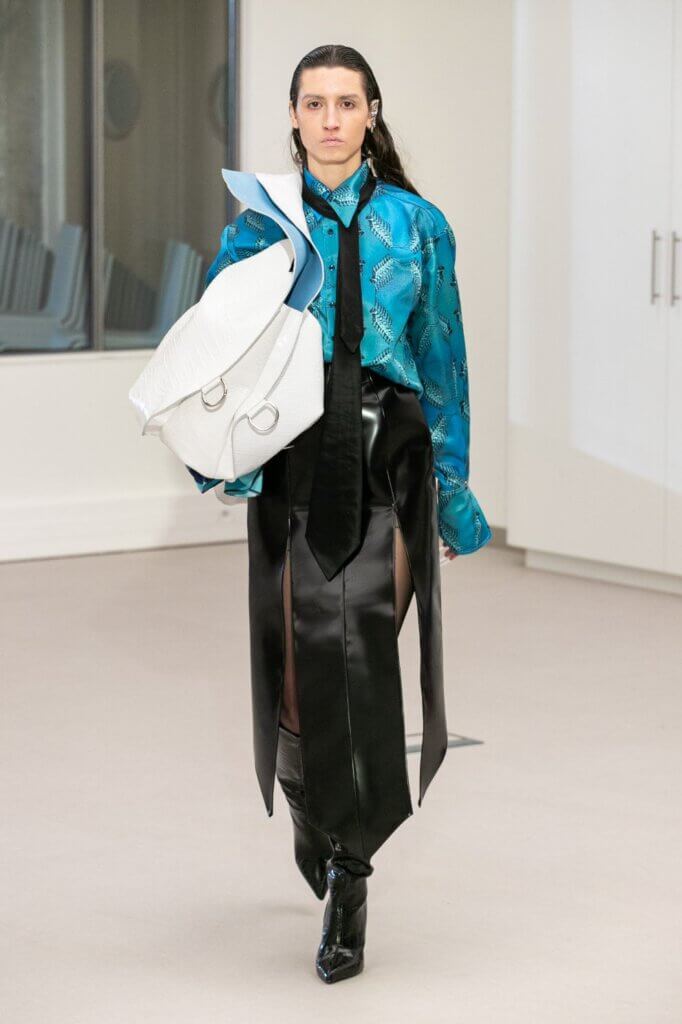 If somebody is a fan of psycho series and architecture of hybrid shapes is Clément Picot, whose final collection presented last year at the IFM Paris' graduation show epitomised the mood: cyborg-like energy and uncanny prints revealed a sinister world of seemingly unworldly figures. Speaking of the tv show American Psycho, Picot says, "These movies have always amazed me by their stories, the meaning, the music, the set, the colours… I found a connection between the two main characters and I've started to imagine my own narrative."
Graduation: MA Institut Français de la Mode, 2021
After graduation: has worked as a design assistant at Louis Vuitton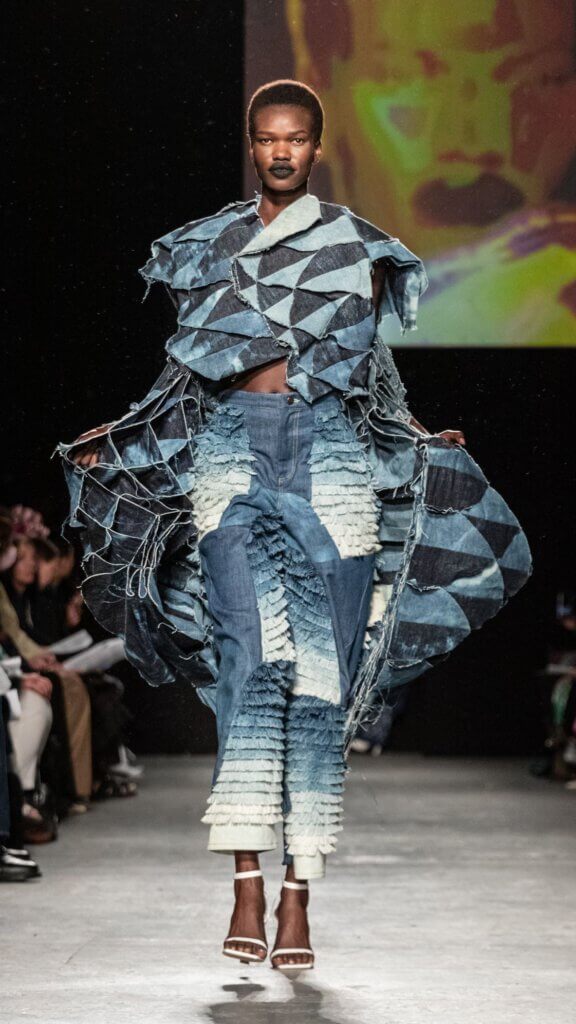 Steph Birtles's designs are what some call origami and others fluffy denim, referring to the illusion that her garments create, thanks to the delicate material innovation achievement. "Just as paper rips, shreds and becomes discoloured, denim is distressed, frayed and bleached," says Birtles about her denim collection, emphasising that the fragility of her process lies in repetition, which is needed to create precision and geometry. The final result is shapes of different geometry and volumes, that when interlaced with gradients of blue, become pieces that seem to fluctuate with the air current and, at the same time, appear sturdy and indifferent to the environment. Frailty and precision.
Graduation: University of Westminster BA, 2022