Last week saw the world premiere of Rheingold, the newest movie by acclaimed German director Fatih Akin. Rheingold does not only mark his 22nd directing credit – including the critically acclaimed Gegen die Wand (Head-On, 2004) and Golden Globe-winning Aus dem Nichts (In the Fade, 2017).
Rheingold's topic is the biography of German-Iranian rap star Xatar, who besides his chart-topping music and his label empire Alles oder Nix Records is also famous for robbing a German gold transport in 2009. He got caught. the gold never reappeared.
His life seems to have stories for several movies and with Fatih Akin directing, one can be assured to find a story worth seeing.
His biography is a German success story and of course it is a story about migration.
Migrant topics have played a role in German cinema since the days of Rainer Werner Fassbinder's Angst essen Seele auf (Ali: Fear eats the Soul). The 1974 dramatic piece starring Brigitte Mira and El Hedi ben Salem has been praised as one of the "high-water marks of New German Cinema", recommended by Martin Scorsese.
But even though Fassbinder shined a light on the struggles of post-war migrant workers in Germany it took time until stories like this were told not from a German, but from an authentic migrant perspective.
During the 1990s and early 2000s German-migrant cinema found a new audience and fans in – the at the same time emerging – German hip hop scene. Magazines like Juice featured cinema and VHS releases like Kurz und Schmerzlos or Kanak Attack on their pages and the accompanying soundtracks featured songs by aspiring and already famous German rap artists. Some of those movies even featured German rappers in their first and sometimes only acting roles.
Migrant cinema and German rap always walked hand in hand.
Celebrating the release of Rheingold we will shine a spotlight on some lesser know gems of German-migrant cinema that found an audience in hip hop.
Geschwister / Kardesler
Thomas Arslan – son of a Turkish father and German mother – who grew up in Essen, Germany and Turkey – released his movie Geschwister / Kardesler in 1997. The story centers around siblings Erol, Ahmed und Leyla growing up in Berlin-Kreuzberg. While Erol is drawn to live a traditional life in the Turkish community, his younger siblings try to break out of their conservative surroundings.
Kardesler / Geschwister is by far one of the most authentic portrayals of 90's Kreuzberg and young migrants living there.
Another hip hop tidbit regarding the movie is Ahmed, who is played by a young Savas Yurderi, who would go on to become Kool Savas, a pioneer of German rap and one of Germany's biggest music stars.
While mostly known for aggressive battle raps he entered the mainstream in 2002 with the release of Der beste Tag meines Lebens, a song about the tristesse, fears and hopes of growing up in an urban surrounding. The movie score was also provided by Berlin Hip Hop pioneer DJ Hype.
Arslan also directed the movie Dealer, the story of Can (Tamer Yigit) who tries to escape his criminal surroundings to provide a better life for his family. The movie also had small cameos by underground rappers from Kool Savas' former band M.O.R. (Masters of Rap).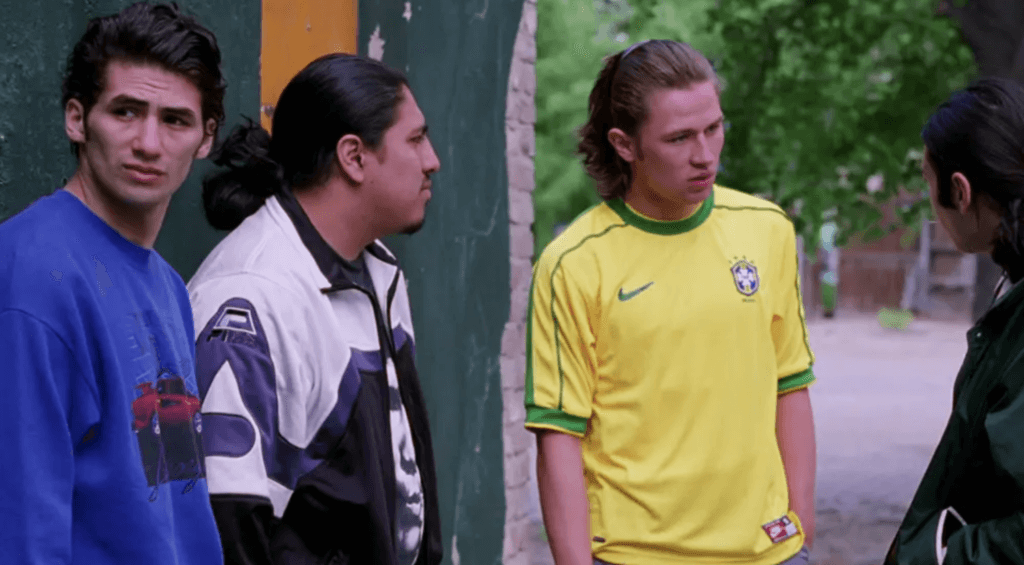 The director finished his so-called Berlin trilogy in 2001 with Der schöne Tag (The beautiful Day).
Kanak Attack
German-Turkish author Feridun Zaimoglu released Abschaum – Die Geschichte von Ertan Ongun (Scum – The Story of Ertan Ongun) in 1997. The book was a successs and a movie adaption followed in 2000 directed by Lars Becker.
The book's story is rooted in real life. After releasing his first book Kanak Sprak – 24 Misstöne vom Rande der Gesellschaft (Kanak Language – 24 Jaring Notes from the Fringe of Society) , author Zaimoglu met a young petty criminal from Kiel who after reading his first book asked him to listen to his life story. That story became Abschaum.
Ertan Ongun was played by German-Turkish actor Luk Piyes and his friend Mehdi Jamal is played by Tyron Ricketts, the German TV personality, rap star and – of course – actor who would go on to start Panthertainment, a production company focussing on telling POC stories. Sekou Neblett, formerly known as Sekou the Ambassador and for his works with Freundeskreis also has a cameo, such as German-Turkish movie legend Hilmi Sözer.
The story's backdrop is the petty criminal scene of German harbor city Kiel and the soundtrack is spiked with tracks by artists like Mellowbag (Tyron Rickett's band), Spezializtzt, Absolute Beginner, Patrice, Dynamite Deluxe and spoken dialog by Ertan Ongun.
Kurz und Schmerzlos
The soundtrack released to accompany Fatih Akin's 1998 crime drama Kurz und Schmerzlos is actually called Kurz und Schmerzlos: Hip Hop inspiriert von Fatih Akins Spielfilm.
Does it get more Hip Hop than that?
The movie tells the story of three friends – Turkish Gabriel, Serbian Bobby and Greek Bobby – living in Hamburg. Gabriel just got released from prison and is planing to turn his life around, while his two friends are having other plans. Their friendship is not only tested by the dangers of crime, but also by love.
The soundtrack features several German rap acts from Akin's hometown Hamburg such as Fünf Sterne Deluxe, Eins, Zwo and Dynamite Deluxe and became a mainstay in hip hop head's record crates.
So who helped each other more? Was it the migrant cinema helping German rap or was it the other way around? Did migrant cinema pave the way for German hip hop bio pics?
It certainly is a genre that has its roots in German migrant history. A besides that it is a genre that can not survive without authenticity. An authenticity migrant directors and creatives are more than familiar with.
It was a partnership not born out of commercial reason, but because it made sense. Rap gave a voice to people never heard before, same as the mentioned directors did. They introduced a German audience to stories, that did not take place in the German mainstream, but which were still German at its core.
Just as German as the story of Iranian-born Xatar or the story of you – our German readers – is, even though your roots may be in a country somewhere else.