There is no other shoe silhouette so many cool people can agree on like a pair of Clarks Wallabees… or Desert Boots! And by saying cool people, we are not talking about fashionable trend-seekers. We are talking about the originators. Funny to see how a classic "brown shoe" produced by a British company, whose history spans already way over a century, found its way to become a stable in so many subcultures. C. & J. Clark International Ltd was founded in 1825 in the city of Street, Somerset in England by a man named Cyrus Clark. One of their most famous silhouettes is the Desert Boot, an ankle high boot with a crepe rubber sole, traditionally made out of suede – inspired by unlined boots bought at the bazaars of Cairo and adapted by British army officers during World War II.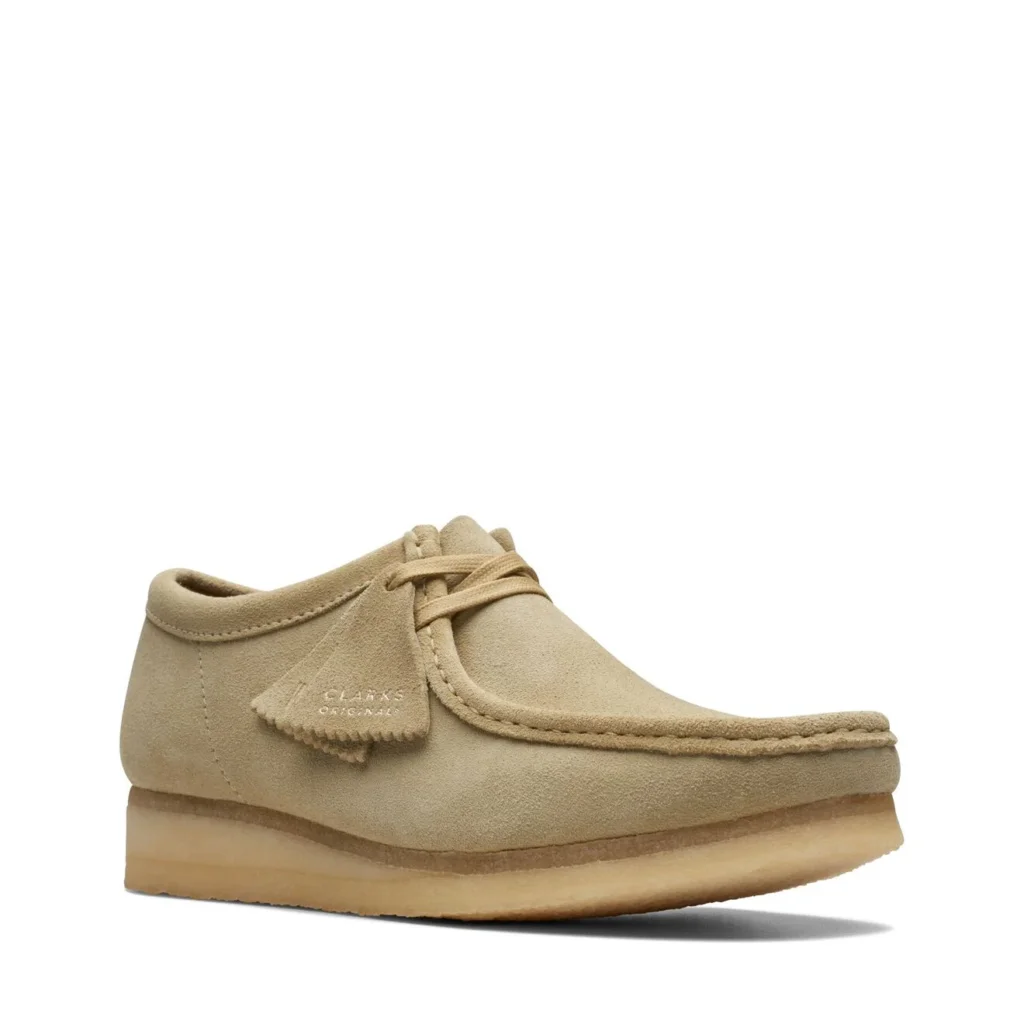 But their stand out silhouette – the Wallabee – first saw the light of day in 1967. The brand offers uncountable styles of shoes, but especially those two silhouettes soon found love around the globe in many environments you would not expect to meet classic British footwear. Let's have a look at some early adopters of this worldwide fashion phenomenon.
Jamaican Rude Boys Love The Desert Boot
"Everybody haffi ask weh mi get mi Clarks
Everybody haffi ask weh mi get mi Clarks
Di leather hard, di suede soft
Tooth brush get out di dust fast
Everybody haffi ask weh mi get mi Clarks
Everybody haffi ask weh mi get mi Clarks"

Vybz Kartel – Clarks
Early on Clarks were adopted by Jamaican rude boys. They fell in love with the Desert Boot silhouette, even though wearing such a dapper pair of shoes as an ordinary Jamaican citizen could lead to police harassment. But rude boys don't wear cheap looking things and therefore through the racist eyes of police, a black person wearing Clarks could by no means got those shoes in a legal way.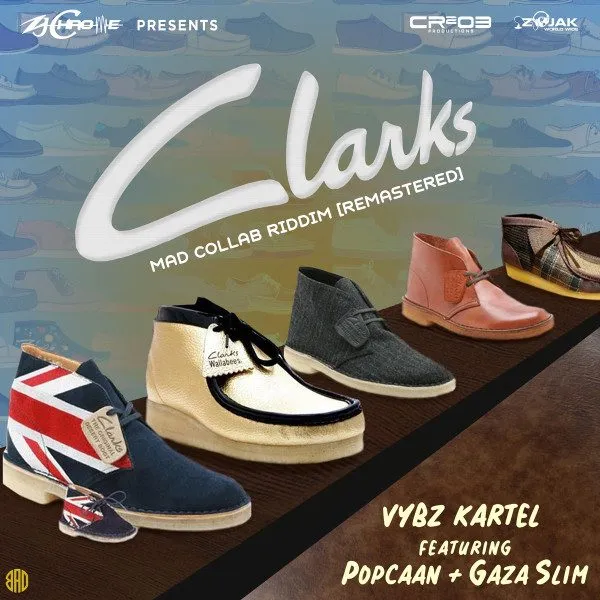 Reggae and dancehall icons such as Dillinger or Super Cat not only adapted the style, but made the brand topic of their songs. In. 2009 Dancehall legend Vybz Kartel even released his song Clarks featuring Pop Caan and Gaza Slim and gave the brand a proper and well deserved anthem. Clarks responded with the release of a Jamaica collection in 2021 honoring their fanbase.
Jamaica Clarks Wallabees and Desert Boots (2021) / Images via www.clarks.eu
Urban Shoes for "Urban Hymns"

Mid 90's British music movement Britpop and Clarks go hand in hand. Also a favorite of footwear among the terrace and casual scene, the Wallabee was set a monument by The Verve on the cover of their best-selling third album "Urban Hymns". Black Wallabees were also featured in the music video to they mega hit "Bittersweet Symphony".

The Verve – Urban Hymns (1997)
Everyone's favorite pair of brothers – Noel and Liam Gallagher of Oasis-fame – were also frequently seen sporting the brand, which in 2022 turned into a full collaboration between Clarks and Liam Gallagher by re-releasing their archival Rumbler silhouette with him not only featured on the show box, but the heel as well.
Clarks x Liam Gallagher Rumbler / Images via www.hanon-shop.com
Hip Hop – Wallabees and Wannabees
One the other side of the pond the British shoe manufacturer soon found a cult-like following, with a special interest coming from the "slums of Shaolin". Branded "Shaolin Island" on their debut LP Enter the Wu-Tang (36 Chambers), Staten Island has been the home base of the Wu-Tang Clan. Especially their member Ghostface Killah became an early advocate for Clarks Wallabees, giving them constant shout outs on his tracks and featuring them in a color-split customized version on the cover of his first long player Ironman.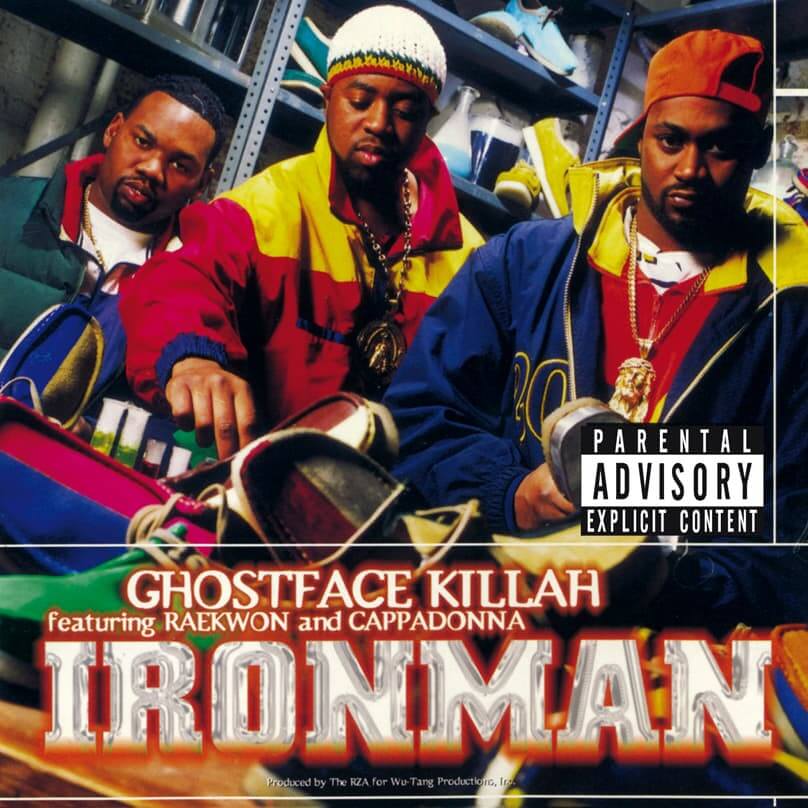 German rapper Prinz Pi also gave them a shoutout in his song Sneaker King, with Clarks being the only non-sneaker brand being mentioned. He supports his admiration for the brand as being influenced by Monster – The Autobiography of an L.A. Gang Member, a book written by former L.A. Crips member Kody Scott in which Clarks are declared a certified gang shoe.
"Ich wurd' mit 18 smart hatt' meine Visa Card
Kaufte mir mein erstes Paar Wallabee Clarks
Das is 'ne gute Marke ich trag jeden Tag 'ne andere Farbe
Die Schuhe sind Crip seit Monster Kody es sagte"
"At 18 I got my first Visa and bought my first Wallabee Clarks
I'm wearing a different color everyday
The shoes are Crip cause Monster Kody said so"
Prinz Porno – Sneakerking (2005)
Of course Clarks became aware of their standing in hip hop culture and linked with the likes of the Wu-Tang Clan (pretty obvious), too-soon-gone rap legend MF Doom and Slick Rick for their own iterations of their shoes.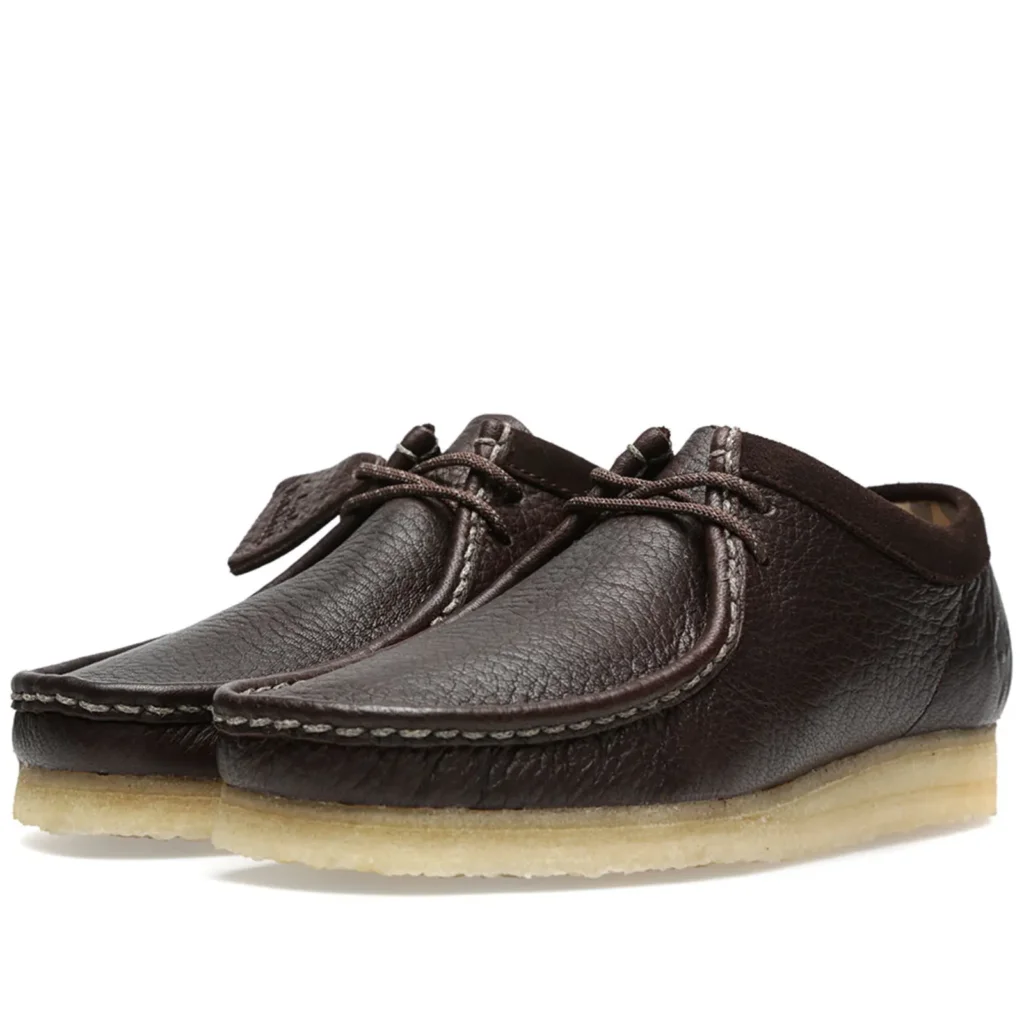 On a side note: German footwear brand Djinns built up their whole brand by producing their own Wallabee knock-off – the Wannebee – and selling it through German hip hop clothing stores in the early 2000s. Their lower price point attracted mostly young hip hop heads, not familiar with the classic O.G. brand Clarks.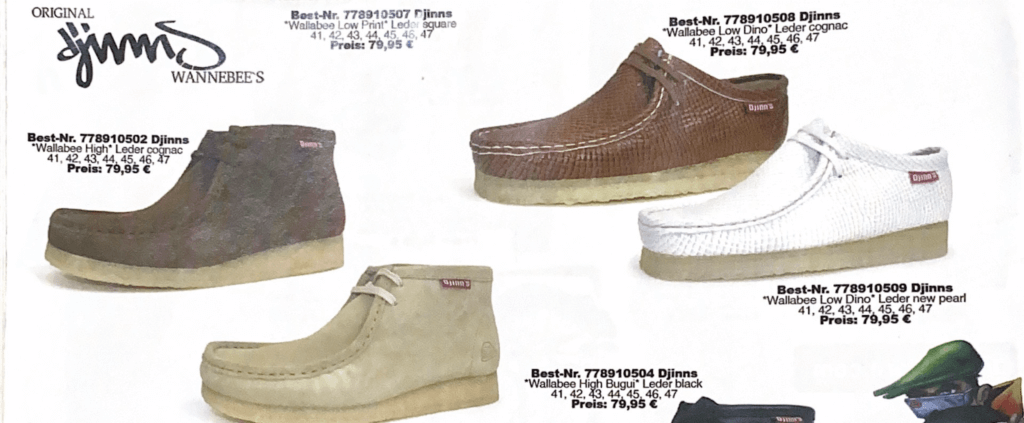 Clarks also collaborated with the who's who of todays fashion and nowadays counts partners such as Supreme, Aime Leon Dore, Loopwhealer and even Pokemon (those shoes are a haaaaaaaard pass, though) to their list of partners. They even were featured heavily on cult TV show Breaking Bad, wherein the anti-hero Walter White sports them throughout all seasons. Sneaker store BAIT paid tribute to the series when working on a Clarks collab and released two pairs of Wallabees inspired by Breaking Bad in 2017.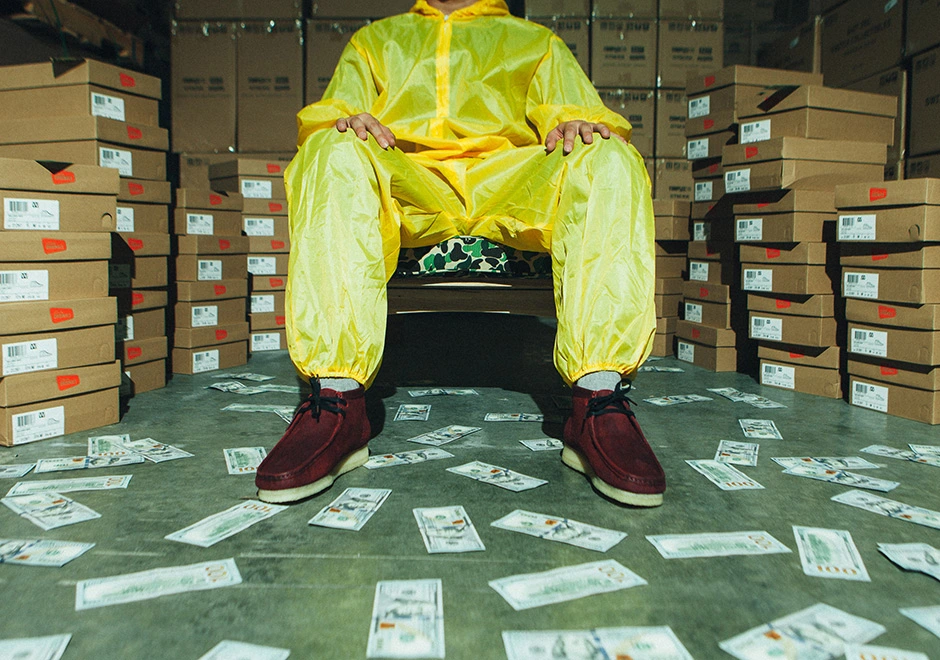 There are very few pieces of garment having acquired so much respect from so many different parts of the world like Clarks and the brand – even though on their way to their bi-centurial anniversary – is far from slowing down and still appreciated from Kingston to Manchester to Shaolin.