From Rude Boys to Hip Hop: Clarks Footwear's Cultural Impact
When it comes to shoe silhouettes that garner widespread admiration, none can compare to the iconic Clarks Wallabees and Desert Boots. We're not referring to mere fashion enthusiasts here; we're talking about the true trailblazers. It's fascinating how a timeless "brown shoe" crafted by a British company with over a century of history has become a staple in numerous subcultures. Founded in 1825 by Cyrus Clark in Street, Somerset, England, C. & J. Clark International Ltd has flourished, with the Desert Boot emerging as one of their most renowned creations. Inspired by unlined boots procured from Cairo's bazaars and later adapted by British army officers during World War II, this ankle-high boot features a distinctive crepe rubber sole and traditionally crafted from suede.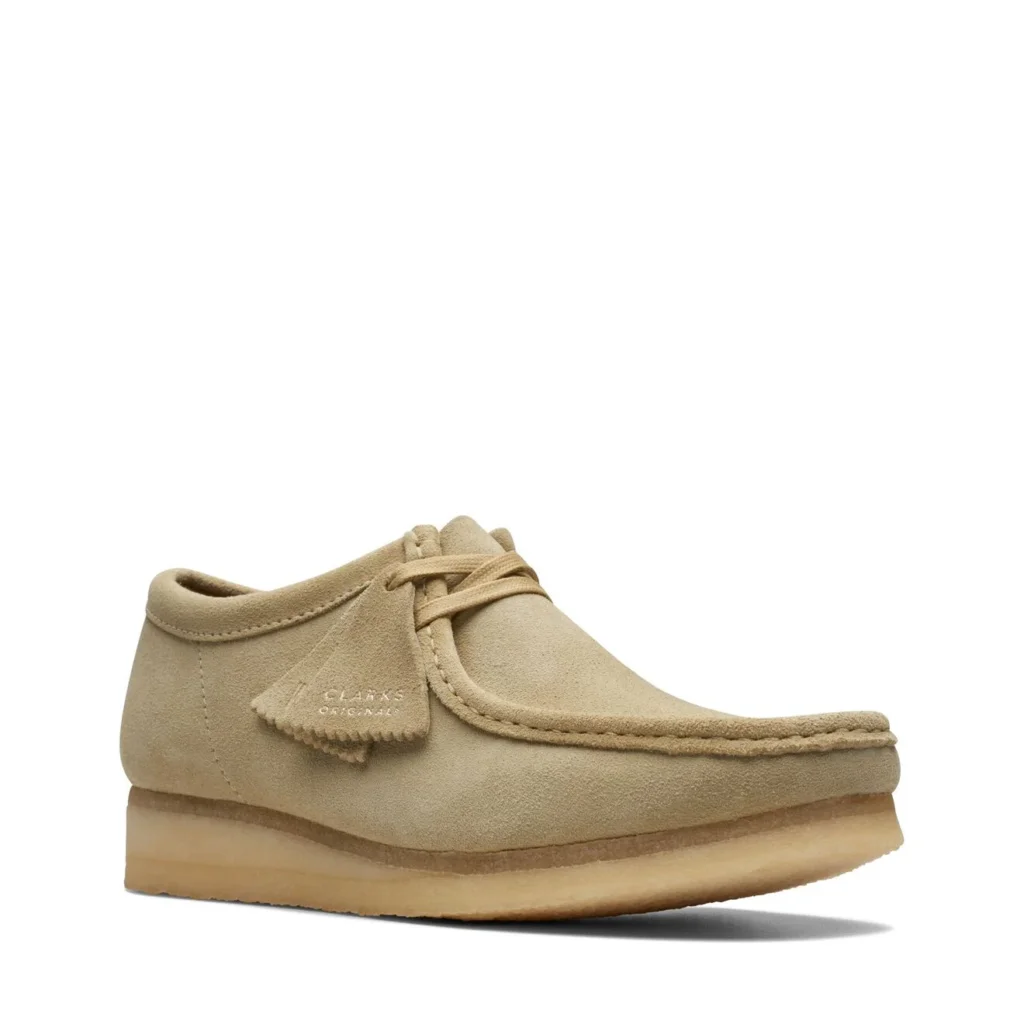 But it was in 1967 that their standout silhouette, the Wallabee, first made its mark. Although the brand offers countless shoe styles, it's these two silhouettes that have captivated enthusiasts worldwide, even in unexpected environments. Let's delve into the early adopters of this global fashion phenomenon.
Jamaican Rude Boys Love The Desert Boot
"Everybody haffi ask weh mi get mi Clarks
Everybody haffi ask weh mi get mi Clarks
Di leather hard, di suede soft
Tooth brush get out di dust fast
Everybody haffi ask weh mi get mi Clarks
Everybody haffi ask weh mi get mi Clarks"

Vybz Kartel – Clarks
Jamaican rude boys were among the early adopters of Clarks, particularly smitten with the Desert Boot silhouette. Wearing such dapper footwear as an ordinary Jamaican citizen often invited police harassment. However, rude boys refused to settle for anything less than stylish attire, and as a result, the sight of a black person sporting Clarks triggered baseless suspicions in the eyes of the prejudiced police force.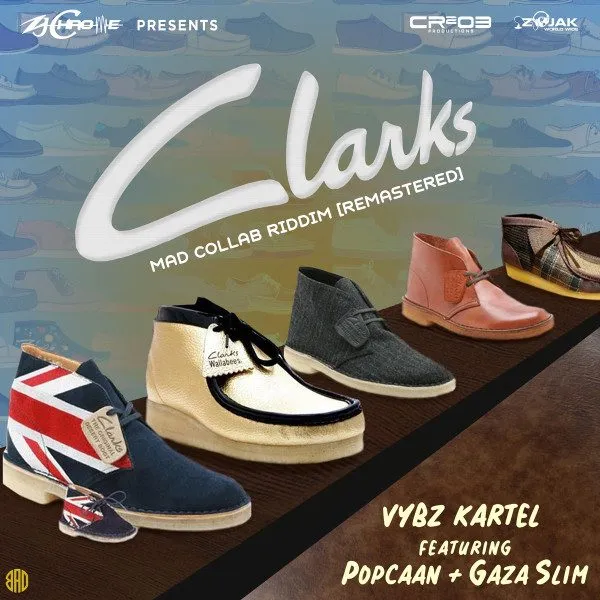 Reggae and dancehall icons such as Dillinger and Super Cat not only embraced the style but also made Clarks a recurring theme in their songs. In 2009, dancehall legend Vybz Kartel released the track "Clarks" featuring Pop Caan and Gaza Slim, giving the brand a well-deserved anthem. Responding to this cultural connection, Clarks paid homage to their Jamaican fanbase by launching a Jamaica collection in 2021.
Jamaica Clarks Wallabees and Desert Boots (2021) / Images via www.clarks.eu
Urban Shoes for "Urban Hymns"

In the mid-90s, the British music movement Britpop forged an indelible link between Clarks and the scene. The Wallabee, in particular, gained prominence and received an iconic tribute on the cover of The Verve's best-selling third album, "Urban Hymns." The music video for their mega-hit "Bittersweet Symphony" also prominently featured black Wallabees.

The Verve – Urban Hymns (1997)
The charismatic Gallagher brothers, Noel and Liam, beloved figures of Oasis fame, were frequently seen sporting Clarks footwear. In 2022, Clarks further cemented their connection with Liam Gallagher by collaborating on the re-release of their archival Rumbler silhouette. The collaboration showcased Liam Gallagher's presence not only on the shoebox but also on the heel.
Clarks x Liam Gallagher Rumbler / Images via www.hanon-shop.com
Hip Hop – Wallabees and Wannabees
Across the Atlantic, the British shoemaker rapidly amassed a devoted following within the cult-like realm of hip hop, particularly in the "slums of Shaolin." Staten Island, referred to as "Shaolin Island" on the Wu-Tang Clan's debut LP "Enter the Wu-Tang (36 Chambers)," became the clan's stronghold. Ghostface Killah, a prominent member, became an early advocate of Clarks Wallabees, frequently name-dropping them in his tracks and featuring them in a customized color-split version on the cover of his debut album, "Ironman."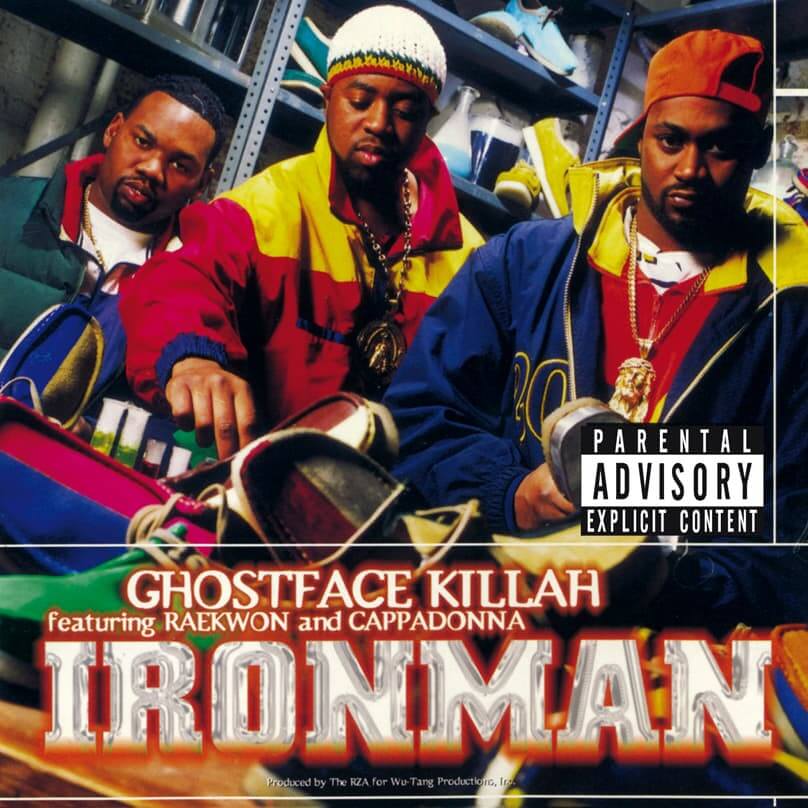 German rapper Prinz Pi also paid tribute to Clarks in his song "Sneaker King," making them the sole non-sneaker brand mentioned. He attributes his admiration for the brand to the influence of "Monster – The Autobiography of an L.A. Gang Member," a book by former L.A. Crips member Kody Scott, where Clarks are hailed as certified gang footwear.
"Ich wurd' mit 18 smart hatt' meine Visa Card
Kaufte mir mein erstes Paar Wallabee Clarks
Das is 'ne gute Marke ich trag jeden Tag 'ne andere Farbe
Die Schuhe sind Crip seit Monster Kody es sagte"
"At 18 I got my first Visa and bought my first Wallabee Clarks
I'm wearing a different color everyday
The shoes are Crip cause Monster Kody said so"
Prinz Porno – Sneakerking (2005)
Naturally, Clarks recognized their significance in hip hop culture and collaborated with luminaries such as the Wu-Tang Clan, MF Doom, and Slick Rick, resulting in unique iterations of their shoes. Interestingly, German footwear brand Djinns built its entire brand by producing a Wallabee knock-off called the Wannebee, which they distributed through German hip hop clothing stores in the early 2000s. Targeting primarily young hip hop enthusiasts unfamiliar with the classic O.G. brand, Djinns offered a more affordable alternative.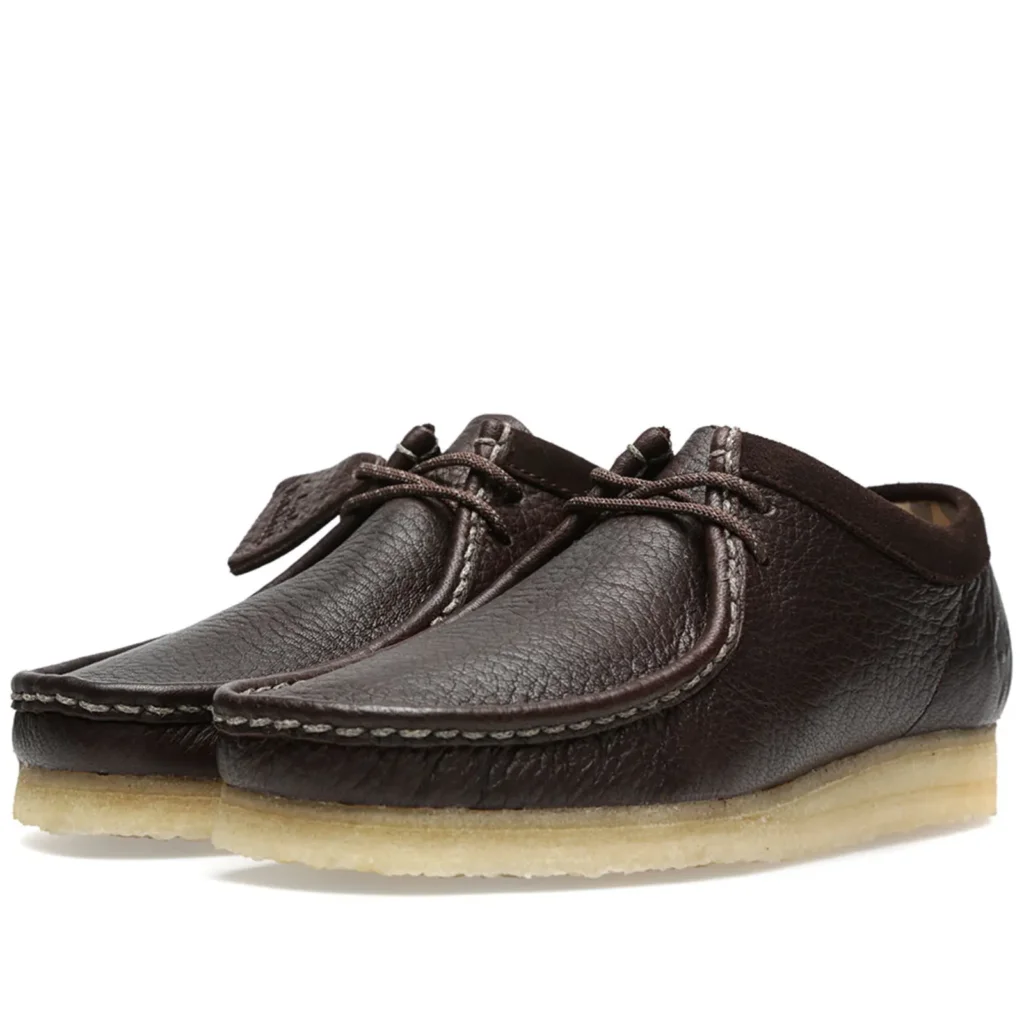 On a side note: German footwear brand Djinns built up their whole brand by producing their own Wallabee knock-off – the Wannebee – and selling it through German hip hop clothing stores in the early 2000s. Their lower price point attracted mostly young hip hop heads, not familiar with the classic O.G. brand Clarks.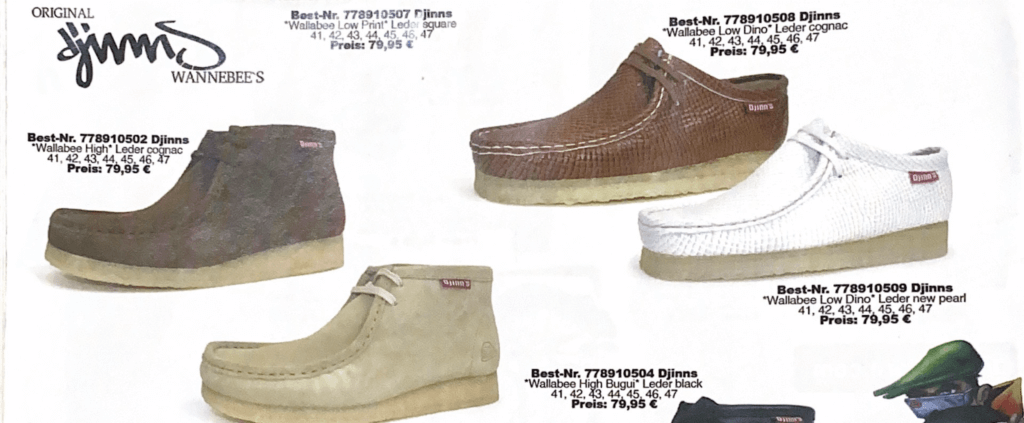 Clarks also established partnerships with fashion powerhouses like Supreme, Aime Leon Dore, Loopwheeler, and even Pokémon (although those shoes garnered mixed reviews). Their presence was widely felt in the cult TV show "Breaking Bad," where the anti-hero Walter White consistently sported Clarks throughout all seasons. Sneaker store BAIT paid homage to the series by collaborating with Clarks on two Wallabee models inspired by "Breaking Bad" in 2017.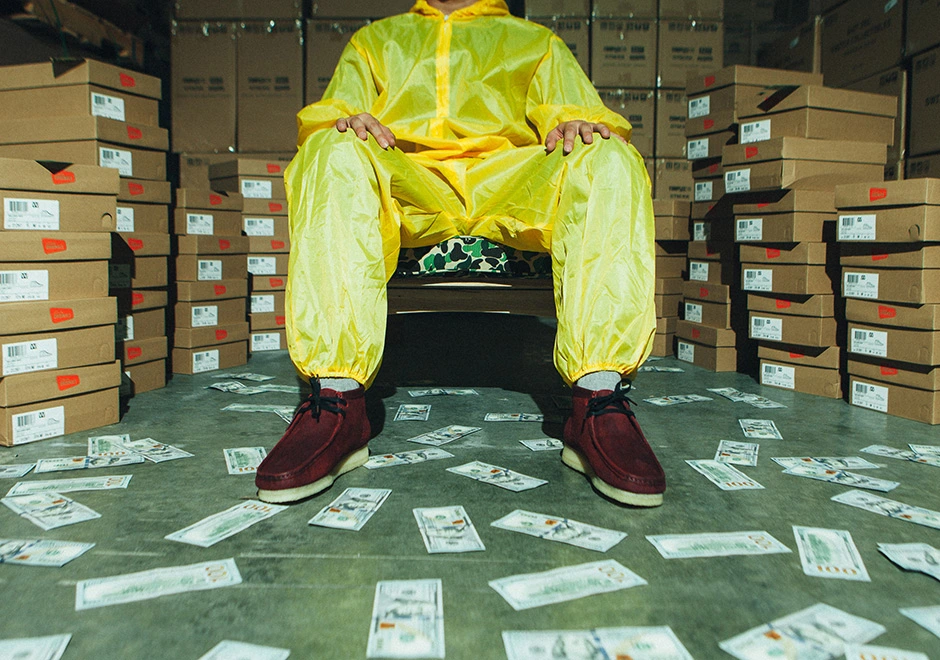 Few garments have earned as much respect across the globe as Clarks, and the brand, despite approaching its bicentennial anniversary, shows no signs of slowing down. From Kingston to Manchester to Shaolin, Clarks continues to be revered and embraced by diverse communities.