Bootleg counterfeit shirts featuring everyone's favorite 90's TV family The Simpsons are a piece of American history. Period. There is more to it than just an off-looking graphic printed on a cheap t-shirt… it's a piece of pop culture. Just like the show itself.
The Simpsons first aired on prime time TV in 1989, years after comic writer Matt Groening first made a name for himself and his creations via underground comics and comedic animated shorts shown during other TV shows. They are still on air today with now 34 seasons added to their belt. And since their beginnings, they are everywhere. Bart even had a No.1 hit single written by Michael Jackson.
With entertainment giant Disney's 2017 take over of Fox Entertainment – The Simpsons home network – there is now slowing down in milking the yellow cartoon cow, not only through the seemingly never-ending show itself but through licensing deals – especially in fashion.
The last two years did not only see collaborations with Adidas (Among many shoes we found a Duff Man-inspired Forum Low, a Homer-themed Stan Smith and some Flanders-centered shoe nobody wanted…), a Levi's collab, a Vans one (Topic: see Adidas), of course a Kith one and even an animated short for Balenciaga's 2021 collection.
But The Simpsons found an even more interesting legacy in fashion in the phenomenon of "Bootleg Bart". Just when the show debuted at the beginning of the 90's bootlegged merchandise shirts started popping up at every street vendor's or touristic destination. I came across my first "Bootleg Bart" shirt in 1993, as a gift my older brother brought me from Rome – a white t-shirt featuring Bart Simpson spray painting the word "Roma" to a wall.
Even though an undeniable dope look, those kind of counterfeit The Simpsons shirts are more on the boring side of this incredibly wide spread genre of bootleg merchandise. I mean… "Bootleg Bart" tourist shirts form Miami at least sported guns.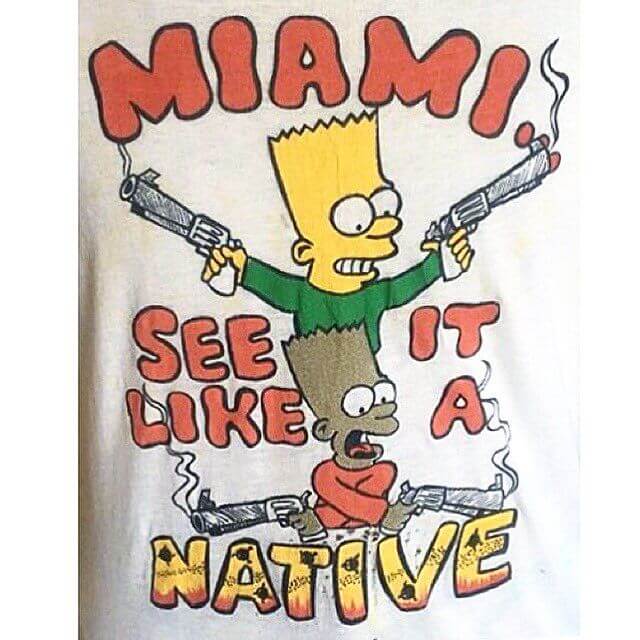 Nowadays you can browse the web and the usual auction or resell sites to get a glimpse into the world of bootleg The Simpsons merch, but the No. 1 source is a Twitter account called @bootlegbart. There seem to have been more social media accounts run by @bootlegbart but they seem to be have taken down. The website only reads:
"This site celebrated the creativity of the early 90s bootlegs & was here for the purpose to educate those who were interested in pop culture history. We do not condone counterfeiting & actually think it sucks when people bite without using their own Imagination."

www.bootlegbart.com
For this article I used some @bootlegbart's huge library of counterfeit The Simpsons shirts, that Twitter users from all over the world send to the account to get reposted.
Of course there were a lot of obscure (It was the 90's…) pop culture referencing shirts available on the market such as shirts of Bart announcing who killed Twin Peak's Laura Palmer (see above), Bart Simpson becoming "Bart Tracy" in a mash-up with comic detective Dick Tracy and of course Bart meeting The Teenage Mutant Ninja Turtles more than once. 90's rap group Digital Underground and their hit The Humpty Dance showed up and mash-ups with 90's icons Michael Jordan and M.C. Hammer became high in demand.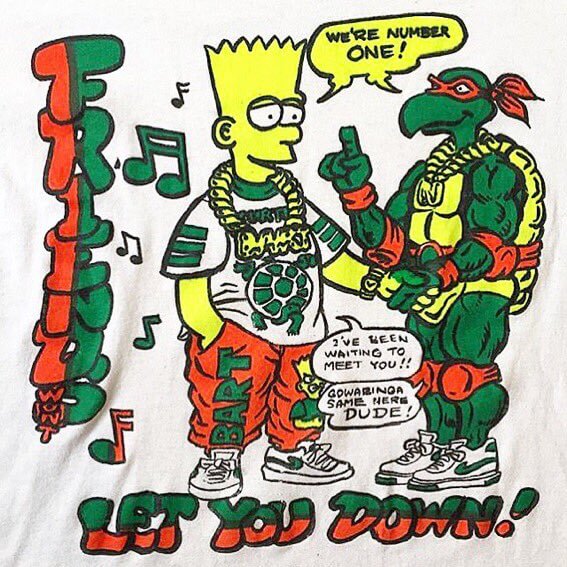 But "Bootleg Bart" shirts went beyond the entertainment industry and took on political topics of the early 90's such as the Rodney King Riots, Black History in general and a growing Black pride. This sub-genre is called "Black Bart" among vintage shirt aficionados.
And to be honest… Have you ever seen a better flip on Homer strangling Bart than this shirt celebrating the Haitian Revolution of 1791 – reversing the roles – and seeing a "Black Bart" strangling "colonizer Homer"?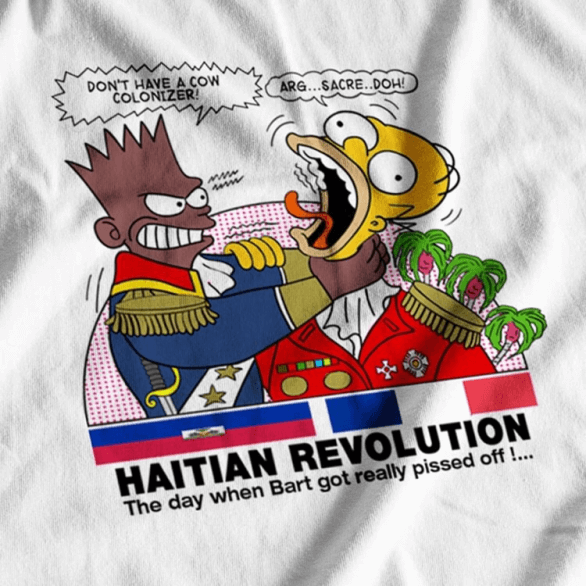 The Gulf War of 90/91 was also a popular topic used to make money and many shirts both lobbying for and against the war on Iraq were sold.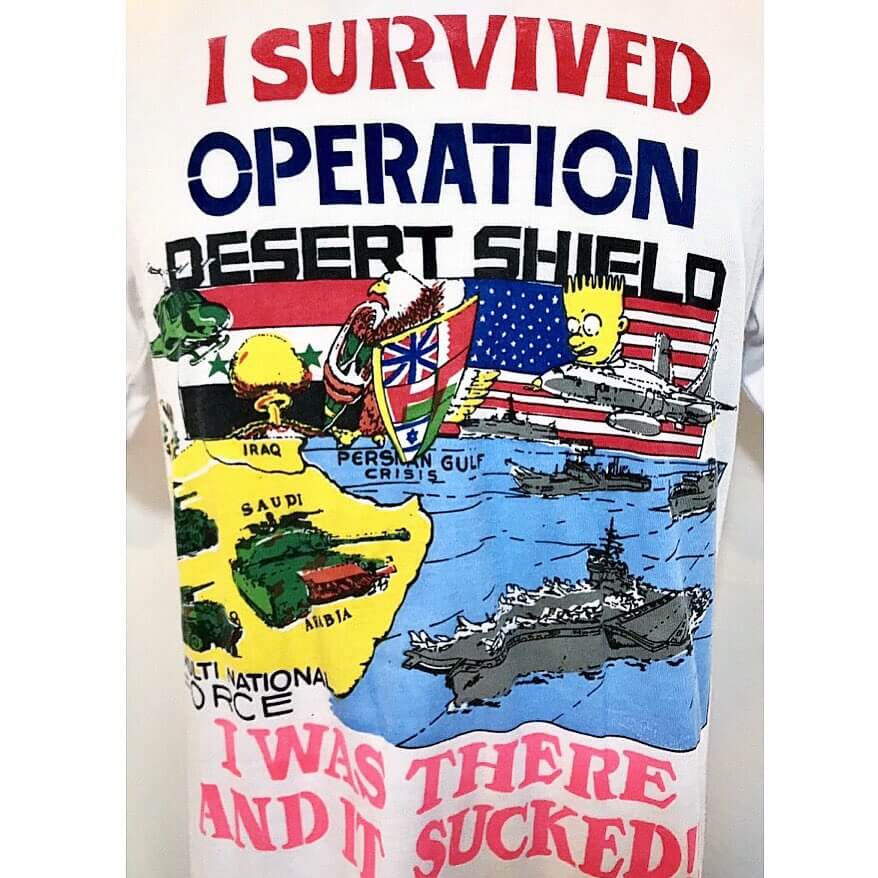 The show's season 2 episode Three Men and a Comic Book saw the first screen appearance of Bart Simpson's alter ego Bartman, who (in t-shirt form) also took on the heroic task of AIDS awareness at a time when the numbers of HIV / AIDS-related deaths increased and found a tragic high at the end of the 90's.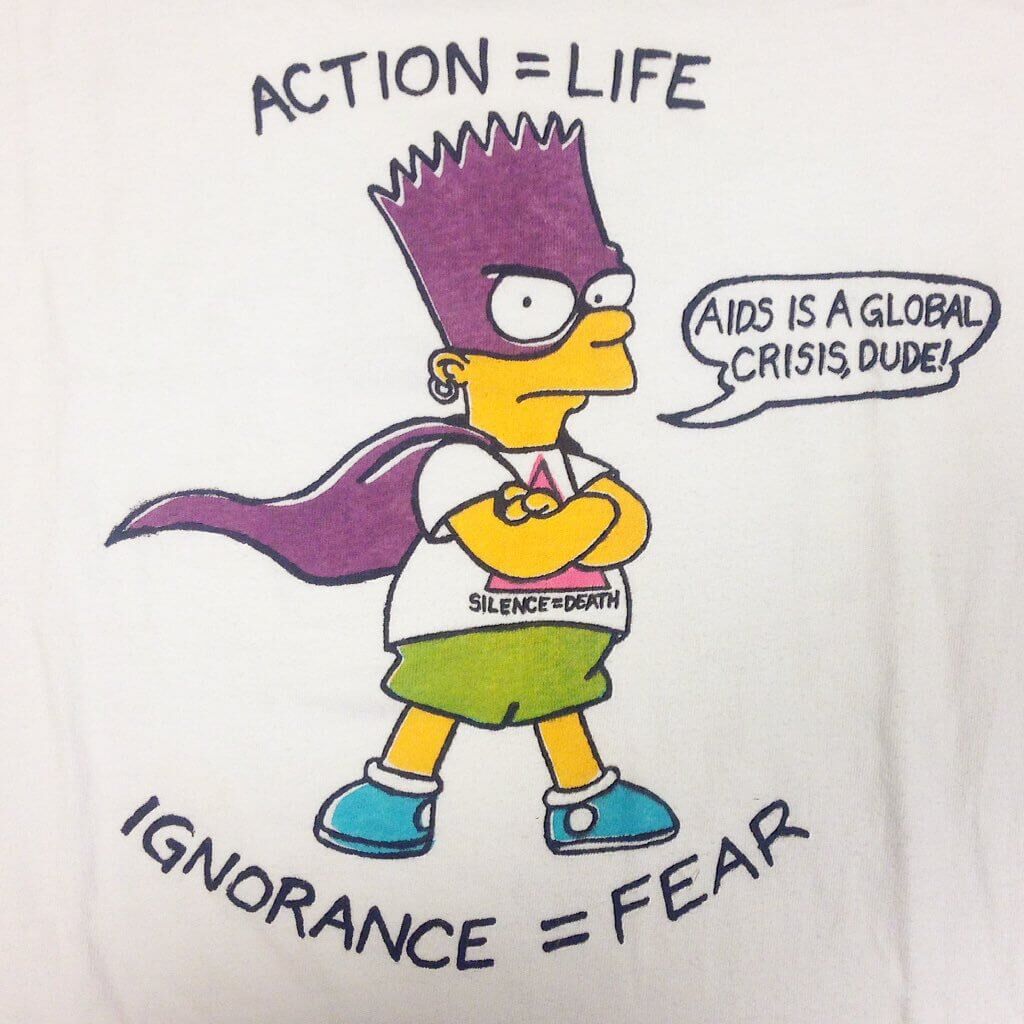 Browsing for "Bootleg Bart" shirts is a historical trip to a time over 30 years ago. Because it was never a licensed product there are so many topics found on this piece of clothing sporting an animated TV character that make it so much more interesting. Not only Bart, but even his bootleg has become part of pop culture. Or as www.bootlegbart.com calls it: "A 90's memory – A global phenomenon".
A phenomenon with more substance and relevance than every commercial The Simpsons fashion collaboration hitting the shelves nowadays has.