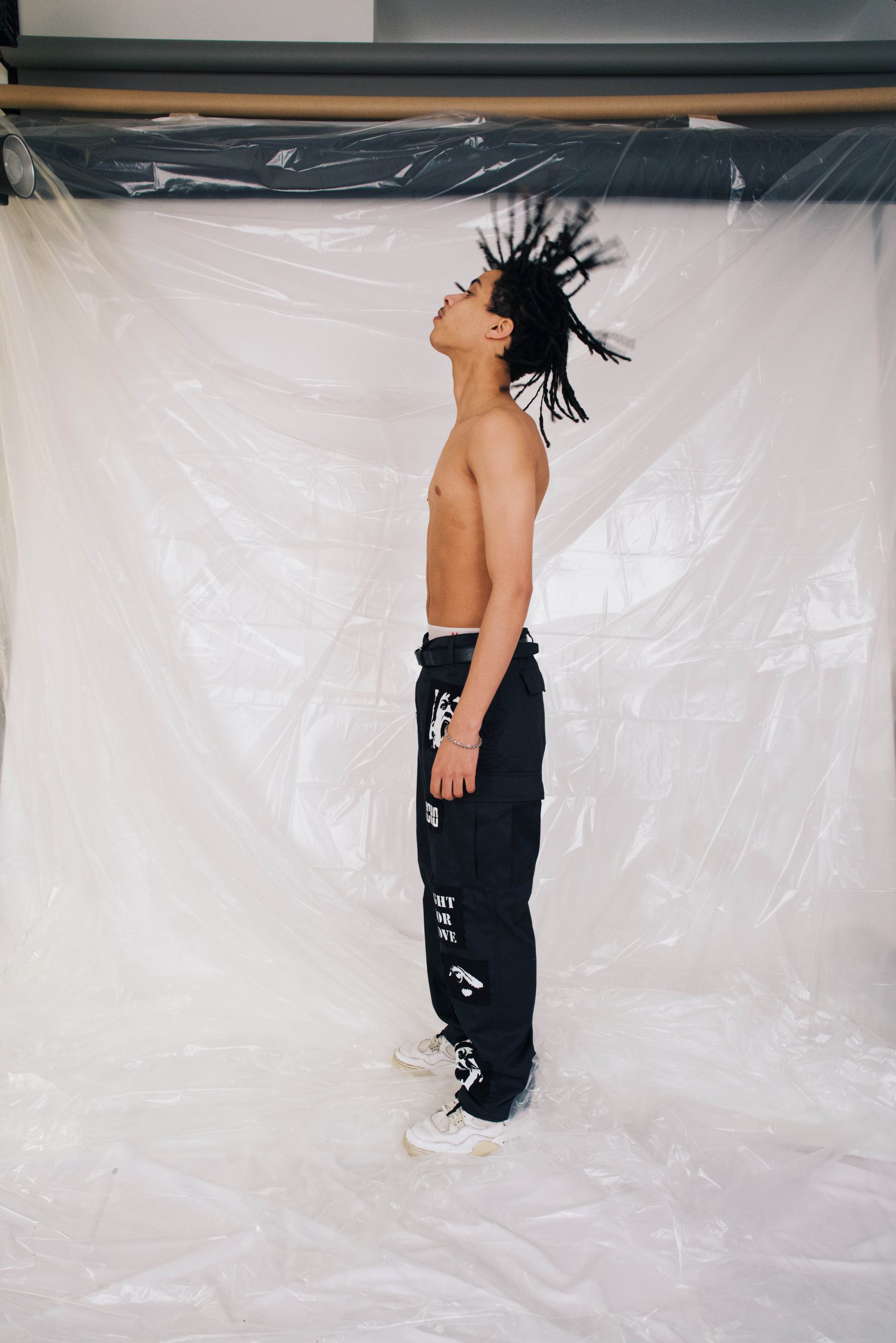 ‍
We're always on the lookout for the latest and greatest in the fashion industry, and today we're introducing you to a brand that's truly making a splash. NO/FAITH STUDIOS is a small but mighty player in the game, constantly pushing the boundaries and striving for growth and development. This brand is one to watch, and we're excited to share more about its latest collection and the creative mind behind it.
The latest drop from NO/FAITH STUDIOS is a masterful blend of melancholy and contemplation. With its focus on muted colors and patches, the collection is both intriguing and thought-provoking. But what really sets NO/FAITH STUDIOS apart is the passion and creativity that goes into each and every piece.
At the helm of this brand is 19-year-old skateboarder and artist, Luis Dobbelgarten. Despite his young age, Luis has already made a name for himself in the fashion world, having started NO/FAITH STUDIOS just a couple of years ago. In that time, he's transformed his vision into a reality, even renting his own studio last summer to bring his ideas to life.
The pieces in the latest collection are all created by Luis' own hands, without the help of a big team. This gives each piece a unique and personal touch, and you can feel the love and creativity that went into each piece. And when we sat down with Luis to talk about the collection and his personal fashion sense, it was clear that he's just getting started – the sky's the limit for this talented young designer.
So if you're looking for a brand that's pushing the boundaries and making a statement in the fashion world, look no further than NO/FAITH STUDIOS. With its unique vision and passionate creator, this is a brand that's definitely worth keeping an eye on.
‍
TITLE talked with him about the new collection and Luis personal fashion taste
‍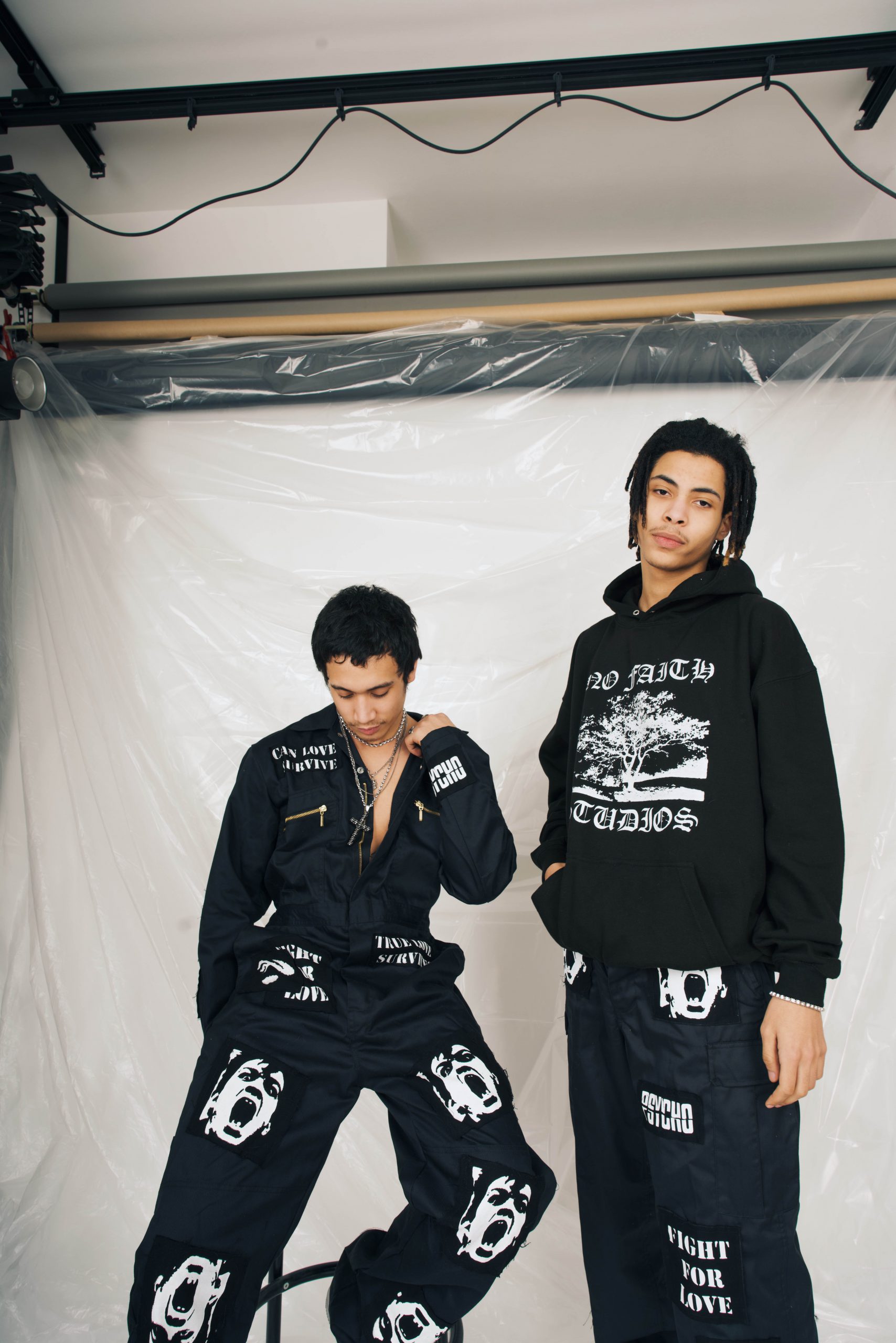 ‍How did you come up with the name "NO/FAITH STUDIOS"?‍
The name, which also stands for no fate, means that if you really love something, you should have the courage to go through with it. Instead of just talking about it and dreaming about it. It's also about not trusting anyone expect yourself.
What is your absolute favorite brand that you are 101% convinced of?‍
I don't really have a favorite brand, but I think designer brands like Raf Simons and MISBHV reflect the vibe I feel. I also love the work and cuts of Kiko Kostadinov, whom more and more people are seeing through his collaboration with Asics.
When I was in Paris at the end of 2017 and saw his first collection at Comme des Garçons, I knew straight away that this young man, who was born in Bulgaria, was going to make it big.
Which designer/brand would you most like to work with?‍
I think I'd rather start something with young designers who don't really have people on the screen like Vejas Kruszewski. There are some nice interviews of him, which I can only recommend, instead of writing a novel here now, why I think his work is so great and underrated!
The interview: https://youtu.be/XwarYcxoBhg
But a dream would be NO/FAITH STUDIOS x MOUBSEN x CONVERSE at some point.
Which piece is your favorite from the current collection?
The coat and the FLIGHT SUIT, but as an everyday piece, definitely the cargo pants!
‍
Which piece took you longest?
I think for the FLIGHT SUIT; I spent several hours just to put in the patches, because I just wanted them to harmonize perfectly!
Are you satisfied with the current drop, or are there still points you would have done differently?
I am definitely satisfied, but with my head I am already at the next collection!
I mean it is not self-evident that you can do something like this, all self-made, without a big team, at such a young age.
When can we expect the next release?
I will soon be dropping a new collection with very horny Dickies pieces. But it will be a little smaller, so that the pieces don't get lost.
Unfortunately I do not have an exact date yet.
‍