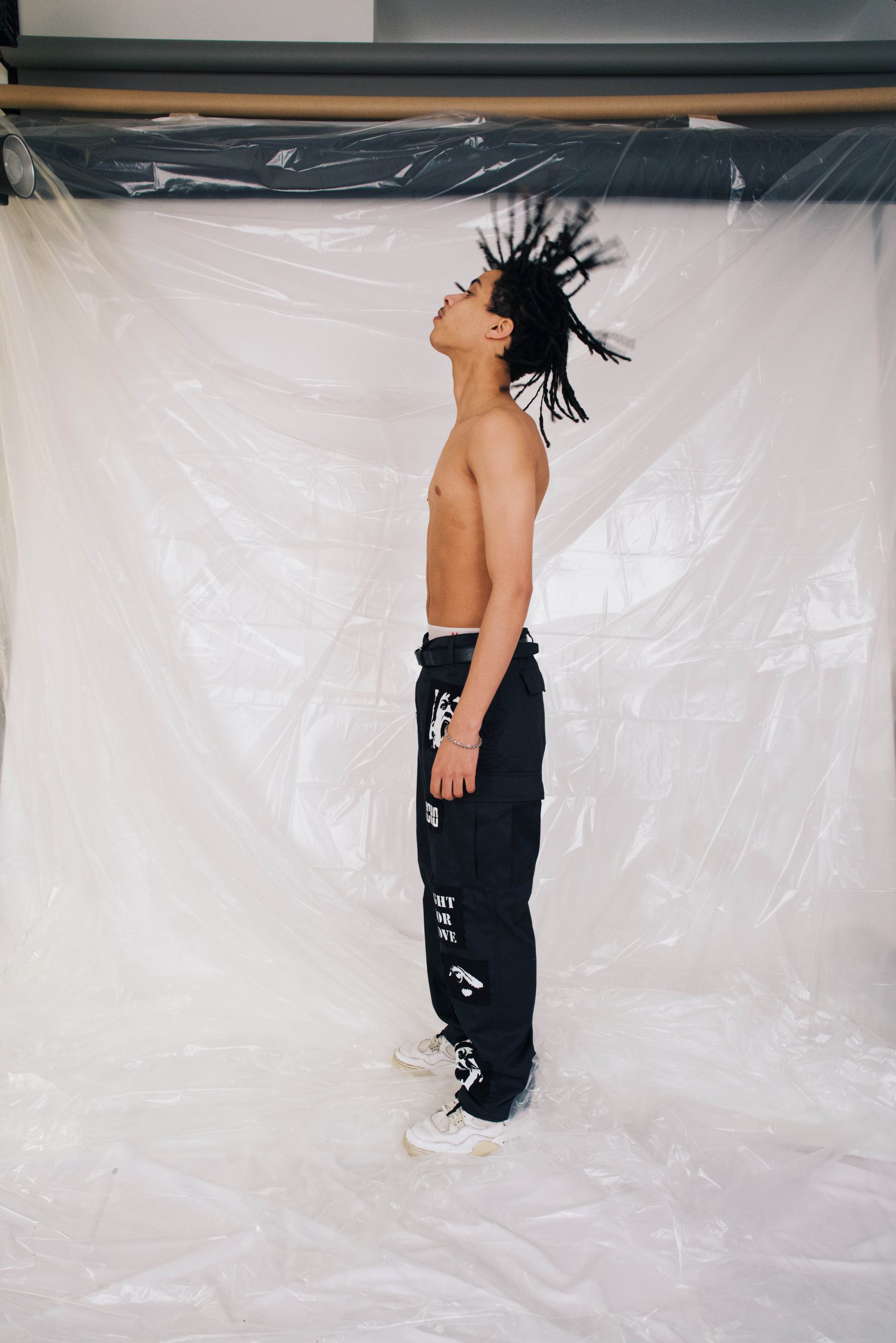 ‍
At TITLE we're keeping you updated about the big names in fashion industry regularly. In the following text we wanted to introduce you to one of the real fighters in the business instead. A brand that has worked hard on itself and strives for constant development, with the aim of swimming with the name of the big ballers: NO/FAITH STUDIOS.
Their latest drop is again very gloomy and melancholically contemplative. The artist works mainly with muted colors and patches. To get a better impression for the collection, we wanted to get to know the creative mind behind the collection. Luis Dobbelgarten is skateboarder and artist. The 19 year old created the brand just a couple of years ago and as time passes his initial vision becomes more and more reality. Last summer Luis even rented his own studio to bring his ideas to life. – One can really feel the creativity and love behind the pieces, all created by his own hands and without a big team.
‍
TITLE talked with him about the new collection and Luis personal fashion taste
‍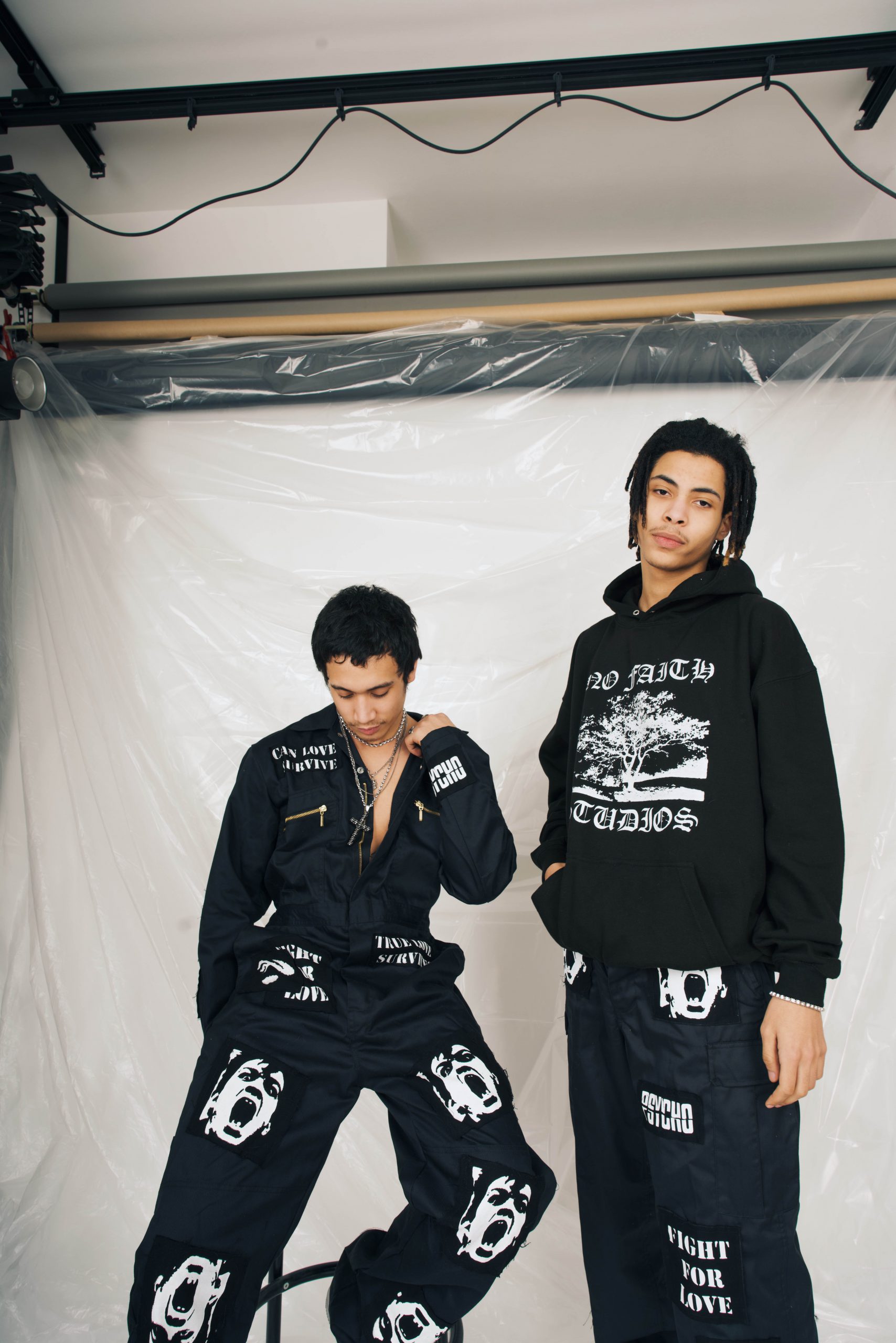 ‍How did you come up with the name "NO/FAITH STUDIOS"?‍

The name, which also stands for no fate, means that if you really love something, you should have the courage to go through with it. Instead of just talking about it and dreaming about it. It's also about not trusting anyone expect yourself.
What is your absolute favorite brand that you are 101% convinced of?‍
I don't really have a favorite brand, but I think designer brands like Raf Simons and MISBHV reflect the vibe I feel. I also love the work and cuts of Kiko Kostadinov, whom more and more people are seeing through his collaboration with Asics.
When I was in Paris at the end of 2017 and saw his first collection at Comme des Garçons, I knew straight away that this young man, who was born in Bulgaria, was going to make it big.
Which designer/brand would you most like to work with?‍
I think I'd rather start something with young designers who don't really have people on the screen like Vejas Kruszewski. There are some nice interviews of him, which I can only recommend, instead of writing a novel here now, why I think his work is so great and underrated!
The interview: https://youtu.be/XwarYcxoBhg
But a dream would be NO/FAITH STUDIOS x MOUBSEN x CONVERSE at some point.
Which piece is your favorite from the current collection?
The coat and the FLIGHT SUIT, but as an everyday piece, definitely the cargo pants!
‍
Which piece took you longest?
I think for the FLIGHT SUIT; I spent several hours just to put in the patches, because I just wanted them to harmonize perfectly!
Are you satisfied with the current drop, or are there still points you would have done differently?
I am definitely satisfied, but with my head I am already at the next collection!
I mean it is not self-evident that you can do something like this, all self-made, without a big team, at such a young age.
When can we expect the next release?
I will soon be dropping a new collection with very horny Dickies pieces. But it will be a little smaller, so that the pieces don't get lost.
Unfortunately I do not have an exact date yet.
‍