Nowadays everybody seems to be a fashion icon. If you have been of just the littlest relevance somewhere between the 80's and early 2000's and had the luck to be photographed on any given red carpet back then, you can count on being featured on one of the bazillion mood boards that are flooding Instagram right now.
Björk is more. Björk is not a fashion icon, not a fashion goddess… She is a "fashion gawdess". Just way to cool, to quirky, to much of her own to be compared to others… She is Björk.
But there is a problem…
It always comes down to the "swan dress". Whenever somewhere, somebody mentions the name Björk it won't take long until somebody mentions the "swan dress", the singer wore at the 73rd Academy Awards in 2001 and how wacky it was. How it was more fitting for a Halloween party than the red carpet (Ellen Degeneres wore a copy of the dress for laughs at the 2013 Emmy Awards).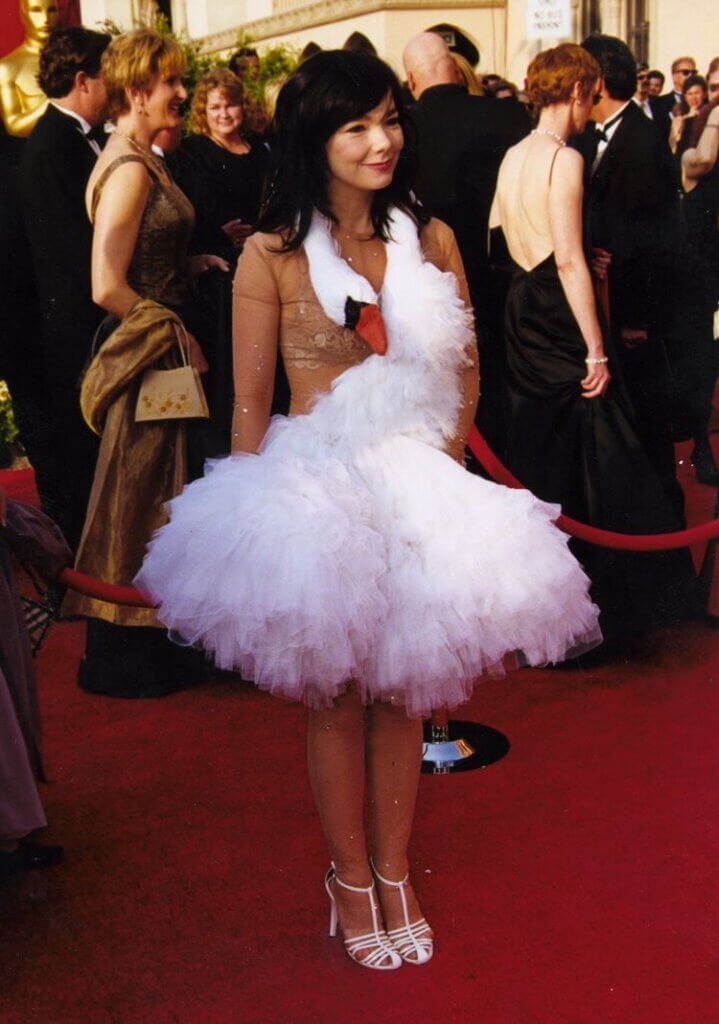 But what people often forget:
She was not nominated because of her extraordinary fashion choices, but because of the song "I've seen it all" from the soundtrack of "Dancer in the Dark" (A Lars von Trier directed movie she starred in).
And besides that nomination for one of the most prestigious awards, this multi-talented Icelandic singer has more than ten studio albums, eight live albums and several acting roles under her belt. Björk is unique in what she does and she is by any definition a true artist and has been one for over four decades now.
Björk was born in 1965 in Reykjavik, Iceland. She is a singer, songwriter, producer and actress. But people always talk about that "swan dress", not about how she developed her completely own style with influences ranging from classical to electronic, pop, jazz and trip hop. She was influenced by bands like Joy Division, Siouxsie and the Banshees as much as by singer Ella Fitzgerald. A look into her closet would be the pret-a-porter equivalent to those musical influences, but with Alexander McQueen, Commes des Garcons and Iris van Herpen taking control. Fashion was always one more way for her to make her art go full circle.
So the red carpet can be considered her stage as well.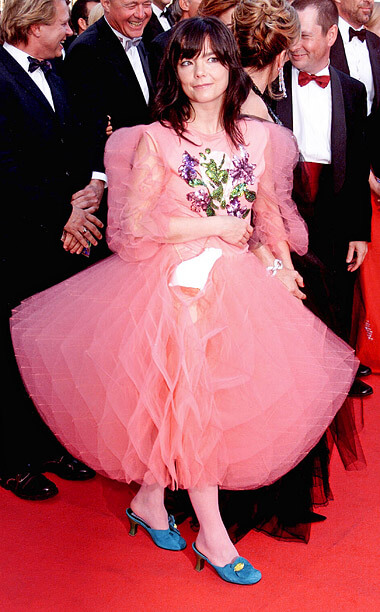 She could easily switch between an outlandish pink tulle dress like the one she wore at the 2000 Cannes Festival where she was awarded a Palme d'or for her movie "Dancer in the Dark" and something like her iconic outfit of a yellow chore coat combined with a graphic tee, that she wore at the 1996 MTV VMAs.
And have you ever seen anybody looking fresher while rocking a pair of Reebok Instapump Furys than her?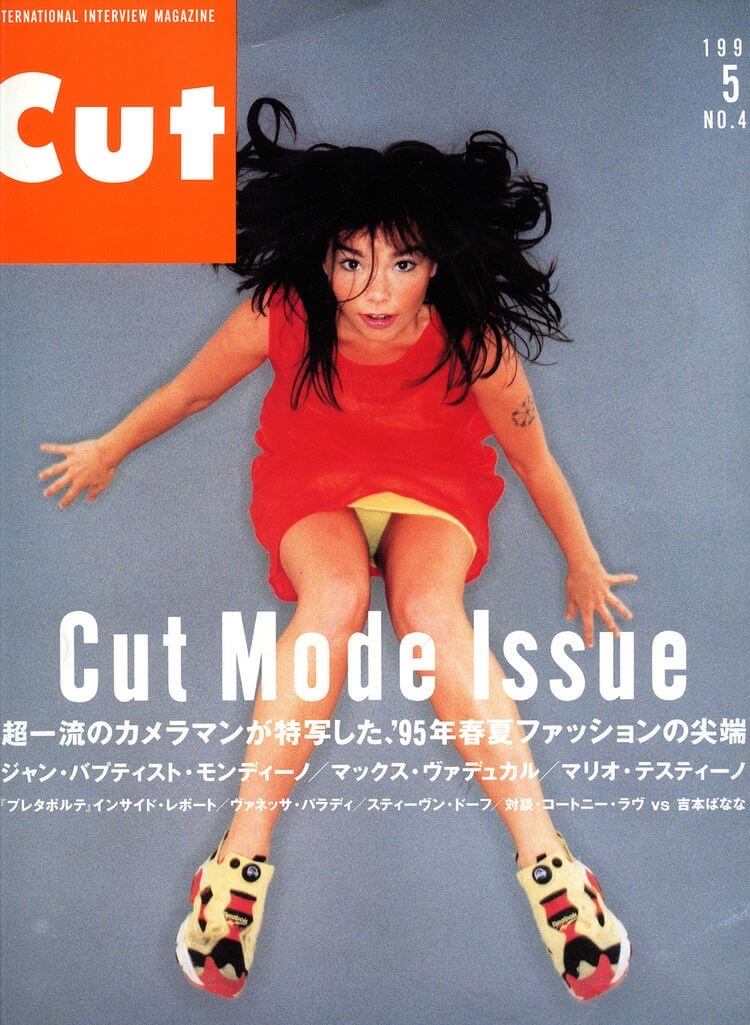 Or remember when she wore a black and white dress with a portrait of Michael Jackson embroidered on it at the 2001 Golden Globes Awards. That was surely one of the moments where the singer turned heads.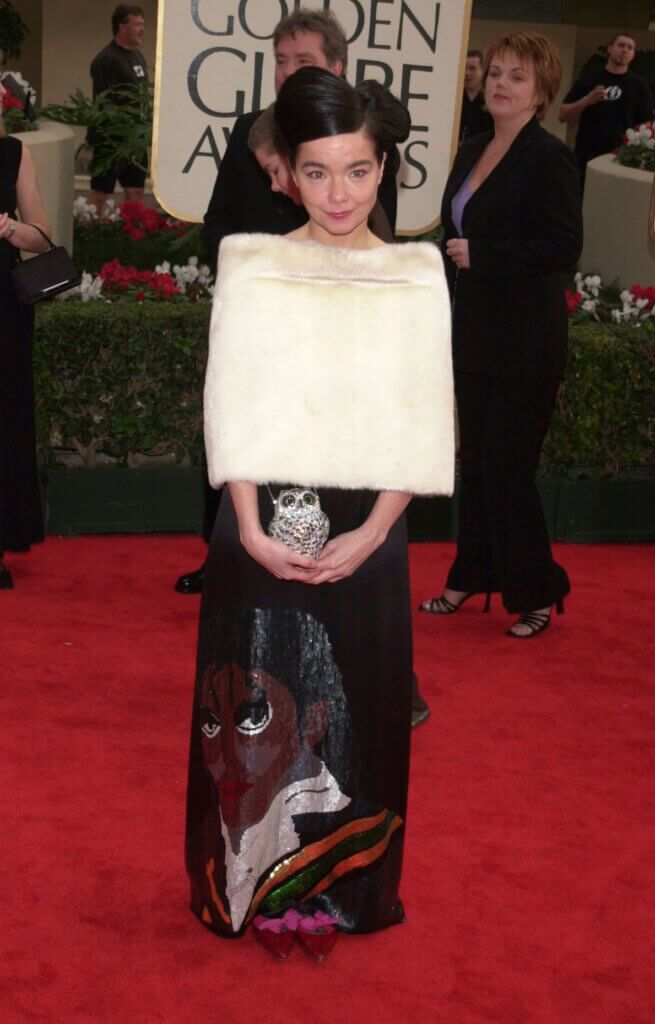 Talking about heads, her get up at the 2003 Fashion Rocks Event in London is definitely one for the books – she was completely dressed in black feathers with her face covered in crystals.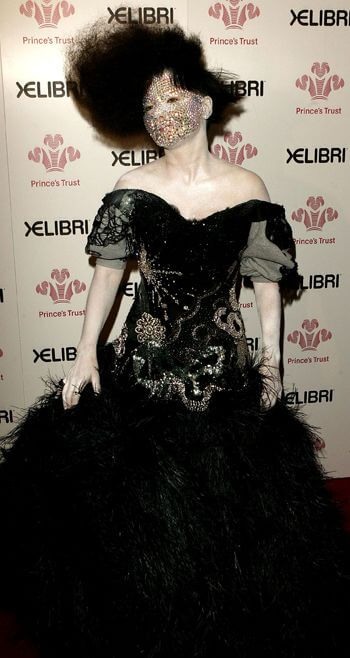 Something that always stood out was her third album.
"Homogenic" was released in 1997 and marked a change in her musical style by combining it with electronic beats and a focus on songs about her homeland, Iceland, for the first time. For the shooting of the cover she not only worked with well-known fashion photographer Nick Knight but had her good friend – designer Alexander McQueen – take care of her outfit.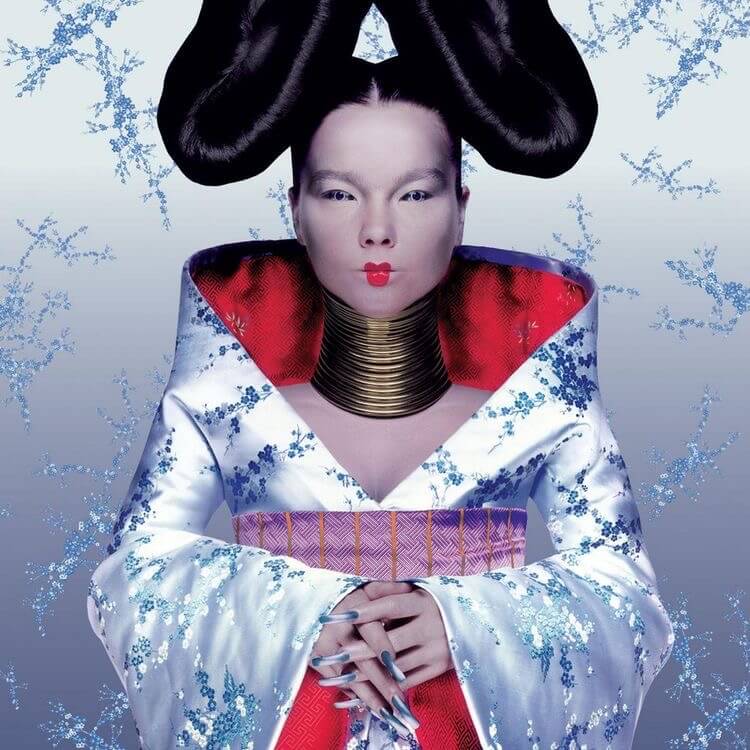 She wanted the cover to look like "someone who is put into an impossible situation. Someone who has to become a warrior. A warrior who has to fight not with weapons, but with love." She wanted to create a vision and with the help of fashion, it became true. That's why Björk is more than "just" a musician.
Her style can be described as dramatic. More of an act of morphing the human body by attaching clothes to it. She pushes the the boundaries of binary. Not only her music or her fashion, but she in general is avant-garde.
Or as Björk puts it: "It is a proposal of our possible future when we learn to get technology and nature to collaborate". 25 years have passed since the release of "Homogenic" and ever since it is a pleasure to witness the Icelandic multi-talent wether on stage, her voice coming coming out of your speakers or when she is walking the red carpet.
Oh… coming back to the "swan dress". It was designed by Macedonian Marjan Pejoski, who would later on start K-T-Z, the streetwear brand that was a main staple among the likes of A$AP Rocky, Kanye West or Big Sean in the 2010s.
Björk wore it first and that's why she will forever be a "fashion gawdess".
Need more proof? Just check our gallery: