The newest Netflix craze BEEF quickly gained popularity and attention for a number of reasons. Produced by A24, the show is humorous yet dark. Creator Lee Sung Yin portrayed a story that started with an LA road rage incident. Starring the infamous Ali Wong and Steven Yuen, the show dives deep into topics of family, identity, monetary values/class, depression, and the Asian American diaspora.
BEEF has a plentiful narrative in which Asian American characters are represented in more ways than just one. Although some roles could be considered ​​cliché, displaying a variety of characters with different lives, stories, and character types provides a possibility for Asian American representation on screen rarely seen before: not a stereotype. The juxtaposition between Wong and Yuen's lives in the series shows how much two completely different people can have in common, especially when it comes to mental health. You never know what someone might be going through. Without spoiling the ending; it's freakin crazy, so, definitely finish all ten episodes to see how well they wrapped this show up by escalating it to the max.
Each episode is introduced with intriguing almost mysterious titles, splattered across David Choe's intentionally disturbing art. The names of each episode are based on the titles and poetry quotes from famous writers such as Sylvia Plath, author of The Bell Jar author, and Betty Friedan, author of The Feminine Mystique. Plath having committed suicide by putting her head in an oven is more than reminiscent of the opening of BEEF. Episode One, "The Birds Don't Sing", quotes German Director Werner Herzog's documentary entitled Burden of Dreams. Episode two of the series, "The Rapture of Being Alive", is derived from an interview with author Joseph Campbell that references his beliefs on the meaning of life.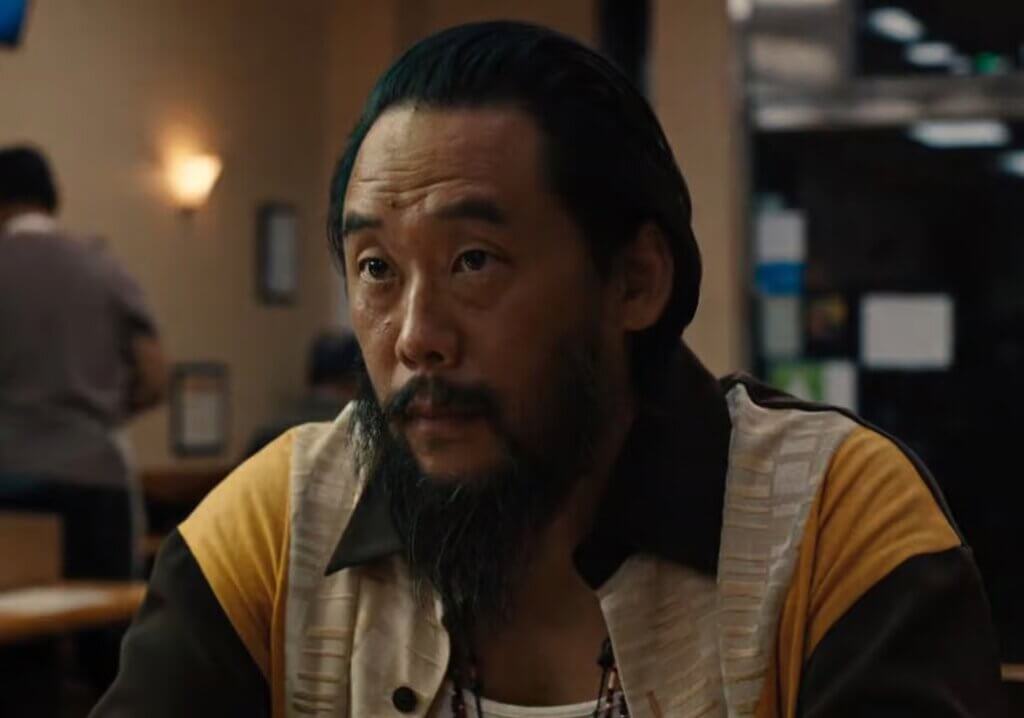 Now, on to the antagonist of the show played by David Choe. The abstract artist played a role that many find 'fitting' to his character. Not sure if that is a compliment considering the 'dickish' nature of that character but I'm sure Choe would take it as such. Over the years, Choe has caused a number of controversies based on the things he has said and created. The most shocking one is his podcast storytime in which he claims to tell a fictional story about coercing a masseuse into giving him sexual favors and proudly claiming the rapist title given to him by a fellow co-host on the podcast. Choe stated the story was fabricated and that he is not a rapist, a statement probably anyone in that position would make, whether it's true or false.
Many have taken to media to express their frustration with the casting of Choe, discrediting the show as a whole because of it and anticipating a statement from creator Yin and costars Wong and Yuen. They soon after broke their silence by stating exclusively to Vanity Fair their disagreement with the comments Choe made and that they have "seen him put in the work to get the mental health support he needed over the last decade to better himself and learn from his mistakes". While I think these comments are outrageously inappropriate and horrible to say, or even 'fabricate', I'm not sure the show should be discredited altogether. Even though Yin should have, or may have, anticipated the backlash he would receive for hiring Choe, the work others have done on the show deserves to be valued. I understand the boycott as Choe is heavily featured and will be making money and gaining attention from this project, however; Ali Wong and Steven Yuen deserve credit for their remarkable performances, the set designers deserve credit for their stylistic choices of home life in response to the plot, the costume designer deserves credit for her detail in wardrobe choices to reflect a disconnect from Wong's character's life and inner feelings, and the director/camera crew deserve credit for their detail to cinematic meaning and depth in the piece. I don't disagree with the disregard for Choe but I do believe there were others involved whose work should be paid attention to as well.
I, personally, recommend giving the series a try if you're comfortable. We don't have to stay silent about Choe, however, not everyone on that team deserves the backlash. It's a good show all around and a solid watch if you're looking for dark humor, layered characters, and surprise plot twists.