COVID-19 has made these past few months difficult for all of us. Not being able to see or hug our friends, being stuck at home all day, feeling like you need to be productive, and when you're not, feeling like you have somehow failed. This is a historic, once in a lifetime period where the world has come to a standstill.  and we all need to adapt to these new circumstances. We for one, have not been able to create the same level of content as before. Usually, we would tell stories through beautiful photographs that move us but since this isn't possible at the moment we had to think of other ways to spread the same message. To continue to tell stories visually, we asked a diverse group of artists within our TITLE community to put what we all have been thinking to paper, and make art out of our current situation.

The first artist we asked is Kicki Yang Zhang, a good friend of TITLE's and an incredible talented artist who digitally created a beautiful artwork for us. Kicki is a Berlin-based artist who doesn't confine herself to only making art on a canvas, but often opts to use her face as well, creating intricate and experimental illustrations with makeup and facepaint.
As a third culture kid living in Germany, she is very inspired by her Chines heritage, which you can clearly see in her art. Kicki is a force to behold in the art community and we're excited to see where her journey takes her. To get to know her and her art better, we asked her a couple of questions regarding her dreams and imagination, her creative process and what the first thing is she wants to do when quarantine is over.
Please introduce yourself briefly and let us know what you usually work on.

My name is Kicki, I'm a german-born Chinese artist, model, and influencer. My art is a lot of linework and influenced by my Chinese culture. I work digitally but also the old school way with pen and paper.
Has the epidemic influenced you positively or negatively so far?
I can tell I have a lot fewer clients since the pandemic started and it has taken a toll on my mental health, but it's also a great chance to reflect and work on myself and personal projects. I have a lot more time now to draw just for fun and it's very liberating.
What is your usual creative process, while working on a project?
I don't really have a process, I just go for it and everything else happens along the way. For me, the process of creating something is much more beautiful than the end result.
Could you explain how you handled the Alternative reality project and what went through your mind that lead you to your final piece?
I've always felt I live in my own alternative reality, and being in dreams or in my imagination is the greatest place to be.
What is the difference between your reality and alternatives?
In the alternative, manifestation happens a lot faster than in reality, that's why I love it there.
Would you say you are a realistic person and good at self-reflection?
I think I actually am. I think the first step you have to overcome is to realize you made a mistake, and that's what I've been working on mostly. Admitting is where most people already fail because accepting the fact that you made a mistake is uncomfortable and sometimes it hurts, but it's an important part of growth.
What inspires you the most, especially during hard times like these?
Definitely nature. I hope after this pandemic we can learn a lesson from nature and also learn how to treat nature better.
Any Artists you look up to?
Frida Kahlo and I really enjoy Kristen Lou-Wong's work.
What is the first thing you will do after the quarantine?
Travel! I miss my friends in China and in the USA. Can't wait to hug them again.
Do you have advice for people that struggle to stay motivated during this difficult and confusing time?
I've learned a trick and it really works on me so hopefully, it works on you. If you're unmotivated, force yourself to do something you really hate (for me it's washing dishes) and your brain will start to think of better things to do and I'm motivated to do it to get away from the task I really hate.
Is there anything you would like to add to your piece for this project, that you think people might not understand?
I like to include little messages in Chinese on my works. On the book it says "2020 why do you suck so much?" and it's somewhere I write my sorrows down and feel better after I put it to paper.
‍
Make art out of our current situation, thx Kicki: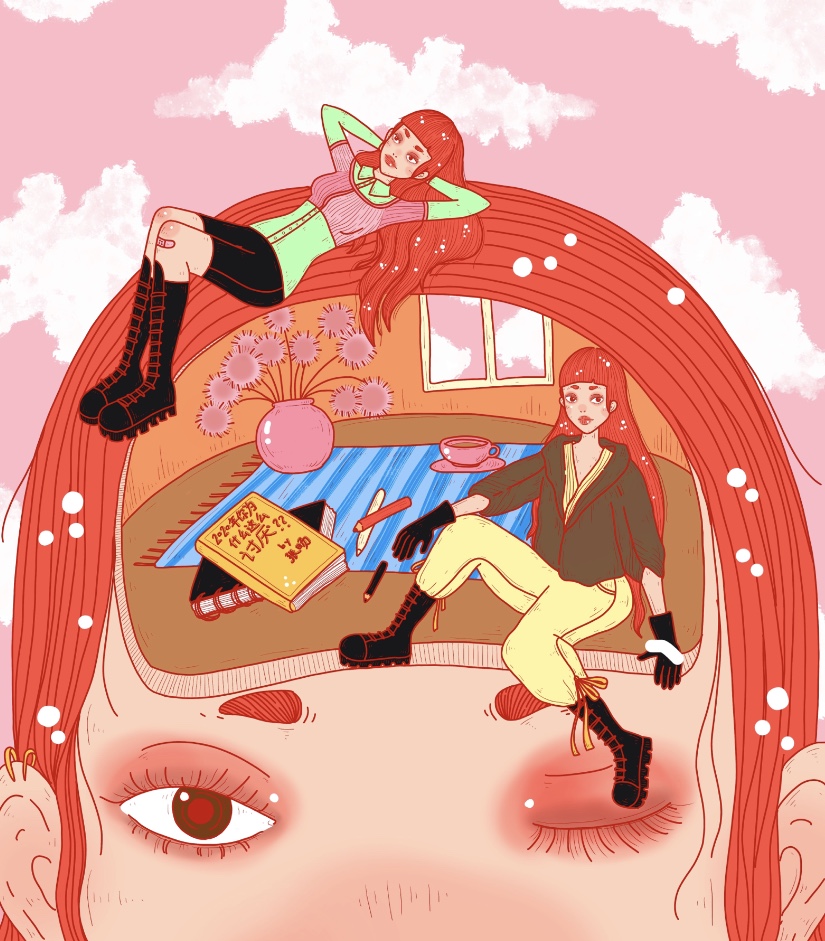 ‍