It has been more than two decades since African American artist Jean-Michael Basquiat passed away in 1988. His brief but hectic career came to an end with an overdose of heroin and other drugs in New York. As unfortunate his young death at 27 was, his talent and his his works have been honoured many times even shortly after his passing. Now, in 2020, the popular brand Dr. Martens launched a collection of shoes for men, women, and children that feature three of Basquiat's works.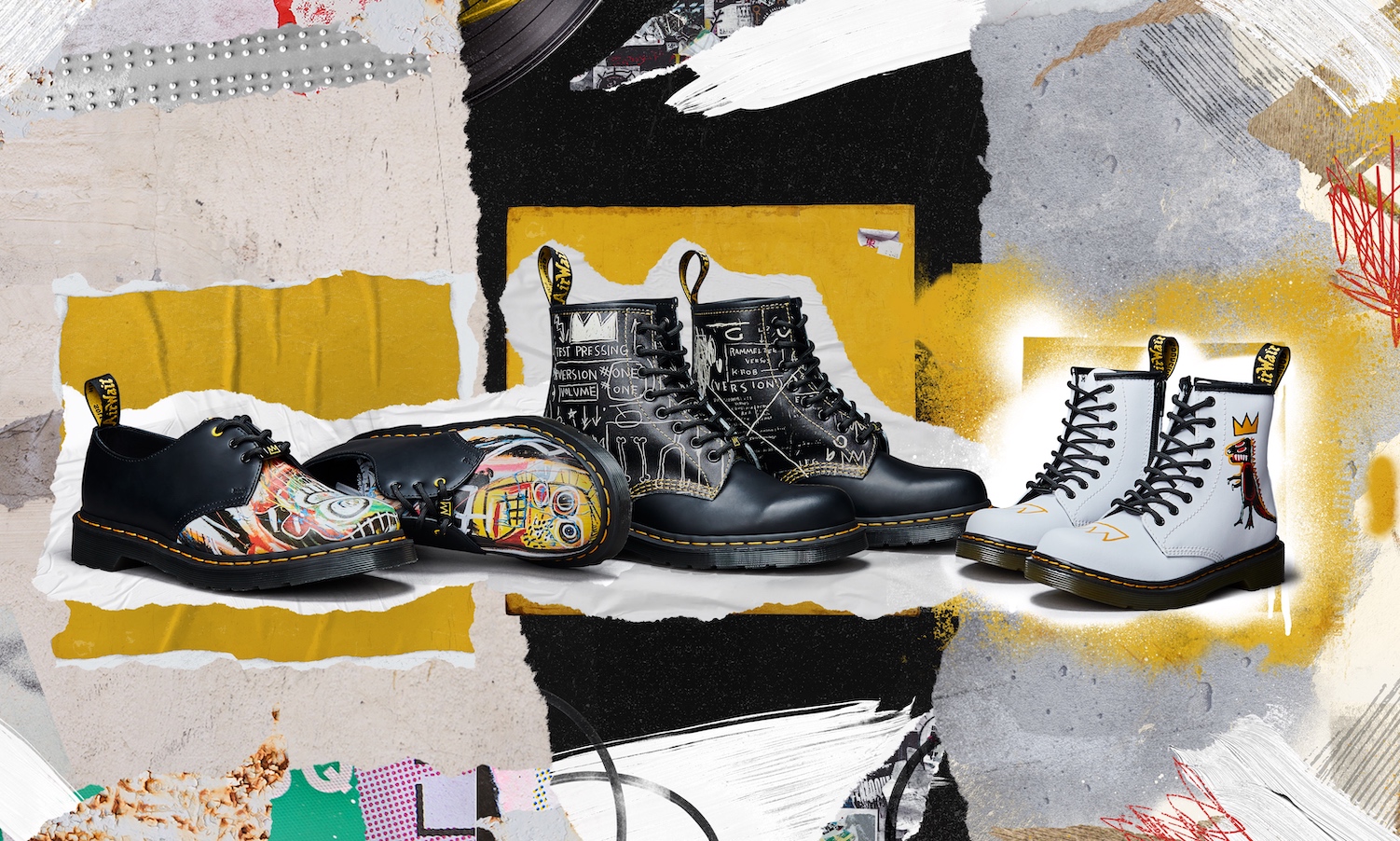 ‍

Before we discuss the collection any further, we want to introduce Basquiat to you in case you don't already know this legend of an artist:

Born in 1960 in Brooklyn, NY, Basquiat grew up very interested in art and the movies and his apparently talented doodling made him become a Junior Member of the Brooklyn Museum at the age of only six. His further development seemed rather rebellious – with 17 he  left home, dropped out of high school just before finishing and started tagging building around SoHo, NY, with his friend Al Diaz under the pseudonym SAMO ("same old shit"). This made him gain popularity rather quickly and after extending his sarcastic phrases and unique graphic style onto whole buildings, clothing items, and other objects, his first exhibitions came soon to follow.
‍

His works reflected his deep connection to the avant-garde culture of New York City in the 1980s. He often combined African, Hispanic, Aztec and antique imagery with his own iconography and iconic symbols. He always stayed true to his African American roots and often thematises racial conflicts and African culture in his works. In 1983 he became friends with Andy Warhol, with whom he worked on several projects. Unfortunately, around the same time he started using drugs, which worsened his mood swings and well-known bad temper. The death of Warhol effected Basquiat heavily and only a year later he died due to an overdose of drugs.

Basquiat's tragic death summarises his short and hectic, but productive and sustainable career. His art is counted into neoexpressionism and influenced many after him. He was one of the artists that made graffiti socially acceptable within the art scene. And even after his death, exhibitions were held, his work referenced in literature, music and even in fashion. Not only did Basquiat himself walk the runway for Comme des Garçons in 1987, he also used the clothes of designer Patricia Filed as canvas and inspired luxury designers from Louis Vuitton to Armani. And even hight street brands like Uniqlo, Reebok, and Supreme have collaborated with the Basquiat estate and printed his famous crown and portraits onto hoodies, beanies, and shirts.
‍

With the 2020 launch of the Dr. Martens x Basquiat collection, the legendary works of the artist found yet another place on an everyday item. This time we find three of Basquiat's designs on three popular models by Dr. Martens: The album cover "Beat Pop" can be found on the Original 8-Eye-Boot, the work "Dustheads" found its place on the 1461 shoe and reinterprets the Dr. Martens classic. Last but not least, the collection features a boot for children with the famous dinosaur design "Pez Dispenser".

In combination with Dr. Martens' values and background, Basquiat's incredible works are being reproduced in a clever way that emphasises the artist's and the brand's ultimate coolness and rebellious ideals.