And really, the long scene of puking and exploiting sewage is what many have praised.
But should Ruben Östlund's film about satire and privilege been the winner in lieu of Daniel Kwan and Daniel Scheinert's Everything Everywhere All at Once? Comparing films, the nature of their stories and aesthetics and pondering what should've happened feels irrelevant. But the nature of these two films is so far apart from each other that they've almost synchronised to unveil extremes of the same reality.
Triangle of Sadness debuted at Cannes last May and won the Palme d'Or for Best Film, and Everything Everywhere premiered at the SXSW Film Festival and gained immediate support with a cast that marks the renaissance of Asian-American representation. Östlund's film, on the other hand, is about the super-rich that we know well: heteronormative, white, eccentric, unaware. Triangle of Sadness sets the mood of banality and ridiculousness with a scene at a restaurant where model Carl and influencer Yaya discuss who's been paying the most during their dates, establishing it as one true to our time—a story that pries onto late capitalism and sets the foundations of our relationships on top those based on money and greed. And that's only the beginning.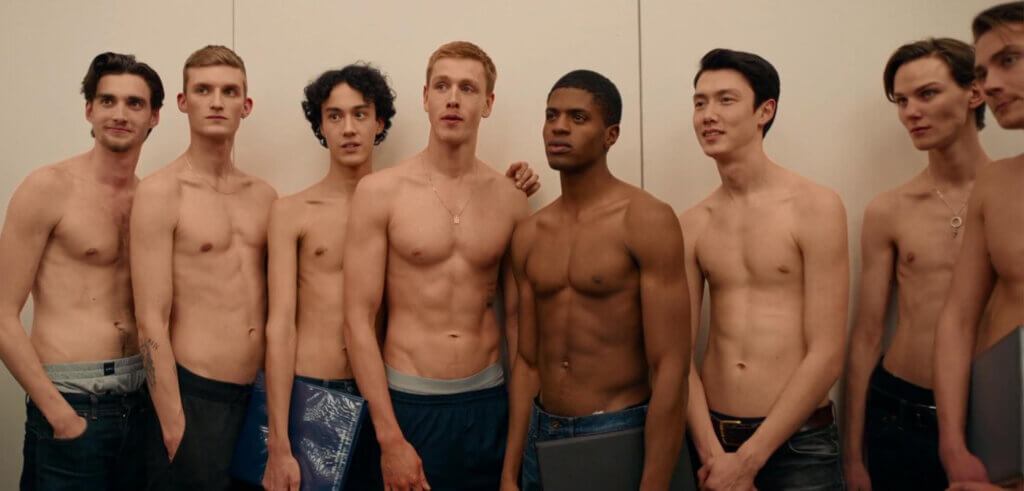 Most of the film takes place on a luxury cruise, where Carl and Yaya rub shoulders with the super-rich. The over two-hour film is filled with characters and instances that display the paradoxes of being rich, or better, the miserable mentality of the super-rich and their inability to see beyond the comforts of their reality. Pettiness and satire are at stake. While the script alone is hilarious and discharging for it allows us to openly and collectively laugh at the super-rich, there are other factors that have earned the film quite some success and that's namely the shift of scenario and roles announced with an unforeseeable twist of power dynamics.
But is the solstice of overexposing what we already know—the parody of archaic power dynamics what should've been praised at the Oscars? Not saying that The Academy Awards knows better what to praise.
To the surprise of many, the winner of the Best Picture was the tale of an immigrant fable and multiverse-crossing, which themes of kindness, gratitude and a touch of spirituality and generational interconnection won it seven awards last night. And one of the reasons is because Everything Everywhere has been revealing in a cultural and aesthetic way for it tells a story that's not profitable: one of sensibilities and kinship, of epiphanies that happen to everyone, including average people and dysfunctional families. But also, of idiosyncrasies and inexplicable journeys.
Everything Everywhere doesn't gore on macabre consumption or Insta beauty, as opposed to many productions of the like Triangle of Sadness such as White Lotus and The Menu, that have focused on portraying the decadency of the super-rich and their petty, useless existence capable of anything but their own extinction. The race between these two films feels like we're tiptoeing a journey between introspection or external validation.