It is very hard to not be aware of the constant releases of Marvel movies and TV shows. Every story the comic powerhouse brings to the screen seems to turn into blockbuster, both praised by audiences and critics. Following the success of their previous shows Wandavision, Hawkeye, Loki and Moon Knight, Marvel and Disney+ have released their newest show Ms. Marvel last month.
The project of introducing has been in talks since 2016 when Marvel Studios president Kevin Feige announced the release of Captain Marvel – the Brie Larsson starring introduction of the classic superhero to the big screen, that even went on to become the second highest-grossing debut movie of the Marvel Cinematic Universe.
By 2019 development for a Ms. Marvel show had begun with screenwriter Bisha K. Ali, Adil El Arbi, Bilall Fala, Meera Menon, Sharmeen Obaid-Chinoy hired as directors and Iman Vellani in the role of Kamala Khan/Ms. Marvel.
Who is Ms Marvel? 
Ms Marvel's alter ego is 16-year-old Kamala Khan, a teenage American Muslim girl from New Jersey. She is the daughter of Muneeba and Yusuf Khan and has an older brother named Aamir. While Kamala was born in the US her family immigrated from Karachi, Pakistan. Since her childhood she has been obsessed with superheroes like the Avengers and especially Carol Sanders/Captain Marvel, who she idolizes. Kamala seems to not fit in in school and comes into conflict with her sometimes conservative, but loving parents – the typical life of a teenager.
In the comics she gains her powers because of her being an Inhuman (Inhuman's abilities are similar to that of the mutants featured in X-Men), but because the Inhumans have not been introduced into the MCU yet, she gains her powers from a bracelet sent to her by her mysterious grandmother.
Something to be noted about Kamala is that she is not the first to take on the the mantle of Ms. Marvel. Before it was her turn, the three different heroes held the name – Carol Danvers, Sharon Ventura and Karla Sofen. All of them white. And of course none of them Muslim.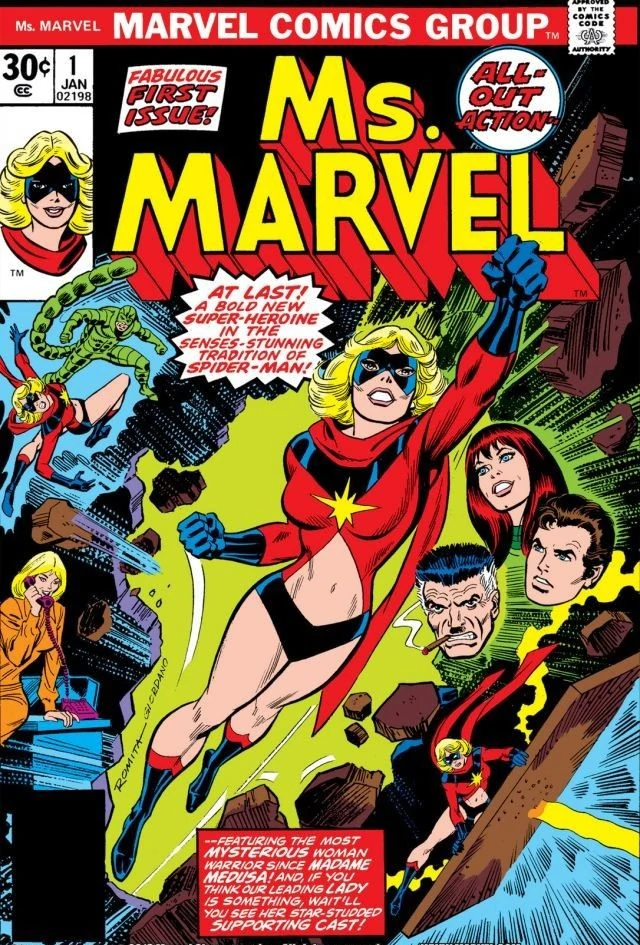 Ms. Marvel writer G. Willow Wilson stated that Islam would be a big part of Kamala's identity, but not in a preaching way, but as one of the many labels by which one can be imposed with and the struggle that comes with it. Something that many different young people can identify with. A form of representation that is needed.
Diversity in Comics?
The art of comic books has always attracted outsiders and there is no surprise that many artists included personal experiences into their works. When Jerry Siegel and Joe Schuster introduced the world to Superman in 1938, it was their jewish background, their experiences of being bullied because of their heritage and the fact that Siegel's father was killed in a robbery that inspired this almighty hero fighting for justice and equality. They painted his hair dark black – a striking contrast to the Nazi propaganda advertising a blonde, aryan "Ubermensch". Something they could identify with. Of course Superman was officially born on planet Krypton and the creators' intentions never made official canon.
For most of the time minorities in comics did not play a big role. If the story of a POC was to be shown, it seemed easier to just let Lois Lane switch race for an issue.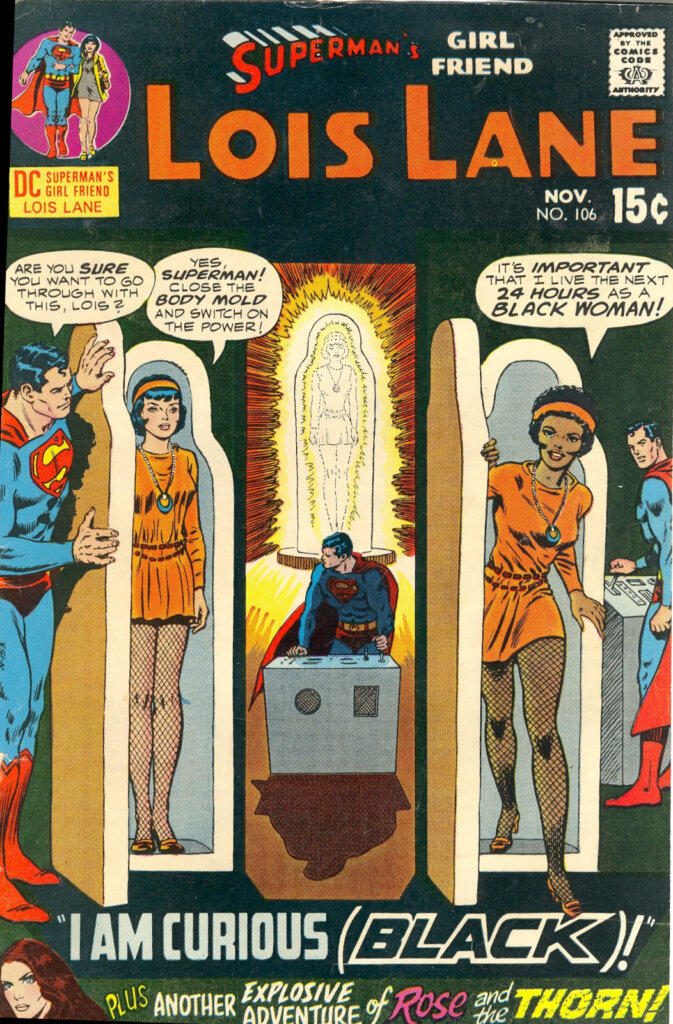 It also sounds nice to introduce a gay superhero to your comic book, but if the only representation for a whole community comes in the form of Gregorio "Extraño" de la Vega – a comic relief – you might ask yourself it it really serves the cause. Extraño was oozing negative stereotypes and I will not even try to describe what's wrong with DC Comic's Egg Fu. Just look at the following picture.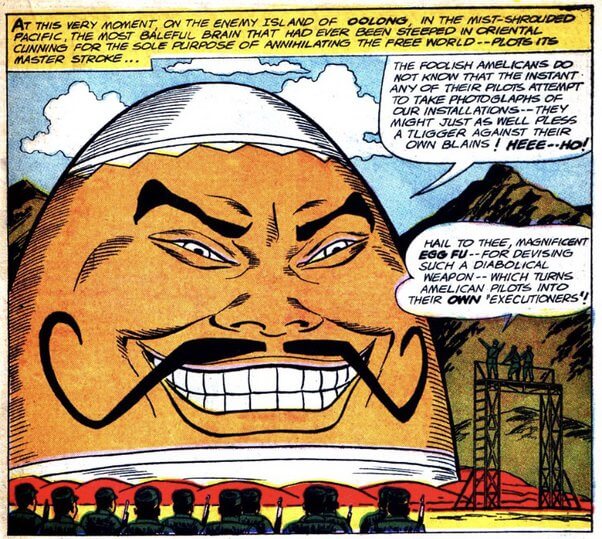 Diversity was never visible in comic books and the accompanying movies. But fortunately big blockbusters like Marvel's Black Panther (2018) proved that there is an audience for big superhero productions starring actors of color. The success gave Marvel trust in working on more projects directed at audiences that might not be the main focus group for superhero movies. Ms. Marvel therefore is not only intended as the first mainstream Muslim superhero, but also as a symbol for the empowerment of young women.
The inclusion of a muslim character into the ranks of the beloved Marvel heroes was welcomed by Muslim advocacy groups as a "window into American Muslim life" and a much needed way to counter the post 9/11 portrayal of Muslims as terrorists and antagonists in media and pop culture.
But as one can imagine negative backlash was right around the corner. Online trolls were eager to flood websites like IMBD and Rotten Tomatoes with negative reviews and especially targeted the "political correctness" of featuring a Muslim main protagonist as "brainwashing". The critics on the other hand praised the series and just last week the 2023 release for The Marvels, a big screen movie featuring Brie Larsson and Iman Vellani in their roles as Captain Marvel and Miss Marvel. The future seems bright, powerful, female and diverse.
Kamala Khan will continue to inspire audiences, just like she even did when her adventures were only available printed: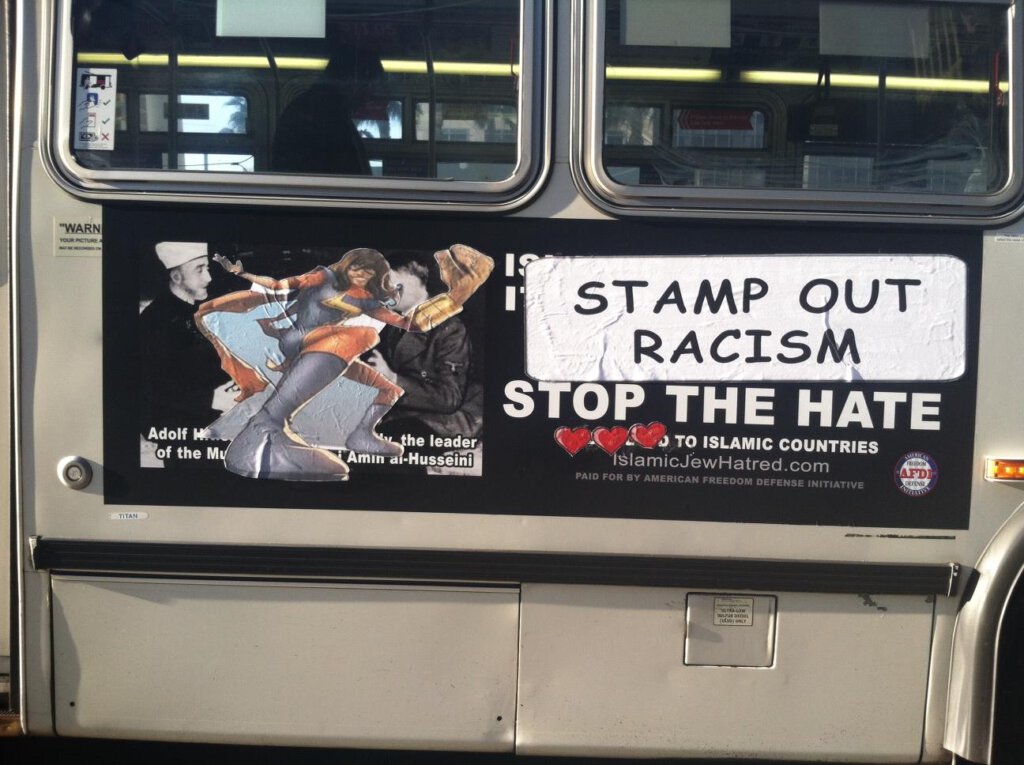 Because when paid anti-islamic advertisements started showing up on busses in San Francisco in 2015, it did not take long for activists to bust the hate-spreading ads by placing Ms. Marvel posters over it
A job that shows that it does not need special powers to make the world a better place. Something that superheroes for centuries taught us – from a Jewish Superman to a Muslim Ms. Marvel.
Ms. Marvel is now available on Disney+.