KSBP is a Berlin-based artists' collective consisting of Tancrède Boualam, Selena Kim and Agnese Ghinassi. The trio specializes in art curation, direction and production. We asked the young creative team about their project and collaborative process.
‍
KSBP means Konzept Seoul Berlin Paris. What's behind this name?

Selena: Berlin stands between Seoul and Paris, because we thought about what could help us to express our identity. It stands for us. I, for example, am originally from Seoul and Tancrède from Paris and we all met in Berlin. The word Konzept ("concept" in German) is based on the way we work.

Tancrède: The word concept is indeed very important for what we do. Because every project, every event, every work of art begins with the concept. It is what we start with.
How did you three get to know each other?

Agnese: The common denominator of us all is Tancrède. I met him for the first time at Berghain and through him I met Selena afterwards. 

Tancrède: For my part, I was in Seoul for two months in 2017 and I saw an art installation that Selena's team had produced reinterpreting the identity of a fashion brand. It has been a major inspiration for the multidisciplinary events I organized back in Paris.

Selena: We didn't know each other back then but when I moved to Berlin in 2019, a mutual friend of ours introduced us because he thought we could pursue something in common.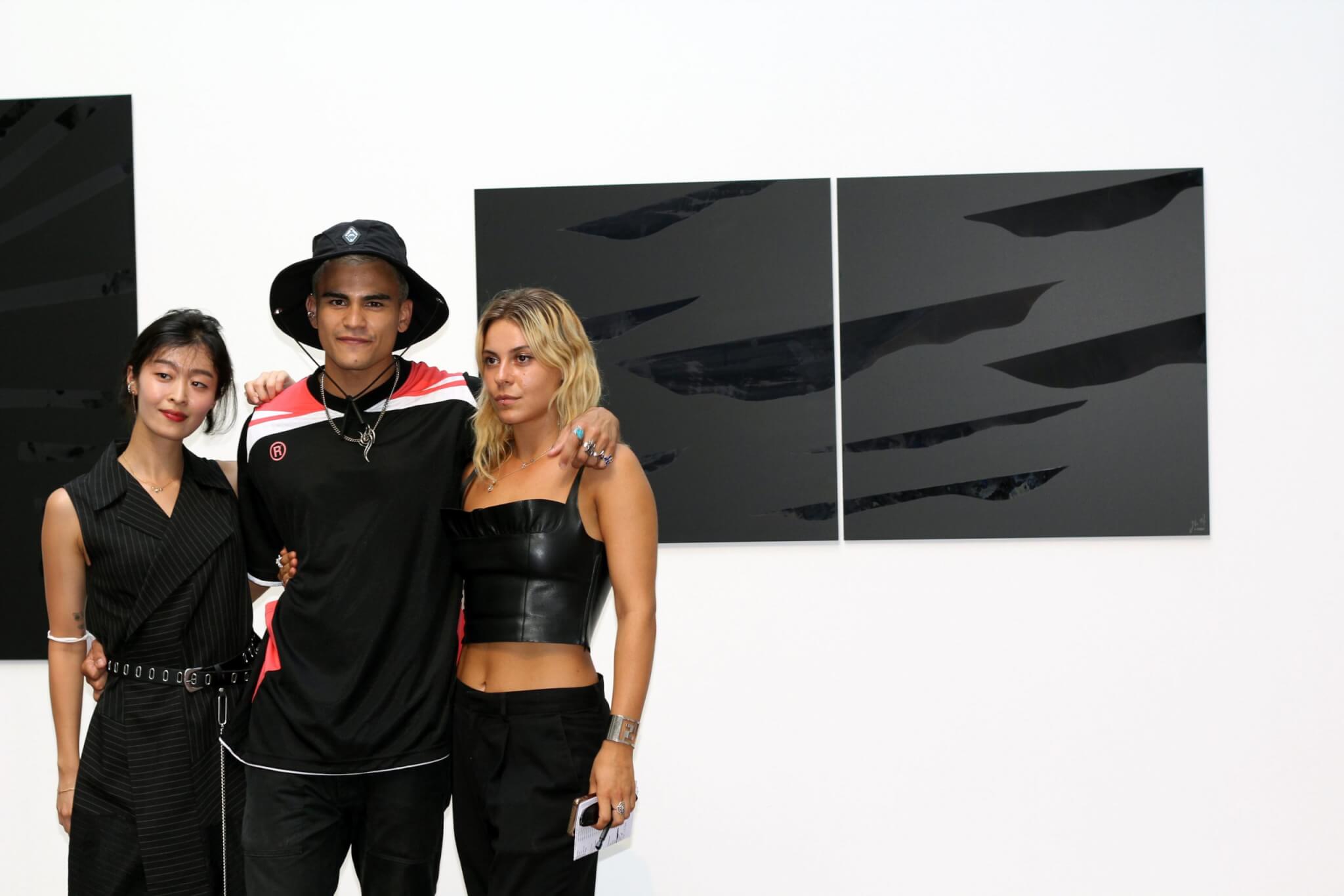 Do you each have a different area of responsibility or do you work in an interdisciplinary manner?

Selena: Of course, everyone has their own expertise and a field in which they are good, but in the end we work very versatile and openly. Agnese for example with her background in public relations and music management brought a lot of experience into the group and also for our common project. And Tancrède is very good at finding ideas and concept development, as well as art direction together with the artist. And for me it is mainly the side of refining and curating. 
In August you had your first exhibition with the artist duo K40 in the Reinbeckhallen. The exhibition was based on the work of the French contemporary artist Pierre Soulages. Why Pierre Soulages?

Tancrède: Pierre Soulage is my favorite painter. His concept "Beyond Black" or "Outrenoir" is about the hidden light within the color black, which is mainly a mental state. This was just the right moment to take it up, on the one hand because of his centenary and on the other hand it was meaningful concepts that were worth trying to recreate in a new way.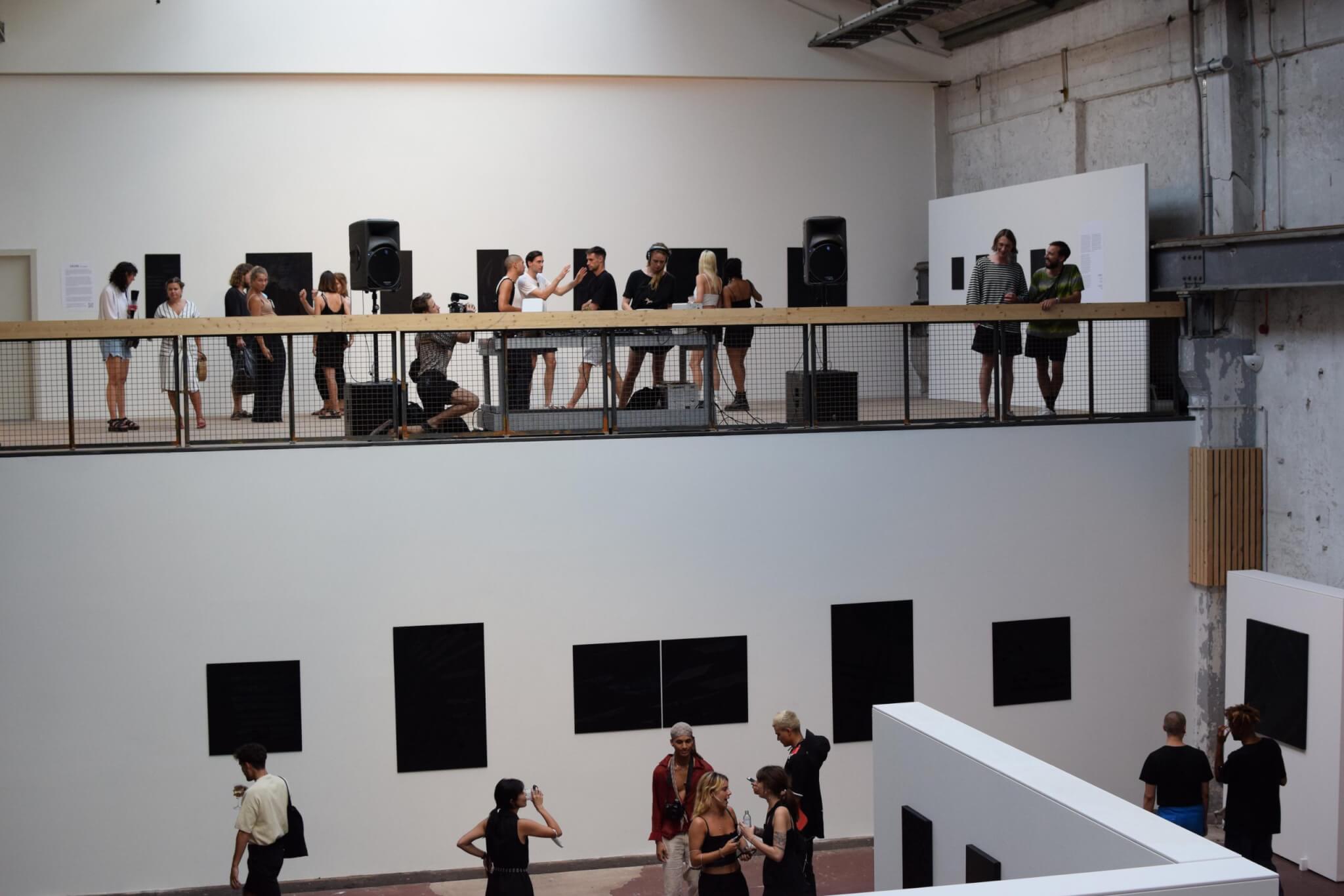 How did the collaboration with K40 come about and how do you choose the artists in general you want to collaborate with?
Selena: We came into contact with K40 because Tancrède had already worked with them. We proposed the concept to the artist duo and from there the collaboration evolved simultaneously. Previously their focus was mainly on lasers but our exhibition was about expanding to new interfaces of art and technology. They experimented with acid on aluminum plates and using lasers not only for the burning and modification of the surface, but also as a mechanical painting arm. From both sides, we wanted to push us to do better. Together we created something that we probably would not have been able to as individuals.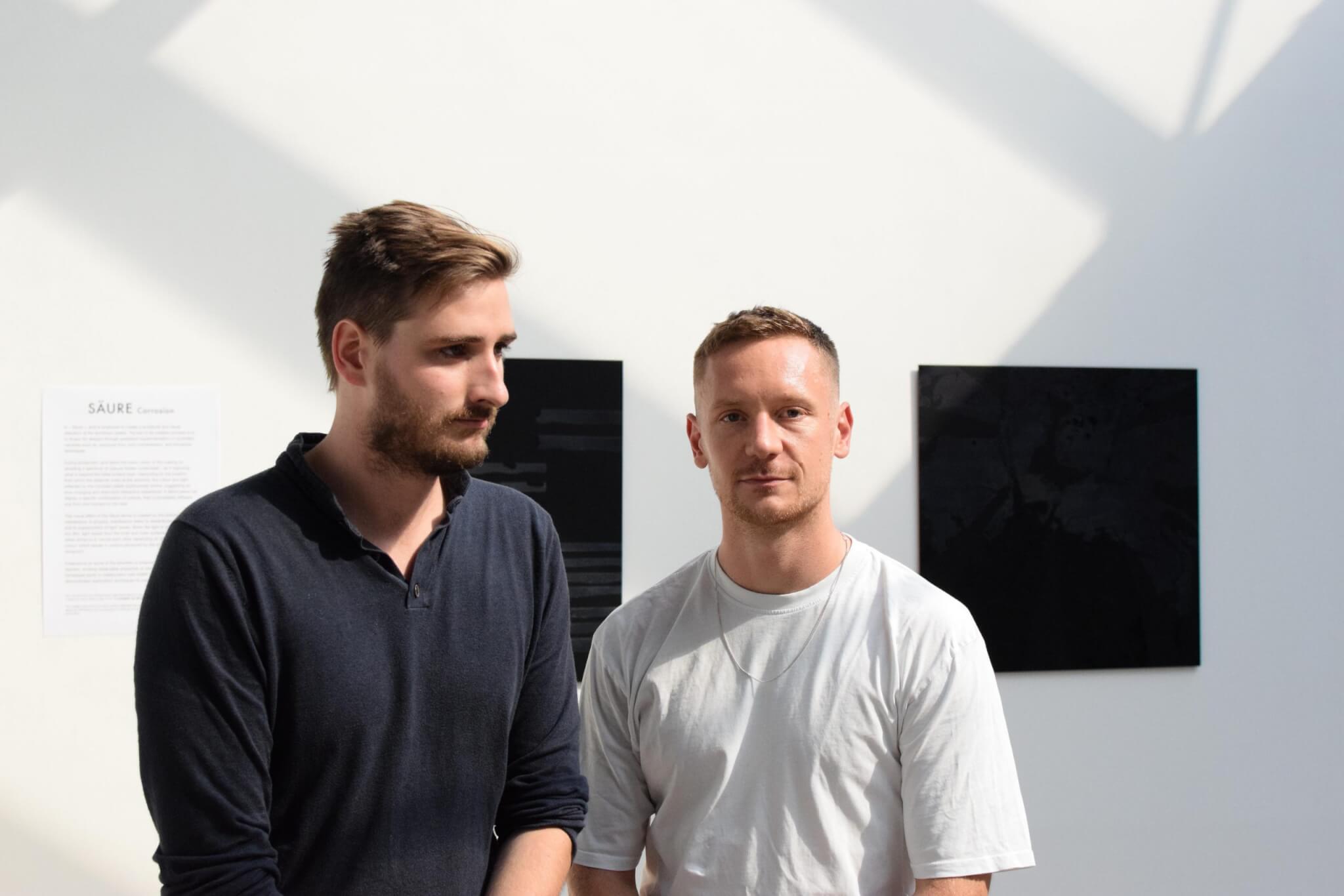 The Outrenoir exhibition was also very interesting musically and sound-wise. How important is the connection between representational art and music / sound to you?

Agnese: In the beginning when we planned the exhibition, the focus was not really on music. However, Music has a big impact on our daily lives, it can shape consciously and unconsciously so many things. Thinking about the whole experience, we realized the importance of having musical artists that could reflect the concept of our exhibition. The visitors needed to be able to get their own personal impression of the combination of artwork and music. That's why we had artists like Dasha Rush, as she works in many interdisciplinary ways and for the closing Flavia Laus, who made a very dark inspired set that was reflecting the "Outrenoir" theme. Also music is very linked with the Berlin part of KSBP identity. Having these artists on board enhanced the whole exhibition.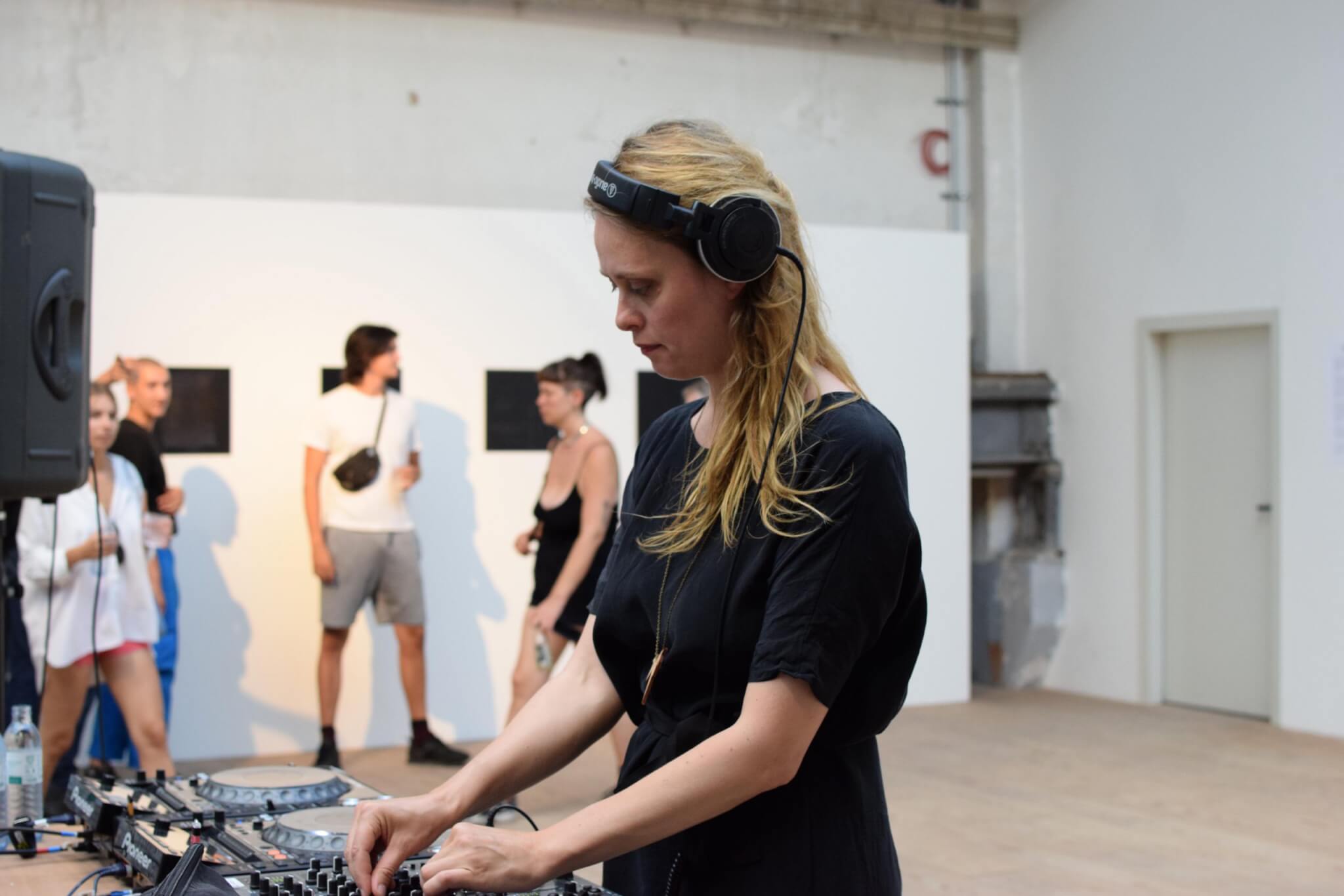 As (among other things) the organizer of events such as exhibitions, how do you deal with the current pandemic situation?‍
Agnese: This was one of the moments in which our interdisciplinary approach helped a lot, since no one is an expert of Exhibitions during Pandemics we all put forces together to make it happen.
Selena: Originally we were planning to do it much earlier this year. We waited until we could offer the personal experience, because we couldn't find a satisfying solution to enjoy art digitally. Although it is a very difficult and painful time, it was also a time of self-reflection and recognizing the light in the dark.
Tancrède: As an organizer, the pandemic is very blocking because it drives you away from the essence of art. To consume digital art it is not possible to recognize the core identity of the artwork according to Marcel Duchamp. So a meeting was necessary, especially to get the personal experience with the light as well as with the changing color of the artworks.‍
‍
What makes KSBP the perfect addition to the capitals art and creative scene?‍
Tancrède: The good addition we have is from the different backgrounds and the common will and passion, like the fact that we have the influence of Paris and Seoul which are both very creative and culturally influential cities, and in addition integrating the culture of Berlin as well. We bring a full experience composed by different people creating it, that's also very unique. 

What are your next goals for the future?

Selena: Keep doing what we're best at doing and evolve from what we already created. The core approach will stay the same, and we will continue exploring Pierre Soulages concept but with different mediums, through new collaborations and hopefully in other cities. 
Each of you can now give out either a music, book or movie recommendation to the title readers. What do you have in mind for this?

Agnese: Experimental and ambient music has been fundamental during this lockdown period. Lately I came back to an old crush-track of mine, 'Orphans' by Aphex Twin. I highly suggest listening to all his work.

Selena: Speaking of revisiting old crushes, I'm rereading Regarding the Pain of Others by Susan Sontag. It makes me think about how otherness plays into our perception of different struggles 2020 experienced. 

Tancrède: I would recommend Dead Man by Jim Jarmush. It's my all time favourite movie, thanks to its images, messages and music, that combined together give it an immense poetic strength.