Unbelievably, 30 years have passed since the beginning of the 1990s. The 1990s were a time of multiculturalism, uproot, and a revolutionary decade for digital technology. With all of the technological progress and the 2000s coming up, the 90s marked a time of uncertainty towards the future which can be seen in the fashion of the 1990s. The fashion had many turning points, most notably grunge, minimalism, and glam, and was an extremely influential time in a fashion that can be felt to this day. For this reason, we at TITLE have chosen to present to you our favorite jaw-dropping collections from the 1990s and our favorite looks
‍
Yohji Yamamoto SS 1990
Yamamoto's clothes are typically deconstructed, unfinished, raw and above all imperfect. He finds beauty in all things imperfect because true perfection is impossible, but this collection definitely comes close.
Vivienne Westwood SS 1992
A collection so influential that even now, almost 30 years later, people are taking inspiration from these silhouettes by incorporating corsets. Vivienne Westwood was the first and most iconic one to do it, integrating beautiful 18th-century renaissance drawings into her designs. Taking inspiration from 18th-century fashion and fusing it with her notorious grunge style was a serious power move. Also, can we please take a moment to appreciate those cutouts in the pants that almost every second Instagram influencer sports nowadays? Westwood was way ahead of her time with this collection.
Perry Ellis 1993
This fashion show got Marc Jacobs fired but was a revolutionary step to cementing his career as a designer and making grunge high fashion. Grunge had just broken into the mainstream, but this was the first time it made an appearance on the runway. With flanneled shirts and long skirts paired with Dr. Martens the then 29-year-old designer sent shockwaves through the fashion industry, causing critics to describe the show as "ghastly", saying "grunge is anathema to fashion". Nonetheless, Jacobs was clearly far ahead of his time, as you can still see these looks influencing the way we dress nowadays.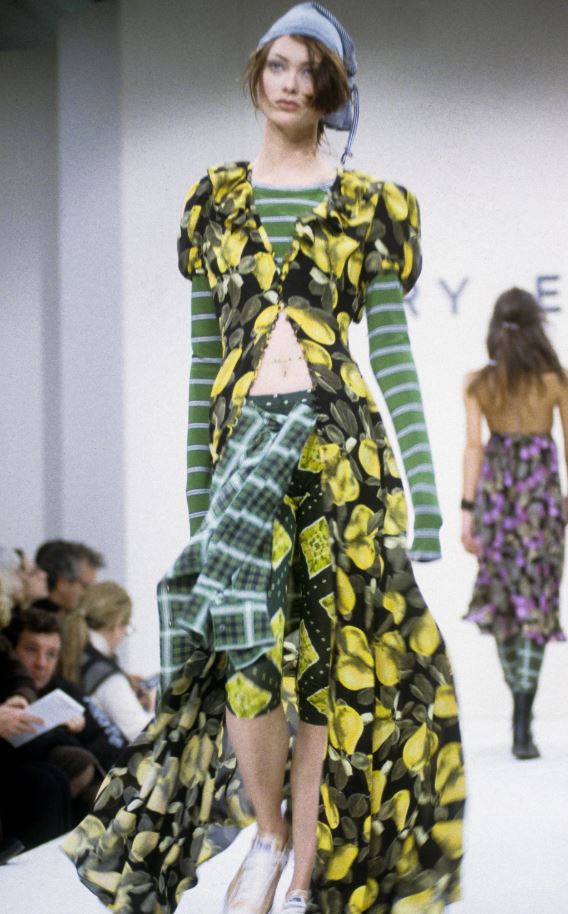 ‍
Calvin Klein SS 1994
Klein's spring/summer 1994 collection was at the height of his craft and proved him as a designer. Small details — a slight tulip-shaped flair of a skirt — elevated the collection to great heights. The colors weren't just beige, but variants on the color of women's skin. "Face powder-y colors," Klein told CNN. In the years following, few designers have managed to cut a slip quite so right.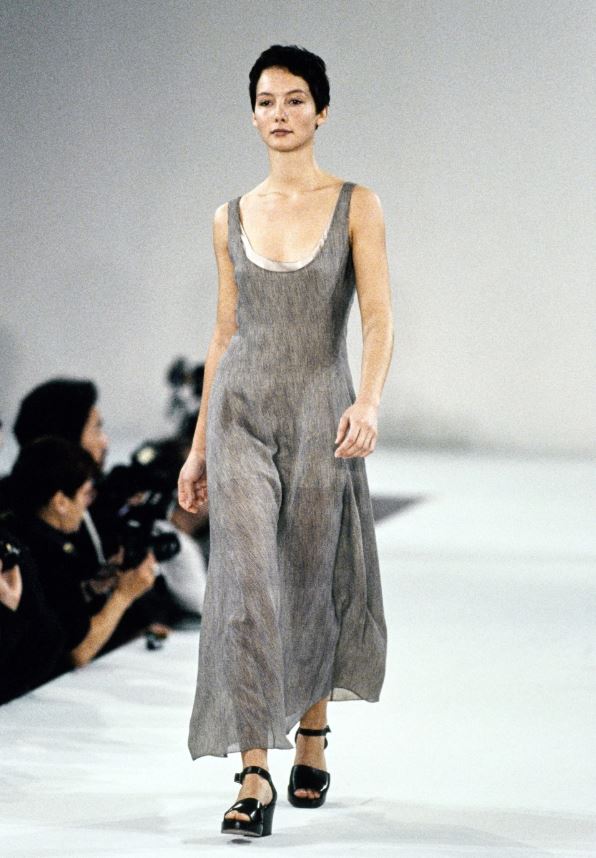 ‍
Chanel SS 1994
Karl Lagerfeld started having a lot more fun with Chanel in the late 1980s and early '90s, breaking away from the house's old-school image, while still staying true to the brand's heritage. The corsets and the mini-skirts from this collection are to die for. Just look at those colors…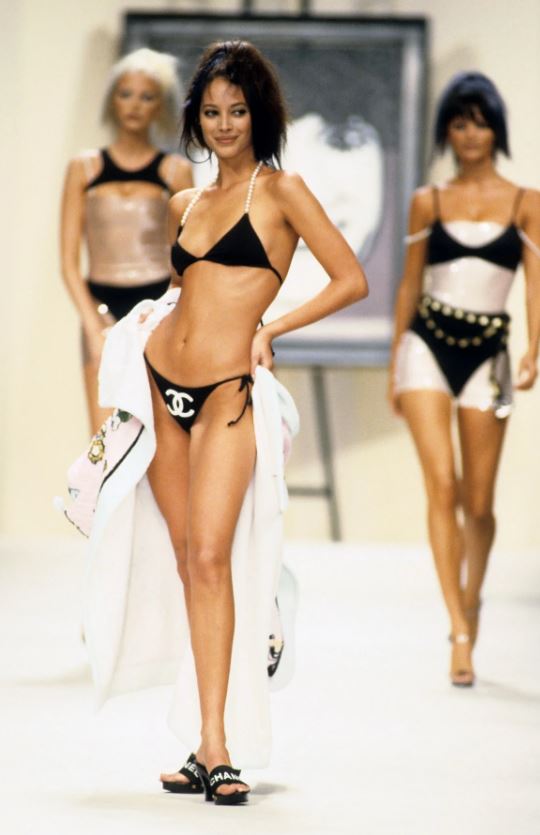 VERSACE SS 1994
The Versace S/S collection was one of the most iconic collections of the 90s. This collection featured the incredible, eye-popping golden safety pin dress worn by Elizabeth Hurley that became one of the most memorable dresses of the 90s. It also featured Christy Turlington in a Lolitaesque outfit, and Kate Moss in a navy pin-striped suit, reminiscent of a catholic school girl. The collection is very closely related to the bondage collection of Fall 1992 but is more punk in its expression.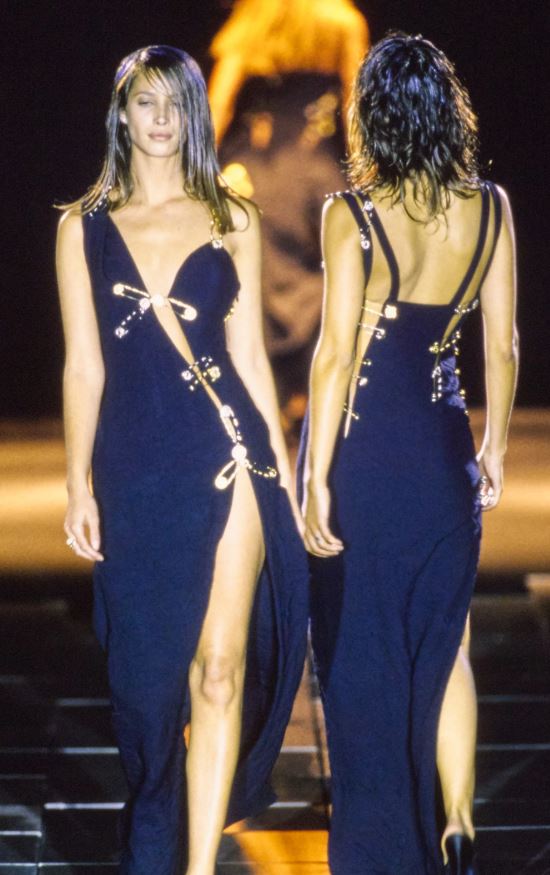 Thierry Mugler 1995 Couture Le Cirque
Mugler is called the prophet of futurism for a reason. This collection is one of many of his unapologetically extravagant shows, transforming women unto supervixens and otherworldly creatures. Mugler was a showman who went on to design costumes for the movies and the circus – and it shows. The show was memorable for its performance by James Brown, its rather liberal use of fetishistic latex and THE CYBORG LADY. The silvery cyborg getup was revealed when a model shed her floor-length coat later famously photographed by Helmut Newton.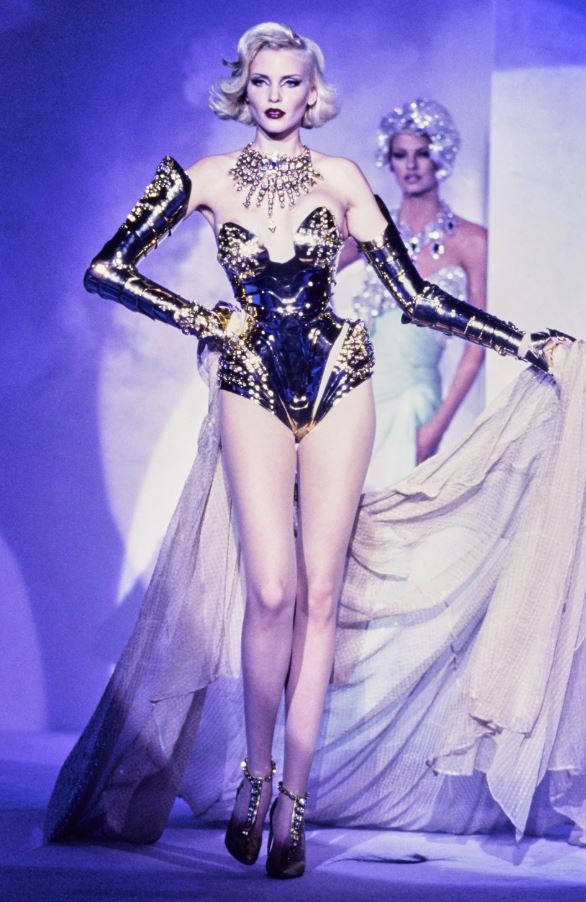 ---
Gucci 1995 FW
This was Tom Ford's breakthrough collection, catapulting Tom Ford to fame and taking a previously sleepy Gucci to the next level. Inspired by seventies designs that he took in a new super glam direction with unbuttoned satin shirts and velvet, bell-bottom hip-huggers.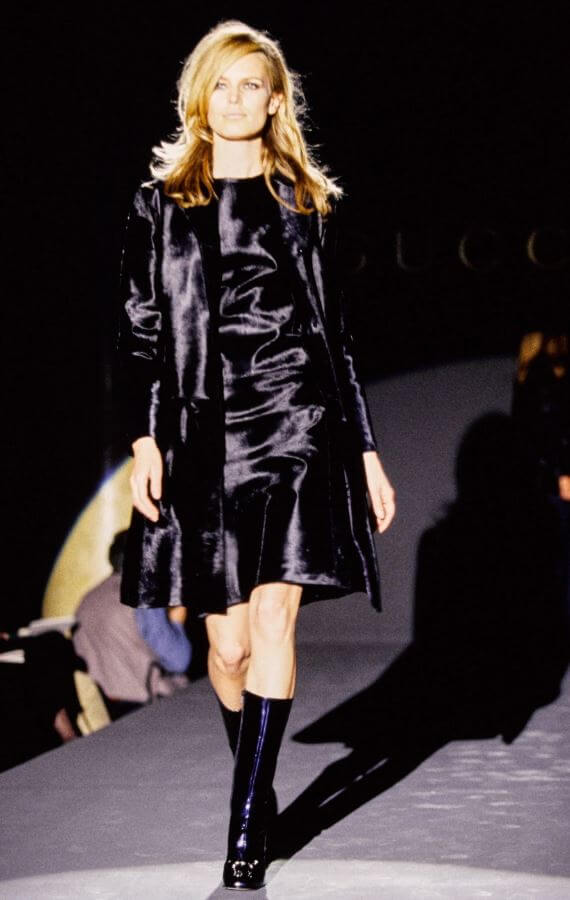 Alexander McQueen FW 1996
Religion had always fascinated McQueen, but no fashion show deals with the topic as confrontationally as the 1996 fall-winter show titled "Dante", which was even staged in a church. The show was about "war and peace" at the time, taking inspiration from Dante's 1400s poem, the afterlife. McQueen went so far as to decry the institutional power of the church, saying "I think religion has caused every war in the world, which is why I showed in a church". With beautiful clothing, he reflects on these ideas, provoking the audience with eye-masks with Jesus on a crucifix.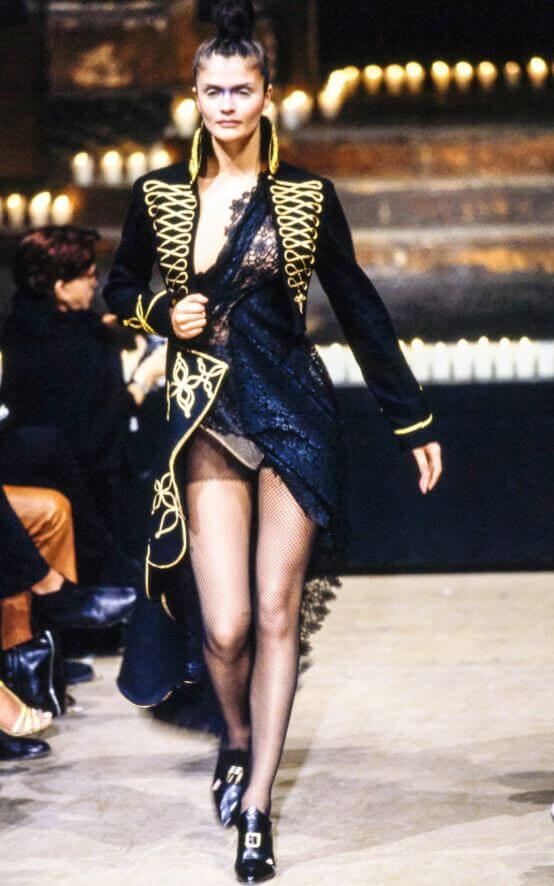 Comme De Garcons SS 1997
Rei Kawakubu, Comme De Garcons' founder, showcased numerous great shows during this decade, yet the Spring collection of 1997 was probably the most monumental. The dresses redrew the shape of the model's bodies, using padding to put unflattering hunches on their backs and attaching growths to their hips. Fittingly, the show is often referred to as "lumps and bumps", although the actual title of the show is "Body Meets Dress, Dress Meets Body". Rei Kawakubu is known for incorporating unconventional shapes into her clothes and in the years since, the collection has sparked essays about disability, scoliosis, and beauty. The dresses can now be found in major museums around the world.