Streetwear Inspired by Horror – A Best Of
In 2010, streetwear took a chilling turn with Supreme's release of the Universal Monsters collection. This lineup featured hoodies, crewnecks, and t-shirts adorned with the faces of classic movie monsters like The Phantom, The Creature, and The Mummy. The simple yet tastefully designed pieces sent shivers down the spines of Supreme enthusiasts, not because of their spooky aesthetic, but because it marked one of the first times that mainstream superstar Justin Bieber sported the brand that was once exclusively reserved for the "if you know, you know" crowd.
Despite this, the horror-themed collaboration in streetwear has flourished over the past decade, and we are excited to showcase some of our favorite examples.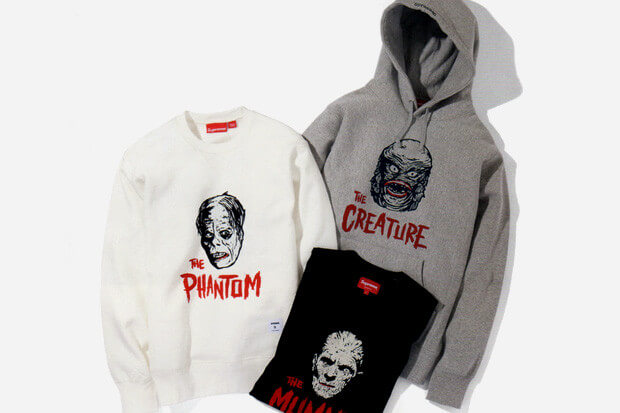 During that time, Alife also contributed to the horror-themed fashion scene with their Frankenstein and The Mummy New Era 5950 caps, accompanied by matching shirts. However, combining The Mummy shirt with The Mummy cap proved to be a fashion horror in itself. Unfortunately, the internet seems to have forgotten about these eerie shirts, as high-resolution photos of them are nowhere to be found.
But here the New Era hats: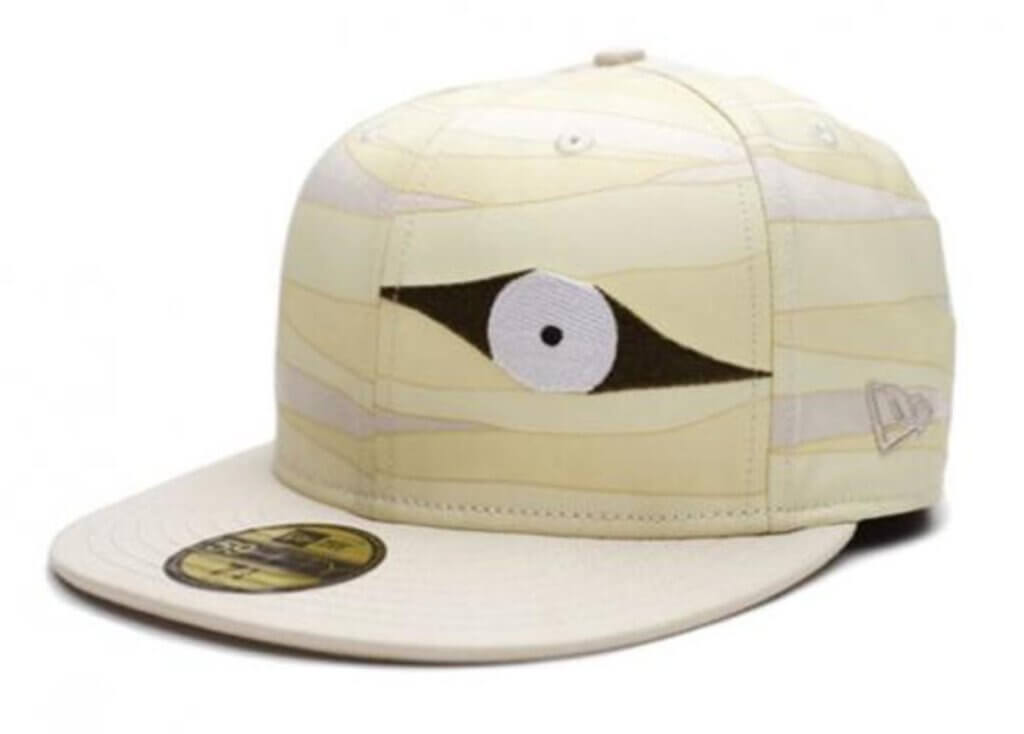 Over the last decade streetwear has perfected the horror themed collab and right in time we are going to present you some of our favorites.
Undercover x A Clockwork Orange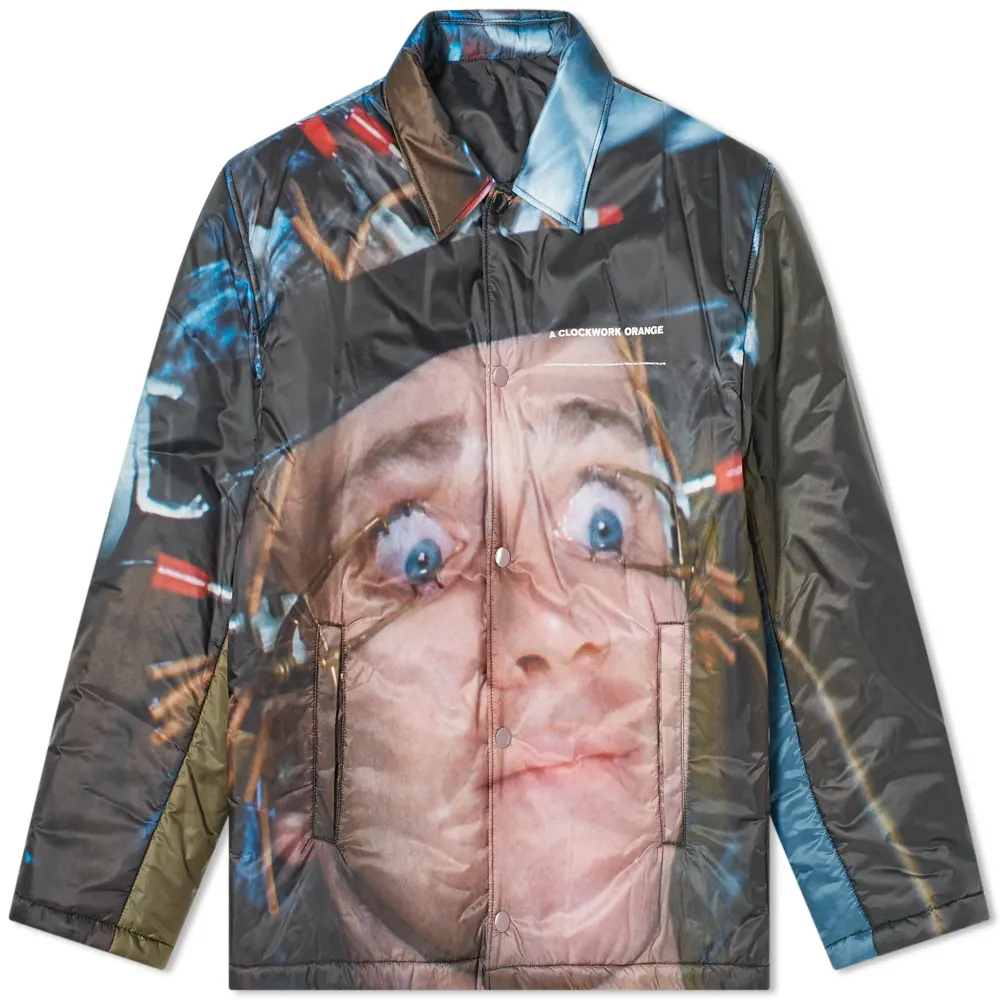 One remarkable collaboration was between Undercover and the iconic British filmmaker Stanley Kubrick, known for his masterpieces. While some might argue whether A Clockwork Orange qualifies as a horror film, the nod to the movie through Bart Simpson's attire in an early Treehouse of Horror episode solidifies its place in the genre. Undercover's 2019 collection featured a jacket and coat that were the standout pieces, with the jacket mesmerizingly showcasing Alex's piercing blue eyes and the coat exuding a menacing aura as it portrayed Alex in attack mode. This collaboration reached boss-level status.
Undercover also paid tribute to another Kubrick classic with their Murder/Redrum knit sweater, referencing the iconic scene from The Shining.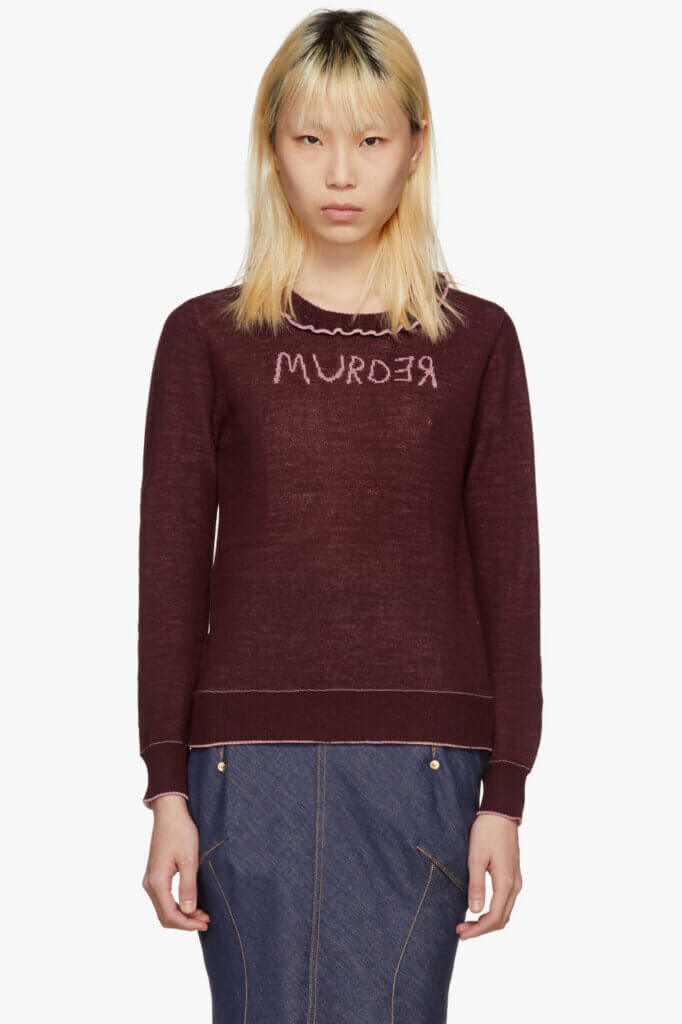 Supreme x Hellraiser / Supreme x The Crow
Supreme, known for its innovative collaborations, delved into the horror realm with the release of its Hellraiser and The Crow collections. Hellraiser, inspired by Clive Barker's novel and subsequent movie adaptation, offered a diverse range of items, including coats, M65 army jackets, football jerseys with red camouflage, sweats, t-shirts, and even Pinhead keychains.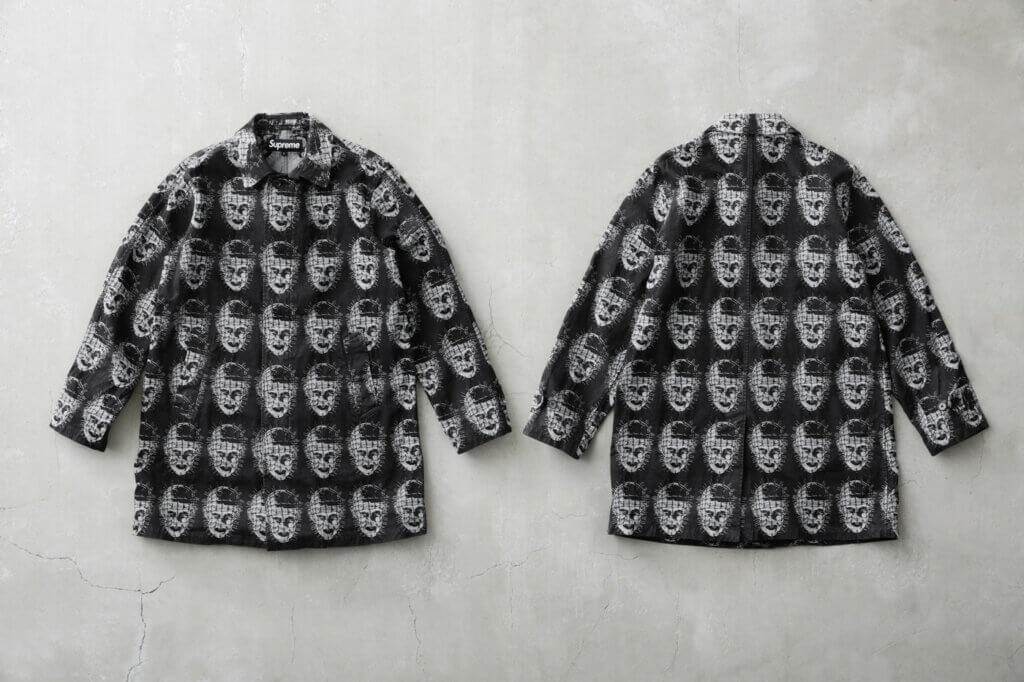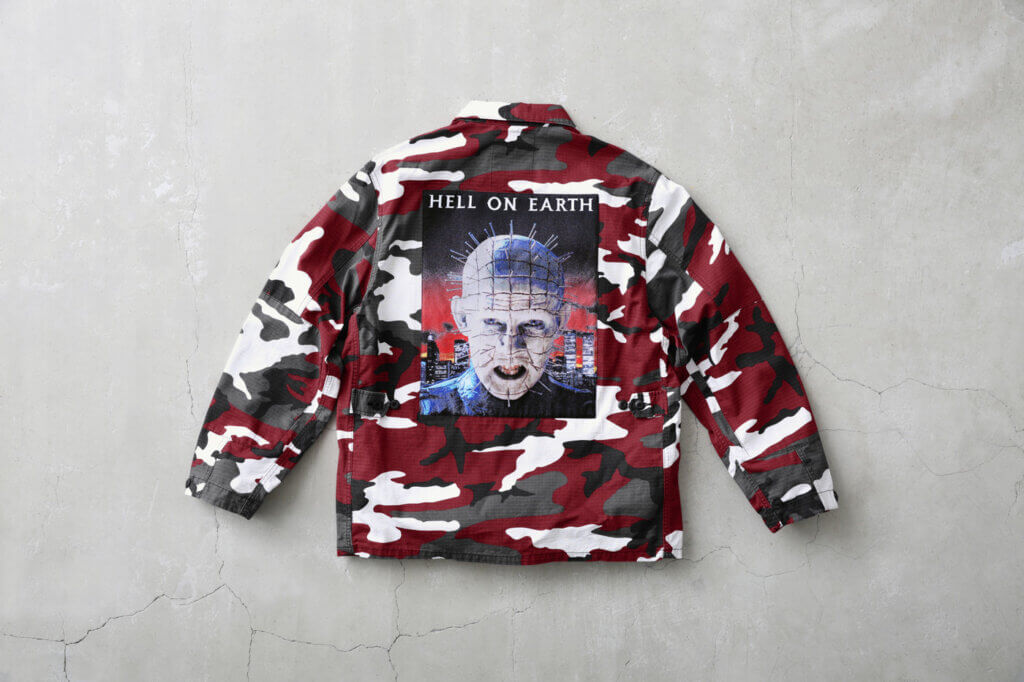 The Fall/Winter 2017 Supreme collection also featured a graphic tee paying homage to the Texas Chainsaw Massacre, aptly named the Horror Tee.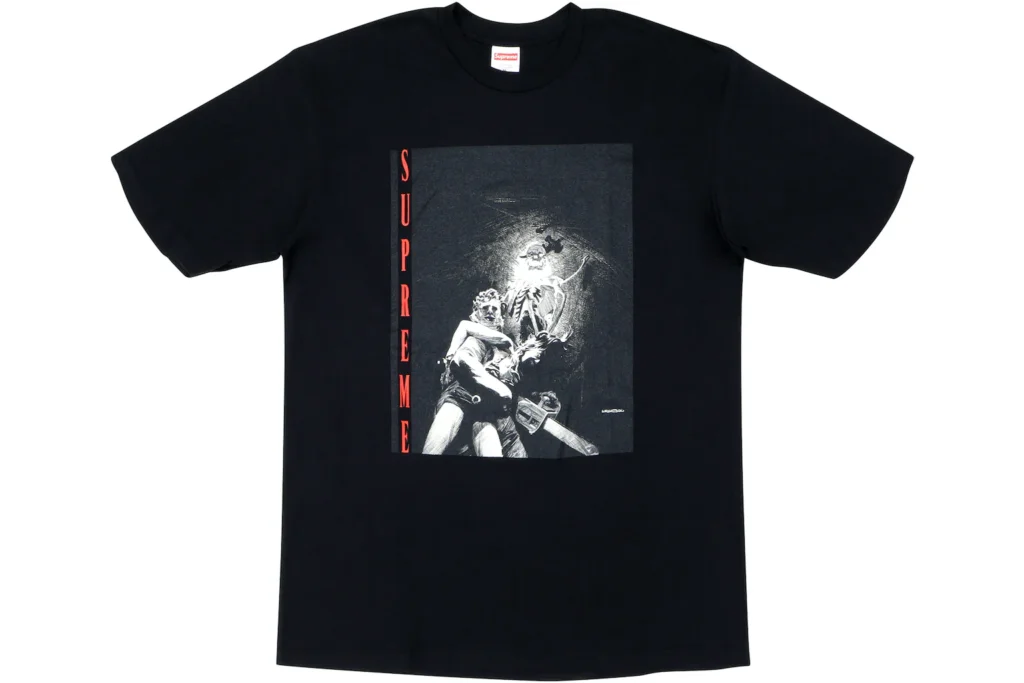 The brand stepped into similar territory with the release of Supreme x The Crow for Fall / Winter 2021. James O'Barrs cult comic about an undead out for revenge was turned into a blockbuster movie in 1994, but Supreme solely used graphics from the source material for this get up of workwear staples, leather jackets, hoodies, shirts and long sleeves.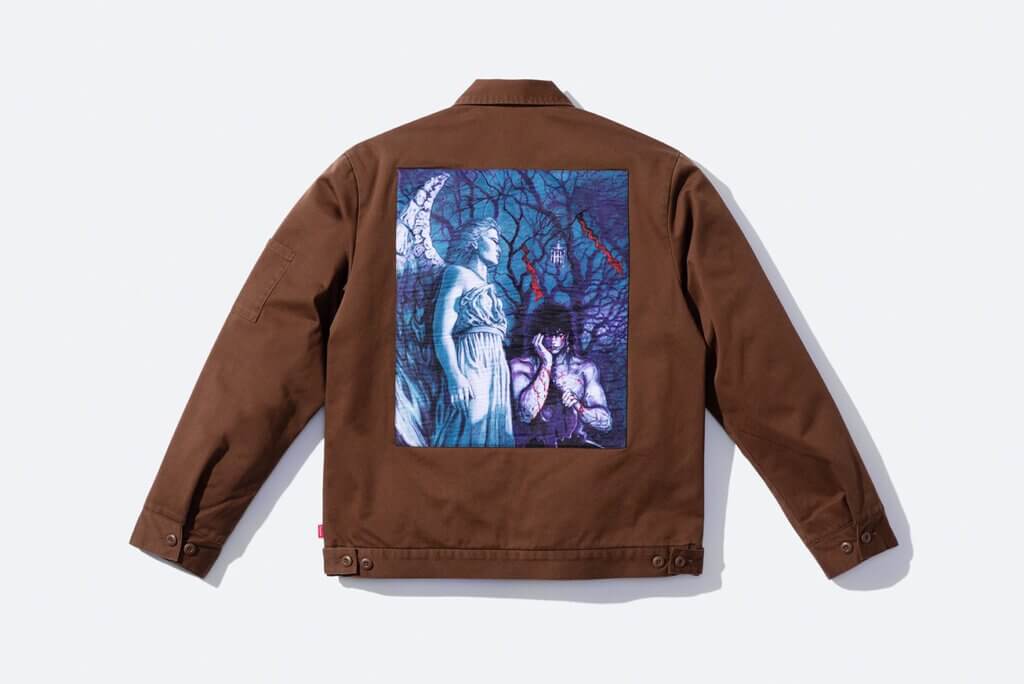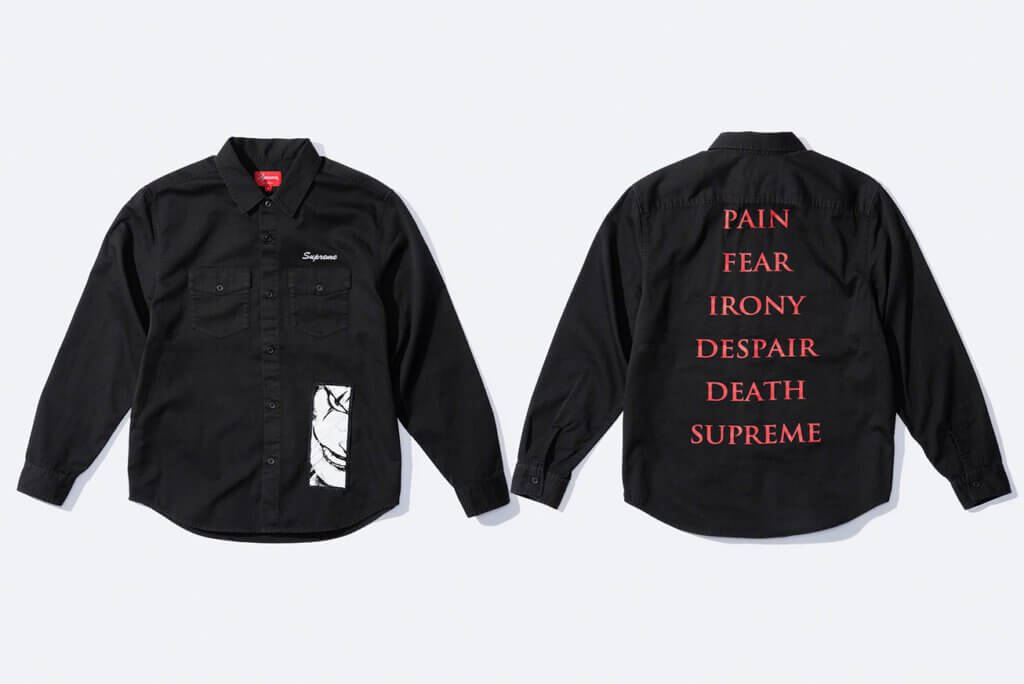 Braindead x The Exorcist
Braindead, a brand with a penchant for the macabre, drew inspiration from Peter Jackson's cult gore film, Braindead, as well as the terrifying 1973 movie The Exorcist. Their collaboration cleverly utilized well-known graphics from these movies. Braindead also recently opened the Braindead Studios Cinema in Los Angeles, where they showcase a selection of horror masterpieces, ranging from '80s slasher A Nightmare on Elm Street to British zombie flick 28 Days Later and '90s high school horror The Faculty.
Braindead is a cult movie, just like 1973's The Exorcist, which is hailed as one of the scariest movies of all time. Braindead used some of the movies well-known graphics for their collab, but that seems in no way lazy. Those images are to horror movies what the classic Coca Cola logo is for refreshments – just iconic.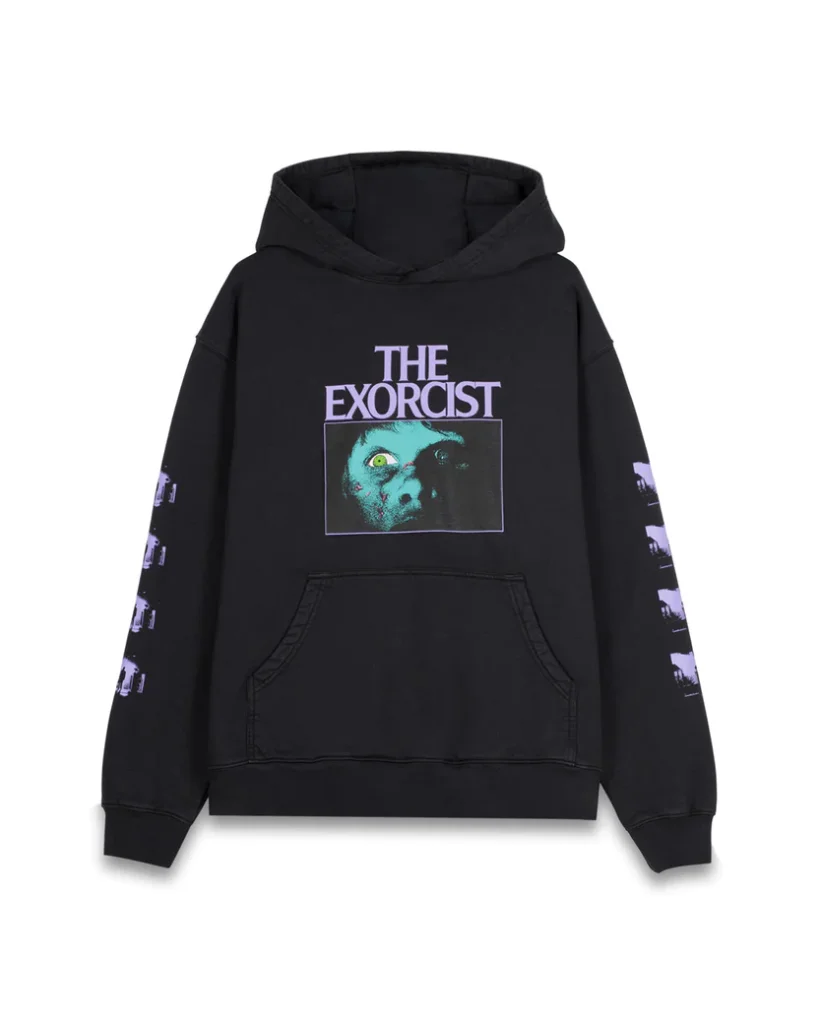 To share their horror movie obsession with their community, Braindead recently opened the Braindead Studios Cinema, an LA-based old cinema playing assorted film masterpieces ranging from 80's slasher A Nightmare on Elm Street to British zombie flick 28 Days Later to 90's high school horror The Faculty.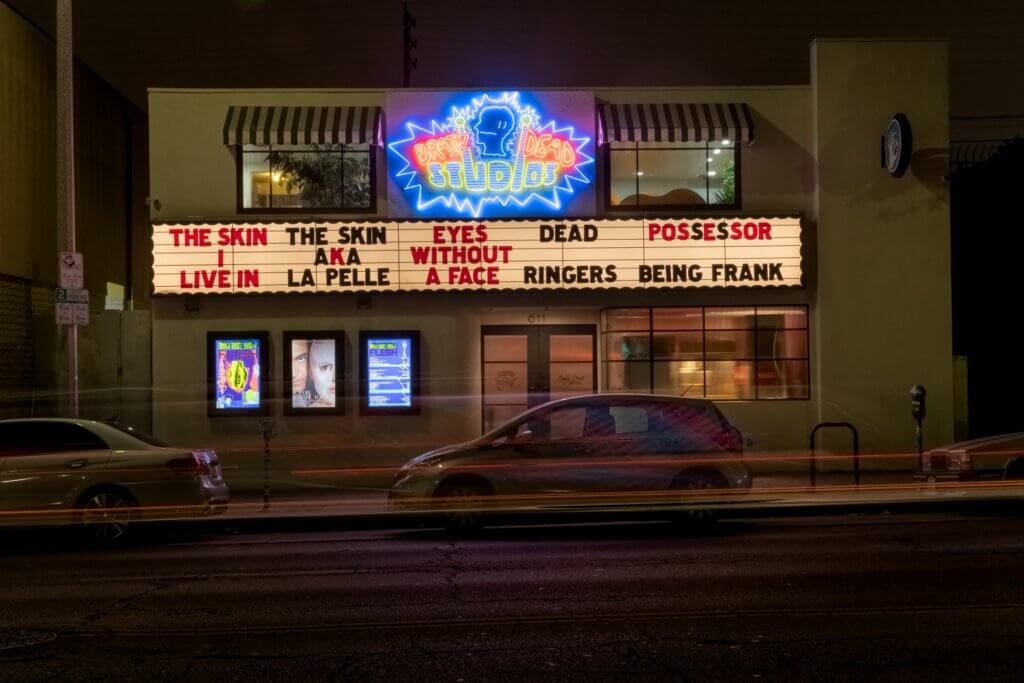 Online Ceramics x Hereditary
Online Ceramics partnered with A24 Studios, renowned for their exceptional films, including Hereditary, Uncut Gems, The Witch, Mid 90s, and The Green Knight. The Online Ceramics collaboration for Hereditary pushed the boundaries of horror fashion, with pieces that may be too intense for everyday wear. One striking example features a pair of sweatpants with a casually printed image of a man engulfed in flames.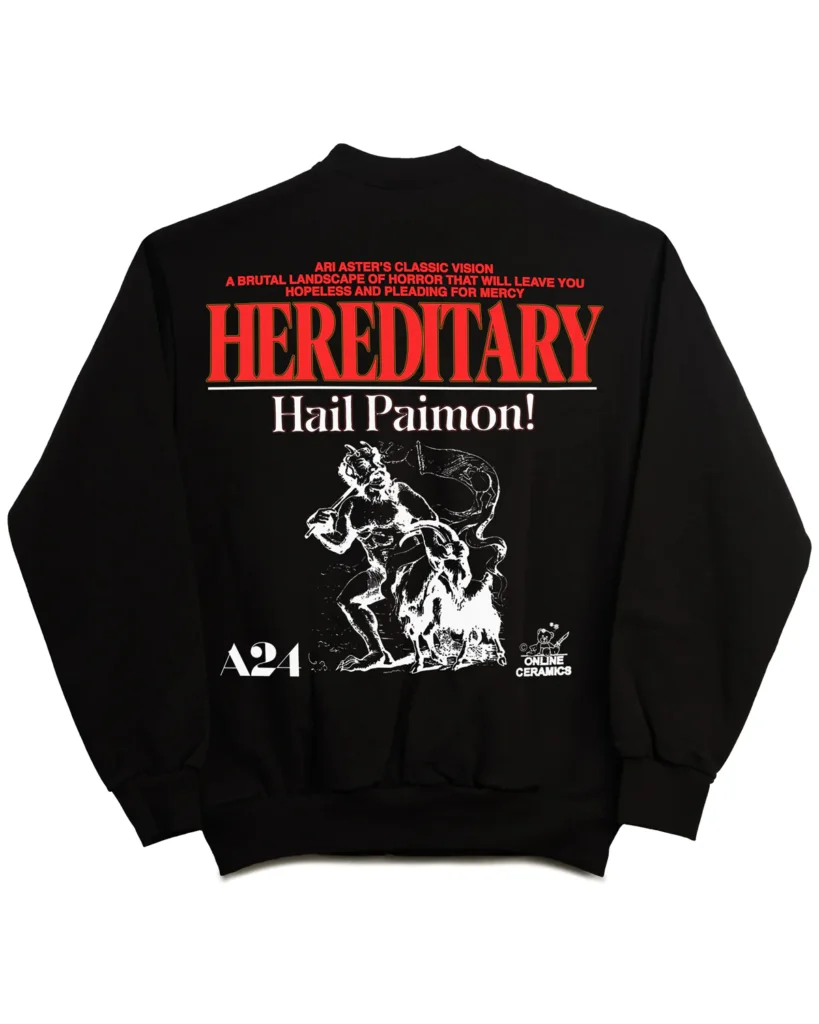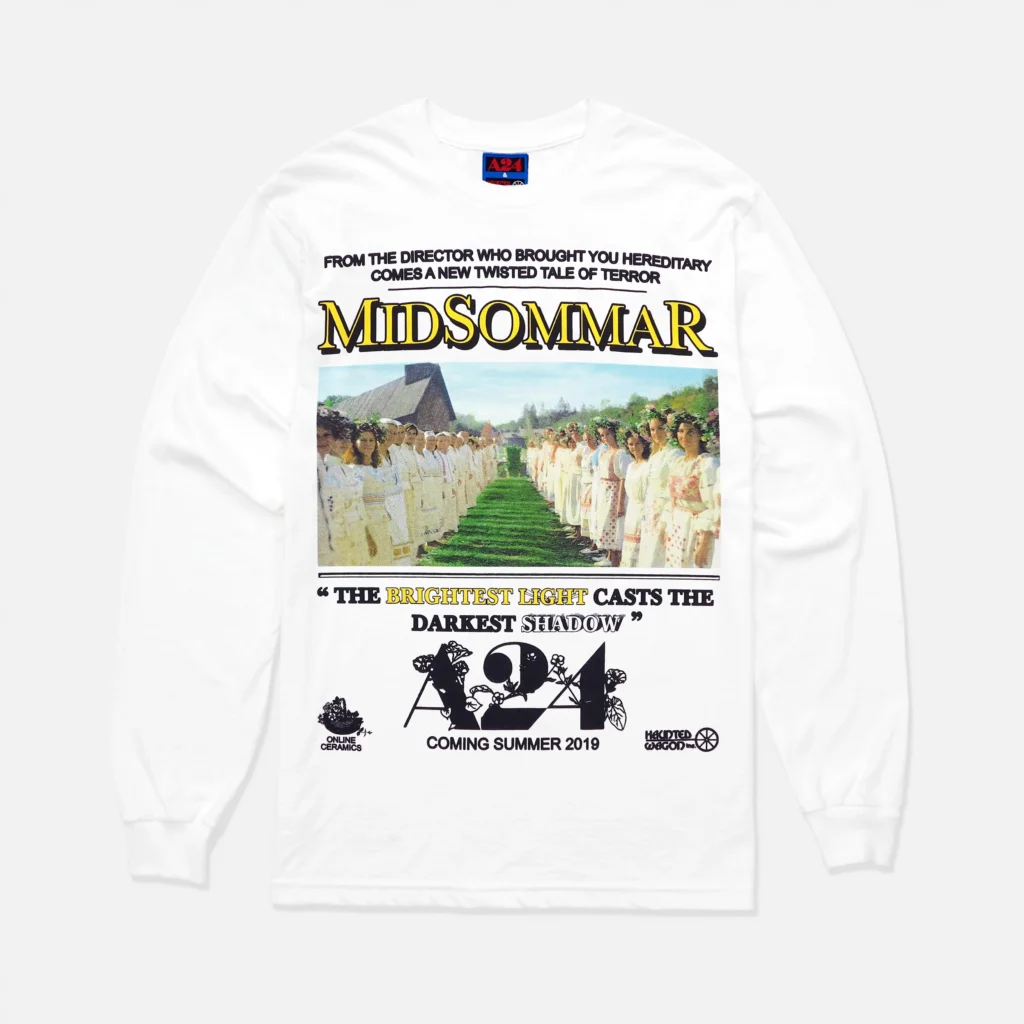 The Pale Girls "Bloodbath" Tee
UK brand The Pale Girls recently released this shirt commemorating one of the bloodiest movie scenes of all time. Check it here. No more words needed.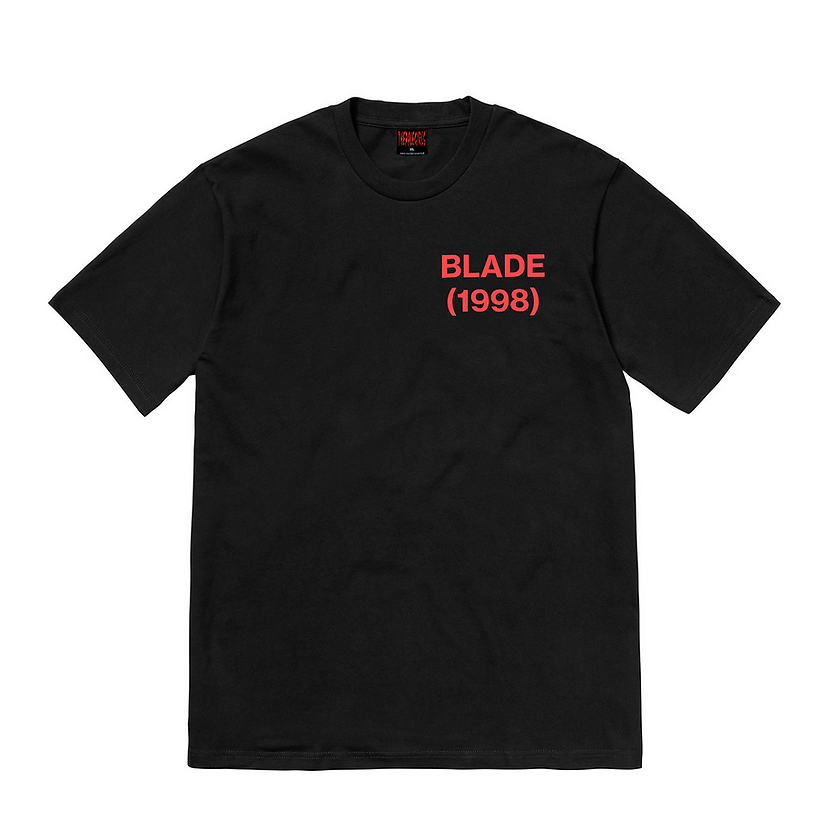 Everything by Andafterthat
Andafterthat, a Texas-based brand known for its bootleg designs, has mastered the art of incorporating pop cultural references. Their horror-themed releases include rejected poster designs by Saul Bass for Stanley Kubrick's adaptation of Stephen King's epic novel, The Shining. Additionally, their Possession tee, released just in time for Halloween, pays homage to the 1981 psychological horror film by Andrzej Zulawski, featuring an unforgettable performance by Sam Neill.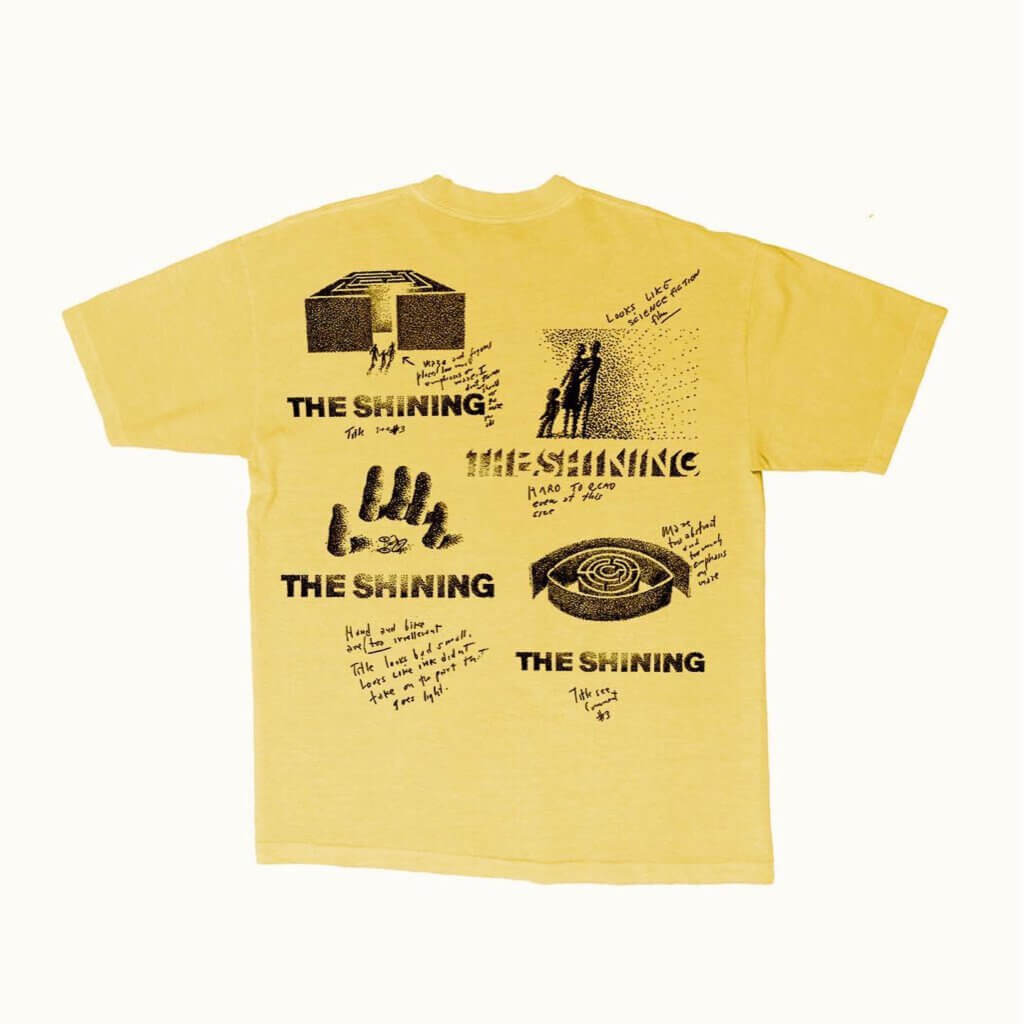 Nowadays even stars like Zendaya are rocking his designs and with pop culture being one of his main driving forces, he of course put out a horror shirt along his way. It featured rejected poster designs for Stanley Kubrick's adaption of master of horror Stephen King's epic novel The Shining by designer Saul Bass and accompanying notes by Kubrick.
But the brand hit bullseye last year when – just in time for Halloween – the Possession tee was released.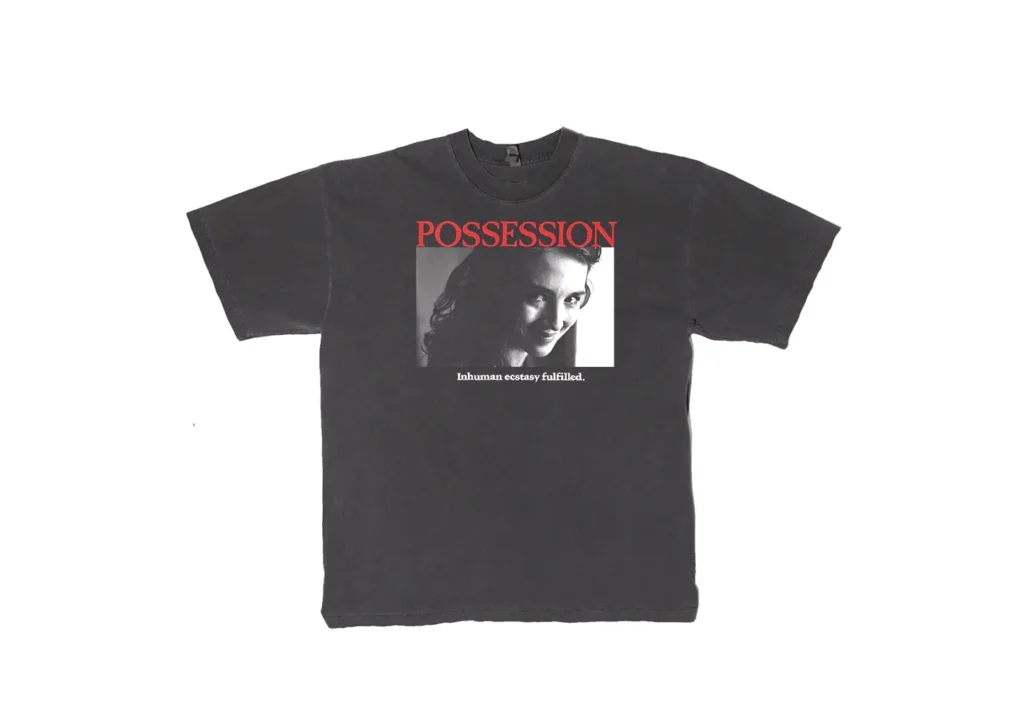 Possession is 1981 psychological horror movie by Polish film maker Andrzej Zulawski featuring a spine tingling performance by Sam Neill. The whole movie takes place in 80's West Berlin and is just too much to put it into words.
Streetwear and horror have long been intertwined, and since the days of flashy monster-themed New Era hats, numerous designers have blessed us with tasteful and captivating horror-themed releases. Today, it has become customary for brands to unveil Halloween-inspired garments in October, although we hope this trend doesn't lose its authenticity over time. Fortunately, creative minds like Edgar Gonzalez and his brand Andafterthat ensure that awesomely designed horror-themed shirts will always be available in the market.
Celebrate Halloween in style!