What makes good design these days? Extravagant silhouettes? A clever nod to the zeitgeist? Refined essentials? Innovating or referencing the tried and tested?
Or is it a mixture of all of the above? One brand that seems to be effortlessly in control of this mix is STAMM. Despite being the new kid on the block, this young brand is already making headlines. During Copenhagen Fashion Week, STAMM took the stage to show its genderless collection, designed for what Elisabet Stamm describes as "longevity", which highlights the use of sustainable fabrics and materials in every design. Zalando presented the young designer with the Zalando Sustainability Award for her outstanding collection, which focuses not only on style but also on sustainable design approaches.
Creative Director Elisabet Stamm said in the press release of the award: "Winning the Zalando Sustainability Award is exciting and motivating. It is a highlight for my young brand. We try to combine innovation, diversity and aesthetics with a conscious mindset. We are grateful and proud to be part of such an important platform and to have the opportunity to network with leading companies and industry experts. This award will allow us to expand our network and continue to work towards positive change in the future. I also hope to inspire others to create something meaningful – and to believe in an exchange that goes beyond habitual patterns of action".
The competition aims to raise awareness among fashion brands for more sustainable alternatives in garment production, to pursue new strategies for a less polluting fashion industry and thus to support Zalando's 'do.More' strategy.
We sat down with Elisabeth Stamm to discuss the future of sustainable fashion.
How would you describe the aesthetics of your brand?
Expressive, shape-shifting and exchanging.
Talking sustainability: You just won the Zalando Sustainability Award! What do you think still needs to happen in the fashion industry to make sustainable thinking the norm?
It is a dream to see an industry shifting from what it can gain, to how it can contribute. I've experienced a positive change in terms of industry leaders coming together to share both experiences and knowledge. In a marketplace, there will always be competition, but in today's world there are challenges which demand people come together and inspire each other and lead conversations.
With STAMM we have founded a brand which functions across borders in a time where many seek safety and homeland. We believe in the power of synergy, coming together and joining forces. It's not always the easy and straightforward road, but it is valuable and full of perspective. Ten years ago people in Europe would speak of how much they could 'get' from India or China for how little and how fast. Now I'm experiencing a shift of wanting to highlight anything local and self-invented.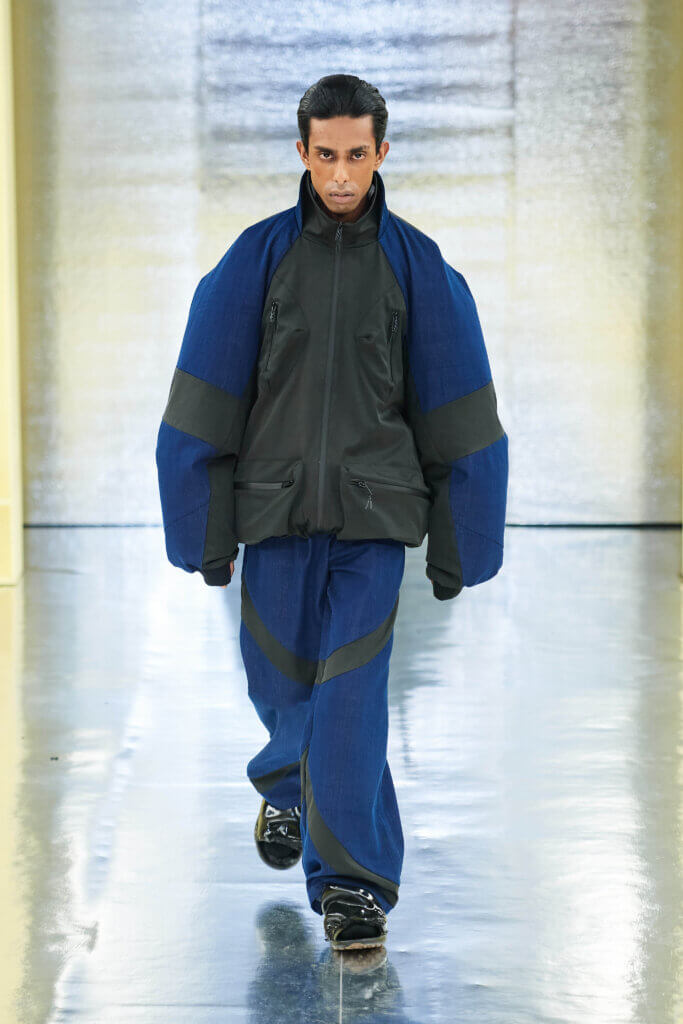 What steps do you still want to take for a more sustainable future?
With STAMM I dream of creating a platform for worlds and talents with knowledge to collide. I don't find the most beauty at my own doorstep or even my neighbors, I see beauty in foreign cultures and exchange, and it is a dream to inspire young people to stay open and make the journey, because beyond community there is unity.
You got the opportunity to develop a collection together with Zalando. What opportunities do you take from this?
Being a part of the Zalando Sustainability Award is a tremendous opportunity for STAMM as a newly established brand. We find ourselves in a collaborative positive situation where we have a chance to show our work in the most relevant context.
It is a synergy of everything we have worked on being recognised by a platform that supports and encourages forward thinking and positive change. Establishing a brand during a pandemic and post-pandemic has come from a place of light and we believe this will bring and unite both clothes and spirit. Being a finalist has given motivation to everyone contributing to the brand.
What can we expect from the brand in the future?
We are working step by step on bringing across purposeful stories from people who strive to make a difference, whether that is our handspun natural dyed fabrics or expressive genderfluid fashion. The dream is to experience the world as an open field of possibilities.