Racism, Oppression, Poverty and Social Injustice – Jacob Holdt's American Pictures
Jacob Holdt defies categorization. While he may not claim the title of an artist, he proudly embraces his role as an activist. His remarkable work, American Pictures: A Personal Journey Through the American Underclass, transcends conventional boundaries. It is more than a mere collection of photographs—it is a mission, a magnum opus. Holdt's lens captures the rawest and most authentic depiction of life in the United States, a stark contrast to the concept of "the American way of life" or the dubious notion of "manifest destiny."
Born in Copenhagen in 1947 to a pastor, Holdt's early years were marked by rebellion and expulsion. He was not only expelled from high school in 1965 but also from the Royal Palace Guard, where he briefly served. As a young teenager amidst the Vietnam War, he became acutely aware of the injustices and conditions afflicting the Third World. Determined to fight against these inequities, Holdt embarked on a dedicated path.
In 1970, when Salvador Allende assumed the presidency of Chile, Holdt, then 23 years old, intended to travel there to support the government. Tragically, Allende's presidency was cut short by a US-backed coup in 1973. Holdt found himself living in the United States, where he immersed himself in the creation of American Pictures.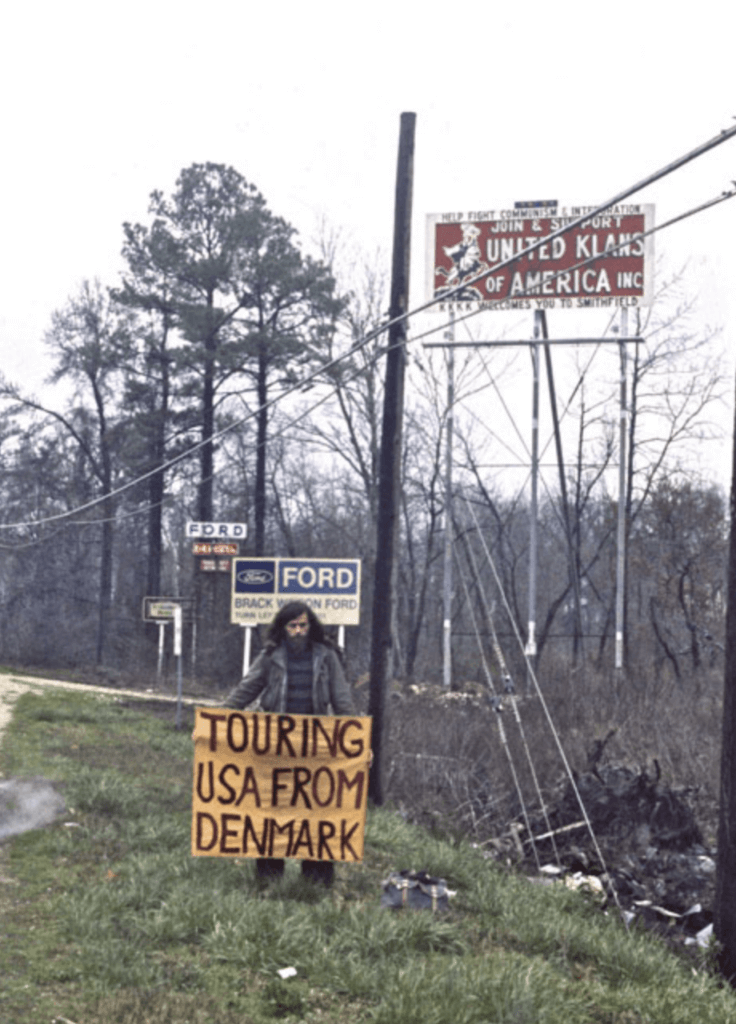 For five years, Holdt traversed the vast American landscape, encountering a myriad of experiences. One of his initial encounters involved being robbed, a humbling introduction to his journey.
Armed with a mere $40, he relied on hitchhiking as his means of transportation, staying in the homes of countless individuals, including both destitute laborers and even the affluent Rockefeller family. This immersive journey exposed Holdt to the shocking realities of social injustices and racial oppression, which he fearlessly documented through his lens. To fund his endeavor, he sold blood plasma twice a week to purchase new films for his camera. American Pictures thus emerged as an unparalleled portrayal of the struggle endured by the American working class.
Holdt's philosophy on fostering empathy and dismantling taboo systems shines through his words: "We can only end crippling taboo systems by trying to be completely human toward everyone—thereby risking deeper involvement and love." This genuine openness allowed him to bridge divides, forging connections even with those who were initially closed off to him. Holdt acknowledges the importance of recognizing each other's backgrounds, but he also emphasizes the necessity of overcoming fear and limitations in our human interactions—an embodiment of the love of our neighbor as ourselves.
During his time in Alabama, Holdt encountered Mary, a black woman with whom he developed a romantic relationship. He resided in her humble cardboard-walled house and toiled alongside her on a white landowner's fields. Tragically, during Holdt's absence while documenting a Ku Klux Klan rally, Mary's house was firebombed by white racists due to their relationship. While Mary and her son survived, her brother tragically perished in the flames.
American Pictures not only captures the struggles faced by racially oppressed minorities but also delves into the lives of impoverished, racist whites. Holdt's book features numerous stories that highlight his realization: racism is a learned behavior perpetuated in a vicious cycle, not an inherent trait.
"Vagabonds and blacks have a special relationship to poor whites, who barely exist for the rest of society. With their guns hanging inside pick-up trucks as symbols of power, they are the ones who shoot at hitchhikers late Friday nights, throw beer bottles at you other nights and try to run you over at all hours. While the better-off whites create the climate it is the poor who exercise much of the direct physical oppression of black people, who in turn contemptuously call them "poor white trash."

Jacob Holdt
Recognizing the urgency of sharing his photographs, Holdt embarked on a journey to college campuses, delivering lectures that intertwined his personal experiences with his poignant imagery. Each encounter he had along the way fostered relationships that contributed to the creation of one of the most pivotal visual testimonies about the United States to this day.
The proceeds from the publication of American Pictures were predominantly dedicated to charitable causes in countries such as Zimbabwe and Namibia. Holdt actively collaborated with organizations like CARE (Cooperative for Assistance and Relief Everywhere) in various third world nations. In response to the tragic killing of George Floyd in 2020 and the subsequent rise of the Black Lives Matter movement, Holdt released a new photo book, The Roots of Oppression, which showcases five decades of his powerful work.
To explore American Pictures: A Personal Journey Through the American Underclass and delve deeper into Holdt's impactful portfolio, please visit his website.