This years hottest trend migrated from the football pits to TikTok and straight into our wardrobes – "Blokecore". Tiktokers and fashion aficionados are sporting a dress style inspired by 90s and Y2K football aesthetics.
Vintage Jerseys, Tracksuits, bucket hats and casual Adidas sneakers are the way to go.
But this trend does not only rely on vintage finds with brands like Dime and Supreme incorporating football jerseys into their seasons for quite some time now and London-bred Palace heavily featuring their british (of course football-related) heritage.
90s and Y2K Instagram mood boards are all over the place so there is no detective work necessary for being exposed to the fashionable ways of the Gallagher brother's ability to sport a kit off- and for David Beckham to sport a kit on court.
Oasis' Liam and Noel Gallagher are the poster boys of "blokecore" – just two cool guys don't giving a f**k about fashion deeply in love with their favorite football teams. Britpop's heavyweight Damon Albarn of Blur-fame is also a good inspiration.
The trend actually did not start this season. Some of you might still remember the summer of 2016, when every hypebeast added a Pink Juventus Turin Jersey to its wardrobe after Drake posted this infamous IG post.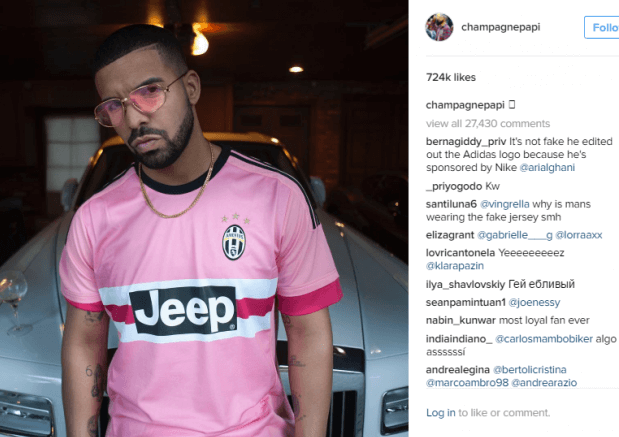 But the trend did not originate with Drake either, but on European soil with football being deeply routed in almost every country's DNA (That can not be said about the US and that is why many US Fashion adopters might see a certain exotic to this trend…) it is certainly a fashion movement that brings you back to the days when there was no better feeling than wearing your favorite football jersey to school growing up when it really was a status symbol and a sign of dedication.
Around the same time Drake started representing Juve, French and shortly thereafter countless German rappers clad themselves in Paris Saint German sporting goods which in 2021 led to Stüssy releasing a collaborative kit with the team from Paris that is now going for over 1000$ on sites like StockX.
The most recent major co-sign to the trend was given by A$AP Rocky in his new music video D.M.B. that sees him sporting footbal icon Eric Cantona's (No football player ever looked more stylish than Cantona with his popped collar. Period.) Manchester United jersey.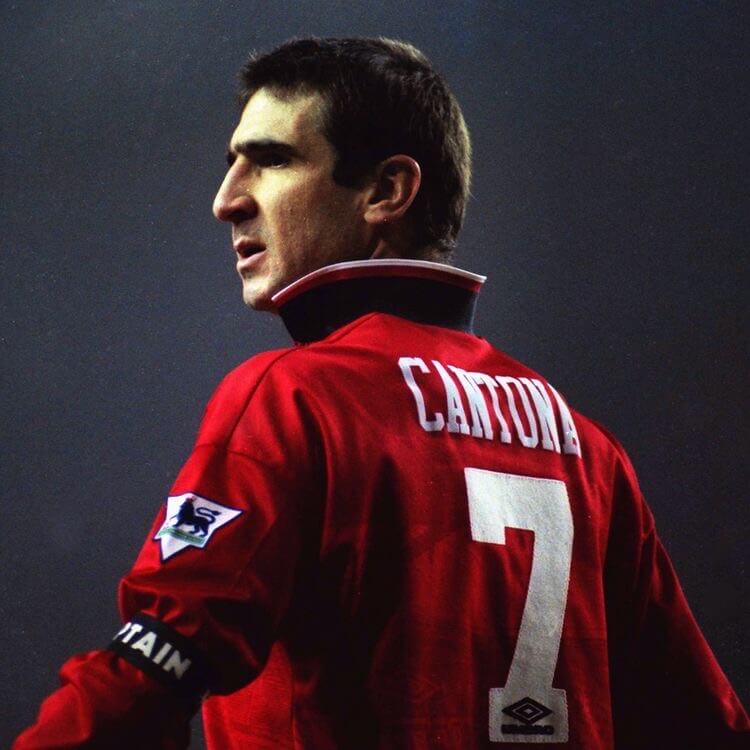 Not only jerseys, but football and casual culture have been a European fashion trend outside of the stadiums for quite some time. Brands like CP company, Stone Island and Adidas Samba sneakers have found their way to be the desired it-pices for a generation that might not be aware of the dangers of wearing a Millwall F.C. Jersey in West Ham areas.
It's funny to see how the "bloke" – a guy more interested in football match results, a cold pint of beer and a bag of crisps – has become the inspiration for fashion influencers worldwide, but football has always been more that just a sport and I urge the readers to have a look at Phil Thornton's excellent book CASUALS to find out more about the culture.
If you are just trying to cash on some likes a trip to your older brothers closest might be worth it to score some old jerseys gems.
And even if you are more into high fashion:
Try out the Adidas Gazelles that were just released in collaboration with Gucci.
Or if you want to go more bonkers:
Balenciaga's newest collection featuring exclusive Adidas collaborative pieces has also already been jokingly labeled "bloke-who-wanna-get-chokedcore.
See you on the pitch, mates!