The Met Gala, also known as the Costume Institute Gala, is one of the most highly anticipated fashion events of the year, attracting international celebrities. Similar to the Oscars, this grand parade takes place on the first Monday in May.
This year, the Met Gala pays tribute to the late Karl Lagerfeld, Chanel's longtime artistic director, with the theme "Karl Lagerfeld: A Line of Beauty." The dress code, "in honor of Karl," allows for creative interpretation, with guests potentially selecting from Lagerfeld's extensive archives at various fashion houses. The gala serves as a fundraiser for the Metropolitan Museum of Art's Costume Institute, chaired by Anna Wintour, the editor-in-chief of American Vogue, since 1995.
While the Met Gala boasts glitz and glamour, it has faced criticism over the years. The event's elitism, association with generational wealth, and exploitation of cheap labor have drawn scrutiny. However, some celebrities have used the platform to raise awareness and advocate for social issues. For instance, Kamala Harris wore a "Tax the Rich" dress, and Cara Delevingne made a statement with her "Peg the Patriarchy" shirt.
Lagerfeld, despite his undeniable talent, had a controversial legacy, marked by racist, fat-phobic, and sexist attitudes. As a result, some guests may choose to skip the gala or express their dissent in subtle ways. Nevertheless, Lagerfeld's impact on the fashion industry cannot be denied, and the Met will curate an exhibition showcasing his work from the 1950s to 2019.
Controversies surrounding the Met Gala include the underrepresentation of designers of color and debates about wearing historical artifacts. The event's extravagant display of wealth and fame has also sparked increased skepticism and criticism from the public.
But all that glitters is not gold this year. The gala has been under fire for some time, and the theme and occasion have only added to the criticism.
First things first: It's the Met Gala. It's a celebration of wealthy elitism, generational wealth and empires built on the exploitation of cheap labour, the marginalisation of diversity and the promotion of damaging vanity. Karl Lagerfeld might be the perfect theme. The silver lining: For some time now, many celebrities have used the gala as an opportunity to speak out against the abuse of power. Cue Kamala Harris' "Tax the Rich" dress or Cara Delevingne's "Peg the Patriarchy" statement shirt. The effectiveness of such slogans at a gala is debatable, but it is a big step in the right direction and shows that not everyone blindly succumbs to glitz and glamour. Perhaps this year will be no exception. Karl Lagerfeld, despite his undoubted talent, was not a clean slate and has since been seen as an outspoken advocate of racist, fat-phobic and sexist attitudes.
So maybe we won't only see Chanel, Fendi, Chloé, Balmain, Patou and his own eponymous brand on the carpet. Maybe some guests will skip the Fashion Happening altogether this year, or protest in a quiet and indirect way. But first: A rundown of all things Met Gala and Lagerfeld.
Lagerfelds Legacy
After his death in 2019, Lagefeld left behind an undeniable fashion legacy. His name has always been synonymous with Chanel. As always The Met will also curate an accompanying exhibit celebrating the work of Lagerfeld. "Karl Lagerfeld: A Line of Beauty" will be on view from May 5-July 16, 2023, and will highlight "the designer's stylistic vocabulary as it was expressed in through lines — aesthetic themes that appear time and again — in his fashions from the 1950s to his final collection in 2019." This will include approximately 150 pieces on display alongside original Lagerfeld sketches.
"Karl was a lover of multidisciplinary arts, and it's the highest recognition for his work to be presented in such a monumental exhibition at The Met's Costume Institute," said Pier Paolo Righi, CEO of Karl Lagerfeld, in a release. "As custodians of Karl's legacy, we aim to bring his passion, intuition and inexhaustible creativity to life in everything we do. We cannot imagine a more poignant or meaningful way to celebrate his colossal achievements — both the enduring impact he's had on fashion and how it's shaping the future."
The 2023 Met Gala will be the third to be named after a designer, following Alexander McQueen (2011) and Rei Kawakubo, founder of Comme des Garçons (2017).
Max Hollein, director of the Met, said in a press release: "Karl Lagerfeld was one of the most fascinating, successful and well-known influences in the world of fashion and culture. He was known as much for his extraordinary designs and tireless creativity as for his legendary image. This compelling exhibition explores his unique artistic practice and gives audiences a glimpse into Lagerfeld's boundless imagination and passion for innovation."
The Good, The Bad, The Met
Of course, an event of this magnitude is not immune to controversy. For years, the Met Gala has been criticised for the small number of celebrities who walk the red carpet wearing pieces by designers of colour, as well as the controversy over whether these stars should be allowed to wear historical artefacts.
Every year, the Met Gala is an extravagant display of wealth and fame. Whereas a few years ago we were largely uncritical admirers, today we are increasingly critical and sceptical. No wonder – after all, such an event, with an audience of millions, often provides a platform for social issues such as racism or discrimination based on gender, social class or physical appearance. The upcoming Met Gala is no exception, and behind the scenes things are already bubbling.
Over the course of a 65-year career in fashion, working with major brands such as Chanel, Fendi and Chloé, Lagerfeld has built a formidable design reputation. His innovative designs and penchant for theatricality made waves – but he also rubbed people the wrong way with his controversial views on issues such as sexual abuse, racism and clothing sizes.
"This man… was indeed, supremely talented, but used his platform is such a distinctly hateful way, mostly towards women, so repeatedly and up until the last years of his life, showing no remorse, offering no atonement, no apology, no help to groups he attacked… there was no explanation for his cruel outbursts," Jameela Jamil wrote on Instagram. "Sorry, but no. This isn't the 90s. We didn't fight all this shit just to throw it all away because some white guy made some pretty clothes for people's skinny faves… come on now."
Lagerfeld has always been clear that catwalk models should wear a maximum size 34. "Nobody wants to see round women there," he told Focus in 2009. He called supermodel Heidi Klum "too fat" and Adele "a little too fat". He then defended the fashion world's obsession with thin women, calling being fat "dangerous and very bad for your health". When asked about Chanel's commitment to presenting "healthier [looking] models" instead of "very thin models", Lagerfeld called it "boring" and "ridiculous" before going on to talk about the dangers of being overweight. Lagerfeld was famously an opponent of the #MeToo movement. In 2018, a year before his death, he commented, "If you don't want your trousers off, don't be a model. Go to a monastery. They always have a place for you." Lagerfeld has also had contradictory and controversial thoughts on the LGBTQIA+ community. In 2010, he told Vice that he was against gay marriage. "I'm against it for a very simple reason: in the 60s, everyone said we had the right [to be treated differently]. And yet now they all want such a bourgeois life."
Sweatpants, Cats and a disturbing amount of Tweed
These are all reasons why guests and celebrities may be skipping the Grand Gala this year. However, the infamous staircase will not be empty and we will once again be surprised by the number of looks. Starting with menswear: The majority of men's looks at the Met each year are rather uninteresting – understandably so, with a few exceptions. Basic black suits with classic tailoring are rarely broken up by real fashion statements. This year, many male guests could take a cue from the fashion designer's signature look. A well-cut, slim black suit with a high collar, fingerless gloves and dark sunglasses.
Taking a look at Lagerfeld's design DNA, the first thing you notice is the simple colour code of the collections. Black and white are always the basics – often complemented by elegant tones such as bright red or navy blue. As a result, many guests are likely to turn to the designer's tried and tested classics. Wearing vintage will not be an option for everyone, and many designers will no doubt be keen to pay tribute to Lagerfeld in their own way, putting their spin on what he is best known for. So better expect a disturbing amount of tweed as well.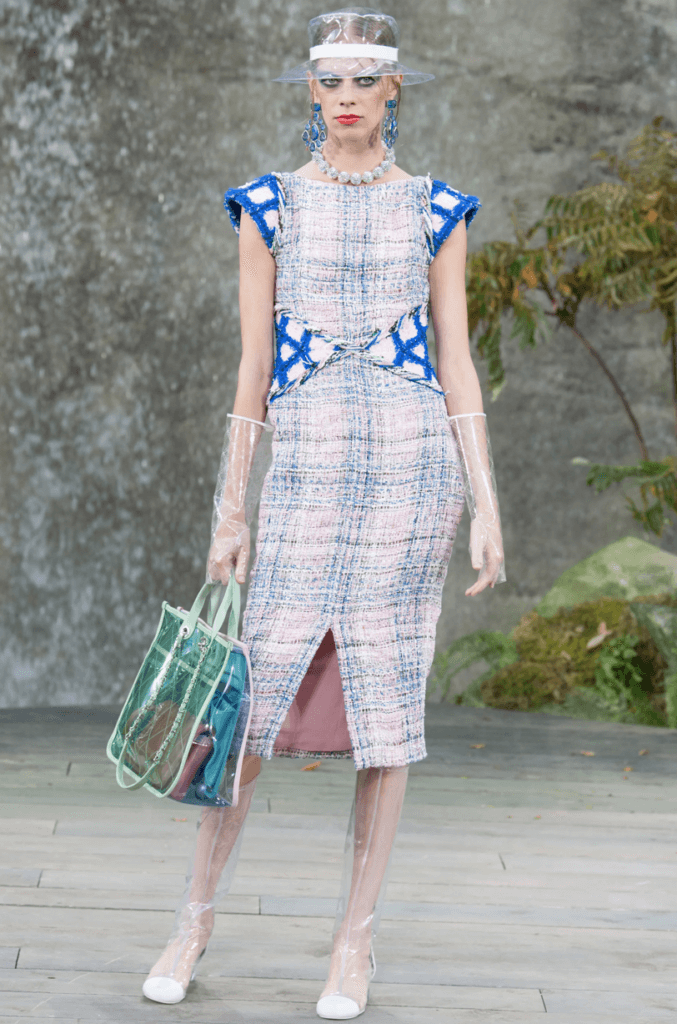 Attendees might also find their inspiration in archival collections and vintage pieces. Many experts are already combing through the archives of Chanel, Fendi and Chloe, the luxury houses Lagerfeld worked for during his life. As a result, there are likely to be many old iconic gowns worn by stars on the red carpet. This particular Met Gala theme seems very fitting for a vintage moment. So, we can probably expect many of the guests to source something from Lagerfeld's archive to wear for the evening.
Fashion fans, attendees and experts should also prepare for Karl Lagerfeld's iconic cat, Choupette. The animal will be the guest of honour at the charity event. Translated into design: So, could the royal cats' arrival mean we're going to see snow-white faux-fur creations? Kim Kardashian was also apparently delighted to be invited to the Met Gala, despite reports to the contrary. She recently posted several photos with the kitten on Instagram, writing: "Had a date with Choupette in Paris. We spent some time in Karl Lagerfeld's office getting some inspiration for the Met Gala.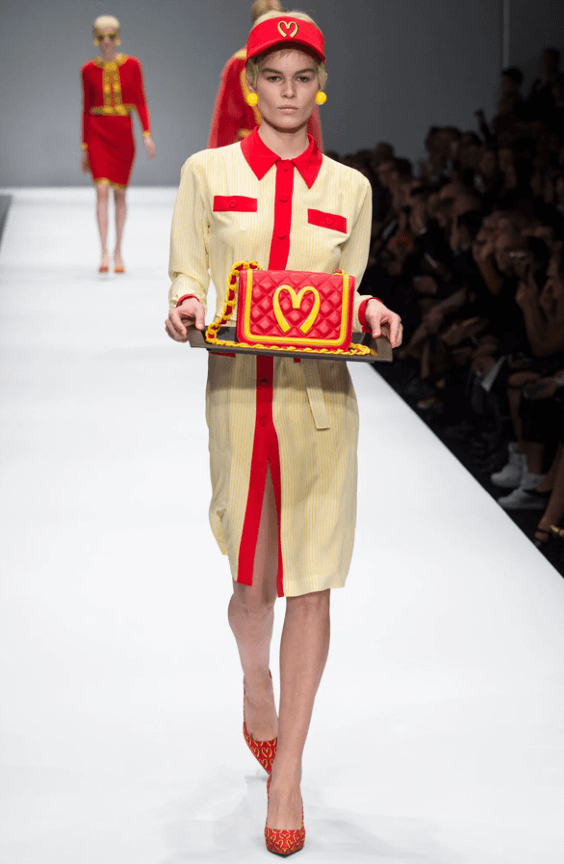 But not all of the guests will be favourably disposed towards the designer and his legacy. Maybe we will see some people donning Moschino's fall winter 2014 collection, which has been a clever nod to Chanel's trademark aesthetic. Attendees might kick off with a silly series of McDonald's riffs: a French fries-inspired mink bathrobe coat, a four-pocket jacket emblazoned with the slogan "Over 20 million served" and a chain-handled bag carried on a brown plastic tray.
But some of this year's silent protests could be more direct than a clever little wink. A few years ago, Lagerfeld said that sweatpants were a sign that you had lost control of your life. Perhaps we will see tracksuits and jogging bottoms for the first time at the big gala.
It is always difficult to say how the designers and celebrities will interpret the theme – some will take the references very literally, others will be more subtle. We may see re-interpretations of some of Lagerfeld's most memorable designs, while there could also be some tongue-in-cheek references to some of his more controversial moments, or perhaps to his own personal style and that of his beloved cat, Choupette.