Fashion industry on the surface seems to change, yet there's a lot of lies just like in every industry. Organic cotton products for example are mostly just like "light" products in the supermarket shelves. They are produced without the usage of bad chemicals, so they trigger people who want to shop consciously, but then the fabric is dyed with chemicals and the attribute "organic" is no longer valid. People don't seem to question enough to know what they're buying. The costs of true "green fashion" are still too high for mainstream companies in a decreasing retail industry. You can see their will because the consumers' awareness grows, but to be honest… We're still figuring out how to realize the goal of saving earth and looking "trendy" at the same time.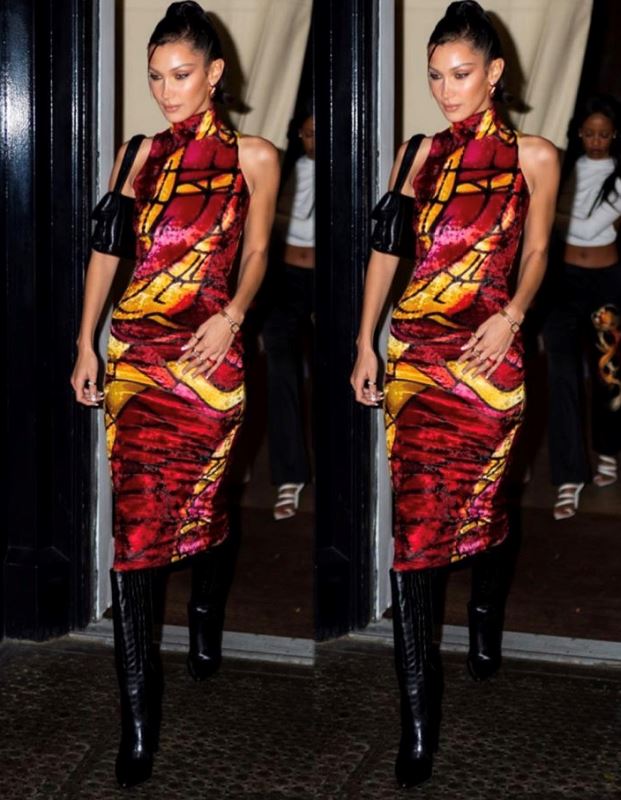 ---
Everything comes back in fashion and until we find out how to produce fair, pay fair and protect the planet, i highly recommend thrifting! With hyped brands like Vetements on top of the game, who basically started their business by upcycling and with stylists like Mimi Cuttrell who puts stars like Gigi and Bella Hadid into a mixture of current and vintage luxury pieces, wearing second hand clothes loses its image of being broke and smelly. Many classic designer labels got sold out and are no longer manufacturing like back in the days, so if you find vintage Helmut Lang pieces for example, you also get better quality than these days! The Fendi "Zucca" monogram design Karl Lagerfeld had created and which was iconized by Patricia Field in the 90s through the series "Sex And The City" didn't change over the years, so nobody would know if you bought the bag 30 years ago or last week, to just name one of many examples.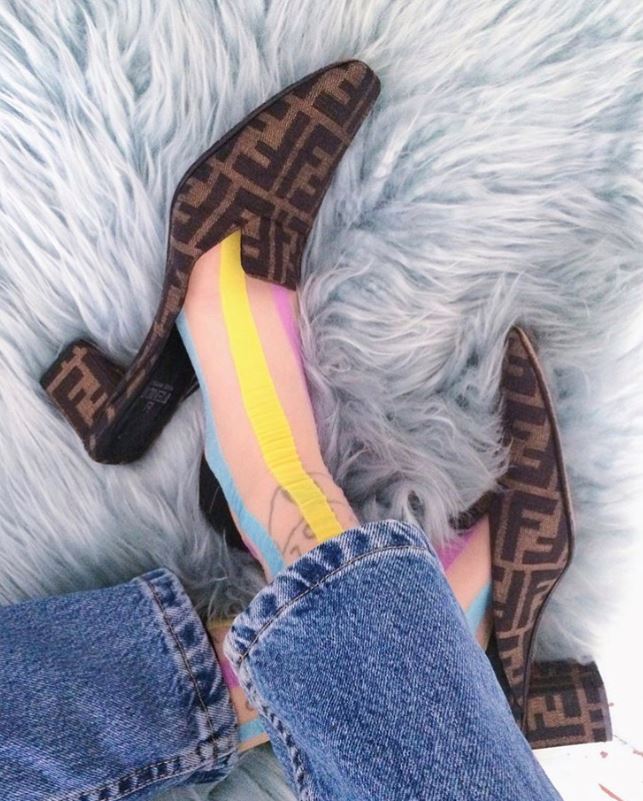 Thrifting, upcycling, restoring, swapping, digging flea markets and Ebay – it's a vibe! Brands like "Frankie Collective", who upcycle vintage sportswear and Supreme pieces to transform them into hot new streetwear fits, or "Nanin Vintage", who sell basic vintage pieces by styling them very clever and appealing, already have reached the status of well known brands themselves with a reach of about 250k followers on Instagram, each.
To not get lost in the world of thrifting, the following advices will help you navigate like a pro without looking trashy:


1. Know materials, know designers, know upcoming trends, know how to handle damage.

Education is key. If you know the haptics of silk and cashmere, if you have an idea of what's hot right now, if you can tell if it's permanent stains or just dirt from the store, you're good to go and well prepared! Also, it's always a smart idea to check your favorite celebrities and online shops or watch some "trip to the thrift" videos on YouTube for inspiration. If you're feeling uninspired it's probably not the best time to go hunting. While shopping take a look at the material tags and try to guess what it could be. Make it a game. You'll get better and better which is essential to not end up in polyester hell.
‍

2. Check out every second hand shop you come across.

To rise your chances of being lucky, you have to investigate, contemplate and set up a map of what to find where in your head. Every store has its individual fortes. You can save lots of frustration if you know which store has a strong accessory section or where to get clothes from a certain decade. Whenever you're out and spot a small charity shop, regardless if you planned to go shopping or not – just quickly risk a glimpse and add it to your imaginary map. You can always come back another day! 
‍

3. Have your smartphone with you to do research.

If you don't want to invest into worn fast fashion or spend too much money on trash, it's good to browse for labels you've never heard of. 
‍

4. Have cash money in the wallet and bring a carrier bag.

Not every small shop takes cards, still. So if you want to be on the safe side, make sure you have cash money in your pockets. This will also help budgeting and setting your personal limits. Also make sure the bag you bring is matching what you're searching for. In my case it's definitely always one of those huge IKEA bags to have the freedom to also buy puffer jackets and coats, which are always too big for the bags the stores are handing out. This reduces plastic waste and frustration.
‍

5. Take your time to check clothes closely.

Nothing is more devastating than bringing home treasures and then find out the zipper is broken! 
‍

6. Donate for shopping karma.

This has a somewhat spiritual dimension, but also is made upon my personal experience. Wherever i shop i ask if they also take donations and if so, i like to bring back clothes i don't wear any longer to contribute to the circle of vintage shopping. Besides that spiritual dimension you will see that people remember you and that will give you special discounts here and there. It really works! If you're nice, people respond nicely.
‍

7. Don't go with expectations. 

Expectations limit you and make you blind for everything apart from what you might be looking for! It's good to have a focus sometimes, but don't expect to find exactly what you want. Stay open to alternatives. In vintage shopping just like generally in life.
‍

8. Don't be afraid of showy pieces.

Even if you might think the pattern is too wild or the color too popping – i get the most compliments on the showy pieces in my wardrobe. Being a little extra is fun and makes your outfit unique and memorable. In the end it's all about how you style your treasures
‍

9. Free yourself from shopping by gender, categories and sizes.

This is one of the best advices i can give you! You're looking for an outfit to go out with, but there is no cute dress in the dress section? Fine, check the nightwear section for silky slip dresses! I personally like suit pants with a shrunk look and there are lots of cute granny pants with a special sizing you won't find by looking for your regular inch size. To shop cute skate pants i look for little boys pants which also have a completely different sizing, and to find blazer jackets with the perfect oversize fit, i prefer going to the men's section. Be open and try things out! This will all contribute to your personal learning process and as soon as you know you could be a size 26×30 or a size 19 or a size 176 you own the vintage shopping business! 
‍

10. Search Ebay instead of Amazon.

Amazon is for lazy people and that's the exact opposite of what digging for real vintage treasures means. 
‍

11. Check every possible spelling mistakes.

When shopping online, always keep in mind that there are stunning pieces out there which were already given from one generation or one hand  to the next and sometimes people don't even know what they have. The really good and cheap shots you can fire with an empathy for ignorance. Besides simple spelling mistakes also check label monograms. If you're looking for vintage Christian Dior bags, also check "CD bag", for example. Looking for Gucci, also check "GG". Searching for Adidas, also check "Addidas". Nobody else will tell you that insider flex, but i like competition, so there you go! But, and that's very important, if something looks too flawless or is sold by a huge seller from a different country, it's mostly fake. Don't let yourself get tricked! 
‍

12. Be prepared to put some love and work into your purchase.

A regular thing i always do is removing ugly tags, loose threads and those annoying pants hangers that always try to sneak out and then look strange in your hip area. Then i remove stains by hand and wash it in my machine. To make the old finds look high-quality i also take the time to steam or iron them.
‍

13. Value every piece and think like back in the days.

Back in the days, nothing was just thrown away. When clothing was damaged or done, it was deconstructed and everything you could reuse was removed. My grandma uses to collect buttons, pockets, patches, and even zippers, before the rest of the garnment is used to polish up her shoes. This is what sustainability is about and i love to do a good upcycling or DIY with what would have gone to the trash!
‍

14. Know what you can do and what's going to lay around because you would have to take it to dry cleaning or to the shoemaker.

Trust me… you'll never find the time to do so and in the end it's always more expensive than you thought.
‍

15. When styling your purchases it's all about mixing & matching.

Do it like Carrie Bradshaw – mix luxury with no name and old with new. That 2€ jacket from the flea will look completely different with that Dior brooch added to it!