Joseph Williams Raidt's most recent collection, titled Oma Gertrude, is a beautifully crafted visualisation of his Oma's Alzheimer's. The use of voluminous and surrealist aesthetics captures Joseph's attempt to imagine his Oma's interaction with her day-to-day environment. "I started thinking: what if she thinks a toilet is something to wear," writes Joseph in our exchange of messages, and explains that the collection is inspired by a sewing workshop they attended together years after Joseph's Oma had been diagnosed.
Diving into the designer's graduation collection at the Amsterdam Fashion Institute, which I believe has been a catharsis for him, a declaration on the corrosive quality of the passage of time and the irreparable erosion of memory, is entreating a disorientating world, of misplaced shapes and abstract memories. Oma Gertrude was presented at the Amsterdam Fashion Week in August, during the fashion event organised by Lichting, a Dutch project that promotes the work of 10 graduates from each year in a central show.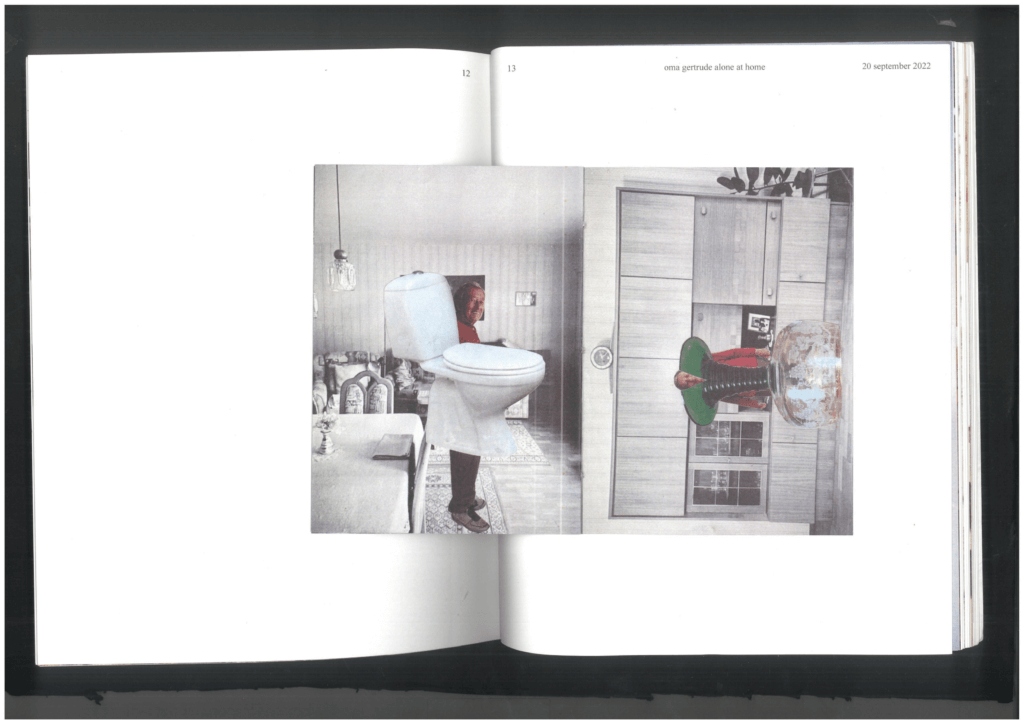 Can you tell us a bit about you and your journey to becoming a fashion designer?
From an early age, I realised that explaining myself or talking about my thoughts isn't a strength of mine. That's why I make garments — to express my thoughts and question my surroundings without the need for words.
I have to say that when I saw and read about your collection Oma Gertrude, I cried and laughed at the same time. I think many of us — and here I'm speaking of myself and my grandma, too — have witnessed beloved ones turning daily life upside down. There's some beauty as much as nostalgia in seeing how we can dilute reality. What does this collection mean to you, on an emotional, creative and spiritual level?
For me, it meant turning a disease that I struggled with into something that I and possibly others can understand. It helped me deal with it in a fun way and look at it in a different light. I want to work with subjects who have an emotional effect on me and others, and visualise it throughout my creative process and the garments I make.
Can you tell us more about the collection — how did it start, evolve and culminate?
Nine years ago, my "Oma Gertrude" got Alzheimer's. I slowly became aware of how difficult our communication was turning and that really frustrated me. I was almost afraid of visiting her because I was worried that I would get annoyed the moment she didn't understand me. Because of this, I decided to start a workshop with her, in an attempt to communicate without words.
My grandma was a seamstress when she was younger and I thought that was something we could work on together. In this workshop, I would bring some clothing items I knew she didn't like and let her do whatever she wanted with them. There were some fascinating findings — how she constructed garments or altered them. She truly inspired my way of thinking and I used that to develop this collection.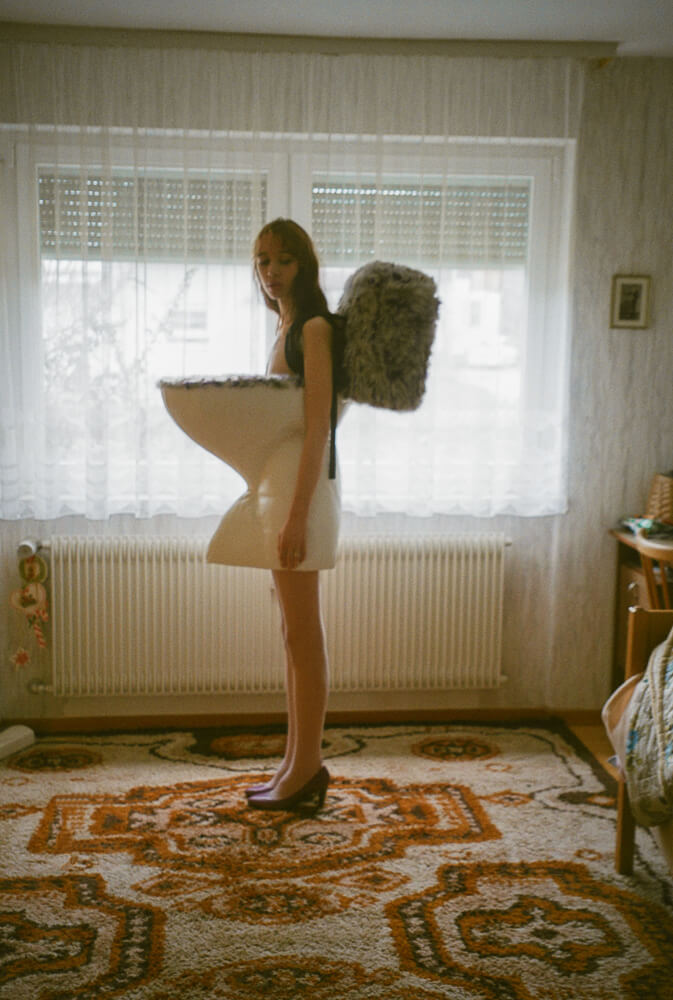 For instance, she used to hate motorcyclists so I brought her a motorcycle jacket. Somehow, she forgot her disapproval of many things and in that sense, she became more receptive. She used to criticise me for wearing skirts even that she forgot about along with the stereotypical idea that skirts are only for women, and that led to devising the first interesting aspect of my collection: a physical collage of my grandmother.
When I started the project, she was still living by herself, and she was often home alone. I would wonder what she would be doing at home. In my head, everything she did must have been awkward and difficult, so I made collages imagining how she would dress herself. I played with the aspect of surrealism and imagined her dressing herself with inanimate objects in her house, because she forgot about their function. I started thinking: what if she thinks a toilet is something to wear or a washing machine? That was the starting point of imagining her way of thinking and translating it into garments.
What's your favourite piece and why?
I would say the closing look is the strongest outfit because it has the strongest meaning. During the project, my grandmother was placed in an old people's home. I asked the staff in the old people's home if they could select an outfit that she would wear every day. This outfit expresses the normality of her life, how she needs to stick to rules and can't do whatever she wants as opposed to living alone with Alzheimer's — an interpretation of how her freedom is been taken away.
I wanted to show with this collection that having a relative or friend with Alzheimer's is about the new ways we need to explore to communicate or live with them.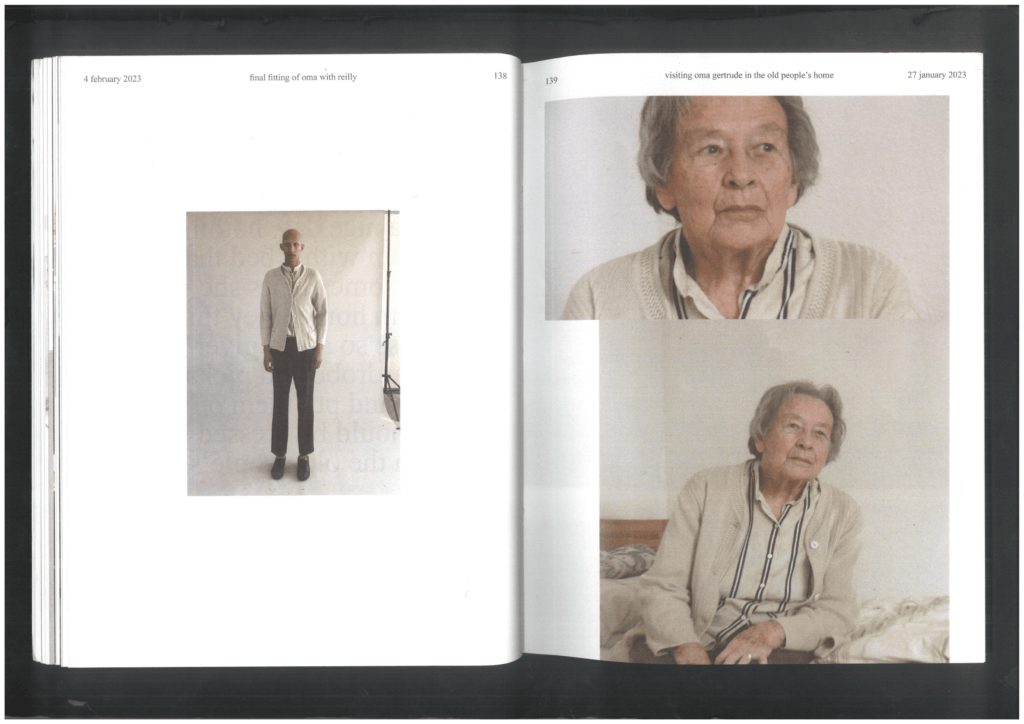 What was your Oma's reaction when she saw this collection?
I showed some of the collages I made and she didn't really understand, partly, because she also didn't get that it was herself in the images. I think she's too confused already, she even thought once that I was her husband when I sat with her.
How has this collection changed the perception of your purpose as a fashion designer?
I've become more interested in experimenting with giving people outside the industry design decisions. I'm really interested in the not-knowing aspect — the unknown — where ideas tend to become absurd and I as a designer develop such ideas, someone's thoughts, into actual garments.
What's that you'd like to capture with the collections you create?
An ever-ongoing visual conversation between me and others.
Are you more into storytelling or entertainment?
I think entertainment cannot come without storytelling otherwise it would be quite boring, and storytelling leads to entertainment. So I guess I'm doing both, even though I'm more interested in storytelling as my approach to design is very conceptual.
What informs your aesthetics?
A very sculptural approach towards fashion, making seemingly unwearable things into wearable garments.
In three words, what's your overall approach to fashion?
I am very bad with words and explaining things in 3 words is truly impossible for me.
What's coming up next for you?
At the moment I'm working for a fashion designer, sculpturing and experimenting with forms in garments for ready-to-wear collections.
*All images courtesy of the designer.