A spaceship has crashed on planet 7546M. You are awoken from cryosleep. Textures of jelly flora and moss dock on both hands. Your nail plates take on the shape of a melting cyborg with frozen bubbles. You are ready to level up. Travel through portals with 3D sculptures. Your body is warm and reanimated. On this planet where we speak with our nails.
The first manicures were performed 4,000 years ago in southern Babylonia. Instruments were also discovered in Egyptian royal tombs. In India, henna plants were utilized for traditional body art. The symbolic nail art goes back to the Inca Empire, starting in the 13th century. Incas were painting red eagles on their fingertips on a white background. During the Ming dynasty, the Chinese applied nail polish made from beeswax, Arabic gum, vegetables, and egg white. Some decorated theirs hands with gold and jewels.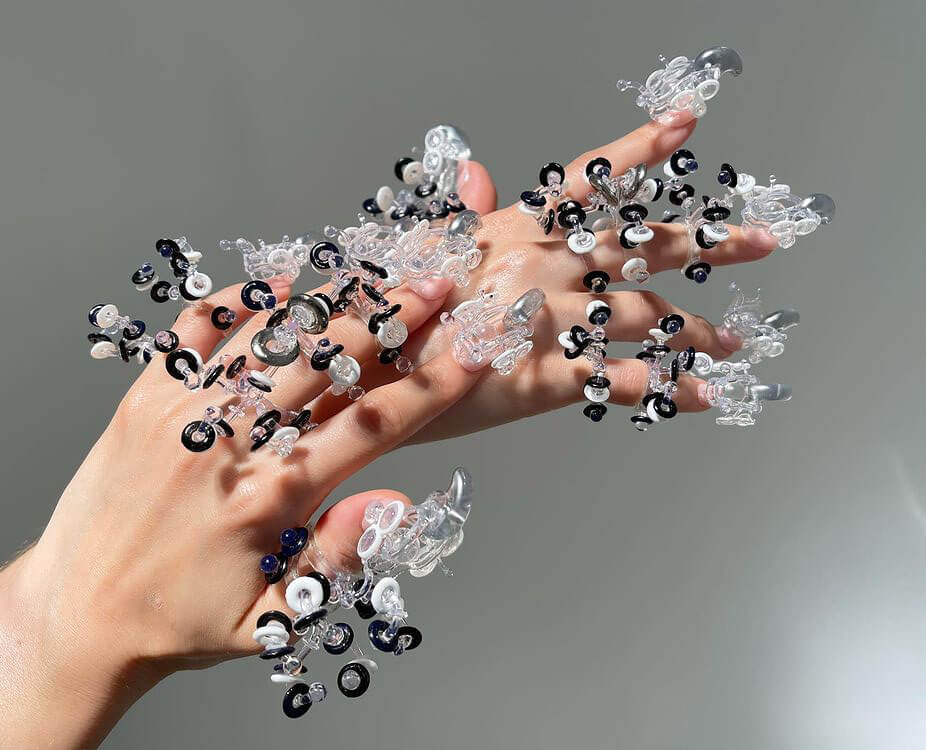 Eichi Matsunaga applies a 3D printer for his technical work. Splashes during rain land on the nail plate. He projected the future of nail art onto the SS21 catwalk along with Iris van Herpen's Haute Couture. Like an exoskeleton – each nail supports, covers and protects the user. For the 40th anniversary of iD magazine he created transparent sci-fi flowers. Worn by Björk on the cover next to Arca. An aesthetic barometer between bionics and sensors.
Tomoya Nakawa is playing around with press-on nails and gel products. Horns and hoops at the tips. Spiral nails for Denali from RuPaul's Drag Race Season 13. Combining network structures with orbits from the solar system for Kiko Mizuhara and Windowsen. Tomoya knows how to experiment with volumes. One of his designs includes wavy capsules that suspend green liquid. From aliens in Jimmy Neutron, the princess Yue from Avatar to robot manicure. The architectural approach in ornaments requires that extra sprinkle of pearls, gels and icing. Thrilling explorations. Hold or touch. Small revolutions with miniature figures and decorative elements.
Glass claws, ethereal fungi set, and mud streams. The artist Sojinails uses chrome powder, LED reflection and builder gel to create frost tips and tears. Inventing and recreating characters, the snail egg nails for Grimes for this year's Met Gala. With clay, she formed teeth that can tickle you. Shells from Morro Bay are a dedication to her grandmother who would get lost in the sea for hours. Handblown nails that grow ever after.