A spaceship crash-lands on planet 7546M, awakening you from cryosleep. Your hands are adorned with textures of jelly flora and moss, as if they have docked onto your skin. Your nail plates take on the shape of a melting cyborg with frozen bubbles, signifying a new transformation. Ready to embark on a new level of exploration, you traverse portals adorned with mesmerizing 3D sculptures. Your body feels warm and reanimated, adjusting to the alien surroundings. On this planet, communication is done through the language of nails.
The origins of nail art can be traced back 4,000 years ago to southern Babylonia, where the first manicures were performed. Instruments used for nail grooming were also discovered in Egyptian royal tombs. In India, henna plants were utilized for traditional body art, including nail decoration. Symbolic nail art has its roots in the Inca Empire, starting in the 13th century, where individuals painted red eagles on their fingertips against a white background. During the Ming dynasty, the Chinese employed nail polish made from beeswax, Arabic gum, vegetables, and egg white. Some adorned their hands with gold and jewels, making nail art a form of self-expression.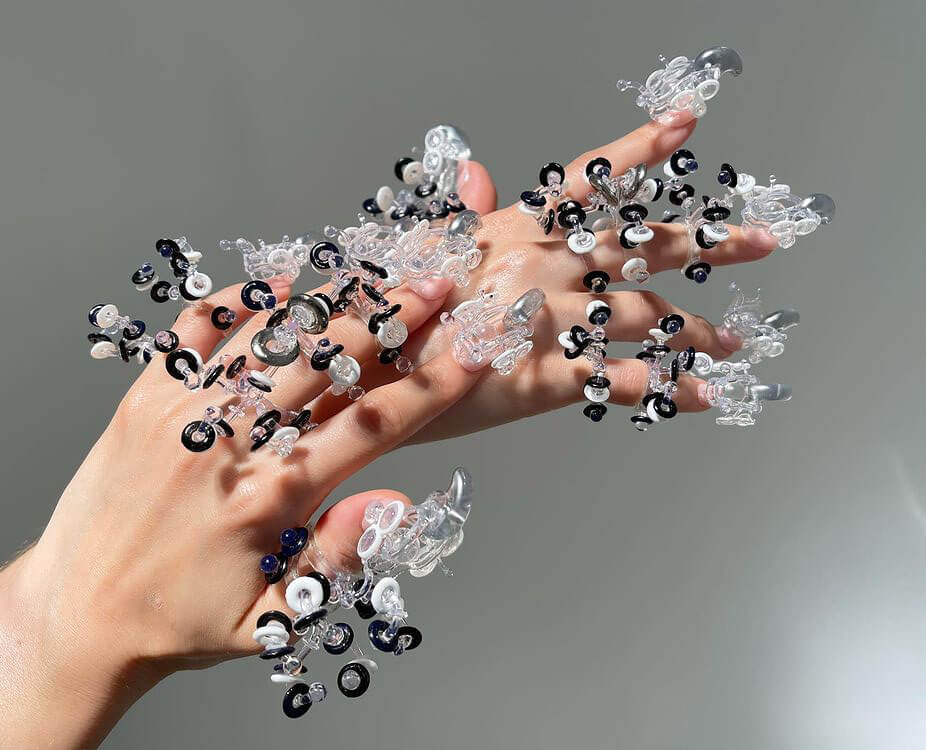 Eichi Matsunaga utilizes a 3D printer for his technical nail art creations, merging technology and aesthetics. Rain splashes on the nail plate, adding an element of nature to the design. He projected the future of nail art onto the SS21 catwalk, collaborating with Iris van Herpen's Haute Couture. The nails serve as an exoskeleton, offering support, coverage, and protection to the user. In celebration of the 40th anniversary of iD magazine, Matsunaga created transparent sci-fi flowers, which adorned Björk on the cover alongside Arca. His creations act as a barometer between the realms of bionics and sensors.
Tomoya Nakawa experiments with press-on nails and gel products, pushing the boundaries of creativity. Horns and hoops adorn the tips, creating unique and daring designs. For Denali from RuPaul's Drag Race Season 13, he crafted spiral nails that exude elegance and artistry. Combining network structures with representations of the solar system, he creates mesmerizing designs for Kiko Mizuhara and Windowsen. Tomoya's designs play with volumes, featuring wavy capsules suspended in green liquid. From the extraterrestrial beings in Jimmy Neutron to Princess Yue from Avatar, his manicures reflect various characters and themes, including robotic elements. The architectural approach to ornamentation demands the inclusion of pearls, gels, and icing for that extra touch of beauty. These thrilling explorations in nail art inspire small revolutions through the inclusion of miniature figures and decorative elements.
Sojinails, the artist, employs chrome powder, LED reflection, and builder gel to bring frost tips and tears to life. Through invention and recreation, she creates unique nail designs, including snail egg nails for Grimes at this year's Met Gala. With clay, she molds teeth that can evoke a tickling sensation. Shells from Morro Bay pay homage to her grandmother, who would spend hours lost in the sea. Handblown nails that continue to grow serve as a symbol of perpetual transformation and beauty.